Beginning Stamping for Jewelry Making
Raissa Bump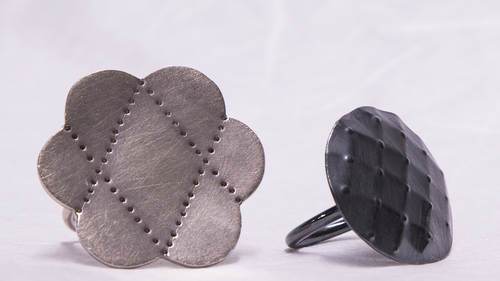 Beginning Stamping for Jewelry Making
Raissa Bump
Class Description
Stamping is a great way to customize metal jewelry and add unique flair to the pieces you create. In Beginning Stamping for Jewelry Making, Raïssa Bump will show you how to add personal touches to your handmade jewelry through basic stamping techniques.
Raïssa has made jewelry for most of her life. In this class she'll share her passion for metalwork while showing you how to make a ring with a stamped "quilted" design. You'll learn how to:
Saw, file, and prepare metal for stamping
Stamp metal to create a quilted look
Solder metal onto a sized and shaped ring
You'll learn the stamping process, from start to finish, and develop the basic skills you need to explore more stamping options.
Check the bonus materials below for a complete product list of the tools and supplies you need to finish this project.
Class Materials
Raissa Bump - Beginning Metal Stamping Supply List.pdf
Raissa Bump - Stamped Metal Ring Template.pdf
Raissa Bump - Determining Ring Blank Lengths.pdf
Ratings and Reviews
I don't even make jewelry and I enjoyed this class so much. There is something relaxing about watching Raissa make jewelry. She explains everything very clearly!
Student Work