Using Highlights & Shadows to Create Dimension
Jason Hoppe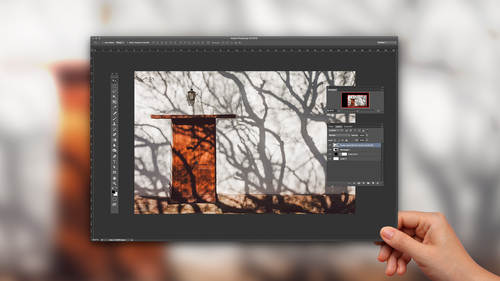 Using Highlights & Shadows to Create Dimension
Jason Hoppe
Lesson Info
4. Using Highlights & Shadows to Create Dimension
Lesson Info
Using Highlights & Shadows to Create Dimension
since Ron Food. Let's do lasagna. Okay, so I've created a lasagna noodle, and it looks awesome, but what's missing from the lasagna noodle? Is that to mention right? So immediately people think I need to be able to draw lasagna noodle. No, you don't. We're gonna fake it, okay? And it all has to do with highlights and shadows. Lasagne and noodles are actually really flat. They just look like they're rippled. Okay, so that's exactly what we're gonna do here. We're going to make it look like it's rippled. In fact, we're gonna make it look just like that, okay? And we're gonna show you how that happens. So how this happens is this What we do is on its own separate layer, Of course, Above lasagna, I'm gonna grab my brush tool and with my brush tool next to my brush tool in the control bar, I'm gonna bring up my brushes panel and one of the things I'm going to do with this brushes panel is I'm going to go in, and I'm going to set the spacing of my brush. So when you call up your brush panel ...
at the bottom of your main brush tip shape panel is the ability to go in and space this out. So when I space this out, this gives me little dots. And as they were to paint, I get little dots instead of ing in sile line of in this case highlights or shadows. So I'm gonna set the spacing to something that I think is gonna work really good. And I do want a soft edge so that I could have a nice soft edge and on my separate layer, I'm going to start off here and I'm gonna send her my brush on the top of my lasagna noodle on its own layer. And I'm going to begin to go holding down my shift key as I go along. So it's gonna keep it all in a nice straight line and those are my shadows right there. I'm going to create a new layer above this, and I'm gonna repeat this exact process. I'm just going to switch my paintbrush color from a dark color toe white. I've got it on a new layer over here, and I'm going to park my brush right in between those little shadows and I've still got my same spacing, so it's gonna line up perfectly. I'm gonna click right on here. I'm gonna hold down my shift key and I'm going to run all the way, and those little highlights are going to fill it in right there. Now it looks like just a mess because what's happening is it's not being masked out or clipped to the actual lasagna noodle. So little did you know that when you come to these classes, it's not just what I'm teaching. There's so many other things that we teach. So this is what we dio. I've got my shadows here on my layer up above, and I've got my highlights on the next layer up above. I don't want to go and delete these air mask these out. I'm gonna do a clipping mask. So here's my lasagna layer, but hold down my option key. And in between my shadow layer that is right above my lasagna layer. I hover in between the two layers with my option key and I option Click, and that clips it to the layer down below, which means the only active place, and I'll shut this off so you can see the only active place you're going to see. The shadow is where there are pixels on the layer down below. That's called a basically a clipping mask. It's literally clipping to the layer down below. I'm gonna turn on my highlights, and I'm also going to option Click between nose and those are all going to clip right to a lasagna noodle there so we can see everything now. These air way too intense. I'm going to set my shadow layer to multiply, and I'm going to cut the opacity way back so that I can see much more of my lasagna noodle through there. The highlights here you don't want to set to multiply. Multiply only works when you're dealing with saturated colors or black. If I set, multiply when it's white, it completely disappears. So I'm going to set this to screen. So when it's white, you said at the screen, when it's black or dark, you said it to multiply, and again I'm going to cut back capacity of that layer, and there I have my shapes. Beautifully done. It gives you this nice little ripple effect without ever having to go in and actually draw the little ridges on the lasagna noodle right there. Now you have a lasagna noodle. It certainly looks like one, doesn't it? But thanks to shadow and shading right there, it all looks quite convincing right there. And that's the really cool is on your noodle. Now, of course, I could always go to these layers here on. I could simply copy exactly what I have from those layers and move those down as well. And I'm just clicking on the layer, holding down my option key to duplicate right there. And wouldn't you know it? There's my lasagna layers on a white background. Looks completely convincing. Now you can change the color of the shadow there if you want a little bit more yellow or whatever. But you know, when it comes to food, how else can you go wrong? You know, we got lasagna, we got bacon. That pretty much covers all the food groups right there. But that's a fun little shadow thing to Dio right there to go ahead and imply that kind of look
Class Materials
Brush Shortcuts for Drop Shadows
Ratings and Reviews
Loved the basic information Jason provided. Directions were clear and easy to follow. My only suggestion for improving this class would be to demonstrate how to add drop shadow to a person. When you Photoshop a person into a picture how do you make the shadows realistic? Thanks Jason. Now I need to get to work on my shadow practice.
It's really this simple?! Then why didn't I figure it out myself? This gem of a course is entertaining, succinct, and clear. Every composite needs consistent and realistic shadows, and this is the answer for creating them. Highly recommended.
I've been struggling with shadows in my fine art portrait work. Jason makes the process easy to understand. I feel like I now know exactly what to do. Highly recommend.
Student Work