Using Multiply Effect for Highlights & Shadows
Jason Hoppe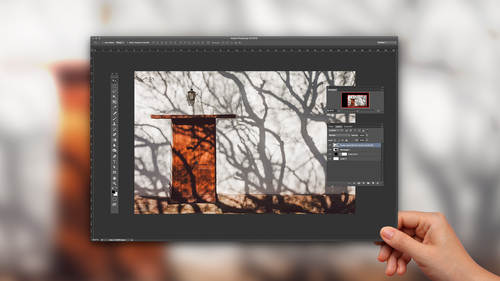 Using Multiply Effect for Highlights & Shadows
Jason Hoppe
Lesson Info
11. Using Multiply Effect for Highlights & Shadows
Lesson Info
Using Multiply Effect for Highlights & Shadows
I did this nice little paper curl and add shadows to this So super easy I made this cup to be super easy I'm just gonna take my magic one tool here and I'm gonna select one of the faces of the cup here The front face and I've created a new layer right here. So I'm gonna add ingredient to this the same grade it that we just used in the last I'm going Teoh, create this inside the selection that I have on its own layer on I'm just gonna drag my Grady and across and I get this Grady int going across there. This is the perfect way that you can see how multiply works. I can go in and I multiply and you see how multiply allows other color to show through. If I set the opacity of this layer now I can make this look like it's a Grady int of that color. If I didn't set out to multiply, it would literally just be this overlay over the entire object. So with multiply it absolutely. Let's all the color show through while the white areas or light areas and then goes ahead and applies the darkness ov...
er the surface of the color. So if I were to do this on my other shapes, this could work out really well to where I could go in. Use my Grady in tool. Apply that Set the opacity, take that layer, set it to multiply, get that toe look like I've got these greedy INTs there. And, of course, one last selection here, Magic wand New Layer said that to multiply, use my ingredient, go back through, set the opacity. And now I have my highlights and shadows and something that I didn't have before. So the original one looked like this. It's fine. New one looks like this. And of course, we could throw a drop shadow in there and we could do a little rolled edge with a all that good stuff. But now you got to see what multiply actually does. And there you have it, folks, How to create realistic shadows Or spend an hour and 1/2 with black and white
Class Materials
Brush Shortcuts for Drop Shadows
Ratings and Reviews
Loved the basic information Jason provided. Directions were clear and easy to follow. My only suggestion for improving this class would be to demonstrate how to add drop shadow to a person. When you Photoshop a person into a picture how do you make the shadows realistic? Thanks Jason. Now I need to get to work on my shadow practice.
It's really this simple?! Then why didn't I figure it out myself? This gem of a course is entertaining, succinct, and clear. Every composite needs consistent and realistic shadows, and this is the answer for creating them. Highly recommended.
I've been struggling with shadows in my fine art portrait work. Jason makes the process easy to understand. I feel like I now know exactly what to do. Highly recommend.
Student Work