Family Group Posing
Vicki Taufer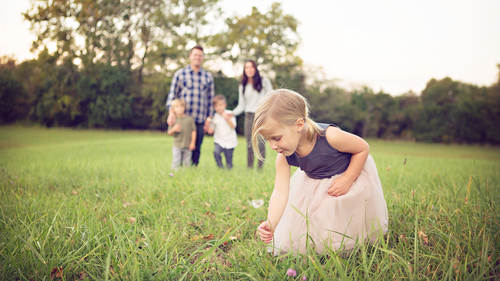 Family Group Posing
Vicki Taufer
Class Description
Taking a great portrait of one person can be a challenge, but how do you capture an entire family looking their most authentic selves? Well-known family and children photographer Vicki Taufer will show you how to focus on the relationships and keep your clients relaxed and comfortable in front of the camera.
Vicki will show you:
What props and gear you should have on hand to bring out the best in your group posing
How to shoot with natural light as well as in the studio, and what lighting you'll need to highlight all group sizes
How to make your clients feel comfortable before the shoot to get authentic images
The most efficient workflow to make your post-processing work for you
Whether it's a group of children with pets or the extended family with grandparents and cousins, Vicki will give you the confidence to tackle any situation and provide your client with images that they'll want to purchase and hang on their walls for years to come.
Ratings and Reviews
All I have to say is - Vicki you are a saint. To handle four kids, dog and their parents too, not to mention a class of students watching...AND YOU'RE TAKING PHOTOS, GOOD ONES!! All I know is, I could not handle that as you have even though I was a teacher for 25 years (K-12, all of them) - and wonderful people like you are far and few between. May you stay healthy and happy and continue interacting with kids and parents - you really have a talent! (I had to turn the sound off on the vid because it was driving me crazy,, with kids, dog, etc etc!)
It was true to life and yes, a bit chaotic. But I enjoyed it, it shows the work that often does go into a session with all the multitasking. I got some great ideas for poses, and learned some new way to interact with younger children. Thank you for a honest session and not a perfect planned one.
Awesome class, really informative, and loved how you handled all the chaos. Great sales and promotional advice from your hubby too. Fantastic, well rounded :)
Student Work