The Turning Points
Lisa Cron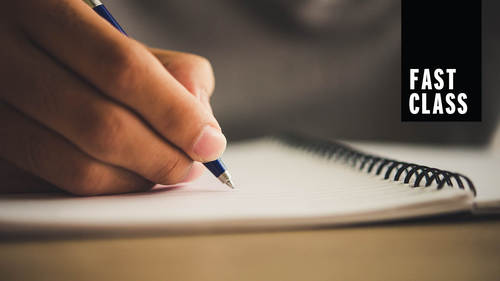 The Turning Points
Lisa Cron
Lesson Info
9. The Turning Points
Lesson Info
The Turning Points
now that you have done your origin scene, which I just have to say, especially you guys at home who actually had the time to do it. Congratulations. I think it is really amazing that you have dug so far back, and for now it's a Sfar Bacca's. You need to go working now, going to start going forward again. But by really digging down to your protagonist Miss Belief and that moment that it was born, that it took root, you know what it is? And not only that, but you know why you know what happened, what it means to protagonists and why they believe what they believe. It's kind of amazing. And and, as I said earlier, that some of you, by really digging down deep and writing a scene like the one that we read in the last segment, writers often learn how to write scenes at this point because it is that intern ality that the notion that in every scene your protagonist ORP UV character comes in, they've got some expectation. You let the reader know what that is because of this story is about scen...
e by scene by scene by scene. How are expectations aren't met. If we don't know what someone expects, how do we know their expectations aren't met? We don't. So you let us know what that was. And then you pulled us in and you let something happen that that blue, those expectations out of the water, your protagonist had to struggle internally to figure out what the heck they should do about it. And then they learned something and they took some action against. Story is action in one scene action, Internal reaction. When you try to figure it out, you change. It's difficult decision. And now, within that scene, they've made a decision in the scene that we read before the little girl decided, Yeah. Am I going to go to camp? I'm not making any friends there, because why would I risk that? And then that decision plays forward. So in writing that scene, you often learn how to write a scene, and again you begin that cause and effect trajectory that is gonna last the entire length of your novel. So that's pretty amazing. Now what we're going to talk about is we're gonna start from that moment that that miss belief came into being and we're going up to the moment where your novel is gonna kick into gear. Which chances are you don't know what that is yet, which is fine. You probably have some idea because most people do when they get that first blush of an idea that, you know, that you started with and we're gonna look for the turning points. And by turning points, I mean places in your protagonist life where that miss belief was challenged by life was was, was questioned by life where it played into story specific decisions that they made that then played forward, that are going to build up into the problem that is going to kick off on page one. And when I say the problem is gonna kick up on page one, I mean it on both levels. The problem. The internal problem, that change that your protagonist is going to need to make that your that your plot is going propelled them toward whether they like it or not. And very often, the plot problem that they're going to face when they get to page one. When you're looking for these turning points scenes, which are about how they're miss belief grows, escalates and complicates picking up these supporting miss beliefs along the way. You're not looking for one offs. You're not merely looking for examples of where the Miss Belief raised its ugly head, and writers will do that all the time. Well, here's an example of how that's really screwed up her life in this situation. And now over here, here's another example of how it really screwed up her life in that situation. You're looking for this cause and effect trajectory. Nothing in a story is ever a one off, so that's not true of this. But that's true of all the senior writing to it is, Ah, cause and effect. If this they make that decision, that makes the next thing happen. And that's the meaning. They read into it. That's what you're always looking for. A one office, something where yeah, this awful thing happens and it sucks for her in that moment. But nothing really led up to it, and there's no consequence from it that's gonna play forward. It's just this thing that happened. You don't want that. Here is these turning points scenes, and you don't want that ever in your novel either one way to develop these turning points scenes rather than going okay, I'm going to start here with the miss Belief. And I'm gonna look for them up to this moment. Where right now, I'm thinking maybe my novels going to start my advice instead is to come up to this. What if come up to where you think your novels going to start? You have some idea off what that's going to be about, and then look backwards to go. Okay, Well, where are the scenes? Where were the moments where that was built? So in other words, the point is is that by the time you start to dig into this, your plot starts to appear. It starts toe auto populate because again, if this character is going to go back to resolve past problems, what past problems with who? How are things being mis read what is gonna happen? And she was able to write a really wonderful novel by digging back into all of this stuff And the great thing. Also, when you end up doing this, is that what's more than a two bit? Is there such thing as a three for four for 52 for elective. It's like you tend to end up developing characters who are going to be in the novel as well. So it's not like you're just digging into your protagonist past and that everything else is going to come from somewhere else. Like what? She needs a best friend. Let me pull her out of this. You know, there's a grab bag of possible archetype. Best friends don't ever do that. It's always gonna be over here in the past, because that's where Amends is gonna be made. So as the writer was developing, Karen and parents passed, She also develop these other characters. She developed Joe, the boyfriend who still there, and he had done a ton of In fact, it turned out who knew that he'd actually come looking for her one point and then saw her with her current husband and felt, I guess she's happy and went back. Is that something she's gonna find out in the novel with my bartender? Because is she gonna actually start drinking herself as well? Yeah, I mean, all of that came from diving into the past and trying to figure that out. So, in other words, it does double and triple duty. This is when I say your plot will start toe auto populate. This is what I mean. Now, to be very clear, though, when you do this, it's not like Okay, now you're going to be up to the story present. And now we're done with the past. We're not gonna look it anymore. You are going to be diving into the past from beginning to end in your fifth draft. Well, okay, let's say third draft, because maybe you want to write spiteful drafts. You're still gonna go. Oh, wait a minute. I need to know a bit more weight. Here is this other character Where did they come from? Your constantly gonna be pinging back and forth. The point is, is writing is iterative. It's circular. It's not going in one direction. So that's what you might ask yourself about what you're writing about. People often write about they often write about. Marriage is dissolving for some reason as a big topic. So if that's what you're going to write about, you go. OK, Well, then how did she meet the guy? If he's the wrong guy or or she's the wrong girl. Why? Didn't seem ok at the time. What were they swallowing? Where they sublimating What were they reading in? That's wrong. And then these things are going bad because it's going to have gone bad before we get to page one. Well, what happened there? Why? What what caused them to double down on that miss belief? What may be supporting this belief that they pick up that point? What is it? What is the problem here that now is going to get solved or plumbed over here? So that is what you're going to want to dio. Because again, you're looking for story specific situation. So everything you you discover over here is going to have some effect on what you're writing and again. And I say this because people it seems really obvious to me. But but but because it's always obvious when you know it, right? Chip and Dan Heath talk about that. What is it? The curse of knowledge. When you know something, you just assume everybody else does S O. S. I would sort of say it again. All of these scenes occur before page one of your novel these air not turning points Once we get on to page one and go forward, they are all from your origin. Seen up until the moment that your novel is going to kick into gear. And you might be thinking, Okay, I got it. But what about what about if I'm writing something and here's the world the protagonist grew up in. But guess what? Very soon after page one, they're gonna go to a completely different world. Nobody from here is gonna be over here, so I really need to do all this. This is really important. Is really gonna help Looking for a way out, and I'm not gonna give it to you.
Ratings and Reviews
I was introduced to writing tools and techniques, I didn't know existed. Now I feel I have a much better grasp in what it takes to write a truly great novel.
Student Work