Getting Started with Pastels
Demo: Oil and Dry Pastels on Tracing Paper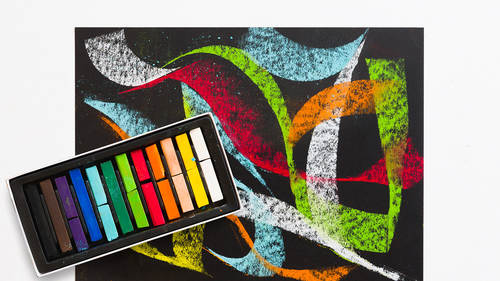 Getting Started with Pastels
Demo: Oil and Dry Pastels on Tracing Paper
Lesson Info
Demo: Oil and Dry Pastels on Tracing Paper
This is a layout bond paper, so it's nice, but it's also what I would call a simple, simple sketch tool. It's not something that's gonna be a super fancy paper for you to use. And you can see, look at the value of it, it's super light. It's such a thin paper that it takes the color, but it softens it and makes it so much lighter. Now with this not so much, but it also has a lot of texture. You can see this color is, it almost looks like crayon, it creates this sort of stone like texture. Kinda neat, but I would only do rough sketches with this because it's so delicate, it's not gonna last too long, could tear really easily, and it doesn't seem to hold the pigment particularly well. But it's a great sketching paper, this is just layout bond paper, it's also by Strathmore. So we have some other kind of funky and interesting surfaces. I wanna show you something that's really an interesting surface that I think is a fairly new type of paper. But before we get to that, I wanna show you a ki...
nd of classic paper, which is like the one I used before, that's the Bristol, and again, this is not smooth, this is just regular Bristol. It has that heft, it's 100 pound, it's a good paper for finishes. It's very similar to the other one that I used, so I don't have to demo on that. Now there's two types of tracing paper that one could again use as a tool for doing pastel, but it's not necessarily again what you would use for finish. This is called tracing paper, it's just Blick's tracing paper, and it's like newsprint, but you can see through it. So it's kind of a cool tool for testing different things and then looking at things underneath the colors that you've made. For example, if I do, Kenna, color, what do we think? Let's go with a turquoise type color. Okay. I'll try this. So here's our turquoise type color, and you can see this color, but let's put something underneath it and see what that looks like. This would be kind of cool for collage, I'm gonna have to use something that's deep enough that you'll be able to see, maybe a purple. Let's see if that, how that looks. So you're sort of color combining. I put the blue right on top of the purple, and it's kind of a neat effect. I'll go right outside the blue. So it's fun, but again, I would do this if I were trying to create a kind of study for something, simply because, and it has to do with archival nature, it's not gonna last too long. These are very, very thin, it's like tissue paper, they are tissue paper. So I would use them for that purpose, and that purpose alone. Let's test the same kinda thing with the oil pastel. Now remember, the oil pastels, I'm gonna use them as light as I can, they're much more opaque, I can go very densely with this, but if I go too densely, you won't see anything underneath, so what's the point? So there's this tonality, and then I'll put underneath it, I'll go a little darker with the red, let's see if we can make a combined color. Yeah, it creates a kind of a purple color. And so it's fun to play with that, the transparency nature of tracing paper. Another kind of paper that you can also do a transparency on would be vellum trace, and vellum trace is a much more, it's more expensive, that's one thing, but it just has this heft to it that it takes a lot more than the other tracing paper that I showed you. And we could do the same sort of thing where I have a color, and then I put a color underneath. I can make changes with trace paper too, I like it as a drawing tool, generally speaking, but it's kinda neat the color that you can make with that. I'll push the purple a little more. It's sort of a neat tool to be able to layer color and test it. I would use this as a testing surface for trying to figure out a more finished piece, but that's called vellum trace, and it's a more expensive, more hefty tracing paper, it's a very smooth surface.
Class Description
Are you interested in drawing with pastels but not sure how to get started? In this course artist and illustrator, Mary Jane Begin will introduce you to pastels. This class is perfect for beginners looking to learn the basics of the medium in order to begin a drawing practice. By the end of this course, you will be equipped with the know-how to start experimenting and drawing with pastels!
In this class you'll learn:
All about the different types of pastels and how they work
Which supplies and papers to use when working with pastels
How to begin making simple marks and shapes to familiarize yourself with the medium
Thank you to our sponsor