InDesign Typesetting: Design a Restaurant Menu
Michael Stinson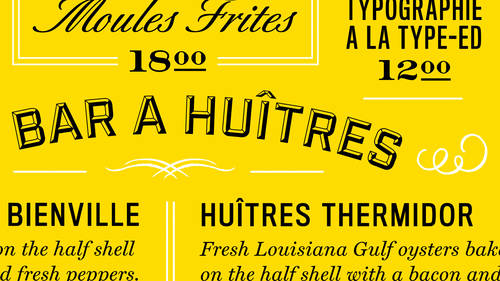 InDesign Typesetting: Design a Restaurant Menu
Michael Stinson
Class Description
Your layout choices dictate what the viewer reads – you set the priorities on the page and your design guides the reader through it. In Adobe® InDesign Typesetting: Design a Restaurant Menu, Michael Stinson will help you master the concepts of organization and prioritization.
Michael Stinson is the creative director at Ramp Creative and the instructional director for TypeEd. In this class, he'll share fresh insights experienced designers can use to bring more polish to their work. 
You'll learn about:

Establishing typographic hierarchy
Working with tables
Using multiple typefaces
Organizing and prioritizing content
Using a restaurant menu as a launching point, you'll explore best practices for setting type in Adobe® InDesign. Michael will help you improve file set-up and workflow to ensure maximum legibility.
No matter which version of Adobe® InDesign you use, you'll learn techniques that will give greater definition to the hierarchy you are trying to create. You'll be better prepared to layout every project, no matter how complex.
Software Used: Adobe InDesign CC 2014.2

Class Materials
InDesign Project Files and Resources.zip
Ratings and Reviews
InDesign is a program I use on occasion so this class has been great for a quick refresher on making it work for me. He keeps it clear and concise so it is easy to follow. Even if you are using a newer version of InDesign this class will help you.
Student Work