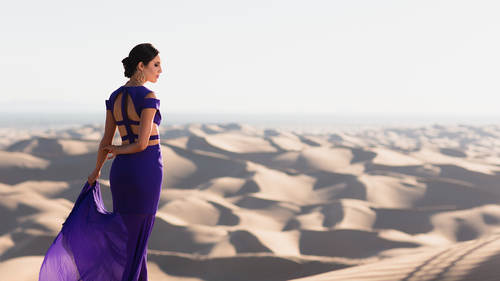 Lesson Info
Chapter 6 Introduction
Welcome to chapter six we're gonna start getting crazy we'll see chakra five was all about learning how to do direct flash direct flash done right and modification we learned a ton about modification in chapter five but now we're gonna take it a step further now rather than doing direct flash we're no longer point this at our subjects we are pointing off the side well whatever side top bottom left right we're going to bouncing you want studio light just bounce this chapter is all about bouncing and showing you different bounced techniques, different modifiers and how we can shape and turn that light into something that looks like a two or three lights set up quite simply all right, so let's go over what we're going to talk about we're gonna start first by comparing and is showing you the differences between direct flash versus bounce flash we're gonna go into balancing off of, say, a silver bounce and show you how bouncing off of silver can actually give you more light than white. But ...
there are differences in the overall quality of light and the speculate e like we talked about before we're going over soft white bounce and using it to create a very natural, very soft overall look and also going over overhead, bouncing basically shifting the balance position to create different types of lighting scenarios where lights coming top down left right from corners and so forth using all these techniques, we can create all the different types of light setups that we talked about much earlier in chapter three. And we talk about understanding, lighting. Finally, we're gonna end with event bounce, which is things that basically when you're at an event or your shooting, journalistically, these air techniques that you can use to bounce, even when you think you have no other option. All right, so let's, go ahead and move it in chapter six now.
Class Description

Lighting 101 follows in Photography 101's footsteps. Photography 101 takes students up through Manual Mode mastery and provides a foundation in natural light techniques and modifications. Lighting 101 picks up by teaching all about flash and light modification. But, just like Photography 101, we want Lighting 101 to be the most accessible lighting course available. So we teach you everything about flash lighting, light modification, ambient to flash balance, lighting patterns, off-camera lighting and even multi-point off-camera light setups. But, what makes Lighting 101 truly special is that we do all of this with nothing but your on-camera hot shoe flash. Every image shown and created in this course was created with a DSLR and just a single on-camera hot shoe speed light. 
Reviews
The best class for understanding light and lighting there is bar none. Pye is an excellent teacher and the quality of the material provides for a rich and very informative experience. Pye breaks down the fundamentals in easy to digest packets and then elaborates as needed. If there is one class that you watch this is it! Worth purchasing and saving for future use. I would also HIGHLY recommend downloading the saving the PDF of slides that accompany the videos. Again, and can't say it enough, this is THE BEST video to lighting on Creative Live. A must watch for the novice and the expert.
AMAZING course. Great information for people just starting out with using a flash and manipulating light. Pye has a great sense of humor so he keeps you interested but still explains everything really well.
I love watching Pye Jirsa teach. He really knows his photography and he is an excellent teacher. Also, I like that Pye is very well prepared and he does not "wing it". Great course!