The Axiom Addiction
Mike Michalowicz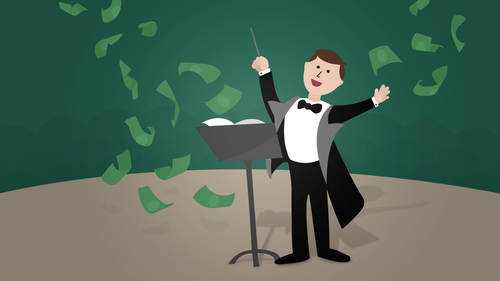 The Axiom Addiction
Mike Michalowicz
Lesson Info
4. The Axiom Addiction
Lesson Info
The Axiom Addiction
The biggest thing to realize is you, as an entrepreneur are perfect. What you are doing is right. And too many entrepreneurs are trying to fix themselves and try to be different. I'm telling you, stop trying to change who you are. We're gonna capture your existing habits and behaviors during the break. It was some people were having some conversations out there about profit. First, any revelations from segment one. Thank God someone raise their eyes. I was pretty skeptical about the whole, like take profit and then you have expenses. But if you can make it for, like six months doing that, then like you're doing it for six months, so right, there is a way for it to happened, right? That's exactly it you're already doing. It was trying to drive home. Monique with you is you're already doing profit. First, you've just elected to take a zero profit. But you're getting by. And so Travis, same thing. Whatever you take percentage wise, you may just survive. Just get by. But you've proactively...
elected to take a percentage of profit. So it was already living this way. I'm just saying Don't the change. You ready? We all know how to just get by. So why not take our profit first, and you'll just get by and become very wealthy in the process? Yeah. John on. I think if you're an entrepreneur, one of the things that got to the point where you start your business was they were able to discipline yourselves to do certain things. Yeah, but this formula was never plugged into that factor of what you were programmed to discipline yourself. Four. Yeah. So if you learn toe, plug that into that formula and continue to discipline yourselves at some point in time like you said, you can look back and say Wow, yeah, yeah. And program is a great word because I went back to college, but it went back to every entrepreneur we know. It went back to every book we've read, sell cover expenses and see where profit is. We've been programmed this way and logically, it's right humanly behave. Really. It's wrong. Yeah, to John's point, I think also, when we become an entrepreneur, we do this so we can work for ourselves. Let's work for ourselves and make it work. Yeah, I mean, that's the irony of the whole thing. We do this because we want to go on this grand adventure of never having to go back and work for somebody else. And suddenly we start running our business like we're still working for somebody else instead of really working for ourselves. Yeah, yeah, yeah. I can tell you many people I've met and how I felt myself resentment toward my own business. You know, I like I started this to make money, and it's not happening and get more and more upset and more angry. And I hate my business and you know, it sort taking control of me. So this was will flip that two clips, that relationship, Yeah. To go back to what you were saying about discipline. I really difficult time with with maintaining discipline in my business because I tried something and it doesn't work. So I try something else, and then maybe other people like me, like that right way could be good friends, I think, you know. Yeah, totally family. Totally. Travis's told me. Oh, start stacking rocks a stack, build a bridge, celebrate Bill Bridge, Bridge bridge. So yeah, you know, and I and I get caught up in OK Well, maybe if I do something before that to make this one work that I can fix that part, you know, because I'm in media, right? And so I have a show. And then I have this educational program to support the businesses are owners who are on my show that so that they understand how to leverage my show to gain more publicity. And then I have this other thing and I'm doing speaking gigs. And unlike what's it gonna end like? My weeks are crazy and I'm like, Ah, yeah, yeah, Our minds air are wickedly powerful for my Boston friends wickedly powerful. So our minds, when we believe something to be true, we will prove it to be true. So we say, you know, we're talking about our relationship was about your husband Talk about my wife. You know, when I get an argument, my wife I know I'm right. And I know I'm right and like like, she can't be right. And I'll become ardent in it. Two points Where I a certain point, I realized what a fool I'm being and I'm wrong. But on a minute and to my mind keeps on justifying it. There's actually interesting study about couples and they this, they asked one partner and the other partner. They said, How often independently, How often are you right when there's an argument and the first partner says, You know, about 80% of time They went to the second partner in the relationship and said, How often are you right when you to argue And they said 8% of time and statistically, that's impossible. You can't have people 80% here, neighbors and their It's gotta be the best 50 50. But our minds are wired to believe we're right. So when it comes to relationships, when it comes to finances, whenever we believe something to be true, this formula were saying sales. My suspense equals profit. We will believe it to be true and we will act consistently with. So I want to explore in this segment is the power of our minds and show us how our minds are kind of messing with us. But weaken, weaken, kind of out. Think ourselves a little bit or fix it or I don't know what I'm saying, but way we can compete with our own kind of mind mess. We as a society, a za globe have an addiction, Teoh Axioms and J. K. And I love to hear what folks listening in from always folks Moscow in Europe on all over love, to hear what the actions are, maybe relative to their countries. But here's some common actions I thought of one is the world is flat. You know, mankind believed the world was flat. And you heard the story that if you took your boat your see your ship too far out into the sea, that could fall off the edge. You've heard that, right? So sailors were told semen don't go out for into the ocean, Stay close in. It was so ingrained in society that if you look an old map, they put monsters on the edges of the map to scare people from going out too far and falling off the edge. There was there was a group of people that said, none of the world isn't flat is round and they were laughed that are you kidding me? Flat? And they said, No, it's round. And then more people started questioning the paradigm that existed about the world being flat, and then the world was revolutionized now ships could circumnavigate the world. New lands were discovered. The U. S. Was found even though those people really living here is found by the Europeans and so forth because of this belief that the world was round Another axiom. Tell me who challenge this one. Someone said this wasn't the exact term. But there I don't know. I ever saw the science experiment where they put a cannonball or heavy lead object in a feather ever seems in a vacuum. They drop the exact same rate. So gravitational pull is is equal. It's actually just the air that causes friction that causes the feather drops. Our But mankind believed for the longest time that things based on their weight drop it different rates until someone challenged it. And the whole world said, No, no, no, no, no, no. They drive a different rates and maybe even jail People that came up with this new idea and then it was common commonly proven. Now they showed in science all the time and the way we behave has changed. And then the one I want to challenge, I want us to challenges that profits can come last. It's always been that way. That's the axiom. That's a belief. Profits come last. And I'm here to say no, I won't give you new paradigm profits come first. Any other axioms or beliefs? You have to be true that you guys my share. Yeah, I'm throwing you off. Yeah, I mean, just stone bounce like I see it all the time where people like I can never balance that stone until I showed them and they can. So that's a great example. Manual work is almost defies belief. I mean, you see some of the but you look at the stones because he was saying earlier, this sort of balanced on a twig. And you think, How do you do? How do you do it? Your work defies logic, right? So logic keeps us trapped in certain behavior patterns, and then we prove ourselves right. So the first time I saw his rock figures like you can't bound. So I don't Have you seen what Travis's work is? He'll take a stone and awkwardly shaped stone. He'll pick the smallest pinpoint on the stone and find a way to balance it and then do that 10 times over. It makes no logical sense. And therefore my mind says it's impossible and I'll prove it impossible when I put a rock and falls over and say, See? All right And then there's a guy that challenges the paradigm and it changes everything. Raise your hand. Yeah. All of the, uh, innocent until proven guilty. Your failure until you succeed. Yeah, Yeah. Right now, all these beliefs we have many times is very hard to think of what our beliefs are because we believe him. So we can't. It's very hard to challenge it. Well, it's also hard to challenge others. Flynn. You know when when you're up against their belief system about how they see your failures or successes. Yeah. No, it's totally true. It's totally true. Fresh Star was saying one where they here, when they see all the time, is I'm a failure until I am a success. Yeah, just just won't bring us funny. Why is that immorally or it works until it doesn't work anymore. That's from Tora Tora. Yeah, Yeah. Interesting. So, yes, I would say one of the biggest ones I see in my industry is that'll never work in my market. Mm. And I know people in similar or smaller markets. That air they're banging at home. I mean, they were making it work. Yeah, Yeah. I'll never work my market. One of the dangers of going to trade shows, for example, of I know you're a deejay special Amazing D J, by the way. So if anyone's watching in these D J services, you're the guy, particularly West Coast. But I have been the deejay events. We were talking about one last night, and when I went there, it's the same securitised conversation, the same conversation, just circling around over and over, and they're validating beliefs. So when people with the same beliefs come together, they this affirm. Yeah, we're are thinking is totally wrong. I love it and they're supporting each other in their thinking. So what I'm suggesting you dio in the all these segments and within your businesses, take a profit. First I'm here, they'll tell you, probably challenged. It may be your accountant because he's not Jeff or some other folks. I get it. Most accountants, though, and they are bad people. It may be against what your university said to Dio will definitely be across or contrary to what many entrepreneurs think. So you are gonna be challenged. And that's the problem about being an innovator like this, because everyone you nose and say it's wrong. And then do you have the fortitude in your mind to stick with it to find this new way?
Class Materials
Mike Michalowicz - Instant Assessment.pdf
Mike Michalowicz - Profit First Graphics and Charts.pdf
Mike Michalowicz - Profit First Overview.pdf
Mike Michalowicz - Profit Pod Sample Agenda.pdf
Mike Michalowicz - Top Questions about Profit First.mp3
Mike Michalowicz - Profit First - Chapter 1.pdf
Mike Michalowicz - Profit First Article - WSJ.pdf
Ratings and Reviews
It was a great course, packed with a ton of valuable and actionable information and resources. I enjoyed participating in the live chat during the course and getting my questions answered live by Mike. I purchased the on-demand course so I can always go back and watch parts that I need help with the most. Keep in mind, in addition to this course, I would also recommend getting Mike's Profit First book/ebook. That's what the course is based on, and if you're like me, having it in a text version helps find and highlight important points. Highly recommend for all business owners at any stage of their business!
Wonderful class!! Not only is the content very impactful and life-changing but Mike's funny character made the class very entertaining - the marker on the forehead story made my husband and me laugh to tears!! We are implementing Profit First right away. Thank you CL for hosting such an amazing class.
Exceptional. Never thought that a money management course would be engaging, thought-provoking and would change my business. In one segment of this class, I completely reworked the finances of my business. Great stuff. Highly recommended. If you run your own business, you NEED this course. It will pay itself off so quickly, it'll amaze you.
Student Work