Mastering Long Exposure Photography
Matt Kloskowski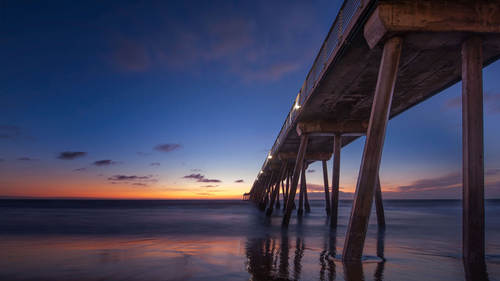 Mastering Long Exposure Photography
Matt Kloskowski
Class Description
Long exposure photography helps you to create truly dramatic images. In Mastering Long Exposure Photography with Matt Kloskowski you'll learn how to capture images in which water appears to move and clouds streak across the sky.
Matt is a landscape photographer and the best-selling author of over 20 books on photography, Lightroom, and Photoshop. In this class, you'll watch Matt at work in the field as he demonstrates his favorite techniques. 
You'll learn about:
Camera settings for capturing extended exposures 

Helpful photography equipment and apps 

Post-processing long exposure images 
Matt will discuss which filters work for long exposure photographs and he'll show you how to create images that seem to move and convey the passage of time.
If you've been wanting to create dramatic images, Mastering Long Exposure Photography with Matt Kloskowski is the class for you. It'll open you up to a whole new style of captivating
fine art photography
.
Class Materials
Long Exposure Gear Guide.pdf
CreativeLive Sky Pack.zip
Long Exposure Cheat Sheet.pdf
Ratings and Reviews
I always enjoy the opportunity to learn something new from one of my favorite teachers, and Matt rarely disappoints. The material that he covers in this class on long exposures will give the viewers enough tools and techniques to get them on their way to creating quality captures. He gives many tips how to overcome some of the most commonly found issues and pitfalls that long exposures can include. If there was any disappointment in what I received, it would be the duplication of the "bonus" material (except for the 'cheat sheet') from the class I had purchased the day before. I might add that "Photoshop and Lightroom for Landscape Photographers" is a great companion to this class and is also worthy of purchase. The second disappointment, at least for me, was Matt's not including long exposures that involve capturing the night sky... stars, Milky Way, Moon, etc. THAT would be a perfect opportunity for CreativeLive to jump in and put a class together. I would be willing to bet that it would be HUGELY popular. Just a thought! Again, a big 'thank you' to Matt for another solid presentation. I'll be tuning in to his next presentation.
Excellent class! Great for beginners who want to learn LE photography. I started experimenting with LE last Fall and this course totally reinforced everything I learned. I loved the "hands on" demonstrations in the field and how each frame he shot was explained. His excellent explanations of how to use the filters was very good. An easy going instructor who made what is often a confusing subject very easy to grasp.
I have loved all of the classes I've taken from Matt, and this class was no exception. Matt explains everything so clearly and then beautifully illustrates what he means. I learned a ton from this class. I love how practical he is, as well as his engaging manner of teaching. I highly recommend this class if you're interested in taking pictures where you want to convey motion which, as he explains, is how our eyes really see.
Student Work