Field Demo: Smoothing Water with Neutral Density Filters
Matt Kloskowski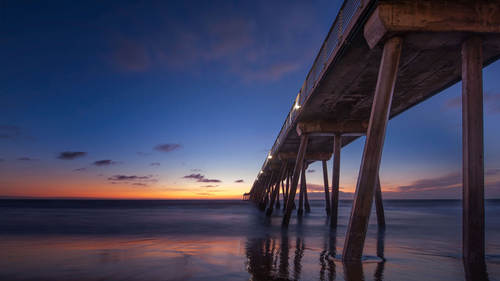 Field Demo: Smoothing Water with Neutral Density Filters
Matt Kloskowski
Lesson Info
5. Field Demo: Smoothing Water with Neutral Density Filters
Lesson Info
Field Demo: Smoothing Water with Neutral Density Filters
Well, we're out here in the field at Marine Park in Tacoma, Washington, and what I wanted to do was kind of bring everything together that we talked about in the studio. It's great to hear about all that stuff and to talk about the filters and to talk about the settings. But this is a pretty typical scenario off. Want to get out here? I want to walk through the settings and walk through the whole process of making the photo. It's also a great time to do it because it's about as challenging of a long exposure photos. You can get its bright sunlight here, so it's a little bit later in the morning. So we're really gonna need if we want to do something with this water here and we want to get that nice, smooth water and that nice, long exposure. We're really gonna need to employ just about everything we talked about in the studio here. So the very first step, really, You know what? Why this location? This is a great location because it's got it's got these pilings or pylons, really not quit...
e sure. But I'm sure someone on the Internet's gonna tell us, but it's got these pilings. I think they're pilings that they're still so they're not moving. And that's a great ingredient for a long exposure photos. They're not gonna move, so all the water around him is going to get really still. It's gonna get really reflective, and it's going to give it a really nice look rather than getting all the ripples and everything like that. That don't look so good. So it's a great location, for first thing we want to do is you know, I got my I got a 24 to 70 lens on. I'm set to F 11 here, so kind of just focused in on the pilings because those that's really the most important part of the photo and I'm just gonna press my shutter speed are my shutter Halfway down here, I'm an aperture priority at F 11. It's saying 8/100 of a second, All right, so I'm gonna go ahead and take a photo. I can kind of tell. It's not really what I'm looking for, cause it's all the waters Ripley. So if it were still this were early morning, late afternoon and when we weren't really getting a lot of ways in here anything, and it were perfectly reflective. I leave it alone, but it's kind of Ripley right now. So it's almost chaotic in the photo. Doesn't really doesn't really bring out what we're here for. So what's my first step? All right. If I want to get a longer shutter speed when we talk about reduce your I S O. So I was at I s O 800. Okay, that's going to speed up my shutter speed. I don't want that. So I'm actually going to reduce my eyes. So all the way down to this camera, believe it or not, I will goto 100. Well, actually, go down toe is so 64 a d a. 10. Not all cameras do that, but it really does help out if your camera goes below 100 give it a try. Mine goes the I 64 so I'm actually gonna take it down eso 64 and ah, And now it f 11. It says the 60th of a second, so I'll give it another try. Still Ripley, Alright and kind of know, 60th of a second. Still really fast. So what's our next step. I s O didn't work. So what do we want to do? We still we want to reduce the amount of light coming in, which gives us a longer shutter speed. So I'm on aperture priority. I'm gonna raise the APA Try was a f 11. All right, so now I'm gonna raise it all the way up. It's gonna go straight up to F 22. Give that a try. It says it's going to be 1/15 of a second, so we'll try it. Still Ripley, right? Still not working. It's way too fast. So the whole point of that is we exhausted the easy possibilities. All right. You got out here in early morning, sunset, sunrise. Any time we're on there. When you go through that, a lot of times, you don't have to bring out the extra gear. And if I can get anything across its try not to bring out the extra gear. But in this case, we're going to, so we're gonna put on a filter. I've got the Ah, I've got a tiffin. Uh, three. Stop. Screw on filter here. I'm going to give this a try. I'm gonna con Italian and I even mentioned this in the, uh, in the little field guide that I have that you can download it. I know it's not gonna work. It's bright light. A three stocks, just not going to do it just kind of comes from experience, and I give you a couple of guidelines for that. But I know three stops not gonna work in this bright light. We'll give it a try just to see what happens when we screwed on, All right, because it's a three. Stop my camera still gonna be able to focus and meet her through it. So I don't really have to do anything different at this point, so I'm just gonna look through, got the same composition. Now it's saying about just about a second and 1/2. Okay, so that's a little bit better. It's a little bit longer. We'll give it another try here. I'm gonna use my cable release. It's a little smoother. We're still not there yet. Still got a lot of ripples inside, so the score on filter is not gonna be the 14 So now we're going to resort to the big stop, right? This is a 10 stop neutral density filter. Um, I talked a little that bit about this type of a filter in the studio. It's got an adapter ring because it's a square filter. It slides into this so it's a little bit easier to work with, because when you want to take it on and off, you don't have to screw it on and off each time. So you just put your adapter on. All right. Now, once the holders on, that's what the filter looks like. We're not gonna put it on yet, though. Why? Because once I put this on your camera's not gonna be able to focus and it's not going to be able to meet her through this dark of a filter. It's not gonna be able to see anything. So what we want to do is we want to set everything up before we put the filter on and then put it on to manual mood and just lock everything down so that nothing changes when we put this filter on. So the very first thing is when we add this to remember our cameras, not gonna be able to help us out in meter with the three stop filter. It could meet her. And what did it do? It automatically made the shutter speed longer. But if it can't meet her, it's not going to know to make the shutter speed longer. When it gets this filter on, it's not gonna be able to tell, so we're gonna have to help it out here. So what I do is I look at the shutter speed on an aperture priority F 22 same settings as before. I look at the shutter speed that the camera automatically gives me. Okay, It's 1/15 of a second. So what I'm gonna do, I can find my phone is there's an app called slower shutter. All right. And what the app does is you plug in 15th of a second, and then you tell it the neutral density filter that you're using. So I'm gonna plug in 10 stops for this one. So I tell it I'm using I've got 1/15 of a second. That's what my camera gave me. And I'm using a 10 stop neutral density filter. It's going to give me a brand new shutter speed. All right, that's the shutter speed that I'm gonna plug in on my camera says 68 seconds. All right, so I know that's my new shutter speed that I want to you. So, going to manual mood. If you're going to go over 30 seconds, you're gonna have to put it on tobe old timer. OK? Not all cameras. Some cameras, actually have an internal timer, but most of them you have to put it on bulb. All right, So once I get it on bull, that means I'm gonna need to hold down my cable release for 68 seconds. The APP actually has a timer in it. Some your cable releases have timers in them as well. So you want to make sure you know what 68 seconds is going to be? And then the last thing that we want to do here is we want to change from auto focus to manual focus, because as soon as we press that shutter, if you had this filter on their your cameras going to try to focus, it's not gonna be able to. So we want to put it on manual focus, because we're already focused. So let's leave everything the way that it waas slide the filter in. Everything looks good. Got my cake. Release 68 seconds. All right, so, uh, 68 seconds. That's what we got. Look, I mean, you could tell immediately. It's just a commerce ing, Alright. It's taken away all the ripples and all that. That type of chaotic pattern that's around the pilings, and now it's flat. And now you're really see the pilings. Then they stand out. There's one problem here, though, okay? And no matter how many times I teach this, I always do it. So I'm pretty sure it's gonna happen View if it doesn't happen, you great. But at least I want to be able to show you rather than cut this out of the video, I want to be able to show you what happens and what light leak is. White leak is like getting inside here because of this viewfinder back here. Um, and like, it's inside there and it causes havoc inside there. And you see that line that's at the bottom of the photo? I swear, every time I think about it, I know I got to do. And I guarantee almost my first shot. I always forget. So I want to show you what it is because you want to be able to see what it is. So you know, if it's happening to you, doesn't always happen. But basically, you got to cover up the ah, the the viewfinder. Here, some of your cameras. This one has a little switch to cover it up with some of your camera straps. Actually, have you ever wondered what that little rubber piece on your camera strap is? That's what it's for. It covers up. You put it over the viewfinder, a black piece of tape, anything. But you want to cover up that viewfinder because when you're when you're shutters open for 68 seconds, there's a lot of time for, like to get in there and interfere. So we're gonna take one more photo. I don't really know. The lights not change, so I'm not gonna take another reading or anything like that. But we'll do one more photo and see how it turns out. There is our long exposure photo with no light leak in it. All right, So don't forget that little thing there, and if you do forget it, at least be able to recognize that you forgot it and turn it back on because it's it's really hard to try to fix that inside of Photoshopped later on. All right, so a couple of things, one of the things you'll notice, especially if you're doing these really long exposures with these really dark filters, is sometimes they're gonna have a little bit of a blue cast whom you look on him on the back of the year. A your LCD. Here, the exposure will be the same if I took the filter often use what the camera metered, and then I put the filter on and use the long exposure settings and everything. Exposures air the same. All right, the brightness of the photos of the same. But the longer exposure one's gonna look a little bit of blue. That's really easy to fix later, so it's not really worth doing anything about it in camera. The other thing that I would suggest is if you're out here and the light is changing, don't overthink too much. All right, don't grab your app out every time it's the lights changing and refocus and re meter and do all those different things. If the lights changing and you look at your photo and it's a little bit dark. Then you add 10 15 seconds to it. It's a little bit light. Take away 10 or 15 seconds to it because it gets a little bit cumbersome to be grabbing the app and kind of redoing the whole thing every time. You can really finesse this just by just by adding a few seconds here in their nose, you do it more. You'll start to get a feel for but a Sfar as the in the field goes, I hope that was helpful to you because I think it's important to get out of just talking about the settings and get out here and actually see the culmination of how to make this whole thing work from no gear all the way to really some of the heaviest gear when it comes to your long exposure photos. Cool. So, uh, yeah, 10 a.m. Harsh, like the big stopper came in handy there. So I got to tell you mean that big stopper is that's that shooting midday out there. Bright light and you'll be you'll be happy. Have it. It's probably one of the it's one of the most expensive filters you buy, but you'll you'll be happy you have it when when you do need it. So, um, we did that part of that. I just I know that usually spurs questions, so I'll throw it over to you guys really quick. After this. I'm going to go through. I'll let it the photo. I just There's not a whole lot of editing that I did to it, but I want to tell you a little bit about the color cast that it gives and how it would finish it off. So you guys have anything? Yes, If you're shooting a mere lis camera, you don't need to worry about the light leak. Is that correct? Correct. Yep, you have won the Fuji X two wagon. We have a question online. Are you concerned with diffraction degrading? Using apertures of 16 or higher? There's always the two fractions. Rizzo the fraction first an hour ago, and you know what? I can guarantee you so So So Ask this person if they're a software developer because it's always it's always a software developer or a doctor. It's one of the to ask the the fraction question Um, no, I'm not concerned with with the fraction. So it's it's there, but it's kind of a pixel peeper kind of a thing. And, yeah, it's not really going to see. How about if you doing? Somebody asked. What if you don't have the phone program if you don't have the phone program? If you so so the Lee, when you buy one of the filters, actually send you a little a little cheat cheat card about the size of business cards, you can keep it in your wallet or keep it with your camera bag. A lot of people there's formulas that you can go online like If you do a quick Google search for, there's actually formulas that will help you. I kind of remember like, Okay, you can actually, like click on your camera because it's all done. It stops right so you can click on your camera certain number of times on the shutter speed. It's a little bit Teoh. It's a little bit too much for May. So So I just used the app. Yeah, there's formulas that can calculate it, but when you buy the filters, they will actually give you like a little cheat cheat card
Class Materials
Long Exposure Gear Guide.pdf
CreativeLive Sky Pack.zip
Long Exposure Cheat Sheet.pdf
Ratings and Reviews
I always enjoy the opportunity to learn something new from one of my favorite teachers, and Matt rarely disappoints. The material that he covers in this class on long exposures will give the viewers enough tools and techniques to get them on their way to creating quality captures. He gives many tips how to overcome some of the most commonly found issues and pitfalls that long exposures can include. If there was any disappointment in what I received, it would be the duplication of the "bonus" material (except for the 'cheat sheet') from the class I had purchased the day before. I might add that "Photoshop and Lightroom for Landscape Photographers" is a great companion to this class and is also worthy of purchase. The second disappointment, at least for me, was Matt's not including long exposures that involve capturing the night sky... stars, Milky Way, Moon, etc. THAT would be a perfect opportunity for CreativeLive to jump in and put a class together. I would be willing to bet that it would be HUGELY popular. Just a thought! Again, a big 'thank you' to Matt for another solid presentation. I'll be tuning in to his next presentation.
Excellent class! Great for beginners who want to learn LE photography. I started experimenting with LE last Fall and this course totally reinforced everything I learned. I loved the "hands on" demonstrations in the field and how each frame he shot was explained. His excellent explanations of how to use the filters was very good. An easy going instructor who made what is often a confusing subject very easy to grasp.
I have loved all of the classes I've taken from Matt, and this class was no exception. Matt explains everything so clearly and then beautifully illustrates what he means. I learned a ton from this class. I love how practical he is, as well as his engaging manner of teaching. I highly recommend this class if you're interested in taking pictures where you want to convey motion which, as he explains, is how our eyes really see.
Student Work