Lessons Learned with Chase Jarvis
Vincent Laforet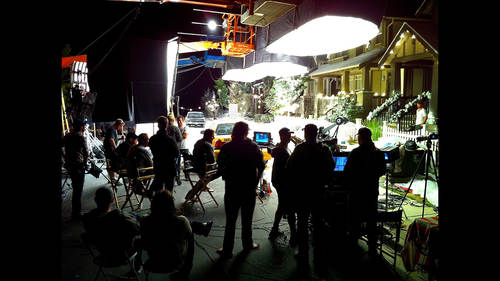 Lessons Learned with Chase Jarvis
Vincent Laforet
Lesson Info
6. Lessons Learned with Chase Jarvis
Lesson Info
Lessons Learned with Chase Jarvis
what I told Chase is, you know, it would be great for us after I've droned on for 45 minutes or an hour, an hour to kind of share some of the more intimate, embarrassing stories and successes that we've had because we both went from being photographers to doing other things, like being entrepreneurs here and there. But, you know, also directing. And I'm sure we've had our stories of hard knocks. I mean, one of the first thing I was gonna suggest was kind of like your first gig as a director and your ah ha or embarrassing moment. Well, first of all, there's enough time, probably embarrassing moments. Um, and I also want to take a second and like what Vince just shared with you is a lifetime of information in like in an hour of time. So there's so many lessons in there even just talking about how valuable your 1st 80 is, like how we just like that was a click on a slide. But that will save you hundreds and thousands of hours to find someone who you work really well with. That can be a pa...
rt of your team, whether their in house or freelance or ah, friend or a partner. So thanks for dropping on the knowledge. First and foremost, I guess. Toe. Answer your question. My There were many gigs shooting video where I was technically the director, but I didn't really think of it. A director. I was just making videos, and I think that's an interesting part about where this whole world is gone is that there was the establishment of Hollywood and then when the tools and the you know things like Creative Live and we had access to things we never had before, the concept of making videos like and a director came together. So for the first time, I found myself filleting a fish out of water like Wait a minute, I've been I know how to compose a still. And then now I had the good fortune of shooting with the very first camera. That shot video that was still was the Nikon D 90. It shot a continuous J peg, which is not a good format, necessarily. But I found myself holding this camera is like Wait a minute, a camera that had like a or 14 depth of field used to cost $100,000 now it's like literally $1000. So what can we do with this tool? I think when I found myself with that equipment in this day and age and without the establishment, I felt like a fish out of water. And I think the message that I want to share with you guys, regardless of the specifics of my first job, is that that's okay. You should feel that way because you are a fish out of water. But the thing you can do is either try and plan. If we If you heard Brandon Stanton talk earlier in this photo week, you can plan your life way. All the notes and things you make in your journal doesn't mean it means nothing. What actually matters is doing something, so you have to direct. It will be a folly. You will make plenty of mistakes, but you actually have to actually get out there and do something. You have to make a film. And if you start to think of yourself as a director, like I'm really shaping the view, the vision, the narrative of this particular video, whether it's a behind the scenes video. You know, a YouTube video that you're excited about putting out some or something for a client. So my particular first, like with that being said my particular first thing, I realized there was a crew, a budget. All that kind of stuff was, in fact, that Nikon commercial that I made and the concept of a 1st 80 I didn't go to film school. I didn't look at all of the proper roles. I just want did the things that we knew needed to be done to get the project. And it was only after the fact that I realized that my producer was kind of acting like a first a D and the guy who was helping me set up lighting and stuff. They were kind of like my grip on my gaffer and the fact that I got paid to make a moving picture on Lee really hit me afterwards, and I think you and I had a conversation not long after that, You said I saw what you did for Nightgown. I said, I know there's things you know, coming down the pipe for Canon like you know, and that's where reverie came from, which is the film you made, which presumably was one of your first things as well, right? It was the first thing. First thing. So we had basically the same experience. Me and the Nikon cite him on the can inside of figuring it out as we went. And we made it up to be crystal, right? Yeah. And you know, to his point, you're all gonna have that. Oh, shit. Moment. I think we can say you can say shit like, Oh, or worse, It's yours a lot worse than that. It's expected. And if you at least know what you're trying to accomplish, would you be surprised? Most directors don't even know whether trying to accomplish your crew respect you for the help you, God forbid, you don't know what you want. They will take those knives out and I'll skewer you in front. Everybody, It's disrespectful to that. That's the process. Know what you want and if you don't know how to ask? Okay. But not on Set. Asked before and be as prepared as you can and surround yourself. The three most important people for me not saying this order are a first a D. A, d. P. And the line producers of my three people, I live or die by. And that could be Gary, Freddie and Sally. Your friends. Yeah, like That's okay, That's the thing There. Is this the way when we use language, words, matter and words matter in the idea of the mind of someone who's going to do something for the first time, we might be using scary language. Do you like I don't even know what a the term cinematographer means. I don't know what DP means. What's Director Fever Smith or the dude with the video camera? Yeah, and but that's the thing is doing something instead of doing nothing. And if they're your friends, that is OK. In fact, that's what everybody's first step looks like. And eventually you learn that your friends applying the least best. You don't hire your phone, hire friends, hire experienced people that get reference to you. My big 1st 0 shit moment was that commercial I showed you? We had 1/4 1,000,000 watts of light and a phantom camera and emotion control system, none of which I'd ever done. So I hired a veteran gaffer who had done all that stuff and he respected me because I knew exactly out of frame. I knew the type of lighting I wanted. I knew how to describe it. I understood that part, which was my job. And he helped me figure that stuff out and he became a DP and I work with him to this day. The last thing that my 1st 0 shit moment was when I watched my first take. You're looking at the monitor and you're looking at You're so happy with yourself that my guys thing and 30 people turn around or more and look at you. You're like, What job? Everybody. Good job over there. Like, what should we do next? You're like, Oh, man, I'm supposed take notes. And that's basically what you learned. Hey, you're not there for fun. You're there to be like supercritical and give immediate feedback. Like I just do it one more time and I won't do that again, you know, But it's scary. Like I gotta tell you, I've seen people implode in front of me when 10 people alone, 30 in your class. Forget a real life situation. The loudmouths that'll wannabe directors, you put them in front of 20 people in a classroom to direct. We are looking like this or they just start, you know, go away. So I'm gonna keep referencing sort of the the world that we're operating And now, because we want to, like, share with you a vision of where you can get to reasonably quickly and generally I keep referencing sort of. Your first film is like you and a couple friends. And so, like, that should be your version of Step One. I think that if the first time you go on set, you have 35 people have big budget, you're not a good position to put yourself into. So you had a bigger first step. My reverie was myself and three close friends with one car, one camera, one battery and no scripts. Not the best way to start, but it worked. But that's all that when there was no pressure, no client, no expectation, says the day. It's one of the best experiences ever had. Yeah, so I think throughout the course of the next, like whatever 30 minutes or ever long we have, I think we should continue to try and play both scenarios because I know there are many of you at home and many of you here in the studio audience that haven't started shooting video or made your first go at it. And then there are many of you out there who so OK, great, I did that. And I want to take my stuff to the next level. And I think the next level aspect of you can tell your friend It's easy to tell your friend like, Hey, go pick that thing up in moving over here. But the world that Vince's sort of pointing at is where you got your first gig and you are a director. And there are people who are in roles, and those rules have very particular activities that they're supposed to do it. And it's true. The most important thing that you could bring to that experience is vision. You need to know what you want to shoot before you get there. And Ira Glass famous quote. He talks about the creative gap, and at first this is supplies and photography, and I think we were very seasoned at doing this and photography, which is one of the reasons that we're able to make this transition more quickly, but the creative gap is the distance between what you see in your mind and what you can actually make happen at the end of the day. So a still photograph of like, what could be bad when you were making It's like 90 yet Oh, my God, extreme, Yeah, and that's a terrible thing in overtime. As you become a professional and seasoned, the creative gap gets smaller and smaller. And frankly, that was one of the things that made me want to move into moving pictures was when my creative gap in a still photography world was zero all the time. I was like, Okay, what's the next challenge? And that's through time having time, budget cameras, locations. I could make the picture that I wanted to make in my head every time. And I wanted to take on more challenges. And now you do that in a film world where there are 100 people and you have all this complex stuff, it's It's the next level. So and simple thing, simple stuff in life. I always say, Please and thank you, even if someone's job, can you please move that light that way. Thank you. If people are like Whoa says thank you, Please. It sets a nice tone, and especially if it's your friends they'll look at, you know, like you don't make you know finger motions towards you Wait, look like in sixth grade on the playground. Ultimately, I think I think the Vince is also pointing at something that's really important, that when you move from stills as your own photographer into a video world where there is a lot more dependencies and they're more moving parts, you're a part of a team. I think the concept of, um, all share a story from last night. A friend of mine named Travis Rice is the best snowboarder in the world. He put out a film with Red Bull, and they just launched last night here in their premiere in New York. It's called The Fourth Phase has millions of dollars behind it to come four years to make on, he said. People think of snowboarding as an independent sport where you go out there and you ride on you express yourself, but this is filmmaking and film making its myself. It's my other writers. It's the guides. It's the cinematographers and we're all working together. The helicopter pilots and the same is true when you shift from being a sort of a one man or one woman band to this world. And so being kind, connecting with people, helping others understand your vision before it's the pressure moment and doing so with energy. That's the one thing that you can always bring to a set is positive energy, regardless of your level of skill. I always admit to not hey, DP or gaffer or whatever like this is the first time I'm doing this kind of a shot. So work with me. I'm sure you have a lifetime of experience. I'm very crystal clear what I want, but he knows the difference there. It's like I haven't done this, but I know what I wanted to look like. The more visuals you can provide, the more context people love that the more people say I've done this many times, I'm super experience. It's a key warning sign of like their BS ing okay, if they have to feel the need to tell you how often they've done something or how much experience they have, the best people don't talk about what they've done, that just there because they know what they want. And to your point to just be prepared as best you can obsessively prepared, uh, and keep the emotions out of it. You are the emotional rock, no matter what demons air going on inside of you. Keep that into yourself because you're setting the tone for everyone on the crew. Never, ever raise Your voice was screaming. Someone never froze anything. Never be disrespectful. You, no matter how much pressure, how much of a disaster shoot is because the moment you do that, you lose respect everybody. It's unprofessional, and it's much more scary when you don't scream. It's someone I have been told that when I look at someone that screwed up and I talked to them in a very common direct way, it is significantly more scary than if I screamed and people have told me it's in your eyes. I'm like I wasn't even aware. I mean, I knew what was going on in the side. I want to rip that person's head off like, Oh, they knew and they haven't recovered. But I never raised my voice. When you raise your voice. You lose control in front of your entire crew. It's not excusable. I think there's a I start every shoot, regardless of its still or video, with a little speech to the crew. Remind people that we're out here making pictures were not curing cancer. There's no sort of nuclear fallout based on what we do or don't do here today. But we all want to have a good time. We're all trying to be better humans and better artists. And if we can keep that in the first and foremost in front of our mind, we're gonna be great. We do have time pressures. We do have money pressures, but we're all in this together, and I think it says it's a great way to set a tone. And when you do speak calmly but directly, I feel like that's it's a It's a great sort of balance there. I mean, I didn't have respect for people that yelled at me. I just don't I. It's literally so foreign to me. I've seen it. I've been a part of sets. I'm spending a little bit more time on the other side of the camera now, and I've been a part of things where there, people demeaning others, and it just it totally demoralizes the crew. It's like it's so unfamiliar to me that I it's toxic as hell and I don't I don't spend time around people or shoots that look or smell like that. So, uh, direct, honest, fun, positive. I think that's a It's a great working in my honest, I think if it's not working, you say, guys, this isn't working. I think we should try this. Does anyone have a suggestion? You listen and you are the only personal way to make the final decision. It's never personal, like that's a great suggestion. I don't have time to do that or the gear. Let's try this. No, we'll take it personally if you don't make it personal toe that you just made a decision not based on the value of their idea, but based on a lot of other logistics that are coming up and what you need to know. One other key lessons that jump to something else. The first hardest lesson I learned when you're directing and no one's bothering you and they're letting you go for your stuff, for God sakes, Don't ask the client or the agency what they think. Think about it. Don't ever open a door. You can't graciously close. Do you really want to know what they think At the end? Sure. That was great. But God forbid you open that door. And there's two creative directors that don't like each other first experience. And once that, I want the car to be yellow. They don't want the car to be green. I said we got a blue car not gonna happen. And they start fighting over whose ideas best. There was no gracious way for me to say. You know what? Never mind. I don't need to know what you think, so don't open the door. You can't close. Don't ask for an opinion. You don't need one. Finish your job. They hire you to do your job. You went for all this process. All this prep, all these treatments, let them do your job. And at the end, say how you have a good time. What do you think? There's nothing you can do anymore. It was great. Don't don't open that door If you can't close it. I believe that there are there. Will first of all, by design. There are opportunities for the clients to provide feedback, usually a lot in the briefing leading up to something to them pulling the trigger and its little takes or dailies where they get to provide some sort of feedback. Do we get it yesterday? Do? Is this something we need to re shoot because this person blew their lines or whatever. So I think when you're on set, just like, hey, what do you think is a like a dangerous open ended question and again to go back to my earlier promise about where you are now versus where we're talking about? Like, I hope that you you set yourself up to, like, fail a lot in a small way so you can get really comfortable with it along the way because you will the first time you do have a customer behind you or not, director Whatever and you accidentally say So what do you guys think? That cool right? You will you, like, remember chasing Vince said, Um, hopefully that you know that the customer who's standing behind you, that's the local gym and they're the art director is a designer, and there's no agency in the budget is 10 grand instead of, you know, grand. And so, by putting yourself out there and failing a small amount over many shoots like that's one of the reasons I encourage doing over over just continuously planning because you get to work out those demons over time, as opposed to carrying everything. I mean, Imagine if you just like you went to school for four years and then you took one test to see if you passed college. Be terrible, right? So let's like that. That's the same sort of idea, that mentality. I'm encouraging you guys to go through over, creating many small things and succeeding and failing blood in that $10,000 client or $100 client. Comfortable the free ones you do. We're always one that bite your worst works. Every time you do a favor, no good deed goes unpunished are usually the hardest ones because they're not experienced. They don't really know what they want. They don't have to communicate it. They don't understand the production process that if you spend so much time on this one thing, they're trying to fix this little thing. They don't know this you can stuff you could do in post or that you have a whole rest of the commercial to shoot. And that's why I usually don't ask. Are you happy with it? I will just say I'm happy with what we got. I'm ready to move on. Is that okay? And you feel like a f keep going, you know, or no, we think that line was a little muffled. Okay, we'll do it again. Which part of the line the last word? Which word did it up? Communicated that The actor Everyone's good and we roll again right away. And then we got it and we move on. It's efficient. It's very much like in the military. I've never been in the military. I have studied a lot of it because I have to in terms leadership. It just about efficiency and clear, concise communications. Clear communications is something that also the same is true for still set as emotion said, uh, there is no substitute for it. If you're thinking it and not saying it, no one can communicate via E S. P or yet I haven't found someone aside from working with someone from, you know, every day for 10 years when you start to be ableto not even finish, finish one other sentences or whatever, but generally speaking, I can't as one thing that I can't overemphasize is clear communication and how much people value it. I also like to provide context like, here's the first part of the day is gonna look like this or in many in many ways, the that, um your 1st 80 is doing this, but as long as you in your 1st 80 year on the same page like, I want everybody to know what's going on at all times, Okay, this we're going to spend that probably next 45 minutes getting this shot, and then we're gonna move over to that location over there. We're gonna we're gonna strike and re set up over here. In that time, you'll have a five minute break. But for the next 45 minutes, we're focused on Boom. And then every, like, Okay, cool. I know what to do then. If you're not in this set, you're in the scene. You're sitting down. If you're the our director, you're prepping the next thing. Like everyone always has as much context as part assed possible. That's setting context. And that's what purpose for I mean, one of the key lessons I learned was never offer something I couldn't produce. It was like, Oh, we can shoot on top of the Empire State Building and we could do this move with a crane up there and then and your producers looking at you and their eyes were literally jumping out of their skull and they're taking a knife out of their back pocket and run his slit your throat because they're like, Do you get? Yeah, you've got You don't have the budget. We don't have the permits we can get in time. You can't get permission to do that. That's where the prep comes. And you discuss all your ideas, your producer, and they tell you Well, you can do that's gonna cost you $100,000 to do that. And your budgets. $5000. Maybe you shouldn't propose that. Or you could go up there with a movie, maybe let us up. Or maybe we have to go there incognito and maybe a little Osmo or a handheld IPhones Your best way you gotta work out within your realities. You know, we have to deal with sometimes the bigger gear and the bigger crew. But even on really big jobs, I'm told you can only bring six people and you tell me your six key people that you need and that's it. It's non negotiable, and you got 20 minutes and you could only year and only in that direction. And you can't bring a second lens. And I try to negotiate where he's a second lens like there's no one to swap it out or you have to bring a first a C. You get the idea, but work within your reality. Don't fight it. Embrace it, embrace the challenges because we're talking about big productions. This stuff applies, you know, all the way down to working with God forbid your sibling, you know, or your best friend. Hopefully, they're really good friends. But work within the reality you haven't accepted and embrace it. And you know what? The best lesson I can tell you is if you are a one person band where you're working with one or two people, cherish it. It's so much fun. I love working the big cruise It's not always fun. There's so much pressure. Time is your worst enemy. Money's your worst enemy. It becomes less and less creative if you really watch, like he's big Avengers film or whatever, it doesn't look like fun to me. It all look at Sam Mendez on the James Bond movie. You look at him. He's like, I haven't slept in three months. I'm working 18 hours a day, all the game of Thrones, directors of the same thing. Careful what you wish for, you know. And if it's just you and one or two people cherish that. We all want the big Hollywood experience, but I don't know, man, it's ah, I still value that that reverie or suffocated last year for a fruit company and chili with a few people in an absolutely beautiful setting. And we all cherished every moment of it because it was the right mood. The right size crew, it wasn't too big, wasn't too small, and we enjoyed ourselves. I think that's a really important thing to value and enjoy the step that you're at. You know, we've invited you to think about you making your first video, and we're talking about Hollywood productions and sets with 100 people. If you can always appreciate, find some value in where you are, I think maintaining a sense of contentment and happy. There's always a little discontent, cause we always think it's part of our Western culture, part of a modern mentality. And if you're a nen dependent artist, you have to have this characteristic of always wanting sort of the next thing. But there are so many lessons to be learned at every step along the way and appreciating you. There is a correlation to the amount of influence you have over the finished product, and sometimes it's inversely proportional to budget or inversely proportional to crew size. Because remember, if I'm telling my 80 to call the shots and I'm telling the DP how to frame it, and that the DP is talking to the gaffer and the grip of how delighted and how tow Dolly it and all that stuff like those were just cotton balls between me and what I want the final thing. That's why I stressed earlier how important communication is if you and its OK as a creative to say that I need to work on my interpersonal creative like my communication skills. That's literally why there are hundreds of classes on creativelive about leadership, about communication, about body language, about eyes bugging out all these things that you know. It was like looking at someone but not yelling like these air. All these are things that we has creatives need to know. It's not just having this idea in your mind and sitting, you know, like a mouse in the back row of class. You have to be present. You have to articulate your vision because if you can't articulate your vision and you go to one step beyond just you as the artist to their someone else who is helping you or someone else that you're photographing or we're filming, you automatically have to communicate. It's the most undervalued under under under understood quality in being a creative professional is the ability to communicate your vision. And if you are a mouse, that's okay. Just find a really good translator, right hand person. Yeah, for sure get really loud communicate, and they it's like watching telepathy or something or, you know, sign language and person translates for them. Uh, do we want to ask a few questions. The question you both were came from photography basically and very good for toddlers. Very successful photographers. At what point in your mind did you shift to say, Hey, I I'm still gonna do that But I want to do video. I want to produce and direct. I want to create what made you do that And was it really was a business decision, an emotional decision. And he answered it earlier, he said, At a certain point, it feels like wrote and you've done it so many times. It's no longer challenging and you're like I could take another picture with a knocked a bank against the sky as two stops under exposed with a 28 on this camera. But after 100 times of doing it, it's like I kind of have done it. I want something different. Mawr's It's got baggage, too. It honestly Mauritz just different. That was my impetus. I 100% of events already said it, but all oh, add one layer and that layer that I'd add is I started out making films. First of all, I started out making them there when there I was this big and they were really bad. But I really fun. And yet with, uh, early video professionally, it was about telling stories about being a photographer. That's how many of you may initially step into moving pictures is about, You know, I think we live in a world, were telling stories and helping people understand. Our independent brand is really done well through moving pictures, even if you're still a photographer. That's how it was for me. I tried to reveal, you know, back in 2005 what it was like to be a professional photographer, and the best way to do that was to bring a little film crew along with me. And that film crew is like my my second or third assistant that had a handy cam was like 500 bucks. So starting for me, it was in realizing the power of moving pictures through having Tiu telling my own story to share with others and over time that there is an inflection point where that became interesting because of enough professional success and photography, enough mastery like straight up mastery of craft and technology because I never really aspired, just like doing and going about gear is not something like I'm way more about the creative process. I look at all these cameras or here I look at him as hammers their tools. Better enough toolbox. And I'm not. I don't polish my cameras. I don't cherish my lenses before every shoot. I don't do that at all. I looked. I think of him as a craftsman going to work. This is a chisel. This is a hammer. But when the cameras went from being 50 or $100,000 down to $5000 all of a sudden I had more access. So it was a combination of many things, but at the core of it, it was another layer of challenge. And when you go from having a still image where you're telling a story, that's plenty hard to tell. A story at Ross stopping power and tell a story in a single frame, and then you add okay. Then there was this time component, and then there's this audio component, and then they're like, you just your mind blows and then you feel like a child again, starting over learning something new. So great question. And there's many, many many answers. You want to go to the Internet? Is that let's go to the Internet. We've got a great one here. So you are both very establishing your occurs at this point. Thank you for reiterating that. Do you find of that? The stakes are higher, the pressure is higher. And how do you What do you do to manage that? And how can people apply that to them if they're just even starting out? Yeah, the stakes are much higher, especially, and you become someone who's somewhat visible or very visible on social media. Um, you know, the trolls are there. They're looking for you to fail. There's no question about it. When I first did that, everything, which is my very first thing. And remember, there was little we 900 comments and one negative one and that stuck under my skin to this day really tell you a few years ago, and ultimately the stakes are higher. The pressure is higher. The only thing I do that's a little bit different is I don't put out stuff that don't like. I have a higher threshold, and if it's not upto a minimum standard, I would rather kill it, then have it damage Potentially hate the word brand. But it is. Unfortunately, a brand that being said ultimately should just ignore all that stuff and shoot as much as you can make those mistakes. Maybe you either hide the mistakes better. You should explain the mistakes and helped each other people. But you got to keep going and not let that stuff stop you because it will kill you. And look at all the Hollywood stars out there that are destroyed because their careers are not what they used to be. And they become really odd people and have mental issues and social issues. And God knows, I mean, you know, it can really get to you and you Just at the end of day, you got to go back to why you started telling stories and enjoying it. And if you're not enjoying it, you're not telling good stories. Go do something else. I have the background of my laptop says, Remember what you started, and I try and revisit that is off this possible. I see it every day when I open my computer, Um and you know, on the to me, that's what keeps me going on a daily basis, and my why I started is always the same. That's I wanted to make a life out of the thing that I think is an amazing human gift, the gift of creativity, and that we can make something that as a positive impact in the world, and you can really The best way of doing that is through making. I think it's what different shades has from a lot of other species on the planet. So that's why I started. But the why I keep making stuff today like you've heard Simon Cenex Why, like that's the most important thing. Um, I actually seek higher pressure, more responsibility as a as a professional personal development. So I like the, you know, when you get new projects. That's how in part, I decide what projects I take on now are. Is it with a new brand? Is that a new place? I've never been working with new people facing a new challenge, so there's a lot of, um, I seek personal growth. That's one of reasons that Creativelive exists is because I wanted to to create with many of people who go to work there every day on opportunity for, you know, folks like me, whether you're at home in Ohio or Arkansas or Iran or wherever you're at right now that you can chase that sort of that track of personal and professional development. So I love the bigger, newer, different things. Because I'm a lifelong learner. I think there's this seems like a very personal question. But ultimately, from a professional trajectory standpoint, movement is key like direct. That's what art directors and the people who hire you if they see you only doing the same thing or you could describe could be that this is the person, the guy or the gal. It does this that's dangerous. You wanna have that. But you won't own it for a second, and then keep moving and brace Change. Yeah, especially these days. Just keep changing with a lot of people. Come up to me to that person. Copy what you did or looking at the It is a direct copy. I'm like, Great, they're kicking me in the ass to keep evolving instead of getting mad at them and saying, Ah, you copied my stuff literally. Frame for frame. I go like he did me a favor. Indirectly. You're forcing me to evolve onto the next thing. So thanks. Kind of a high road. Take. Yeah, thank you very much. Life, mostly because I've learned endless amounts and I never would have been out to do it without you without, like, here. Sorry. That's another thing. So I I have really I feel almost mastered photography. I I have great stories in my head of movies that I want and stories we want to create for my customers. Now, how do I do? I give up photography and give it to a camera man. Now, I mean that they you said that Director of photography. So does he do all the all the shooting or do you do it first? And then you hand it off when you get bigger? There's no rules. It could be a she a swell, Of course. Uh, and, uh, you need to learn to collaborate. And ultimately, you will have to trust that cinematographer or a director of photography. Same thing to let her I to your vision. You're gonna hire them because you like that. There I I don't hire dp's that see the world the same way I do. I don't see the point. I'm gonna argue about all I like that a little more this way, a little more that way. I hire them because they have a really different vision. It's gonna add a layer to what I do, and I let them do their thing within the guidance of what I'd like. Like to say Give enough rope to hang themselves and I keep giving them more and more rope, the better their ideas are. And when I need Teoh softly yank back and sometimes hard and it's never personal. It's because we're trying to get somewhere, and that's a beautiful image. It just doesn't fit with the style of what I'm thinking our client needs and altering that all think it's communicated before, But you are one day the most painful thing for any photographer who's goes into directing, who is so obsessed with the frame to the millimetre and the lighting. Just sit on your hands and allow that dp to do their job, because guess what? If you're paying attention to the lighting and the framing so intently, what do you not paying attention to? All the other stuff you're supposed to do as a director, which is the pacing, the acting, all of that stuff. You can't do it all. That's why you delegate, you learned the hard way. You may end up with beautifully composed shots that you did overriding your DP. They hate you now, and your actors also hate you because you didn't pay attention to them and your piece sucks. Let go trust people. It's an additive process. Higher, smarter people. They're better what they do, then what you are. And you all benefit trust people and let let go. Yeah, it's, I think his answer is spot on. Uh, if I was to try and add anything which is difficult, cause that was a really complete, reasonably complex and complete answer, I would just tell you my personal experience is when I shoot a still portion of a campaign, I still hold the camera. I am the photographer, and I find that that's actually what people are paying for. It's not in the commercial world. It's not at all like the wedding world where you can. I'm a ex person verified photographer. That's just they're paying because your fingerprints are on every image in the still world. Now when I get, um, jobs as a director, it's really flips. It's just the opposite. Um, and you are the maestro. You are the conductor of a larger group. Even if that group is three or four, Sometimes it's 103 or four and the role of having the ultimate vision and the fact that the 1st 50 times I did it I was like sitting down with the monitor and someone handing me coffee as like, this is it, like I want to go over here and move the light and I don't know that someone else's job when everyone, you know, if you're doing everyone else's job, not only does it undermined the efficiency of events spoke about earlier, but it undermines the production as a whole. What I do find great value in is being able to do every job, and I might not be better than this person who's shot 1000 commercials when I've only shot 100. But I can definitely I can definitely grab the camera and do the move like I want it. So there may be things, something that I'm better at in a very narrow thing that I want to make sure makes it in the final product. And to be able to starting at, you know, a crew of first, just me and then me and two others in me and four others you do in those rules. You do a lot of things. You're not just the director sitting there, so I take pride in being able to operate the cameras that are here. And I think my crew noses every once in a while like a creative life set. And I'll say, You gotta move this little bit. I want a wider shot. Okay, Cool, because I've done that actual role in the commercial world for living. At some point in my career, I find value there, but giving control and learning and listening and being around people who are smarter and better than you have done commercials. It is a fantastic opportunity for personal development and let them if there's a problem and you have a little bit of luxury of time, let your DP Whoever it is, try to figure out on their own for 30 seconds. It shows respect. They may come up with a better solution that you have. It's not uncommon, criminal exact. I can see the mistake coming. I see the brangman light in the lens and they're going to short lights, the wrong place. Let it be issuing, scratching their head and they ultimately fix it and they feel good about it. They look good in front of the rest of the crew. If you step in, it's disrespectful. Or learn how to make them think they figured it out by telling them it's an art form, especially not in front of the crew. And the amount of times I've had d peace walk up to me and said You knew that was happening 10 or 15 minutes ago, didn't you? I'm like, No, they're like, son of a bitch on I'm like, Well, I needed you to figure it out because I respect your work and they will respect you so much because no one likes a know it all. And you know what? Even though you think you know how to solve it nine times out of 10 they come out of the better solution you would ever thought of. So give your people time. If you're under critical critical time pressure. You step in and say, Let's just do this to put the camera right here at this angle with this lens and we're gonna shoot this, nothing personal. We just got to move on running out of time. It's not personal, and that's how you ultimately do it. If you have to pull that report, yeah, qualifying. All the things that you hear is Qualify, Qualify, qualify Because there for every time we're saying this, there's a a reason that you wouldn't do it. I think time and money pressures and all that should should be a fact is not working and going to say we tried to get a move on.
Ratings and Reviews
It was super interesting! Vincent you are a kind of a big deal! )) Thanks!
Student Work