Nikon D3100 / D3200 / D3300 Fast Start
John Greengo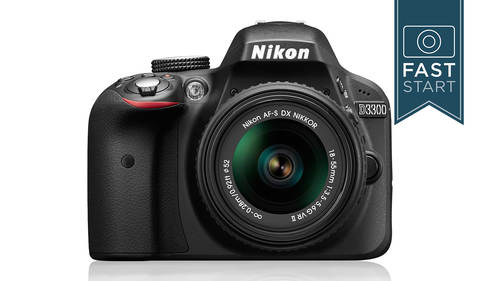 Nikon D3100 / D3200 / D3300 Fast Start
John Greengo
Class Description
Join expert instructor John Greengo for an in-depth tour of the Nikon® D3100. John will offer a hands-on introduction to your camera's operations, detailed instructions on how all the menus work, and easy tips on how to shoot great photos.
In this Nikon D3100 video guide you'll learn how to operate all of your camera's features and functions and find out which accessories are right for you.
Ratings and Reviews
Wow! Amazing course. I started learning photography on my own about 6 months ago. I read many blogs and tutorials and watched a lot of you tube videos. I then decided to buy Johns Intro to Digital Photography course. It's an excellent class and I was learning so much, but having still having trouble understanding how I could translate what I was learning into taking great pictures with my camera. I read my user manual a few times and still had a lot of questions. I was really hesitant to buy this course because I am cheap. Lol. I thought I should b able to learn everything using my FREE user manual. I am so glad I decided to buy the class. Everything finally makes sense. He even gave examples of pictures and showed how he would set up this camera to get a good shot. John is an excellent teacher. Worth every penny.
Wonderful resource! I'm a brand new photographer, with a brand new 3300 that I bought because I decided that if I was ever going to get the most out of my point & shoot, I would have to learn to use a "grown up" camera. That seems backwards, I know, but there don't seem to be classes that help a person go beyond p &; s. Since I'm new to photography in general, I found the pace to be super fast - thank goodness I could yell "wait!" at the computer then rewind! The operational section was extremely useful. Being able to practice resetting the various elements was exactly what I needed. I do wish that I'd watched the 3300 update before watching the rest of the episodes. The functionality of the newer model was just different enough to make me want to pull out my hair. What dial? What button? So that would be my tip: if you have a 3200 or 3300, watch that segment first and maybe make a note of the changes so you don't go mad during certain portions of the course. Otherwise, it was great, and I so appreciate the fact that I'll be able to go back and review sections whenever I want. Now it';s off to the basic photography class! Thanks, CreativeLive!
I'm an amateur photographer. I decided to upgrade from my iPhone and point and shoot camera. I bought the Nikon D3300. I then found John's class on the D3300. His easy to follow course walked me step by step and button by button around and in my new camera. It was worth the money. His tips, tricks, and hidden gems took me from auto to the big 4-manual, aperture, shutter, and programming! Wow. With my new understanding of the camera, my pictures improved with each shoot. Practice makes better...but it was the confidence John gave me to go out and use the entire camera that is making me a better storyteller. This course is a must view for all new Nikon D3300 camera owners! Thank you John for a great learning experience!
Student Work