Olympus OM-D E-M10 Mark II Fast Start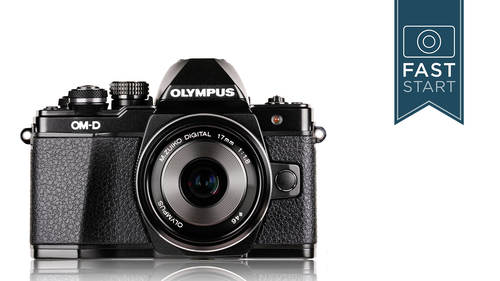 Olympus OM-D E-M10 Mark II Fast Start
Class Description

Dense technical manuals make for a terrible first date. Get the most out of your new Olympus OM-D E-M10 Mark II with this complete step-by-step walkthrough of the camera's features. Join expert photographer John Greengo for a fast-track introduction, and unlock your camera's full potential.

In this fast start, you'll learn:


How to use the autofocus system

How to use and customize the menus

How to use the Mark II's video capabilities
This fast start includes a complete breakdown of your camera's exposure, focus, metering, video and more. John will also explain how to customize the Mark II's settings to work for your style of photography.
Reviews
Greetings I joined the Olympus OM-D E-M10 Mark II Fast Start class under Mr. Greengo. I have been using this camera for about 7 months and thought I could handle it well. This class taught me so many aspects of the camera from the word go. Very clear concise but illuminating with well placed illustrations and photos for easy understanding by all. Mr Greengo's English was very precise and clear even though he had to speak fast to cover all of the important aspects within a set time. The advice pass over was clearly from a person who was a master of his subject. I enjoyed the class very much and have signed up for more classes on Creativelive and photography my the same instructor. Well done Sir and thank you for your good advice. I recommend this class to all who have decided to reward themselves with this little miracle camera this Christmas.
John is one of my favorite instructors and I really enjoyed this class. Just got this camera after Christmas and I'm loving it so far and can't wait to get out and use it more. Love Creativelive and thank you for all the wonderful classes!
Using the camera for a few weeks before jumping in really helped me to understand all the instruction. Based on the course, I feel much more comfortable with deciding which functions I will use and which to forget about, at least for now. Based on my utilization of the many lessons, I feel that the content was just about right for me. The instructor used good judgement when determining how much time to spend on every element. The parts that he spent less time discussing was still enough information for a student to learn on their own (homework is good!). Going back into the lessons to review an area has been very easy. I am sure I will be accessing this course for some time. There were a few areas that didn't seem to match up with my camera, but I plan to do some investigating into software version differences and what I may have done incorrectly before I jump to whiplash causing conclusions. The "Fast Start" title bothered me at first. I have seen presentations that are called tutorials which appeared to be simply sales hype. Based on my experience, you have a winner. I hope that I can find additional courses from this group that are of interest to me. Thank you for all the work that you put into this presentation, Raymond Bohn A Greatful old film guy
Explore More Free Classes
THE
CREATOR

PASS
Enjoy the free classes? Get 2000+ more Classes and watch it anytime, anywhere.
Get The Pass