Sync Speed and High Speed Sync
Mark Wallace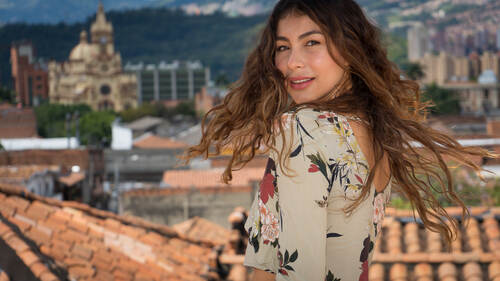 Sync Speed and High Speed Sync
Mark Wallace
Lesson Info
3. Sync Speed and High Speed Sync
When shooting on-location with a flash the shutter is used to control the ambient light. Understanding how the shutter works with different flashes is a key to success.
Lesson Info
Sync Speed and High Speed Sync
When we're using our camera normally we can control the exposure with our ISO, our aperture value and our shutter. And we really don't think much about the shutter. It just sort of works. But when we add a flash to the mix that changes everything because the flash and the shutter, well they interact in unusual ways, and so instead of me trying to explain it to you just by blabby blabbing, we have an animation that's much more clear. So, let's look at the animation right now. It's important to understand how your camera's shutter works. Your camera's shutter has two curtains and these curtains have names. The first curtain and the second curtain. They open and close to reveal light to the sensor, much like a curtain opens and closes in a theater to reveal what's happening on the stage. Let's take a closer look. When you press the shutter release with your finger it tells the camera to open the shutter. The first curtain opens to reveal the light to the camera's sensor. Then, the secon...
d curtain follows behind to hide the light. Then, the curtains reset and wait for you to press the shutter release again. Let's watch that again. Notice in this animation that the first curtain opens completely before the second curtain begins to follow. This only happens at slower shutter speeds. Usually speeds under 200th of a second. Now, watch what happens when we speed things up. When the shutter speed is faster the second curtain can't wait for the first curtain to open all the way. If it does, it won't make it across in time. Notice in this animation that the shutter is never fully open. It just reveals a slit of light as it travels across the sensor and the slit becomes smaller as the shutter speed increases. Sync speed is the shutter speed on your camera that allows the first curtain to fully open before the second curtain begins to follow. In other words, it's the fastest shutter speed you can use with a flash. Let's take another look at your camera's shutter. This time with a flash in the mix. When your camera shutter speed is set to sync speed or slower, a few things happen. When you push the shutter release button, the first curtain opens and as soon as the first curtain is fully open the flash fires. Then the second curtain closes. Normally, if we have our shutter speed set too high we'd have problems. Let's take a look. When you press the shutter release the first curtain will begin to open, but before it's fully open, the second curtain begins to close. When the first curtain is fully open the flash fires just like it did before, but this time part of the sensor is covered by the second curtain. This will cause our photo to have a black area and the faster your shutter speed, the more black you'll have in your photo. So, that is sync speed, and the question you're asking is, well, how in the heck am I gonna be able to shoot on location because I can't shoot at 200th of a second because the shutter needs to go much, much faster? That is true. So, in the studio, if you're a studio lighting person, and you're shooting there, you always just set your camera to sync speed and then you just worry about the aperture and the flash power, but we can't do that here because we're shooting on location. We need to shoot at shutter speeds of 2000ths, 4000ths, even 8000th of a second, so that we can get shallow depth of field and shoot at F4 or 2.8, or even if it's really, really bright, like it is right here in Arizona, we might have to shoot it, maybe F10 or 11, and a really fast shutter speed, so that we just have our ambient light not over exposed. And so, luckily flash manufacturers have figured out a way to get around this sync speed issue, and the way they do that is using something called high speed sync, and so let's watch an animation that explains high speed sync. When yours shutter is moving faster than your camera's sync speed, it never fully opens. To compensate for this, the flash doesn't just fire once. It fires hundreds of small, evenly timed bursts. When the first curtain opens, the flash begins to fire, and as the curtains move over the sensor, the flash continues to fire bursts of light. To the sensor, these multiple flashes appear as one long burst of light and we get a perfect exposure. Now, high speed sync used to be the domain of Speedlights. It used to just be those lights that we put on our camera, and we could use those outdoors in bright light and get away with fast shutter speeds. And luckily many years ago, about 10 years ago, manufacturers of off camera flashes and even studio strobes, learned how to use high speed sync with those flashes. And so, fortunately, now we have a whole toolbox of off camera flashes and studio strobes that we can use on location. And so, we are going to use Speedlights. We're gonna use an Elinchrom ONE, that's an off camera flash and then we're gonna use even a 500 watt second ELC 500, and the reason for that is, well, when you go to high speed sync, something happens. Instead of getting one really powerful burst of light, you get these small flashes and because it's so much power, it drains the battery of your Speedlight, or off camera flash, anything battery powered, and so the amount of light that's coming out with those little bursts of light, it drops dramatically. And so you have to use high speed sync, you have to have your flash very, very close to your subject. If you wanna get far away you need a beefy flash that has high speed sync. Luckily, we have one of those, and so, we're gonna show you some different examples. Okay, the next thing we have to understand is the exposure diamond. This is gonna pull all of that stuff together. The dynamic range stuff that we've talked about, the high speed sync stuff that we've been talking about, exposing ambient light and light from the flash, and mixing those two things, balancing all of that stuff. We're gonna go through some different scenarios, and how to set up our camera and our flash. What settings do you use and how can you repeat that over and over? And so next, let's take a dive and look at the exposure diamond.
Class Materials
Tether Tools Pro Kit Discount
Tether Tools Starter Kit Discount
Ratings and Reviews
An excellent real-life exploration of basic lighting techniques that can really make a difference. I especially appreciated the explanation of high-speed sync and the outdoor demonstrations with light modifiers. This is a perfect add-on to Mark's Understanding Light course.
Marc created a great class. Early on in the class things went slow and methodically through the basics. This is important. He could have told us but instead he lead us to discover...a much more powerful learning method. Then came all the different approaches and problems, Plus if you don't feel confident, it's here to go through again if you purchased or subscribed. I give the class 100%
This is a great look at methods of using natural and artificial light on location. It is very informative as well as entertaining to see Mark on set as a working pro and making a few mistakes. This is a practical and easy to understand course. We'll done!
Student Work