Introducing Multiple Lights
Clay Patrick McBride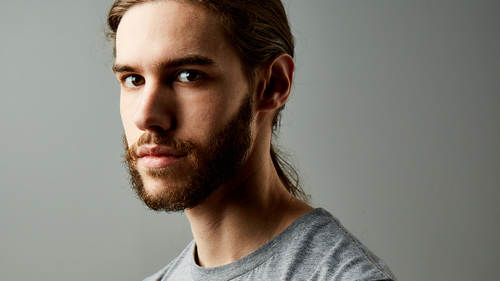 Introducing Multiple Lights
Clay Patrick McBride
Lesson Info
18. Introducing Multiple Lights
Lesson Info
Introducing Multiple Lights
Talking about building off of one light and why would you want to do that, you know? We're gonna discuss that. We're gonna illustrate the how and why of adding more lights, we're gonna talk about ratios. You're gonna have to write some stuff down, we're gonna have to think about math a litte bit. We'll talk about balance and the ratios, main/fill/edge light, just defining them and understand how you can solve problems with other lights. I think as photographers we're always problem solvers, lights always problem solving. It's just a part of the process, right? We're gonna underline throughout the day we're just gonna keep shooting these slides, keep drawing these diagrams, keep adding them to the playbook and keep having them because I'm going to try to cram as many quick light set ups into this final segment as I can with many lights. So, three point lighting is like, I guess it's just a thing we teach. As a teacher we teach it, its all over everywhere, you know? It's just three princ...
iple lights and I really think if you know how to control these things you can apply them to very big situations, which I'll get to talking about that. Key light, main light, it's used on your subject, right? Here we've got Kahled, main light's coming in from the side. We have a fill light coming in from this side, filling in the shadows or many times, we've look at the fill light could be a giant card or some sort of card, right? Then we've got an edge light. Little edge light coming from the back creating separation. So those are the, sort of, three principle lights we use. This is a really good example of why you'd wanna use more than one light. I've been using that tight beauty dish, the gridded beauty dish, I use that a lot as a key light. Here I'm using it to light Mr. John Barbados with a little bit of a spot, right? And that light is sort of narrow and small, right? So, it's doing a great job lighting this area. His shoes are five feet in front of him, right? So, I needed to light the shoes with their own light. So, here it is. We have a second accent light just waking across the shoes and one little grid coming in and lighting John by himself, right? So, many situations where we might be using a small, point, hard, gridded source and not matter where we put one of those fill cards, its not gonna fill in his shoes, right? I can't bounce this light way over here, it's just impossible. The inverse square law keeps that from happening. So, we need to use the second light. And you know, a lot of people talk about ratios in this way, like 1:2 ratio, 1:4 ratio, 1:8 ratio. Have you heard this stuff before? That's a way to talk about light. I don't choose to talk about it that way. I choose to talk about it like my main light in this situation is f11, my fill light, or my accent light is -2 at f5.6, right? So, I just say main lights gonna be X and then other relationships are going to be formed around that. So, I'll say -2 is my subtracted two stops and this is something we gotta talk about. That's how I write them on my diagrams, it works for me, I hope it works for you to. It's a little big less of a crazy arithmetic and algebra. So, another example, you have a beauty dish coming in from the side, many, many times I'm just using that beauty dish with a grid as my key light. Main light coming in from the side and then I'm accenting my background and creating more separation in the shot. So, what we do in the studio today, what we do on this gray piece of paper, can very easily be applied to these other situations. So, you've gotta think past just the laboratory times. Go in here, practice, get dirty so you can go out there and kick booty. Because the big thing you don't want to be, you can't have your head, I think this happens to a lot of kids we teach, I always talk to Chris about this, like they have their head so in the technique and the camera and the setting that they're not present for like, "'Sup? How you doing? "Let's take some pictures." Because they've got their heads way up their, I don't wanna say a lot of perverse words right now but their head is so here, that they're not here. I think when you become a great photographer which I assure you, when all your thinking is done around this thing and you're just having an experience with a person, a portrait photographer. I am a portrait photographer. That's what I do. I try to keep it real, you know, that kind of stuff. So, edge lights, sort of painterly, slasher lights, I call them, highlights coming in from the back. I use them a lot creating sculpting muscle or just creating drama in the shot and here, I tell this story to Chris very often. I walk into a church and I'm like, "How am I going to light a church?" It's like the hardest thing in the world to light. And I did this with a three point light set up, the same thing I'm gonna teach you right now just applied to a bigger scale. We look at this picture and we actually see the angle of incidence equals the angle of reflectiveness. So, that thing that was a pain in the butt with the reflection in your glasses can actually work for a picture depending on where we put the light. So, these shiny floors, these shiny church pews are all reflecting light because I have a light right behind his butt, shining at camera. I have a second light shining up at the ceiling here, a little bit of gel on it, which we'll get into tomorrow, we're talking about gels and I have a third light just spotting him right in here. Beauty dish with a grid. I walk into this church, I'm overwhelmed. One thing I always do is get to the job early, I can't encourage you to do that enough. As problem solvers, the earlier you get there, you can walk through, you can pick your spots, you can think about it. So, I'm there very early and I'm thinking and I'm wracking my head around it and I'm like, "Oh my god "I'm just going to do "this thing I teach these kids every day." These are just bigger sources. We were talking about the magnum reflector. Could you just grab that again? We looked at the magnum reflector and just this is a really good example of, this is that very broad source, very bright light. There's one of these right behind Rick Ross, right behind him and it's really gonna magnify and kick that light and make it bright, another one pointed at the ceiling. Now, these things are really going to kick and push your light. Sometimes they use them in the ceilings of NBA games and that's really far up there, that's, I don't even know the feet but really far up there so they're gonna help you get there. So, anybody wanna guess what's going on here? Go ahead. Ring light? Ring light, yes, thank you. And what is ring light? Do you know about a ring light at all? (student speaking) It's round, it's like a hoop and it goes right around your lens. These things were eventually invented for medical photography because you'd be photographing really small things and you wouldn't want any shadows getting in there. So, they go right around your lens for forensics and stuff. Matted forensics, by the way. Fun fact about Clay, likes forensics. So, it's giving us, what? It's giving us that crazy shadow. What else? How many other lights are in there? Anybody wanna guess? You can just, how many lights do you see in this picture? It looks like she's got one, they've both got ones coming from the back and the top. Yep. That's correct. Let's take a look. That's exactly what we're talking about. Sky blue seamless, subjects three feet away. Why do I say that? Because that's going to effect the color of the seamless. How far away, we've been looking at that all day, right? We're gonna look at it some more, it's gonna effect it. I've got my ring flash right around this guy and I give you these things because maybe you can improvise, maybe you can have some fun with this. A couple edge lights, grid spots coming from the back, radiating down, getting some sort of separation and power and this is an artist named Carmen, so it's very fitting for her sound of music. Sort of, pop and to bring your light, I don't know, if you can take a picture that sounds like somebody's music, you know you've done a good job, right? Another good example, we looked at back light earlier today. So, this is just a back light situation, no light coming from the front, just like we did with you, Doug except it's a globe, it's like, we don't have one here today but Profoto makes this globe light. It's gonna shoot light everywhere in 360 degrees. You can actually, do we have an empty speed right? Yeah. Cool, thanks. You can actually go to a lamp store get a plastic light fixture from Home Depot or something just glue it to one of your reflectors and you can make this light that sprays everywhere. Just 360 it's gonna spray light. Very helpful on lighting huge areas, 360 degrees. So, I just have them, one of them right behind him, spraying light everywhere and creating that back light and that shape and then a light options in there. That's a one light thing. Here we go with a two light. So, I'm just filling in from the front, same set, identical set just filling in with the beauty dish. Were both of these shots on the same lens, on the 80mm? This looks like a 45, this looks like a little bit wider to me. It definitely doesn't look like it. I ask because... This is also a medium format camera. So, that's why you're a little bit confused because they're not the same. That makes more sense. Does that make sense to you? Absolutely. Okay, cool. I have to admit, I am guessing at some of these, I'm kind of going back, they're not from the archives, I drew these up for this lecture. In this situation we're just creating a more painterly effect. We've got some edge light coming from the back, side light coming in here, a little fill light coming from the front and we can control that and then I'm lighting my background separate. More light is just going to give you more control. We'll get into it.
Class Materials
One Light Wonder Lighting Diagrams
Ratings and Reviews
WOW! I was getting ready to go to bed, when I saw this class last night as I was perusing the classes available. Got the notification that it was playing, so I thought I'd check it out for a minute or two. Well, once I turned it on, I couldn't turn it off! As someone who has shot musicians on stage since I was 16, I've recently been interested in shooting portraits of them, so Clay instantly intrigued me! The more I watched, the more I couldn't shut it off, and I stayed up til 5:30 in the morning to finish the course (financial issues, so I can't afford the class right now) This class is amazing! I love Clay's teaching style, his willingness to step outside the box and play by his own rules, and his lighting is awesome! As soon as it is possible, I WILL be purchasing this class! Loved it! Thanks again CreativeLive for introducing me to yet another outstanding photographer to learn from!
I absolutely loved this. Great instruction, great content and very inspiring demonstrations. I'd highly recommend this course
Awesome intro to lighting. I love Clay's teaching style and his personality infused presentation was a pleasure. I highly recommend this course.
Student Work