Outsourcing Workload to Grow Your Business
How to Analyze your Business
Stacey Trock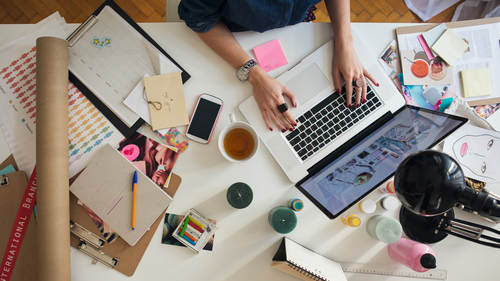 Outsourcing Workload to Grow Your Business
Stacey Trock
Lesson Info
7. How to Analyze your Business
Lesson Info
How to Analyze your Business
The first thing I wanna tell people is to think about their strengths, okay, and this plays into one myth that goes around like, you know, in the entrepreneurial world that there's this fantasy that you're gonna only do what you love, right? You are gonna be in your studio painting and the goal is that you don't have to do a single thing you don't like. It's not true, it's never gonna be true. (laughs) And so like we talked about, the difference between a painter and a business owner is you have to do some degree of running your business, and we hope to hire out some people that are really going to help you, but you still are going to have to manage those people a little bit, so I do just wanna take the, sorry, the bubble bursting to say it's not, the fantasy state isn't doing absolutely nothing that we love, the fantasy state is really playing up our strengths and having a business where we show up each day and we're doing things that we enjoy doing and are really making positive step...
s forward, and there might be some crummy things too, but it helps to think about what your strengths are. And for all of these worksheets I would really love if folks in the chat room as we go through would sort of chime in with what their strengths are, because they are going to be completely different for your business. There's probably an accountant out there who loves looking at numbers, and who, man, just really jams on gettin', like, the numbers to match up on line 27 and line and that's on the things we detest list for everything else, so, (laughs) for everybody else in the room, so do chime in and let us know. So what we wanna do with our strengths is really capitalize on them. You want to position your business and grow your business so that you're doing more of what you're really good at, right, so you don't wanna grow this business where you get cornered into doing things that you actually don't like doing at all. The first step to identifying your strengths is saying what is your business. So everyone should be able to tell me this in one line, what is your business about? And if your business is about something that you're not feeling very passionate about, that's you're first stopping point that there's something you should think about, right. Like, if my business was teaching people to crochet easily and with a sense of community and I absolutely hated teaching and crocheting, that's something I should be thinking about. I hope no one is in that situation. So this, the one line what is your business, this could take two years to sort out, right, so even if you know you're a water color artist, maybe you haven't defined your niche and this is something we're gonna be talking about as we get to products. Maybe you actually specialize in florals, and maybe that's your jam. So we wanna spend some time thinking about that. But if people wanna share and contribute what their one liners are, that's something awesome to have in your pocket 'cause it's gonna come up again in marketing, it's gonna come up again in how you pick a illustrator. And now, want you to list three things that you love doing about your business. I actually really like answering customer emails, which is why I've never hired it out. You probably really love some component of what the production work you're doing is. It's kinda hard to come up with examples of people who started these businesses and don't have any relation whatsoever to the production work. There might also be other funny things that you actually just really love doing. I, it's a open door here, I really love doing the inventory in my business. Like, there's absolutely nothing I love better than getting a giant box of stuff, taking all of the inventory, putting in the order, keeping it all organized. I like the system of running a produced-based business and I know that that's something that not a lot of people love doing, but that's why I'm me and not someone else. So come up with the things you really, really love doing. These are not going to be things that you hire out, these are probably going to be the things that you keep for yourself, because they're the things that you really love doing. This next one's very tricky, and you might have to dig deep. What are the things that you are better at doing than other people? Okay, if you are super good at something it's gonna be hard to hire someone who's even better than you. A great example of this is our expert who's coming in at the end is Mei Pak and she's taught quite a few classes on, oh my gosh, everything, she's a marketer, right, so she runs an amazing business and she's an amazing marketer, and she said to me, (sighs) I hired this ads guy and he's not doing anything better than I can do (laughs), and she's like, and he's a really good ads guy. And I was like, well, that's because you are an amazing marketer, right? You'll get to a point where it's hard to hire someone better than what you're an expert in, right? So you might have some strengths, like I am organized and efficient like nobody else. I'm not gonna be able to hire out someone, I'm not gonna get an efficiency expert who's gonna make my business more efficient. And the thing that you're really good at you might not like doing, and you're gonna be stuck doing it because for the amount of time and money you have you're the best person to do it. So that's something to be aware of, and that's why I warned you about this myth that you can just hire out everything that you don't feel like doing. Some things you're truly the best person to be doing for your business, even if it's not really your favorite thing to do. And this is the goal state. In your fantasy world, what would you be doing all day long? Okay, and that's something I want people to think about kind of over the whole course. Is it actually the painting, or is it coming up with the new idea to doing the painting, right, because even if you're running an art business you could hire doing the actual production to someone else, so like just take an example, is it your fantasy to be actually painting the art and selling each painting that you've done, or would you like to move the way of prints where your fantasy is painting this one beautiful one and then you would like to have prints that go out because you don't actually like doing the reproduction of the painting 200 times, and those are important things 'cause everything in a business gets amplified and made bigger, so if, you know, something you wanted, it might have been fun once, is it fun 200 times? Is it fun 500 times? Those are the sort of things we wanna start thinking about. Know thyself is like, the secret to running a business, really. If you hate doing something, you're just not gonna do it, or you're going to dread your life, one of the two. Most people actually end up just not doing it, and even convincing themself, oh it's not really important to my business. Like, I'm the kind of business that doesn't, we don't really need ads. It's not, (laughs) it's not terribly important. Or, bookkeeping, (scoffs) my business doesn't need bookkeeping. So it's really important to identify the things that you hate doing, you don't like doing, and be honest about it, no one's good at everything. So just fess up. And right now we're not even saying you have to hire this person to do something, we're just talking about the weaknesses kind of getting in the back of our heads, maybe that's someone that we could hire and in the end determining whether the time, energy, money equation works out for you. So this I think is the key insight into what you hate doing. What's the thing that's on your to-do list that just never quite seems to get crossed off, it just sorta lurks around from week to week like, (snaps fingers) oh, woops, didn't make time for that. That's kinda like a sneaky indicator for a lot of people that it's something you can't stand doing. You know it's important, so you put it on your to-do list, and then, ah, geez, something came up, I just didn't get around to it this week, or next week, or next week. So that's a indicator to a lot of people something they absolutely can't stand. And this is really painful for some of us to admit, especially the people who started as solopreneurs. I can do everything, I don't need to hire, no, I'm good enough, I can do it, and then you realize, like, things are kind of crumbling at the edges, and you're not getting to them, and you've told yourself it's not important, nope, don't walk to close to that edge. So that's a good one. Where's your business failing, and who has the expertise to fix it? So for some people this may be, your website's really clunky, the product photos don't look very good, the descriptions are kind of confusing or inconsistent, your financial records are a mess, your taxes are about to do you over. What's in the way of you running the biggest, most amazing business you could run? You may have 10 of these, and that's fine, there's nothing wrong with that. Is it the marketing, is it getting new people, is it, oh, the email newsletter? Whatever it is, those are the sorts of things we wanna come up with, and turn it over and start six new sheets of paper, because you might have a lot of them. Oh, so we have a weakness out here. Yeah, let's get to it. This is from Our Secret Treehouse. I'm terrible at reaching out to shops and/or following up with them, I hate it. Yeah, yeah. I mean, we all start businesses and there are things that we don't like doing, right, like so I actually know Our Secret Treehouse, hi! A lot of us are introverts, (laughs) I am an introvert too, right. We like working from home, we like doing everything ourselves, we like just being in our little bubble doin' our little art thing, doing our whatever thing, and then, oh, you mean we have to like communicate with people? Right, okay. Because that's what, running a business has these, like, two completely different sides. You're supposed to be making a product and then you're supposed to go out and be the salesman too? Like (groans) really? So that's a great weakness that I bet a lot of people have as well. And then list, these are all in a similar vein, list three things you fantasize about having someone else just do? Like I'm sure we've all said, like, (groans) if someone could just do this thing, and right now we're not worrying about being practical, we're not worrying about how much it would cost, we're not worrying about if there exists a person who could come and do that, we're just getting it out there, 'cause a lot of times you don't know if that person exists until you've written it down and been like, oh, I hate labeling my product, that is so boring, I wish it would just be done. And then later on we're gonna start to see what kinds of people exist, and whether there's someone who could do it for us. Like I said, you can't run a business without thinking about the future, so where do you wanna be in five years? So when you're running a business it's super easy to get stuck, what I call putting out fires, right? Oh, the order needs to be shipped, oh I need to go to this craft show, oh I have this appointment that's booked, right, you're doing the day to day things for your business and if you're just doing the same thing you're gonna end up in the same place in three years. If you're not doing these things that are looking forward, you're not gonna be anywhere different. and in most cases you're gonna actually be taking a step backwards because some little upstart is going to be doing better, fresher things than you because they have the more energy and they have the time to be doing the fresh things right now. So think about where you wanna be. What benchmark could you reach in five years where you'd look back and be like, wow, I've been really successful. And this depends a lot on your personality, too, so there's tons of personality tests you can take online and we all have different benchmarks of success. And you wanna be striving towards something that really motivates you, so maybe it's being in a magazine. Maybe it's getting a certain number of sales. Maybe it's reaching a certain income. For me, it's the four hour work day, right? This is like my fantasy life is this idea that you wake up in the morning, you work for four hours, and then you're free to do your hobbies. I reach it for very small, like I see glimpses and I catch it for a week, and then I get the opportunity to do something else awesome like teach a Creative Live class and there goes my, like, four hour day. (laughs) I meant work day, not work week, work day. Did I say work week? Day. Work day, good. There's a book called The Four Hour Work Week by Tim Ferriss which is a super good book to read, I don't know how practical it is, but I strive for the four hour work day with intellectual curiosity. So for me, personally, it's not good enough that I can show up, work for four hours, make a certain amount of money and go home. I strive for this intellectual curiosity, doing something new, doing something interesting. If I didn't have that I'd be really bored and really cranky. So this is what you have to figure out, like, man if I got to the point of doing this thing, and for me working four hours every day, I made it, bam, 'cause that's really what you're striving for is this goal, this is your goal. Now, what do you need to do in concrete terms to reach that benchmark, and are you on the path to doing it now? So it's really easy for us to say oh, I'd love to be featured in a magazine, that's my dream. Okay, are you sending out press releases, are you sending out materials, do you have the photos that you'd need to get into a magazine? What are you taking concrete steps to do to get you on that path, 'cause you're not gonna get there just because the fairy wakes up tomorrow and chooses you. And these are the sorts of things that need to be done in your business that we're gonna keep coming back to, right, 'cause if you can't do it, if you don't have the tools to get your stuff, let's say in front of a magazine editor, then you need help, right? So this is something you would say I need help with. And this is, yeah, this is me. What's your perfect work day look like, and are you building your business so you can get there? So is your dream to wake up and do only painting and a half hour of emails? If that's your dream, then you need to make sure you're doing the concrete things to actually get there, right? You don't want to, let's say, reinforce people to email you with every single question they have and that ends up with you having two hours of emails every day, because that's not your perfect day, you don't love answering the emails. So we're gonna streamline and train people to not send you so many emails. And Stacy, just wanna let you know that Daisy Chain Oddities, who's been engaging this morning, thank you, in five years wants to have their own studio space and maybe an assistant, and we're gonna definitely have the, you know, the actionable items throughout this class that are gonna get them there. That's awesome. Yeah, and all of these, some people may not have as concrete of a dream as that, and that's okay. We're not at those steps yet, so whatever comes to you this is what I call like a brain dump, you just write it down and we'll get to where we get to with it. Here's the dreaming, okay, this is where some fun happens. Building a little fantasy is often the first step to thinking about what could become a reality. 'Cause something that seems completely harebrained right now might actually work out in a year or so. So, like, what would you do for your business if you had $40,000 in cash right on the floor right now? What kinds of things would you do with that? And if your answer is, I don't know, then you really need to spend some time thinking about it, right, 'cause if your goal is growing your business and you have no idea what you would do with a little bit of cash infusion, then where are you headed, you know? Like, coming up with these ideas about what would be a good path to go down, what kinds of things do you wanna do, is it a new piece of equipment that would really change your life, is it a staff member? Do you need help, do you need cash, like what kinds of things do you need, and what would you do with it? What would you do if you had a 40 hour week employee? What kinds of things would you tell them to do, right? So this, no one's gonna have a 40 hour employee just show up right next to you, but these are the sorts of brainstorms we need. If you can't figure out what you would delegate to someone if they turned up, how are you gonna hire a freelancer to get an annoying task off of your hands, right? So this little fantasy is kinda the first step into coming up with these actionable goals that we need to get rolling. What would you be able to accomplish with a second you? So this one is crucially very different from the 40 hour a week employee. So, I don't know who watches Black Mirror. There's this show where they, like, it's the future, you know, blah blah blah, and one of the episodes they've cloned you and put you in a little box, and you take care of everything for the other you's life, 'cause you know what temperature you like it, right? So there's the little you in the box that makes it the right temperature when you wake up, and they order your toast the way you like it and those sorts of things. And crucially, the little you gets really bored doing stupid things like that, right? So what would you do if you had a whole 'nother one of you, and they had to do all the awesomeness you do for your business, and you had to make sure they wouldn't get bored, right? Your other you wouldn't be putting stickers on baggies, right, your other you might be coming up with a new product idea, or oh my gosh, I'd put the other me in charge of creating a new product that's like the high level end product, right? So we were talking before about how to get more, like, products available for your customers, maybe the other you comes up with an e-course that walks your customers through an amazing year to get them to this great end goal. That's what another you could do. You're gonna have a really hard time finding a VA who does all of that, but the other you could do it, and these may turn out to be things that the real you has time to do next year, right, these are kind of like the little fantasy scenes we're starting. And of these three things, which do you need the most? So the genie's giving you one, which do you need the most and why? That's important to think about, I think. Okay, this is where the rubber hits the road. None of us are doing this right now, but I think it's super important. You can't know how to move forward unless you really know where you are, so you'll hear the same advice from financial planners about your budget. You know, if you go to someone and you say I wanna save for my future, they'll say, well how are you spending your money now? Because you need to know where you are to know where you're going. So, this is a little resource I've given you to track how you're spending your time, okay? So it's super easy to use, you can color code it if you want. The easiest way is just to put a tick for each hour you spent working on your business and total it up at the end of the week. Some people may be super surprised, oh my gosh, I'm working 60 hours a week? Or, oh my gosh, I actually was just sitting on the sofa at that time I thought I was working, whoops. So total it up, and a lot of us running businesses have very variable schedules, so for example if you're a wedding photographer you may have one week where you are like out, like crazy, and then the next week you were kind of more laid back. So you would wanna average your time that you spent on your business over multiple weeks if you have a very variable business. This is the more detailed version of how you spend your time where I'd like to you actually, for multiple days in a row, really check out what you're spending your time on, okay. Social media. Does it count if you spend four hours a day on Instagram, is that crucial to your business? We're gonna be talking about that soon. Customer service, production, accounting, technical, brainstorming, reading. Because like I said, a lot of us get really stuck putting out the fire, like, answer that email, it just came in, they need to hear from me, answer that tweet, whatever. And that's not exactly what you do for the most efficient building of your business, okay, and this is like the getting real, check yourself way to do this. And there are apps out there for tracking your time, you can just Google how do you track your time, you can have little stop watches, things like that. And then once you have a really accurate picture then we're gonna start talking about modifying behavior, maybe you need to install one of those apps that doesn't let you go to Facebook between this hour and this hour. Because we really wanna spend our time doing the things that make money in our business and are growing our business, not only the things that are super fun, which is why I had earlier the things that are super fun are not always the best things to be doing. Yeah, the chat rooms are mentioning, Facebook was the first thing that came up, was the time suck. Exactly. Exactly (laughs) it's a real time suck. If only you built your business on the number of likes, you know. Which segues really nicely in this, where are you making money? So I think some of us get these, like, fantasy ideas about oh, I'm making money 'cause I'm engaging with my customers on Facebook, and I'm, you know. Doesn't always turn out to be, like, actually where you're making your money. So going through this worksheet in detail I think is really important. The more information you have, the better you are. So, and this is the place where if you've run an online website you would wanna download a report to say what are my sales records, download the whole inventory. You know, really work on pulling out your old invoices, really work on answering these questions in a serious way and you're gonna get a lot more impact from it. So what product makes the most profit per item? So that's something that might take a little calculating to figure out, right, is there this one product where the margins are a little higher? That's good to know. It may not be the way that you move your business, but that's a really important information item to know. What product sells the most? That could be completely different from the product that's making the most profit, right? So if you have one bag and it only takes you like an hour to make, but it uses a super expensive fabric, maybe you make a huge profit on it 'cause it's kinda like your elite item, but you only sell one a year. That's different from the product that you sell all day long, right? So I sell 12 millimeter eyes all day long, right? It's actually not where I make my most profit per item because I sell them at a bit of a discount because I know that's how customers are gonna find me, is by looking for this basic item, right, so those are different questions. What's your top referrer? So you'll find this to some degree in most website programs. Is it Pinterest, is it Facebook, is it a Google ad? Where are you getting the people coming, is it your newsletter, where are you getting people coming to you from? And if it's your best one, we wanna start capitalizing on that, right? So if you are getting tons of clicks from Pinterest, does that mean you should start developing more Pinterest graphics, Pinterest-friendly graphics? Probably, right, we're working on capitalizing these things that make us the money. What image or product gains the most social media engagement? So is there this thing that you put up and people are like whoa, love that bag, love that bag. They never buy it, but there's a dream product out there and that's important to know about too, and also taking note of aspects about it. Did you hire a model for just one item, and she's holding the coat like this, and people go crazy over the image on Instagram? Well then maybe it's worth it for you to hire a model for a couple more of your products, you know, finding the best thingymadoodle that you have is a really good way to figure out what more thingymadoodles you need to do. And once you have gotten all of this feedback about your item, think about, like, why are those the best, right? Like, is it because one of them appeals really well to retail shops, and you're getting a lot of wholesale business from it? Is it because one of 'em, like, I have products that photograph super well and some of them, the gem in it just doesn't come out in a photograph. So are you selling the things that photograph well, and then you need to work on the copy for the other things? Is one of them has a really good review? Maybe you just put something up and the reviews on it are so good, but that's a testimonial you could take to put in quotes on your website that will engage people with other products. Equally as important as how are you making money is where are you spending the money, right? 'Cause if you make a dollar and spend a dollar, it's the exact same as making nothing, really, so (laughs) you can increase your profits by spending less. So what are your three biggest expenses? Is it the materials, are you buying your materials wholesale? I know so many small business owners who start out buying from a retail supplier and it's that inertia, and you get used to buying your fabric from whoever at this website, and now you have this huge quantity going and you should've started getting your fabric wholesale but oh, it's just so easy to push reorder from this site. So looking at your expenses, I mean, you can cut huge things. Is there a server cost? So, super boring things for me like servers, can you switch to a different provider? Even little costs, which seem so minute, like the fee that gets taken out of each payment, can you switch to a different payment system that means you pay a 10th of a percent less per transaction, and that adds up to like so much money. I know, like, you know, your local public radio who's asking for money, they say if you could pay us by, or at least my local one, if you could pay us by automatic withdrawal like a check we'd save however many millions of dollars a year. So tiny little expenses which seem so, as compared to a credit card, so small might be things you should start thinking about changing in your business. What are your monthly costs for operating? So especially people who have studios, staff, things like that, these are really issues to think about. This last one I also want people to think, well I want you to think about all of them, but (laughs) I think some are super important. Does one particular product have a really high cost for you to make, or require some really obscure inventory issues? So like, let's say you make a fur bag. You only sell one a year, but for some whatever reason you have to order like 20 yards of fur to make this thing. Well that's, now you have all this really expensive whatever sitting in your closet for stuff you're not churning through and you might think, oh it's just the cost of doing business but then, like, why are you selling this bag when it's costing you so much to hold inventory? So these are the sorts of weird costs we wanna keep thinking about. How much are you getting paid? We're gonna do this for your best money maker, so that thing that we said has the most profit, we're gonna dig into it, okay? So how much does the top money maker earn? In raw materials it costs you how much? How many hours did it take you to make it? Now, this is the, if you do this for all your products this is the maximum you can earn per hour, okay, and does this make you happy? So let's just do a little example. Let's say your top-selling purse, I'm picking on a purse person, it sells for $100, right? That bag sells for $100 on Etsy. It costs $25 in raw materials, the buttons, the whatevers, great. You've earned $75 profit, not even talking about studio space or whatever. Took you five hours to make. The most, 'cause you told me this was your best seller, the most you could ever make per hour is $15 an hour. If you're working 10 hour days, never taking a vacation, that's $39,000 a year for you. Does this make you happy? So for some people, sure, that could be happy. For other people it's like holy frijoles, like, that's working 10 hour days for this purse. So, and because I work with a lot of crafters I see this all day long, and you picked your best money earner, right? So if you're not happy, your choices are to charge more for your product, lower the materials costs, lower expenses, or make it faster, okay? Because the answer can never be to work more hours, right? There's only so many hours. Like really, if you think the solution to this problem is working 18 hour days, we have to have a talk. So that's part of what we're gonna be doing in this course is talking about how to make it more streamlined, how to make it more efficient, and hire people to do things faster and for less money than you can do yourself so that you're really running a life-sustaining business, not just selling some products. And a lot of us get stuck in this rut because we start doing things as a hobby, and then oh, it's going well, it's going well, it can become a business. But when it becomes a business, it needs to sustain your life, and it's a different pricing structure than when you were doing it for an hour in the evening to pay for the movies. So how much are you getting paid? I want you to do the same thing again, but using your average product. Just go through that calculations, 'cause they might not all be your top money earner. And now you should have an idea, some of these things I have to hand off, right? The things you detest, the things you're not very good at and are causing suffering parts in your business, the things that are tedious, the things that you can't do by yourself, like if your job was lifting really heavy things onto roofs or something, you'd need help. Things you don't have time to do, and things you need to grow your business to the next level, so expertise that you don't have in your well of resources.
Class Description
Most small business owners begin by doing it all. But as you grow, you'll probably find that you need help. But what kind of help? And where do you go to get it?
In Outsourcing Workload to Grow Your Business Stacey Trock will show you how to navigate the options for getting the help you need for your business. From bookkeepers and accountants to graphic designers, photographers, and web designers, to virtual assistants, to production assistants, to overseas factories, to marketing agencies...there is a whole world of freelancers able to help your business run more smoothly!

In this class you will learn the following:

The range of freelancers that are available, and what role they can fill in your business

How to write a procedures manual for your business, making the delegation of work as seamless as possible

How to hire a virtual assistant and streamline your business into tasks that can be carried out by someone other than you

The difference between a contractor and an employee, and the pros and cons of each

How to outsource the production of physical items for your shop, including working with local artisans and navigating the process of ordering custom items from overseas factories (via Alibaba)
By the end of Outsourcing Workload to Grow Your Business, you'll learn how to decide what is truly important in your business and what your time is worth.  The secret to successfully turning over portions of your business is to structure your workload into systematic and well-defined capsules, which can be handed off to a largely-independent freelancer; freeing you up to do the things that you really love!

Class Materials
Bonus Materials with Purchase
Outsourcing Worksheets
Ratings and Reviews
Student Work
Related Classes