Shoot: Working with Groups - Part 2
Victoria Will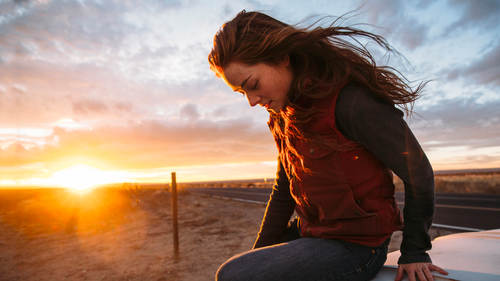 Shoot: Working with Groups - Part 2
Victoria Will
Lesson Info
24. Shoot: Working with Groups - Part 2
Continue working with group portrait sessions and watch Victoria create her own shade, direct poses, and channel high energy in a group setting.
Lesson Info
Shoot: Working with Groups - Part 2
I love that, let's switch lenses. I feel like there's some good stuff in there. So here's one thing. I'm gonna ask these guys, I'm gonna ask these guys to move over to another area to do something a little bit more of a portrait and add a little bit of light. But, when I ask them to go over there, I'm not going to put my camera down. I'm gonna keep shooting because they are gonna be more relaxed, and I'm gonna say, okay guys, let me bring you over here. I want to create some shade. Danielle, so (camera clicks) sometimes by favorite photos come from the moments when we leave one set and go to another. So let's see how high that can go. It looks like it's gonna fly away so. That's right on there. Typically. I'm gonna need someone to stand here since we don't have sand bags 'cause this is going to this is fine. It's enough of a, and so I'm gonna see how this shade's looking over you're not really on the shade, come... Where is the shade it's over here? Right over here. Wanna tilt ...
it a little bit? Yeah hold on a sec. Yeah hold on, we've gotta find the... Let's move it towards you. Towards me? Uh huh. Okay and go right about here. Maybe yeah that's about right. Can we sit on the edge? We can, yeah we can perch on a gel. So lemme have you guys sit on this edge. So you see the shade. So that's your set for the second. On this side or that way? It doesn't matter, let's do both. I think having all three of you, you know, maybe one of you's over there. Okay. Okay. Because I'm gonna shoot from this direction I think. Can we move this towards me. I need a little bit of room. Okay great. Half a step back. So here I'm moving my lights around instead of moving my talent. Turn this back on. I'm keeping it soft because I have them in the shade but I might, I could take that sock off. We'll see how that goes. I'll let you know. Alright, so Mandy lean forward. Yeah (camera clicks) And Sheldon I wanna see you yeah (camera clicks). Alright so this is really clean. (camera clicks) My background's really blown out. But I think that looks nice. Okay. Alright so here's where I want Sheldon, I'm gonna have you reach around and... There we go, I was gonna (laughs) I was gonna say (group chattering) You touched the hair. It's alright. Yeah there you go. And Robbie, maybe you lean back a little bit. Good. Sorry. No it's okay. (camera clicks) Yeah this is a band guys, come on. We gotta act like we love each other. I'm gonna get in really tight. Let's see what's happening. Alright so, yeah that's great. Yeah you know I have said that before, you know, can you please try to pick Mandy's nose. Because obviously I don't want you to pick her nose. But, that's where we're going. It's just to get that reaction and Mandy's like what. (laughing) No this is good. So Mandy, you touch your earring and play with your ear. And then, Sheldon and Robbie, you guys are gonna high five. But obviously, go ahead. Go ahead I'm ready. Do it. Alright (laughs) good. One more, one more. Alright, how 'bout low five in front. Oh there you go. Look towards the camera. Alright so I'm gonna have you two, it's like just jump up and switch spots. Mandy you stay right there. (camera clicks) And look towards camera Robbie, good. Okay Sheldon, you're, yeah there you go. Let's see more of you. Yeah there you go. Sheldon look that way. That's it. Sheldon's very, yeah you got it looks good and off that way, yeah. Okay Robbie. Mandy you stay there. And you just take your hat off and on and kinda like, yeah that's it. (camera clicks) Okay Sheldon you're here, good. Mandy look away, good. So Mandy just look elsewhere and come back, Robbie awesome. Nice, all really good. Sheldon I like you over there. That's really nice. Alright so what are we calling ourselves folks. 'Cause of the bangs, like... I don't know. Huh? You just have a really nice profile and the way you're sitting and it's like, it's very, when you open up this way, it's still inviting and it's drawing the eye this way. I'm up with that. Well, I'll show you when we pull 'em up. Okay a little bit that way. Okay so Robbie, I'm just gonna have you just like go in for a big hug like group hug! Sheldon your still this way. Yeah yeah, yeah. Group hug and then there you go. Look this way Sheldon, Sheldon yeah there we go. I like, that's good. I love how you just did that and it reminded of a time when I would just have people do every reaction. I would say okay be really happy, be really angry, be confused sort of an acting situation but it's all not necessarily for the reaction. It's just to get people thinking and so that's, I do like though. So let's we can be really sad, okay. Sheldon your sad that way though. You gotta be. (camera clicks) Alright now you're overjoyed. You are so in love with each other. You're so excited about this band. Get in there. There we go. Alright, that's great. So let's go back over here to... I think it looks really good. I'm just chimping for a second. Well, I found my album cover. You did? Yes I did, I think we got one in there. But I wanna have, I... I like how we we filled the light here. I'm shooting at six three, 200th of a second. It was nice in the shadow but I don't have a lot of room. You know, it's really to just keep you in this area. And I like the natural light. I didn't love shooting where I was using the sun as the light. It was just too deep in the eyes. There's too much shadow. But I did like using it as a back light. The reason I think it's working so well up here is because we have all this fill that's coming up from the floor. So we don't always have that. If I didn't have this, if I didn't have this fill, I might have an assistant walking in front of you guys as you walk holding a silver card. That's a really good way to just you know, to fill the eyes and still use the back light. But I still like the motion and the movement. So I think we should just do a couple more of those with the long lens and then I think it'll be time to go in and look through these. So let's switch it up. Lemme get you guys back over here. I know it's also cooler over here (laughing) than over there. One thing to notice is if I were on assignment for a magazine, (camera clicks) Hey Mandy. (laughs) You went right into it. I know. If I were shooting for a magazine and I was asked to shoot a band, I would shoot all of these options but I would also try to shoot individuals very quickly of everyone just to get it. You never know when the band member's gonna leave and start their own band or you know, it's just an important thing to get that covered. Mandy! There we go. I keep seeing things so I'm calling their name to get their attention because everyone goes what? And that's the look I'm actually going for. What is she saying? Alright so, let's get you deep in that corner. Run to the corner, run to the corner. Okay turn around and run back. Yes (camera clicks) do it! There we go. Alright so this time, come here, nope. This time, when you're running, you can just kind of right and like either do it to Sheldon 'cause you wanna be, 'cause I think run and jump up on his shoulders and you're like ugh, 'cause you can get the height. For sure! Yeah yeah okay cool. Okay, I'm ready. Get together. (laughs) (camera clicks) Let's alright go! I'm ready, break toward me. (camera clicks) Yes! That's amazing. Alright come this way. That was awesome. I wanna do that. Come this way, come this way. (camera clicks) Okay I just wanna do that in this area. Is he still jumping on my back? I don't know. I can take one of 'em. We gotta come up with something. I like the high energy. Mm hmm. Like that you know running and there so why don't you run and jump up on somebody's back. You pick. Okay. And I'll be ready. And but when you're up there, Okay. I know it's like your actually acting. You know you're actively doing something but still try to smile. Okay do you want me focusing or on you Or just Not on me at all. I don't want your eye contact at all. Okay. I'll get it. Okay. Okay. Okay, I'm gonna get on the ground again. Alright, huh? (talking in distant) oh okay. Alright come on. I got something in my eyes. (camera clicks) Get in there Sheldon, get in there. (camera clicks) (laughs) Alright walk towards me. How much time do we have? For another 10 if you want. I like this. I like you in the middle Robbie. Yeah. I want that but I want it this way. So I don't have a lot of room. Let me back up. Yeah and walk over me. Just walk right over me. And yeah okay, come on. (camera clicks) Get closer together, get closer together. That was good. I love that, do that again for me. Just go back. Can I get the wide, yeah. Thanks. Okay that's cool, come this way. I'm getting a really good suntan right now. Come on. (camera clicks) Yeah, yes that was great! Often, that was terrific. I really liked that. And you actually did one of the things I often ask people to do, I'll just say push him and everyone's like what? It's like this (laughs) and be like... That's really good. It's the same thing with the lint. Oh yeah. Oh yes. It's the same thing. Yeah, it's definitely, just shove him, people are like, what? And some people say that. I'm not gonna shove my friend and you're like, yeah it's a means to an end. You know, you have to explain it. There's probably something they did to make you mad. Yeah (laughs) That's generally, I think that looks great. Oh damn there's a... Yeah, those are awesome. You guys are a great band. We need to come up with a name though. I was gonna name this project but... (laughing) Clearly have to do with something with Creative Live but... Oh yeah. I don't know we'll have to think about it. Let's think about it. But I think we're ready to go down. Alright. Creative Vibes. Yeah there we go. Creative Vibes there they are. Get in there. One way this way. Swing this way but I like that. It happens a lot when I say, oh we got it, we got it and then something happens and I gotta be there. Alright come right towards me. (camera clicks) The Creative Vibe! Yeah (laughing) perfect!
Ratings and Reviews
This was a great class and I learned a ton! It was amazing to watch Victoria Will in action -- shooting portraits under pressure. I learned a lot watching her walk into an unknown situation -- not knowing the location, what the natural lighting situation would be, and only knowing she had 15 minutes for the shoot. I loved watching her problem solve on the spot with lightning and tight, dark spaces. She also taught a lot about how she interacts with her subjects -- always putting them at ease (like you're the host at a dinner party -- gem!) It's much easier for a photographer to take pictures in their studio, but this course was not about that. This was watching a photographer handle real world situations under time pressure and think on her feet. Loved it! I also loved the parts where she culled her photos afterwards and picked out the ones that caught her eye. In most instances, I found myself agreeing with her!! When she gets subjects to stand up and sit back down, it is the in-between moments she is looking for, or the moment right afterwards -- genius!! Oh, lastly, I loved how she went through stunning images she shot of celebrities like Brad Pitt and Janelle Monae and gave us the backstory of how she creatively problem-solved to get the shot! Hello, showing up two hours before a shoot and knocking on random hotel room doors for furniture?!! Of course she could do that because she has a lovely, warm personality! Oh, and by the way, the bits she shares about her early career path is very inspiring!
Great course! And the best part was the honesty. I was an executive in a fortune 500 company and what the critics watching this course missed is that there are a lot of talented photographers, actors, singers, accountants and even landscapers, but there are very few that are successful and accomplished. Yes, part of it may involve a certain degree of luck, but most of it is the drive and desire to suceed. It is obvious you have both. I used to beleive that a true image could only be captured by styling the shot, metering light and controlling the subject. (Yes, I shot film...complete with developing and printing all my images) Then, one day I realized that, if deliberate-shooting was the right way, why then most of the great images I have were the result of quick, rather than deliberate reactions. I get it Victoria. Love your style and how you get there. Three things I learned today are that the conditions... even the background, do not have to be perfect if the image is strong enough to carry the message. Second, setting up to capture the perfect image, misses all the imperfect, epic moments. Third, I disagreed with almost every image you picked until they were isolated from the rest. Then they made perfect sense. Well done. :) Robert Gabriel
Meredith Zinner Photography
I really love Victoria and her work. She's something suuuuper special and showed me a fab new way to look at portraits. I love her openness, honesty, the whole 'you're at my dinner party' intimacy, care and respect for her clients and am SO impressed at how quickly and reliably she's able to transform any location to suit her needs. She's super impressive, professional and inspiring thank you!
Student Work