Shoot: Using Flowers as Props
Joshua Kissi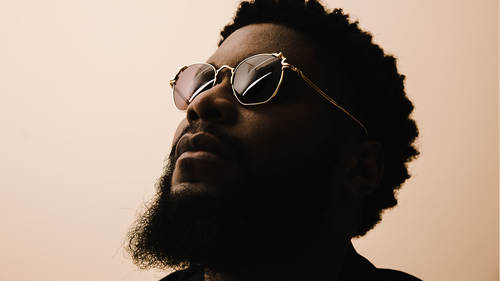 Shoot: Using Flowers as Props
Joshua Kissi
Lesson Info
6. Shoot: Using Flowers as Props
Lesson Info
Shoot: Using Flowers as Props
I'm gonna have the flowers now, the other flowers that's there. Yeah, the yellow, I'll take the yellow. Awesome. The whole bundle? Yeah the whole bundle's fine. Thank you. With these, as I said earlier, flowers are super trendy and people love shooting them. You could have the subject hold them or you could hold them and shoot through some of the shapes or the colors that would present itself. So I'm gonna do the latter. So I'm gonna use the flowers as like a shape and color. Can you smile please? On demand, I love it. So you could kinda see like the yellow there as well as, and it's all about just getting a little bit creative. It's a little bit more arm work but it's well worth it. Flowers on the side, you could hold these. And just hold them right above your, like literally right here, right above your chin, like right here, exactly, perfect. Or you could have the subject hold them as well. And it'll just give us, you know a little bit, yep perfect. Nice. It's like literally the...
perfect like high school portrait yearbook. (laughs) Like I wish I could've put like props in my yearbook picture. It would've been a different type of photo. Awesome. And if you're wondering like why the photos are coming out this way, I already have like a setting that I pretty much shoot with, just a preset, so that's why they're coming out a little bit more darker. I like playing with a lot of shadows and highlights and making sure people's skin look amazing, so. That's why they're kinda tinted that way. So you could continue holding that. Combine it with a prism effect. Again, you could kinda go in and out of how you're feeling, depending on the subject, depending on the story. The thing about props is like outside of the subject, location, lighting, it's literally just another way to like impact how people would read the image. So, again, if you overdo it, it could look pretty bad. And that's why a lot of people choose to stay away from props, because they're like no, I don't know, like it might look too cheesy, it might look ... So it just really depends on your attention to detail and kind of looking at that as well. So you could hold it up again and give me a profile, so you just look this way. Yep, perfect. Give me a smile, yeah, that's great. Again. The good thing is like, if you're with somebody and you're pretty much just having a ball, having a party, they're gonna be really adventurous with the props and get crazy with it and you'll be able to get some good, authentic imagery of them as well, so. She's doing great cause her smile is on a thousand, which is great. So that's awesome. Joshua, can you talk us through some of your settings? We've got some people asking questions about if you're doing anything in the settings to achieve that look right there. Yes. I mean, as far as my editing settings, like the presets itself? Yeah. Yeah, so I bump up the contrast. So most times, like the contrast is pretty high, so like on 30s. Then saturation is subtracted maybe 20 to 15. So anywhere between that. The highlights are somewhere in the middle, but the main focus of the image is pretty between the contrast and the saturation. Cool. So that's what kinda gives it that feel, so it's not too bright. Especially if you're already shooting a lot of bright things. Like you wanna be able to kinda tone that down and that's what I like to do. It just makes it look less commercial-ready but just kind of like this moody portrait. So that's pretty much like the whole ethos behind the setting, yeah. Cool. And I know a lot of people really enjoy my settings so they try to steal it. (laughs) But it's pretty much increased contrast, lowering the saturation, and you can pretty much achieve the same look, yeah. That's awesome. So I'm gonna take those flowers, if you could take this Ken as well. So we're gonna switch over to the blue background and do some more examples. Any students that wanna volunteer themselves? Okay, awesome. Yeah, she's like why not, yeah. Any questions from students? Like I can? Yeah? Somebody asked what camera you're shooting on. That's a really important question. So I'm shooting on the A7R3, so yeah. [Assistant] Have you been shooting Sony for a while? I switched over, but I don't wanna get into politics. (laughs) No, I switched over from Cannon, maybe like a year ago. So I've been enjoying the Sony life. And you're, she had a question. I was wondering if you were going to combine all these are you just like clamping different props to like C-stands next to you if you wanted to layer props upon props? Now you said would I do that? Yes. Absolutely, I mean it's just, it's really about the subject you're shooting, the creative brief that's at hand, but it's a nice way to combine things and that would be totally fine if that's the vision they're going for, so. If that's a part of the creative treatment, I'll absolutely do it. If they want it more minimal, you just use one prop at a time, if that, so, that's another way. Yeah? So if you're working with a client who's interested in a little creative portrait and you have half a day with him or her, or a day, and you're experimenting to find the right picture, but the energy of the client, you know, goes up and then goes down, how do you keep them looking their best if they're spending so much in the studio posing? I think that's with any type of subject is I think is just being able to connect with them. So as a portrait photographer, like fortunately, you just have to be a little bit charismatic. You can't just be like, okay, just do what I tell you to do. Like you kinda have to connect with people in order to get the best out of them. Because there's nothing like looking at somebody that sees an image that you shot of them and they just smile, because that feels like the best version of themselves or that feels like the best that they've seen themselves. So it's really being able to tap into like that emotional intelligence, really, and just be like, hey, how can I connect with this person? Just as a person, not even a subject. And from there, we could work together on achieving this goal, with this four hours or eight hours, whether it's a half-day or full-day shoot. And everybody loves looking great, so it's not gonna be like, nobody's gonna be really difficult to work with. But it's really about building that relationship and connection with them. So even before I go into set, I like to meet them, talk to them, learn a little bit more about them, so while we're shooting we have conversation. And a lot of times I'm actually speaking to people while I'm shooting, so. I even take meetings and shoot people. Like hello, I just wanna have like a one hour meeting with you and just shoot them for a hour and talk to them. So they get relaxed, they could talk about their wife, their kids or whatever the case is, so. I just feel like there's a little bit of a personal connection there that needs to happen.
Ratings and Reviews
I love the creativity this instructor brings. It has inspired me to step out of my comfort zone and try different props.
I loved watching him in his element. Can't wait to put these ideas into practice. Please bring him back!
Good class. Bring him back for a class on his editing.
Student Work