Pushing the Boundaries with Underwater Photography
Al Bello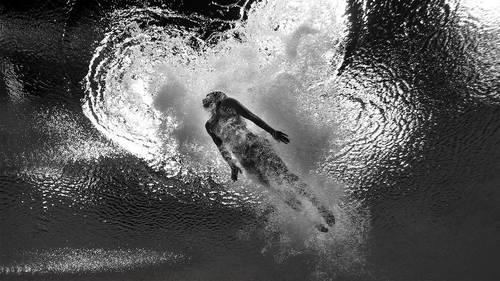 Pushing the Boundaries with Underwater Photography
Al Bello
Lesson Info
5. Pushing the Boundaries with Underwater Photography
Lesson Info
Pushing the Boundaries with Underwater Photography
one of the things that I got into in sports. Photography's underwater, and I always intrigued me what went on underneath the water when athletes were performing. So, um, I try to challenge myself with, like, I started with, like, a little photo bag, you know, those little cheap bags and you can buy. And then I went underwater. Nowadays you can get the GoPro, but back then it was like they still sell it. It's a little bag. It's a few 100 bucks and you just work. You have to work at it, you know, and build yourself up to all different kinds of ah photography. And again, I like to work on the half in half out pictures. This was a test event for the Olympics in Rio. I knew they would never let me do this at the Olympics, but a hand held the picture of the camera on the side of the pool and did a lot of star pictures this way. This was me out in the open water race, treading water for a couple hours, waiting for the race to start. Then, when they swim by you, it's like one big washing machi...
ne of water, and it's just like and then it's over and you just get back to the press. 10. You're looking and you go, Oh, my God, I blew it. And then one picture came out. So is happy about that again? Visualizing your images when you're doing underwater photography. I'm gonna show you a video in a minute. This was a happy accident from the girl's diving. Ah, lot of times when the girls dive in the water, the babys has come down, so you can't use the pictures. But what I wanted to do is when they come up to the surface, they all of the water would make the splash shapes. So in this particular instance, they made the shape of the Valentine's Day heart. So a lot of people refer to this photo is the heart photo. This is a again working with reflections under the water outdoors at the time It backstroke. It's up. It's a whole game. You play with trying to figure out it's fun because you like trying to set up where you think they're gonna break the surface and how the lights gonna shine back at them. And if the water's still It's just a lot of things that you get the practice with. What I'm gonna show you now is what we did. We built the latest housing. What it can do, is it. It is robotic housing. So moves and it spends. And it was able to let me get a lot of different angles. So hopefully this goes, and then you could see I could talk you through it. So that's the housing, and that's that's us getting it together. And I've got ah, 11 to 24 lens in there. We've got it hooked up to power and it goes back to the computer. There's a line for that, and there's a remote court so I could fire the camera. It moves on command with an Xbox remote control, and that's me testing it. So there's the Xbox, and it spins all different ways, so we're just making sure it works. That's the dome, and then we go in, get the camera in the pool. That one chord holds all the wiring to the camera. I'm wiping the bubbles off. What that is is a suction cup that holds the camera down. So this their custom made slide him on. Oh, in the background is the water polo team practicing? So don't mind then, and there you go. So I am. They can see me from the computer end on a live view screen. So I'll tell them spend the camera that way, and you could spend it go the other way, and they could spend it that way. So you already see what I can do now I can shoot a lot of different angles instead of doing ecstatically. And it was really helpful to stop and then perfect. Right now, you know, you can go up and down as well, right? So hopefully this helps you get a better visual of what we're doing. And now you can follow. The swim is that way as well. Perfect. Okay. Okay. So, like you said, Like I said, you dive in the pool, set up the camera. That's me on the other end with my Xbox remote. So I'm shooting the finish line. And also, I'm able to see what's going on with water through this computer, and I'm playing the Xbox like a video game. Really? Is. You could do exposure to move the camera you consume and you could focus fire the remote to do all kinds of things with this Xbox remote. And then you set up your photos and I was ableto zoom in around if I was off a little bit. This is at the diving, and then again, just set up different frames along the way. Sorry, if you can't see so good, son, but, uh, yeah, and it was just great, especially for things like this. Where with? With a swimmer in the morning, I saw the girl was way ahead and I thought, she's in the final. She might really pull ahead, and we could set up a nice little triangle off that of her head as she goes and finishes the race. Turns out she broke the world record and I was able to flip the camera back and forth and do a bunch of different shots that way. This is a touch picture in one of money. Michael felt really close races and you could actually see how close it really is again. I was able to do one photo and then work on another one
Ratings and Reviews
Sports Photography: Making the Shot is a very good class for showing what really goes into big league sports photography as well as a glimpse into the sacrifice and outside-the-box thinking needed to standout from the crowd. Al Bello's images are stunning and his years of experience and unique creative style are clear in each one. This is not necessarily a course where you are going to learn camera settings or recommended lens suggestions for certain sports, but what it lacks in that area, it certainly makes up for through inspiring images and Al Bello's humble presentation style.
Al Bello did a there good job with this course. He gives a lot of informations of the gear and setup on different locations. He makes you inspire to look for better shots than other does. This course helped me to work on location with other 20 photographers. And I can be proud to take a totally different shots then others of horses that we photographed in 3 days job in Poland. I really recommend it!
Student Work