The Art and Business of Conceptual Portraiture
Commissioned Work vs. Fine Art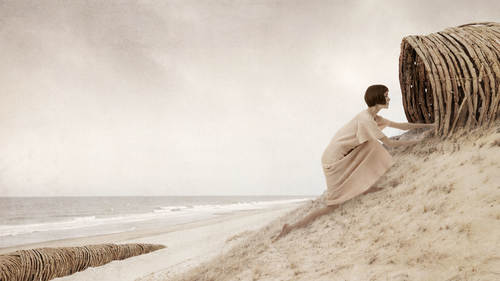 The Art and Business of Conceptual Portraiture
Commissioned Work vs. Fine Art
Lesson Info
Commissioned Work vs. Fine Art
This is probably the one of the biggest questions I get when I talk about what I do is my conceptual photography which I'm jeered at galleries, museums, publications things like that that's what I'm after versus like commissioned conceptual photography which would be most likely like a portrait or something maybe for a novel or a book cover something like that it's just a different world on and I do both I'm not going to read this whole statement, but the main thing I want to get at is that even if you're doing this four commission so you are doing conceptual portraiture for people you still need an artist's statement you still need a language that you're using because what I find a lot is people doing conceptual pictures for a client end up making work that could be anybody's work it has a style maybe but it doesn't have a language to it because they've let the client dictate the whole thing so I've got a client who's an author or something I want to make a picture about being an auth...
or and then the whole thing just it looks just like the client but it doesn't look like you so I write a statement for my women's work, which was what I was doing for a long time as commission work I don't do it anymore because I didn't enjoy it very much um I still photograph women but for fun but I need that statement. I need to know why I'm making the work I'm making. Why does it look the way it looks? Why are these they wearing these garments? Why do they wear these crowns? All these things? And so my work is a very specific visual language. And when someone commissioned me to do it, they know that it's gonna look like this. It's going to fit in this language is going to have a brand to it. So I won't just make something for somebody when they show me a picture and say, can you do this? No. It's going to look like this it's gonna have a very specific language. And this is what they look like the commission work that I did, some of these were just favorites from everywhere all over the place. But just so you have an idea of kind of what the commission work, wass and is still I do a little bit, but they always wear vintage gowns I bring them, I always make crowns for them. I used water and ashes and clay, we're going to do that this afternoon. Very specific things on the commission work. So I'm not allowing my client to control the output in the outcome of the image and that's pretty important, I think when you do commission work do the clients have come to you knowing that they have no control over the output or did they come to you saying I want this and you control that afterwards see that's the beauty of it is when you have a body of work that is absolutely positively your language people come to you expecting that result I don't have people challenge it they come to me knowing that's what they're going to get this is what they're going to get it's gonna look like this doesn't make any sense but it takes you have to develop that language first curious how you both take a portrait of someone and capture who they are and keep say your voice in the same car you fixed that and so on and that's balance like yeah, good question and I think there's two two parts of that question the first part is how much is your client expecting it to be about them and their actual life versus what they physically look like? I find most portrait clients my client we're after a beauty portrait that's what they wanted because this is with my women's work what I was doing and so I'm imminent that's the second part of it I'm emanating this thing they're seeing this thing and they look like this this is a beauty portrait, so when they come to me they're expecting a beauty portrait doesn't make any sense but if somebody like I have a friend who makes very narrative images of her clients and everyone is very specifically about their life that's a different thing that's just a different completely different thing, but she still has her own language her own tell it her own way of using space and things that makes it look like her work. Yeah, I find with my women's work, I'm a lot more interested in how people are the same then I am and how they're different I don't want to make pictures about individuals, they don't care about that very much. I want to know how we're all the same, so and I tell people that this is quickly just if I look it for my women's work like the cues my list, my list is on the left, resilient sexuality, strength, feminism, the actual body fragility that temporary knows that I'm always interested in that that's my list, and if I look at that, it translates into the things I use in the photographs that's why I use white garments because they look like that dismal gowns to me and they're old because I like the idea of all the dna of all those women having worn that gown hundreds of times that their dna is physically in that fabric so all of my women wear those gowns when I photograph women and they know that coming in he was water because of the baptismal aspect. I make organic forms because things that are living represent that life to death think that life cycle that they're only going to be living for a little while. So all of these things are part of my artist statement and part of my language, my visual language that I use to make a commission piece that makes sense, and it shows up in both their very different looking right, but I've got the fleece on the girl on the left and the police on the people in testament, so I'm still using the same symbol the symbolism, the same type of symbolic objects freighting the images with this stuff, just using them in different ways same same artist, though same deanna up here, even if they look a little different. So I got the crowns that I make for my women. I made a crown from my pregnant lady in the show it's really this it's just different iterations of the same concept, so I'm trying not to let them take over. So in the end created visual vocabulary, nurture it, give it its prenatal vitamins and develop it, and it takes years and years.
Class Description
Conceptual portraiture is where art and photography meet. In this class, Jennifer Thoreson will explore the intersection of fine art and photography and discuss the practice, process, and business of bringing conceptual portraits to life.

Jennifer is a visual artist, speaker, and lecturer whose photographic work has been widely published internationally in print and online journals. In this class she'll reveal the process for developing commissioned and exhibition work. You'll learn how to:


Create unique, imaginative props 

Secure the right type of model

Price your work

Approach galleries, museums, and publications
Jennifer will help you define your personal style and show you how to put together a conceptual series. You'll get the inside scoop on what it takes to make a living through fine art photography and also get Jennifer's tips on managing the business side.
If you want to expand into the expressive and exciting genre of conceptual photography, The Art and Business of Conceptual Portraiture with Jennifer Thoreson is the perfect place to begin your journey.