Creating a Series: Setting Intention
Nigel Barker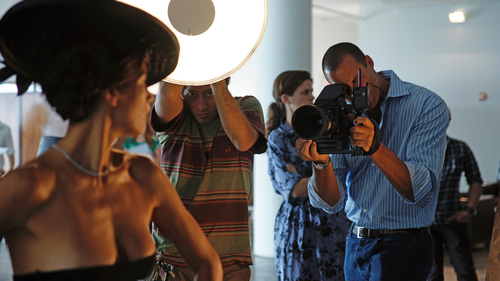 Creating a Series: Setting Intention
Nigel Barker
Lesson Info
17. Creating a Series: Setting Intention
Lesson Info
Creating a Series: Setting Intention
Hi guys, so are you ready to raw? What I'm about to share with you, is a series of photographs that I called Raw. Very simply, I wanted to do a series of portraits that talked about human emotion. And, I asked all my subjects what the word raw meant to them. It was a simple question. And it was answered in many, many different ways. And they actually did, they wrote it down, the answer. But then on set too, I would ask them what it means to be raw, feel raw, what does the concept mean to you? It was very interesting and I got all kinds of answers from various different people. Here's a picture of Cynthia Rowley, the fashion designer. When she was on my set, it was very funny, she was slightly nervous. And was like, you know I'm a fashion designer and I know I do all these photo shoots but I really don't get on set very often myself. She was very shy, and she said I'm sorry I'm not going to be very good at this. You know, photography thing, you know? I was like no, no. What you're doing...
right now, is beautiful. She said what do you mean? And I'm like because this is true. This is honest, what's happening right now. Nerves, don't have to be a negative. Authenticity is the most beautiful thing ever. Being real, being honest. That's the magic. And, I remember this photograph 'cause I saying this and she could hardly look at me. And literally couldn't look at the camera or me. She would just look off to the side. It's a super sweet, super beautiful picture. Of course everyone is different. This is a shot of Estelle. She's a recording artist, she's amazing. She did that great song with Kanye West, American Boy. She's become a friend of mine actually, since this shoot. She was super funny. We were laughing, giggling, talking about things and she's kind of cheeky and I asked her what raw meant and she all these sort of one liners about raw, being raw, feeling raw, roaring at the camera. All these kinds of things. We just were joking and laughing and it was almost as if I didn't have to have the camera on. The interaction was so real. And so this whole series, I'm gonna show you how I did it, what I did. I'm actually gonna give you the light setup concept. You'll be able to see the lights of course in front of me, but I'm also gonna share with you a pdf of the actual light setup. You would've seen my assistants earlier, Toby, and Jason actually measuring these things out. So, yes you normally can just roll the light and put it here and kind of take a light reading and get it. But when you're trying to be consistent too, we really take it very seriously about exactly where the light is. So, it's x number of inches to the ground. 110 inches, approximately where we want the model to be. Where are the, these V-flats, how far away are they from one another? How far is the model from the back drop? All these things are measured out precisely. And the reason for that specifically in this series of pictures is because I didn't just shoot this in one studio at one time. I took this setup all over the world. And, that's one of the great things. I got the idea from Avedon actually. He would shoot people everywhere, and he did a great series called The American West, which is a beautiful book. If you ever see the behind the scenes pictures of that, they're fantastic, he would set up a white background in a field. He would find people that were brilliant or interesting, and then ask them if he could shoot them. And then set up the back drop wherever they were. In the street, you know, in the field, in the factory, and it turned it into a photo studio. The great thing for them was of course, what they looked at, you know how I talked about what the model is looking at? If you take someone out of a scenario and you put them in a studio, they're looking at studio and they feel very uncomfortable. What he did is took the studio to them. And then they got to look at what they're used to seeing. So, if it's a farmhand and he's standing in a studio, he'll probably be like, oh, why am I so special? But if you put the studio in a field, and he looks at the trees of the farmland, he doesn't feel like he's extra special. He's just sitting there and it's actually you who's sitting in the studio. So it was a brilliant kind of way to put someone at ease and get this studio shot everywhere. We kind of took initiative from that idea and took this show on the road. We got all these different people to pose for us and create these really kind of dynamic looks. This fellow here we met in Los Angeles, who is a super tough guy. And then talked about various things he'd done in his career and in his life. But he was super kind of edgy, on edge. I remember I asked him, I said so have you ever been arrested? Have you ever been? And he was like well you know, I've had a few brushes and what have you or something along those lines. I asked him to face the wall and I asked him to swing around almost as if he'd been looking back at the police. Or something like that. And he gave me this look. He was like, what? It was slightly angry, slightly offish. But it created this look that was so sort of fierce and ferocious and there were these real moments that I was trying to bring out of him. I'm going to be showing you some of these things right now. You know, to everything, to dancing, and laughing. I think I just clicked it again, we'll see. Oh, there you go. To, pictures like this where, this is my wife. And I've photographed her looking elegant and as beautiful as I like to imagine. But actually what I love about her is her goofiness. The goofy side of her. The fact that she, you know, is just this absolutely lovable individual that pulls silly faces. But that's not something you see in photographs very often because when she was modeling certainly, they ask you to look as pretty as possible. So for me, it was actually this photograph that I love because she's often looking at me going what, what are you doing? And she's very interactive. And I see that, and I see the playful side in her. To a shot like this. This is one of Alan Cumming. Who actually came to the set. I asked everyone to wear denim in this shoot too. So I try to keep something consistent, other than the lighting. But I didn't want to style it. So I'm like, every single person that came, and I shot, I don't know how many now I forget now, maybe 70 people. To bring denim, bring their favorite jeans. And he came in a suit. Head to toe, made of denim. And he came to the set on a bicycle. He just showed up on his bicycle, and it was the funniest thing. He's just this, such a great actor. Super quirky. And he was like, I don't know what to do, and was just like, what do I do on this set Nigel? Pretty much that's where this photograph came from. I'm like, I'm not going to tell you. We're going to work with this moment of confusion, or whatever it might be. All these things can work. And I guess my point is when you're taking a portrait, it is also about allowing things to happen. But also provoking them. And I'm gonna go through a whole series of sort of teaches I guess of tricks that I have up my sleeve and ideas that I have to make people react and to help evoke emotion.
Class Materials
Raw Beauty Equipment List
Ratings and Reviews
This is one of my favorite Creative Live classes so far. The storytelling and human interaction parts were my favorites! The ability for Nigel to get such amazing expressions in such a brief time shooting was amazing. Everything he demonstrated seemed almost effortless, and all without a shred of ego. Great class!
Nigel is a wonderfully engaging instructor. I like that he walks his students through his photoshoots. The set ups. How to interact with the models. Even though there are a couple of genres I'm most active in, I appreciate that Nigel says that you can have different photographic interests, so long as you brand yourself properly. I like taking photos of lots of things, although my outdoor photos generate the most interest. I highly recommend all of Nigel's classes.
Passion, personal, inspiring! Nigel, thanks for amazing class and a lot of great advices.
Student Work