Physical Contact with Your Model
Nigel Barker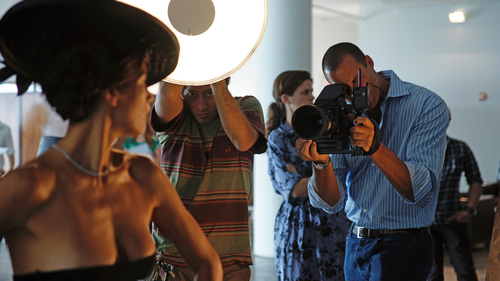 Physical Contact with Your Model
Nigel Barker
Lesson Info
20. Physical Contact with Your Model
Lesson Info
Physical Contact with Your Model
Let's get Ronda back on. Don't you feel lucky now Ronda? I do. So, this isn't necessarily what obviously what I would do with Ronda, but I have photographed many children for Make A Wish, and a lot of these kids have wished to be a model for the day, for example. And it's an honor for me to be able to photograph them, and have them on set, and spoil them, and hopefully take some wonderful pictures for them, for prosperity and what have you. And some of them may have even tried to do modeling afterwards, and had some success too, which is rather lovely. But many of them when they come on set, although they want to be there, they're very shy when they get there. It's very intimidating, you know? You see it on TV or whatever, us shooting and it looks like lots of fun, until you're there. Until you're the one in this hot seat, and then all of a sudden they get very shy. Especially when I put up this big camera, and it's sort of, I'm tall, and it can be quite menacing, especially on a c...
hild. And one of the things that I've learned, and is often very useful, is ... May I? Is just human touch. It's very simple, but by just holding their hand for a moment, it connects you to them, and it takes down some of that barrier that's there. Now I don't hold it constantly. Some of them I've held it for an entire photo. And it's just that little moment. And I move the arm out, and I try and get in tight. And of course Ronda's already very familiar with me. She knows me. But it's very interesting how, certainly with a child, but it could be with anybody, when you just touch them on their hand, or like the boxer, when I pushed the fighter, that human interaction makes it very real. And there's a sort of an element of humanity to it. And I always often say that, you know, a great photo shoot is a bit like a dance anyway. It's a dance between the photographer and the subject. The question is, who's leading? How did these ... Yeah, some of these turned out great. What? What, so what's gonna happen now Ronda? I don't know. What you got for me? I don't know, you want me to move? You see? And why I was doing that was because that's often what happens, right? We got some lovely shots, and she's smiling and laughing at me, because she's wondering what I'm going to do. And that worked. But, really, just doing that, asking someone, "What have you got for me?," I don't think is really the right way to approach it. I think it's like, you need to either have that knowledge so you could ask them things, and have those relevant questions, or you do things to create an atmosphere. Do we have a wind machine? Or not out? Either way, wind is a great one. Feeling the air, feeling the wind. It's these, there are various different things you can do. There are ways to affect someone's emotion and mood, by asking them questions and getting more personal, and these sort of honest answers come out. Not just in words, but in their eyes. Or there's using these very real things. Wind, cold, warm, ice, fire, movement, jumping, kicking, pushing. And it's not necessarily any one of those things that you wanna photograph, but it's how that action, or temperature or whatever, makes that person feel and look. And that's, and then life can come out of them. So you've seen already, and we're bringing in a wind machine right now, I'm gonna turn it on for just a second. And this is a Reel FX fan. Classic studio prop. Now you're a bit like me, you got a great haircut. I was gonna say. So you're gonna feel the wind in your hair, aren't you? (laughter) Steady on Tobes. Give me one blast. And go, Toby. Feel that wind. And again. So, obviously if you have hair and things, and you have a reaction in the hair, and that all moves, but it's how do you feel when the wind hits you? You get a reaction to it. Yeah, it's like light, airy. And so all these things have an effect. And now you can blast it, you can keep it quiet, but one of the things we often ask people, is to imagine they have a wind in their hair. And we would say it all the time, walk like you have wind in your hair. And you're like, well what does that even mean? But it's like, that's that feeling. So, I try not to say things that are like, imagine to do this, or imagine to do that. I like to do things and use tools, so that they can then use them. And even if you just feel that moment, you can also try and remember it too. And if you haven't got water, or you haven't got ice in front of you, or warmth, you can still get that person to close their eyes, and to imagine. And to feel cold, and do that for me right now, would you? Just close your eyes for a second. And just feel cold. Feel the cold. The ice, the snow, as it hits you in the face. You know how it can sting your eyes a little bit. And then just, eyes to me. So these are other ways to create reaction. There's giving them the cold drink, and then there is talking them through it. And you have to use it. It's almost like using sort of psychology, as almost a form of phototherapy. You're asking that person to channel thoughts, and ideas, and concepts, so that they start to emote, and evoke these great reactions and what have you. Now, there's a few things. I'll run a few more things through the gamut with you. And I might bring Mike back on again. Actually, you know what? I have an idea. Mike? Could you come to set? Shirt off? He's still got his shirt off. He's definitely a male model. (laughter) Come on Mike. Just standing next to one another. You guys have met before? No. Briefly. Briefly? No, briefly. You see the chemistry that's happening here already, right? Can you just put your hand on his chest for a second? Or your head on his chest. How do you feel? Comfortable? Mike? Oh me? Yeah I'm fine. You're fine. Oh, you're great. Okay, I can put you out of your misery. The point here is, is that, when you have two people, obviously, there is gonna be chemistry. They may like each other, they may not like each other. It doesn't necessarily matter, actually. And you can get reaction out of both scenarios, and both scenes. And, but asking them to talk about how they feel at that moment, is so personal. It's such an awkward question. It's something that you would never normally do to someone. But when you do, even if they're a married couple, you'd be surprised at the reactions and things that people say and do. I've photographed married couples who adore one another, but in that moment, when you ask them that impertinent question, they'll normally say something which is slightly slighting the other person, for whatever reason it is. Maybe it's human nature, but you kind of make a joke about that person, or you do something funny, because you're trying to break the awkward silence. But there is another emotion that comes out of that. And it's honest and it's real, and there's a laughter, and then there's an awkwardness, and then there's pain, and it could be whatever. All these things kind of work. Thank you very much Ronda. You're welcome. I got you again, haven't I? Yeah. I like your stance. You like that stance? The fighter stance? The photographer stance? Like Sumo. So, what does raw mean to you? Uh, something in its natural state. Something untouched. And what is untouched? Untouched is something the way it was meant to be, like born. Intended to be. I'm not Mike anymore. He would say untouched, raw, and what have you, but talking to some people, and asking them these questions, and again with this whole raw campaign, you can continue down that line and train of thought. And one of the things I did as I ... And he should really be on his mark, and that's something I would be focusing on, as far as keeping things consistent. Because you still, as a photographer, you've got your technical side, right? So you're still trying to make sure all this stays within this world. But, I had one man, very similar to Mike, who, big strong guy, and what have you, and I was asking him these questions, and I started with the raw questions, and basically he st- I said, "Are you married?" And he's like, yeah, well actually, I'm divorced now. And I was thinking, oh, I'm sorry to hear that. And he's like, yeah well ... I'm like, how is that going? He's like, oh it's really hard, with the custody of the kids, and we're back to fighting, and he started opening up. And we were just chatting. And it was just very, those two things on either side. Remember how I told you how intimate it kind of makes it feel. It's sort of private. And, after about a couple of more sentences, telling me how things were going, and how he didn't have the opportunity to see his kids in the way he liked, he actually shed a tear. And he just immediately went, oh God, sorry, I'm sorry, and then, but it was this beautiful moment of opening up. And that photograph is one of my favorites from the Raw series, with this guy, big guy, looking incredibly sort of melancholic and sad. Now that's not the point of it. It's not the point to do one thing or another. I didn't even know that was gonna happen. But it was giving that opportunity to create a real moment. And that's how I think you can make a photograph feel iconic. And that's the Raw series. I think, I wanna get a couple of you up here. Are you into it? Yeah? Who's willing? Okay. I love that pretty much all are willing. (laughter) I'm gonna bring you up, sweetie. I'll go get the water. Thanks, yeah. Mike said he's gonna go get the water. (laughter) Oh gosh. He's got a good sense of humor. Now, you were like, ah no, I wish I hadn't come up here. So do you get photographed often? No I don't. I'm usually on your side. But you never have pictures taken of yourself? No. And why not? I feel awkward. Because you're awkward? A little bit. So why do you expect other people to be okay with it? That's why I'm here. That's why I'm up here. I love that. You see, she's putting herself ... She's risking, taking a risk. I am. I love it. Look at how amazing that is. It's like, so, already brilliant, because you've, you've gone and ... Round of applause, right, for going there. (applause) Look how, and you don't wanna stop at this moment. It's like, she's taken a risk. She feels awkward but she's beaming, and it's real, and it's so sweet. And I've seen you sit there this whole time, and you've been very still, and taking notes. And up here right now, you look like you could almost cry. I could hear my heartbeat in my ears. You can hear her heartbeat in her ears. And I think I can even feel the heartbeat in the photographs right now. It's just beautiful. Awesome. Thank you very much. Thank you. Beautiful you are. (applause) How about you sir, in your military outfit? Oh my gosh. Wow. How long have you been working in the modeling business? Almost 10 or 15 years, maybe? Because Toby, very politely pointed out that it was no way you could be old enough to be my agent. (laughter) Maybe I am. Thanks Toby. Good skin cream, no. I've been there for about 10 years now. And do you like the business? Yeah, I love it. It's, yeah, it's been super fun. A lot of different aspects and different sides to it. So what does raw mean to you? Uncooked. (laughter) Uncooked. Yeah, there you go. Unhinged. Unhinged? Yeah, just a little like, let the walls drop a bit, and just kind of open realm, clean. So what made you make this fashion statement today? Why did you pick this jacket? I just like it. I like dressing up. I think everyday's a fun way to sort of put on a body of armor, and play the part, different characters. And what are you today? I am regal. (laughter) And how about that, right? You gotta love the confidence. (applause) And that confidence is key, right? But, in all things in life, and certainly when you're in front of the camera, with someone like yourself, I would go through that motion, and I would get all that confidence, and actually, you almost sometimes, if you can, you want to exhaust the person, too. So, because when that person is exhausted, all of that sort of, perhaps bravado, or perhaps confidence, or whatever it is, nerves, it could be anything, it could also dissipate. And it's that other quiet moment. Where the person is sort of, okay I've said all that. I've done all those things. And now I'm just me. Now I'm the me that I see in the mirror, when no one's looking. And if you can get to that moment, that's where the true magic is. You can get a beautiful shot like this, where he looks strong, and he's courageous, and he's handsome. But the real shots for me, where the money is, is when all of the sudden, your father, your mother, your friend, looks at the picture, and goes, huh, that's actually the guy I know. And that's not easy to do. And that's what Raw's about. I hope you've enjoyed a little bit of a Raw experience.
Class Materials
Raw Beauty Equipment List
Ratings and Reviews
This is one of my favorite Creative Live classes so far. The storytelling and human interaction parts were my favorites! The ability for Nigel to get such amazing expressions in such a brief time shooting was amazing. Everything he demonstrated seemed almost effortless, and all without a shred of ego. Great class!
Nigel is a wonderfully engaging instructor. I like that he walks his students through his photoshoots. The set ups. How to interact with the models. Even though there are a couple of genres I'm most active in, I appreciate that Nigel says that you can have different photographic interests, so long as you brand yourself properly. I like taking photos of lots of things, although my outdoor photos generate the most interest. I highly recommend all of Nigel's classes.
Passion, personal, inspiring! Nigel, thanks for amazing class and a lot of great advices.
Student Work