Duplication Light Sources
Ben Willmore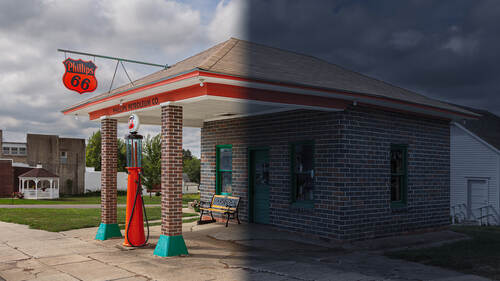 Duplication Light Sources
Ben Willmore
Lesson Info
5. Duplication Light Sources
Once you have a single light source, learn how to save time by duplicating one source to be used in multiple areas of an image.
Lesson Info
Duplication Light Sources
All right, so now I would say that that's one particular light source. Now I'd like to add another one and I'd like it to be over here. Well, I don't need to redo all that work. All I need to do is duplicate this layer. So with this layer active, I'm just gonna choose layer, new, layer via copy, right there. Keyboard shortcut is what I use all the time. Command J, control J in Windows, to jump it to a new layer. So I'm gonna choose that and then that's gonna double up our brightness that's over there. And I'm just going to use my move tool now and move it over here until I get to more of this area. I might need to drag it up a little bit and I just need to change my layer mask because the area where the little beam would be there is not gonna be exactly the same. In fact, it would be flipped horizontally. If I really got this to be symmetrical, I could probably tell it to flip the image of that layer horizontally. But what I'm gonna do instead is click on the layer mask and I'm just go...
nna fill it with white. My background color is white currently and command delete will fill with your background color. Then I can zoom up and I'm gonna turn off the other layers we have so I get down to the original picture so I can see that little beam sitting there. And I'll grab my selection tool and I'll say, well, right across here is where it wouldn't show up and I'm gonna follow that little beam. Imagine I'm being a little more precise. I would usually spend a little bit more time with that and I'm just getting it to this area where the roof is would not be affected. Now let's turn all the layers back on. Let's work on our layer mask and let's come up here and just say we would like to fill and I wanna fill that with black. Black means hide things, and so that area becomes hidden. Let's get rid of my selection with de-select. And the only thing is the light source is here. It should be moved so it's right behind this. Well, here's the problem. If I use the move tool and I attempt to reposition this, not only is the light source gonna move, but so is the mask. I'm gonna choose undo by typing Command Z. If you look at my layers panel, you see that little chain symbol in between the mask and the layer. If I click on it, I can turn it off so now I can either move the mask or if I click over here, move the layer itself. And so I'm gonna do that. Try to get that positioned as if it looks like it's behind the beam. Then I'm gonna zoom out and if this needs to fall further down, then all I need to do is again make sure I'm working the left side of the layer and that the mask is not linked. And then all I need to do is choose free transform. And with free transform, I could grab this and pull on it to change its length or it's width. Now the only thing is I like to use this little cross hair. Yours might not have the cross hair visible. It all depends if you have the checkbox in the upper left, right up here turned on, and I do. If I were to turn it off, it would go away. What I like to do with that cross hair is place it in the area where I want to keep things consistently positioned, which would be right about there. Then there's a trick. If I grab one of these edges and just start pulling on it, it's gonna completely ignore that cross hair. And I don't want it to because now you see the beam doesn't line up with where it used to be. I'll choose undo by typing command Z. In order to get it to keep that area consistent, but allow me to adjust the height and the width and all that kind of stuff, I need to hold down the option key, alt in Windows. Now if I grab one of those sides and pull, that area is gonna stay consistent. And so I could make this light fall further down if I like. If I want to adjust the width separate from the height, right now you notice when I pull on this, both the height and the width are changing. Well, let's say I got the height just right and it's only the width that wanted to change. Well, if you find they're both changing, that's because this little link symbol is turned on up here. You can temporarily toggle it to the opposite of whatever it's set to by adding shift. So I'm holding shift and option at the same time right now. And now I can adjust the width separately from the height. And if I grab this with both of those keys held down, I can adjust my height. And once I get it the way I like, I'll press return or enter. And what I haven't done here is I have not grabbed that little blur tool, the one that looks like a drop of water, to blur my mask to make that look a little bit, oh in fact, I gotta choose undo. It's the mask I need to blur. Right now I'm working on the image. Let's work on the mask and just paint there to soften that. I can also grab the paintbrush tool and paint with black to get it off of things like this little speaker, or up here where it might not be appropriate. I'll just make sure I have a soft edge brush. Now we can have as many of these as you want and you can continue to do so by just duplicating this layer. Just type command J to duplicate. Then use your move tool. And if I want to put it down here, let's say in this area, then I might need to have the light source much taller. So again, make sure you're working the left side of the layer. Then I can just type command T, control T in Windows. Put that little cross hair right where you want to keep things positioned. And then I can grab here, just hold option. Option, alt in Windows means keep that cross hair where it's at. And I could pull this down. If the width is changing at the same time, add shift, and now you'll just be changing one. So I can do that. I can control how wide it spreads and press return or enter when I'm done. Command J one more time to duplicate and then use your move tool, move it over somewhere else. Reposition. Also, when you type command T, control T in Windows, where you could move that little cross hair, the other thing you could do is if you move your mouse outside of these little handles, then you can swing it from that little cross hair. So if you need your light to be a slight angle, you can do so. And then again, I hold option to keep that little thing, the cross hair consistent. And I can fine tune these. The bottom two have not been masked to make them look like they're underneath the particular pillars that are there, but you get the idea. I'm gonna add a few more of these and I'll speed it up so that you don't have to watch the whole time. And I'll also mask those. Now I'm gonna turn back on the adjustment layer that was trying to make it look like nighttime. And since all of these have the same brightness, I might as well put them into a group. So click on the bottommost layer that has it. I'll hold shift and click on the topmost. And then I'll click the group icon so they're in the group. When they're in a group, I can adjust the opacity of all of them at once. So I can decide exactly how strong they need to be. Or I can drill down to the individual layers. So let's say the bottom three are too much. So I can grab each one of those. And you can make multiple layers selected at the same time if you can find all the layers. In my case, I'll make it these top three. And then we could adjust the opacity together. You can also work on the individual layer mass. And if you find something like the very top of this to be just a little bit too bright, you can grab your paintbrush tool and with a soft edged brush, maybe get a really large one, and all I'm gonna do is paint with black and get my opacity down. I'll bring my opacity to 20%. And I'm just gonna paint right here to say that's just a little too much at the top. Then I'll go to the next one and say this one I think is also just a little bit too much at the top and come down to the next one. And if that was the case, I could do it there as well. So you have a lot of adjustment that you could do. And with each one of these, I might adjust those tops just because they feel a little bit prominent. I think it's only this last one. If you want to get more sophisticated, you can actually make these light beams outta multiple layers. Let's say I want the middle of this light beam to be more prominent. Well, I just need to figure out which layer it's in. It's in this one right here. I can type command J to duplicate the layer and then I can do the transformation that we did earlier, just making sure the layer mask is not active. I'll type command T, control T in Windows. I'll move my little cross here to where it needs to be. And then maybe I would make this slightly skinnier, more like that. And then I'll lower the opacity dramatically. I'll bring it way down because this is now made out of two layers, and therefore I can make the center of the beam to be a little bit brighter than the outer portion because the center of the beam is on a separate layer. All depends how crazy you want to get with it. The other thing we could do is get fancy to say why don't we make all these beams of light break through this layer that's underneath that's called nighttime. There's a couple different ways that could be accomplished, one of which is to take this group and to go down to the letters FX and choose blending options. And in here is a choice called knockout. Knockout means take whatever is inside this group and cause it to poke a hole through anything that's underneath it until you get to a layer called background. And therefore we might get a little bit more of the natural color of the image, although I don't know it is gonna be dramatic. But I'm gonna set this to knockout deep just to see if it helps. Sometimes it does, sometimes it doesn't. So knockout deep, then I'll click okay. If you want to see before and after, I'll just type command Z. Here's before, and then I'll reapply. Slight difference, but it brings in a little bit more of the original color in the image if you do that.
Ratings and Reviews
Student Work