Visual Notetaking: A Beginner's Guide to Sketchnotes
Giselle Chow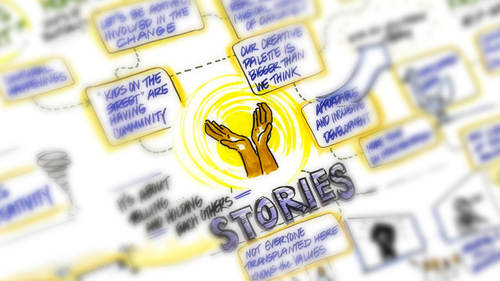 Visual Notetaking: A Beginner's Guide to Sketchnotes
Giselle Chow
Class Description
Graphic facilitation uses attention-grabbing images, colors, and words to represent ideas shared during meetings, conferences, and events. Learn how it is done in Visual Notetaking: A Beginner's Guide to Sketchnotes with Giselle Chow.

In this beginner-friendly class, you'll learn how to actively listen and illustrate ideas in a whole new way. 
Giselle will teach you how to: 
Listen for relevant information

Represent ideas in text and graphics

Build an icon bank 

Use color and size for emphasis
Giselle is a consultant with The Grove and in this class, she'll teach you how to make ideas leap off a page. Giselle will cover everything from preparation to execution and you'll learn how to make a visual compendium of an event that can be shared with attendees and social audiences.

You'll also learn about drawing connections in a way that makes information easier to retain and helps visual thinkers grasp new concepts and ideas.

If you want to add an exciting new skills to your design repertoire and learn how to make engaging, share-worthy visual notes, don't miss Visual Notetaking: A Beginner's Guide to Sketchnotes with Giselle Chow. 
Class Materials
Bonus Video: Titles with Flair HD Mp4
Materials List & Starter Kit
Ratings and Reviews
Wonderful overview of sketch noting with tons of opportunities to practice, learn, and refine skills! Appreciated the side benefits of recognizing sketchnoting involves active listening and the opportunity to practice that too. Thank you! 110% recommend this course.
Great fundamental skills for effective notetaking! I love Gisele and all her lessons! They are super easy to follow and understand. Would recommend it of course!
I really enjoyed this class. I am a beginner sketchnoter and found it very helpful. Great pace and delivery by instructor. Every minute was worth it. Thank you!
Student Work