Bridal Prep - What If Scenarios
Susan Stripling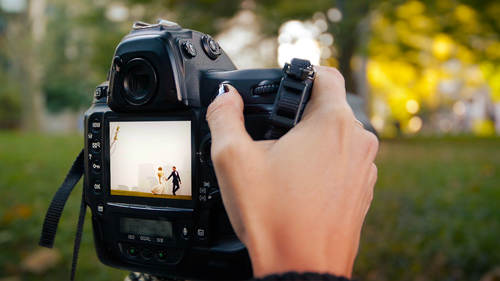 Bridal Prep - What If Scenarios
Susan Stripling
Lesson Info
34. Bridal Prep - What If Scenarios
Lesson Info
Bridal Prep - What If Scenarios
So now let's talk about the great intangible what ifs? Because during the getting ready portion of the day, there are so many what ifs. There are so many. What if this happens? How does this go down? How do you handle this? Let's talk about some of the common situations. What do you do if it's crowded? Well, to quote my brilliant photographer husband cliff mountain er you deal with it. You make the best of the situation that is at hand. Now that said, there are some things you can do you can offer to clean up the room for them a little bit. You can move some suitcases out of the way. You can reduce the clutter or what I tend to do. If it's too crowded, I will look for another place for the bride to get ready if she's in her own room and all of the bridesmaids are in there and there's stuff everywhere and there's stuff all over the ground and there's not a whole lot I can do in the space. I'll ask if her maid of honor is staying at the hotel. I'll ask if her parents have a room. I'll as...
k if when it's time to get ready just for her own peace. And quiet and kind of ah rest fight from the chaos if she minds going to another room to do the getting ready and that's really wonderful, we get to go somewhere bright and clean and fresh and work that way. If we're in a catering hall, if we're in a place where there aren't multiple rooms, I'll just simply seek out another source, and if there are no options, I'll just clean up a cz best I can. The bride knows with the room looks like I'm not going to photoshopped out suitcases, so I'll clean the best I can a look for alternate situations, the best I can, and then I'll just deal with it as best I can. I'll shoot a lot at one point for a lot at one point eight, I'll do a lot of vignette ing with other objects to minimize the clutter in the room, but there's only so much that you can do if they've put twenty bridesmaids in a room that's meant for three people, and they all brought their own suitcases. You just have to deal with it. What do you do if they're too many planners? What do you do if there are planners absolutely all over the place and they're up in your face and they want to know what you're doing? You deal with it, you take a breath, you stay calm, we put on what we like to call our game face and you roll with it. If there are too many cooks in the kitchen, then you need to remove yourself from cooking. You don't need to be another voice in the chaos of the day just buckle down, do your job, let them run around it is not your job to be the planner just block them out and keep on going. What do you do if the schedule falls apart again? The answer to all of these as you do the best you can? We talked in the planning stage of things about managing the client's expectation on we've talked about managing the timeline to make sure that you have enough time to do everything that you need to do, but even best laid plans as you see here, we were running about thirty minutes behind, and while we had patted the timeline while we did have the time to run behind, you don't want to run behind you tighten things up, you shoot a little bit faster, you encourage a little bit more and you do the best you can, but at the end of the day you also have to remember that you're not the planner it's not your job to keep the schedule rolling, so while you do the best you can you can't make magic happen, you can't force someone to get ready earlier, you just handle it in the way that the situation warrants you don't want the clients to see you sweat, you don't want them to see you visibly angry. You don't want to see you want them to see you visually upset my assistant. Like I said, we've worked together for quite a while and she could tell she could tell when my composure is starting to crack. She can tell when my game faces really quickly turning to angry face and she will let me know because I wear every single emotion that I have on my sleeve at all points in time and you know exactly what I'm thinking just by looking at my face. So if the situation is getting more difficult or more dire or were running further and further behind, sandra will say, susan your face, which means that I'm exasperated and they can tell clients pick up on these things they remember these things on, they don't want them to look back at the wedding day and be like, wow, susan was always really mad, it was always really mad at us, so maybe I have to remove myself from the room for a second to breathe, but then I come back and I just roll with the punches and again if we're running behind there is a plan or there it is not my job to get the client moving. I will tell the planner, the news, the planner's job to get the client moving. If there is no planner and I'm the one that's there, I will do my best to continually remind them hey, guys were running about ten minutes behind guys were running about twenty minutes behind guys now about thirty minutes behind, and if we don't pick it up, we're not gonna have any time to do portrait's, but I can't physically push them out the door. All I can do is manage their expectations the best that I can and try to give encouragement, but at the end of the day, I cannot physically put her dress on her and pushed her out the door myself. Why are they looking at me? This is my personal favorite whenever I show up and I'm photographing the getting ready and you have those bridesmaids, that won't stop looking at you. Ah lot of times, it's, because maybe they're not been in a wedding before or their own photographer was maybe a little bit more traditional or directed the candidates that they did on the wedding day, but either way, sometimes you get somebody and then the only thing that they could do a stare atyou. If they keep looking at me, I'll gently remind them you don't have to look at me. Just keep doing what you're doing and that's a hard habit to break for some people. So sometimes it's kind of staying in their plane, a vision a little bit more. So they see you and they get more comfortable with you sometimes it's just reminding them not to look at you over and over again. But sometimes at the end of the day, despite trying to get them to stop, there is going to be that one person that smiles at me. And if they want to smile at me all day, you smile at me all day and I have no problems with that whatsoever. What do you do if there are no lights or windows? We've talked about this at the very beginning. I will pull out my eye. Slight. I will have my assistant stand to emulate a window and then I will adjust accordingly. I will move ahead exactly the same way I would. If there were a window in the room and I will treat the light in exactly the same manner. What do you do if the route the groom? Once coverage now I am a single shooter I don't have a second shooter my assistant can shoot sander is quite a good photographer if the groom's getting ready in the same hotel and all he wants is like five minutes of pictures of him putting his bowtie on if I can't get down there myself that is something that all send sander over to shoot I won't send her to a different house I won't send her to a different location she's not a second shooter she can shoot but she's not a second shooter so there's a big there's there's a big distinction between those two things if the groom wants coverage we have several ways we can attack it I can start with the groom for a little bit and then go to the bride I can start with the bride and then go to the groom or they do have an option on my priceless to hire a second shooter to come for the wedding day and that would give the groom full getting ready coverage then my personal favorite is what do you do if the videographers won't move? Now there are videographers that I have worked with that are extraordinary and this is also in doing your absolute best to manage your client's expectations if they're videographers thatyou work really well with if you can refer them to your clients, you will know that you're showing up and working with someone who's on exactly the same page that you are that covers the day in the same manner that looks for light in the same way but a lot of times what I'll get is a client who's invested in their photography and the videography isn't as important to them so they hire someone who's brand new or maybe less experienced on I'll show up in the bride's getting ready room and there are two videographers with thirty five millimeter lenses and they're right in the bride's face and now I understand like I understand that everyone has their own style and everyone has their own way to approach the day but we were all in this together and I will respect the way that you shoot if you will respect the way that I shoot I'm going to let you get in there and I'm going to let you get your shots as long as you then back off and let me get my shot it's not a power play it's not a competition we're both there to make beautiful things for the bride so why aren't we on the same team but every once in a hall run into a videography team where they're belligerent where they're pushy where they think that I'm stupid where they want me to be out of the way or where the strangest thing that I've ever seen is that they want toe win which is very bizarre a lot of times if it's a videographer I've never worked with before, I'll reach out before the wedding day, I'll say hi, I'll try to get them acclimated with my work and mind with theirs. I'll try to make sure that we're on the same page, but my absolute last resort, if someone of any vendor style is kind of prohibiting me from doing my job in the way that I need to do my job, though my last resort is to speak to the bride, but I will do everything I can to kindly talk to whoever that shooter is and see if there's a way that we can work it out so that we can both get what we need and we can both make our client happy. But if I have to, I'll take it to the bride and it's only happened once or twice videographers who are watching this I love you, I love working with you, but if you can give me what I need, I will give you what you need. Thank you so much for sitting with us today. We've taken you through the entire getting ready process and then some from other weddings. Next up we will continue throughout the wedding day, all the way through the ceremony, the portrait's and the reception and then we still have work flow to cover. So we've got a long way to go. We're really just beginning. Thank you so much for being here, and I'll see you tomorrow.
Class Materials
Quicksheet Inside Guide (one large PDF file)
Quicksheet Inside Guide (zip file of individual PDF pages)
Ratings and Reviews
oh Susan, you are AWESOME!! I am not a wedding photographer (despite dipping my toe in this intimidating pool for one of my dearest friends), I shoot all forms of portraits and love sports too! Your '30-Days' has been the single most influential and educational moments since I started my venture into photography in 2009! THANK YOU! Your honesty, directness, bluntness, humor and vulnerability makes these 30-Days the most worthwhile time spent away from actual shooting; while simultaneously is the most inspirational motivator to push you out there to practice these ideas/techniques! #SShostestwiththemostest You raise the bar in this industry, not just with wedding photographers, but with all genres of photography! I wanted this course to learn about shooting and thought, great... I'll get a little bit of the business side too... OMG! I got it ALL! I'm dying! What an awesome investment in myself, my business and in YOU! PLEASE keep doing what you are doing! I love your new Dynamic Range, I feel that it is a wonderful extension of the work you do with Creative Live! I watch you EVERY DAY, every morning... I know that I continue absorbing your wisdom through repetition! I don't want to be you, I want to rise to your level! So thank you for the inspiration, motivation and aspiration! Keep on being REAL, its what we love about you! We embrace your Chanel meets Alexander McQueen-ness! :) Thank you for stepping into this educational space and providing us with your lessons learned so we can avoid the negative-time investment making mistakes... we are drinking your virtual lemonade!! HA! Like the others, whatever wisdom you offer in this medium, I will be jumping at the opportunity to learn from you! THANK YOU!
All the positive reviews say it all. When Susan took on the challenge of teaching this course it must of looked like attempting to climb Mount Everest...and she accomplished just that. Susan is a detailed, well-organized photographer and this clearly comes out in her teaching. Using repetition, clear instructions, a logical and well laid out presentation, she answers most any question you might have when it comes to wedding photography. I felt like I was having a private consultation when watching the course. She is real, honest, tactful, funny, and a gift to the photography community. Finally, her photography is professional and inspiring. Thank you Susan for the tremendous amount of work that you put into making this an outstanding Creative Live course for us all.
Wow. What a super, comprehensive, entertaining, informative course. Well done. I've taking a lot of photography classes and this one is definitely top of the list. Susan Stripling was very well prepared (and great job by the CreativeLive Team too). Terrific course. Susan shared so much. Thank you! P.S. Love the CL boot camp courses.
Student Work