Segment 6 - Comparing Adobe® Dreamweaver® and Muse
Janine Warner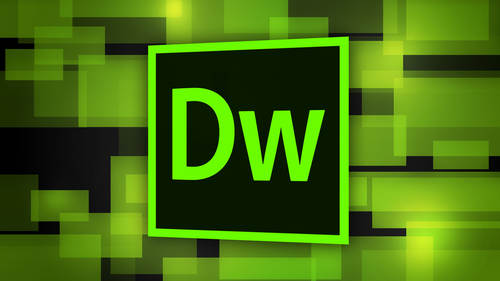 Segment 6 - Comparing Adobe® Dreamweaver® and Muse
Janine Warner
Lesson Info
7. Segment 6 - Comparing Adobe® Dreamweaver® and Muse
Lesson Info
Segment 6 - Comparing Adobe® Dreamweaver® and Muse
actually taught a course here, a creative life comparing the two and I kind of alternated segments between Dreamweaver and Muse. And it's a question that I get a lot. And Muse is the newest addition to the Web design Sweet in in Adobe, and it's a very promising program. I'm very excited about it. The price point is similar. It may change since the slide or in the future, but But the simple answer is, if you're a print designer and you love in design and you love just creating things without ever thinking about the code, you are gonna like muse a lot better when you first get into it. If you're a developer or programmer or you're used to being able to go in and tweak the code when you want to get something just right, Muse will make you crazy cause you actually cannot do that in muse at all. So dream weavers definitely the place to go if you want access to HTML and CSS if you're doing any kind of programming. If you wanna be able to do a lot of customization, you really have to be in Dr...
eamweaver. But Muse has some wonderful designed tool. So Dreamweaver has the split view that lets you see the code while you're working and design view. And Muse doesn't ever let you see the HTML CSS code until you actually finish your website and you export the code. And then you send the code up to your server. And because of that, in terms of workflow, a lot of people think, Well, I'll start in Muse, and then I'll work in Dreamweaver. And unfortunately, up till now, that's not possible. They may adjust that in the future, but the way it works right now, when you get done designing something in use, you have to export the HTML out, amuse and then put that on the server. But if you ever took that code into Dreamweaver and tried to change it, you'd never be able to go back to Muse. And again, at least based on what I've seen up till today, we're kind of summer of 2014. The code that comes out of Muse is not designed for humans. Let's just say that it's not designed in a way that makes much logical sense, its numbers and and very strange naming conventions, and if you were. Ah, very experienced programming. Repriced say the code in use is not as efficient as it could be, which means the pages they're gonna take a little bit longer to download. In fairness to music, creating a website with big photos and it a little bit of extra code is not gonna make that much difference. But if you're designing and you really have to optimize, Muse is not going to meet the needs of professional Web designers who are pushing the limits of the code. But boy, does it make the graphic designers happy because you put things where you want it on the screen and they stay there and it's just much more intuitive, much faster and easier to learn. But it is a somewhat limited tool. Quick comparison, I'd say Dream Weavers More for programmers, muses more for designers. That said, many designers love working in Dreamweaver. Uh, Dreamweaver is a great way to learn HTML and CSS. You don't even get to see that in view. So it's definitely not a way to learn that Dreamweaver creates better code than muse. I definitely feel strongly about that. I put mostly there because my most fanatical program or friends would tell you even dream Weaver doesn't create perfect code on, I would tell you, if you split view and pay attention to the code, you can avoid some of the problems that happens. Sometimes anytime you're working in a design view and asking the program that generate the code for you in the background, you run the risk that it doesn't quite understand what you want or you copy and paste. Something in a little code gets left behind or and you'll see that probably when I'm working something won't be quite right in something I'm designing this afternoon, and I'll have to go into the code and figure out what it is. And in Dreamweaver I can do that. And I can create very clean code if you don't pay attention to it. That's one of the reasons people say Dreamweaver doesn't create clean code. If you're not paying attention, you run that risk. But definitely news is creating tools that are creating code that wouldn't live up to the standards of my standards based friends. The design tools are definitely better in news, and I say mostly because when I did this class it was still a relatively new program. Some of it, you can tell it's still a version one and some of the ways it works and doesn't always work consistently. But I expect to be used to get better and expect those tools to get stronger. Dreamweaver lets you create templates, which you should see this afternoon or a handy way to create multiple pages. Museums is something called master pages with a similar concept. Dreamweaver lets you create fluid grid layout so you could do responsive designs again. Up until now, amuses had no features that let you do responsive design. You could create a static page of a certain size, but you couldn't create one that adjusts. And in a second I'll show you what I mean by that. If you haven't seen one. Remover has tools for media queries, which, if you know, see assesses how you do responsive design again. Muse has very limited, limited options. In its early versions, you can kind of mock up mobile and Web versions, but again, there's no integration, and there's no sharing across them. Dreamweaver is great for relatively large and small websites. Again, if you've got a really you know, hundreds of pages. A CMS like WordPress is probably better choice, but I would say, um uses really better for smaller, simpler sites, although it does have some nice features for creating parallax design. Those sites were there really Long Scroll herbal pages, and there's kind of interactivity and you go down. Muse has some pretty interesting tools that make that relatively easy again. If you're interested in standards based code, you might not be happy with all of it. But if you just want to create a really cool looking site, you can do a lot in use. Um, and it can, uh, you can do newsletters and Dreamweaver you can't in use. So that's kind of a quick comparison. I know there's a lot of confusion out there, so I really appreciate that. Question lands. Both programs work pretty much equally with photo shop, and it's a very common workflow in many Web design firms. To start in Photoshop, develop the mock ups, then goto dreamweaver or muse and recreate them. Some people are using in design for their mock ups and then going on to one of these above design programs. If you use edge animate, which is, Ah, very new program in the Adobe Sweet. And there's so many programs in this suite now it's easy in the creative cloud to get lost. Enemy lets you create JavaScript based features, so they combine HTML, CSS and JavaScript. You could make sliders. You could make banners that have motion and a lot of the things that we used to do in flash and all due respect to flash. Because Flash is not supported on I Files and IPhones, most Web designers no longer use flash on their Web sites. On edge. Animate is really stepping in to kind of fill in that gap and let you create interactive features that are very flash like without requiring a flash plug in. Thus they work across many different platforms. There's a whole suite of tools that they're experimenting with re flow and edge code and edge inspect. And then there's the Web fonts, tools will look a little bit of Web fonts and phone gap if you're doing mobile development and remover works with all of those. But Muse does not. Uh, frankly, neither one of them worked very well with late room, which still surprises me if you're a light room user and a lot of photographers love light room. It's a fantastic tool for organizing lots of images and processing lots of images. There have been some built in gallery tools in late room, but the galleries that light room spits out are not easy to integrate into Dreamweaver. It's not possible to integrate them into Muse, and it doesn't work very well with WordPress either. So the gallery features a light room have been woefully lacking. I hope that Adobe will fix that someday, because it would be a wonderful workflow to be able to generate a gallery in light room that you could then import into Dreamweaver and integrate into a site. One other thing to note Muse code. The code that comes out of Adobe Muse is pretty much assured toe work on these versions. We talked about browser differences, how depending on how your website is built, it might look very different in a new browser than an old browser and in Adobe Muse. If you look at the specifications, they come right out front and say our code will work. And Firefox, 11 and later Internet Explorer seven and later Apple Safari five and later and then Chrome pretty much all the latest versions, and that's really qualifying the fact that they're pushing the limits with some of that parallax design. Some of those features just simply don't aren't supported. Those older versions of browsers couldn't interpret that code, cause that wasn't possible when they came out. So the reason that we have this challenges HTML and CSS and all these other features. Each year we get more toys to play with, but they don't all fit in the old boxes. If you use Dreamweaver, the way you target browsers of is up to you. Whether you're designing for the latest three versions of the top five browsers or you want to go back further injuring were you have a lot more control of it.
Class Materials
Adobe® Creative Apps Starter Kit
Adobe® Dreamweaver® Creative Cloud® Working Files
Ratings and Reviews
I love the way Janine teaches! She's so conversational - engaging, humorous, articulate. She makes the information accessible. I have read and watched several books and video learning courses for Dreamweaver and I still feel lost. Janine took some of the most frustrating components of CSS and other confusing aspects of Dreamweaver, like understanding the difference btw something as simple as margins (space outside div) and padding (space inside div), and presented them in a way that I wondered why I was ever confused. Thank you for these incredible courses. I am a full time artist/oil painter (billinmanart.com) and I listen to them while I work (and sometimes find myself glued to the screen instead of my canvas - I love learning and these courses are the best!).
Student Work