Adobe Premiere Pro Fundamentals
Philip Ebiner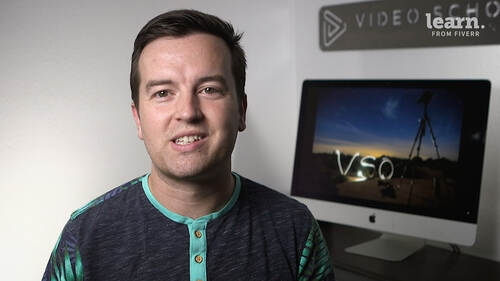 Adobe Premiere Pro Fundamentals
Philip Ebiner
Class Description
AFTER THIS CLASS YOU'LL BE ABLE TO:
Set up a new project and navigate the Premiere Pro interface.
Import and organize clips, audio and other assets.
Master all the basic skills required to edit a video including starting a sequence, working with the Timeline, adding clips, making selects, syncing video and audio and closing gaps.
Add video and audio transitions to your edit.
Create titles for your video and master visual effects.
Master the Essential Sound Panel to work with audio like an expert.
Perform color correction and grading with a range of Premiere Pro tools.
Add motion to your videos and work with time remapping, speed ramps and slow-mo.
Export your video in the appropriate format for your project requirements.
Edit green screen footage and perform chroma keying like a pro in Premiere.
ABOUT PHILIP'S CLASS:
Adobe Premiere Pro is an industry-leading video editing tool with a myriad of capabilities for creative professionals. If you already work with video or want to start editing your own projects, mastering the basics of Premiere is your key to success.
Designed to take you from an absolute beginner with no experience to an advanced user feeling comfortable and confident to work on any project, this is the ultimate fundamentals class. You'll learn everything from editing on the Timeline and working with audio, transitions and titles to color grading, creating motion, chroma keying and visual effects.
The additional downloads include practice files like video clips, photos and other assets that you will use throughout the class to create your own short video. Enroll now to start editing like a pro!
WHAT YOU WILL LEARN:
How to stabilize shaky video with just a few clicks
How to sync your footage on the Timeline, add b roll footage to your edit, adjust clip size and position and use the auto reframe function.
How to edit down an interview and narrative sequence
How to create a custom blur transition and tackle common transition challenges
How to animate your title cards, save titles as preset graphics and underline and rename shape layers
How to work with audio including adjusting levels, audio channels, equalization, effects, fixing bad audio and removing noise, echo and reverb
How to use the Lumetri Color Panel features to fix white balance, match exposure, HDL secondary, apply vignettes, add color effects and perform selective grading
How to add motion to title graphics and the Ken Burns effect to photographs
How to export high quality, small file size videos and full resolution videos
Advanced skills like how to use Lumetri Color presets, make footage more cinematic, capture stills from video and remove grain from clips
WHO THIS CLASS IS FOR:
People who have no to little experience with Adobe Premiere Pro
People who need a refresher class on Premiere Pro's features
Videographers who want to start editing their videos in Premiere Pro
Editors who want to fortify and enhance their existing skill set
Creatives who want to add Premiere Pro to their offering
Anyone wanting to learn how to use Adobe Premiere Pro CC
All levels of experience
SOFTWARE USED:
Adobe Premiere Pro CC (2017 and later)
ABOUT YOUR INSTRUCTOR:
Professional video and class creator, photographer and teacher to 1mil+ students. Phil has 10+ years of professional experience in the world of video & photography. He has created 1000+ videos and award-winning documentaries and works from his home studio near LA.
Class Materials
Interview Clips for Windows Users
Resources for Premiere Pro Course
Ratings and Reviews
Student Work