Creating Different Photoshop Filter Looks
Oil Paint Filter in Photoshop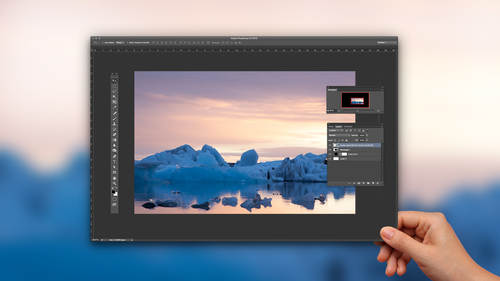 Creating Different Photoshop Filter Looks
Oil Paint Filter in Photoshop
Lesson Info
Oil Paint Filter in Photoshop
here is ah, couple examples of how a slightly different filter can change your image quite a bit. If you look at this particular image, this is Ah ah, picture my wife took. And this is, uh, of her dog, Nyah. And you see the painterly look where it seems to follow the contours of the actual original. If you want to see what it would look like without that, if I turned off, there's the original picture that it was made from in here is the end result. Another image would be, ah, this one take a minute for its open because it's a rather large image. And if I zoom up on it, do you see how this one has a nice Pena early feeling in the sky? If you look in the building, it feels like somebody might have gone in there and kind of painted around. Everything seems to have texture, but it feels rather painterly. Overall, I'd like to give you an idea of how that's done, because with this you'll find that it follows the contours of the image, whereas the effects that we did before were kind of gener...
ic textures on top of it. So let's open a version of that image that doesn't have any texture on it. And let's try it out now. The first thing I do before going through this technique is I simplify my image. Most of the time. I'll adjust the picture to make it more colorful, because if you look at riel paintings, oftentimes you'll find that they're rather vivid and color. So you can do that with a human saturation adjustments, moving up the saturation if you'd like. The other thing that I will do is often retouch out any elements that really don't add to the image. And in this case, I have a layer that has some retouching on it. I'll turn off that layers. You can see what I retouched out. Do you see the cloud in the upper right which just pulls your eye up to that corner, retouched it out and there was kind of ah, little keep out tape here. Maybe there was a murder or something here, I don't know, but I retouched out that stuff just to simplify the image a little bit. So that would be what I'd often do, though. Simplify a little bit, make a little bit colorful. Then I'm gonna take these two layers, and I'm gonna turn them into a smart object by coming up here the filter menu. And after doing so, I could go back up to the filter menu. If I go under stylized, there's a special filter. It's called oil paint, and with oil paint, it comes up and you'll see a preview here. What I'm gonna dio is this can take a long time to preview on the main image if you have a high resolution one. So I'm just going to use this little preview window that we have to see what we're getting. But if you turn on this preview check box after a while, the main image would update. It's just gonna take a long time when you move the slider and then you have to wait for it. Update. Where's this updates pretty quick. So there's a choice called stylization, and the higher I bring it literally, the more kind of a painterly look I have. If I bring up cleanliness, it will simplify the shapes that it's creating. Whereas I could bring it down. It will be more complicated, so I'm gonna get to be relatively clean here. And then you have other things like bristle detail. And the main thing is important, though, is that you don't turn off the check box at the bottom called lighting. If you turn that off, you wouldn't have highlights and shadows that give it a three dimensional feeling. But I'll use that setting for now, and I'll click. OK, what I find is with the oil paint filter, it's next to impossible for me to find the setting that looks good on the entire picture in. So I wanna share with you what I do to get different settings in different areas we won't spend very much time on. I just wanna make sure you know the process, and then you'll know that that's how the other image was created that I showed you. So now if I zoom up on this picture, you can see the painterly quality that's here. But if I look in certain areas like look here where there's some flowers, it kind of hard to tell if they're even flowers because the paint strokes are just too general. So what I often do is find a setting that works for the majority of the image. Then I'll take that layer and I'll duplicate it. One way of duplicating it is by typing command. Jay, I think of that is jumping something to a new layer. It's simply a keyboard shortcut for this command layer via copy. Use it all the time. So I get used to command Jade to jump something to a new layer. Then if I look in the layers panel, we now have two copies or to total. And down here I see the word oil paint. I'm in a double click on that to get back into the settings. And now I'm gonna look at this area where the flowers are, and I'm gonna pick something that would give me more detail. Maybe I'm going to bring the stylization down a little bit and bring the cleanliness down bright, bringing cleanliness down. It's going to be able to have a little bit more detail in their experiment. Until I can see enough detail, I'll finally click. OK, so now we have two versions of the image. The bottom version has very broad strokes to it. The top version has more fine strokes to it, but those fine strokes I don't like is much on the rest of the image. So now we are going to add a mask. Usually go down here the bottom of your layers panel in this icon that looks like a circle inside of a rectangle without a layer mask. In most the time, when you do that, you end up with a mask is full of white, and that causes the entire layer to just show up. And it's waiting for you to paint to get part of it to disappear. There's a trick, though, and that is if you hold down the option key, which I'm doing right now. It's all time windows, and you click on the layer mask icon. You end up with a mask full of black black, and a mask hides things. So when I hold on the option key and click on the mask icon, it means hide this layer. So now I'm gonna grab my paintbrush tool, and if I paint with white, I can paint in that finer, detailed version wherever I think it's necessary. So I come over here and painted over the flowers, and I find that if I want to get a good result with the oil paint filter. I usually need to do about at least three of these different settings where I have one. That's really fine detail for where you need the detail, one that's a medium amount of detail in one that's really basic, that big strokes, and it's a matter of painting it in wherever you think. The scene that you have needs that additional detail where it's really warranted and all I'm doing here to get the detail to show up is I have a layer mask attached to that layer, and I'm painting with white with my normal paintbrush, and I could bring it in by doing so. Then we can get these more general strokes out in the sky if we think it's good there and the more detailed one where we need the detail. So I've done that on many different images, and I believe I have an example here where if I zoom up, you can see really painterly detail in a chair. But then you can see much finer detail here in the the trailer, in even finer detail here where we have flowers where it almost looks like the original photograph and just mixing those all together so that I could get the more painterly look here in the drapes, a little less painterly. Look in other areas and then the background. You see where it's kind of brownish yellow, green kind of feeling. Those air those textures. Remember the textures that was that texturizing pro thing. That's what's being applied to the background, and I simply added a layer mask and say, Don't put it on the trailer. I'm using my painterly look on the trailer so you get an idea of the kind of filtered look we can achieve. So these are all the texture ideas that wanted to feed you. That's just one category of kind of a filter effect weaken dio on. Then we'll explore others. But first you guess how many questions or comments about what we've done. It seemed like the thing to do is kind of make your adjustments and then put the textures over the top. Is there ever a time where you want to work on top of textures or is it not really Well, most of the time I end up fixing like the biggest problem with my image first. So if the brightness of the image is way off to begin with, I'm not going to start thinking about adding texture. Yet I'm gonna get the image to just close to what I want, brightness wise and color wise. But then, once I start applying texture to it, sometimes my idea of what I need changes and in this case, my idea changed in. That was, I really wanted the trailer to stand off from the background. And originally when I started applying the texture, the background was just as bright as the trailer. And so I decided to also darken up the background a bit so it really varies and how I do it. But if you end up using adjustment layers so that it's not something that's permanent and instead it's just something floating in its own layer, then you have much more versatility in doing this. It's mainly when you go in and apply adjustments directly to a layer instead of using an adjustment layer that you're getting more committed to it, and it's harder to make changes later. So for me, it just depends on my mental workflow. What's most important when I first get to the image, and a lot of times there's some basic adjustments at the beginning. Then you do some texture or painterly effects. And then there's fine tuning at the end, which might be some or brightness or color changes. Yeah, and I have a question from votes at home from photo maker. Can the artistic filters and Photoshopped be used with an image of any size, or are they limited to eight or 16 bit, for instance? Are there any restrictions? There are restrictions on some of them. You'll find that with some images, the filters will be great out. They just won't be available most of the time. That's due to one of a few things, but one is if you go to the image menu and choose mode. Uh, most filters. They're designed to work in RGB mode. If you happen to be in seem like a or one of the other modes, you might need to switch to RGB to get the work done, and some filters won't work if you're in 16 bit mode and we covered that in a different class I had, which was a troubleshooting class, but I should show you one other way that it can mess you up as faras. If you find a filter, she's great out. You've already looked your in RGB mode. You've already looked your eight bit mode, and still it's not available as a filter. And that is, if you go into your preferences and photo shop, there is a setting for performance in under performance. There is a check box here called Use graphics processor, and if that's turned off, there are a few filters that rely on that feature. And if you have it turned off, then some of the filters will be great out. What's even weirder is your gonna find If you're working on a laptop and you disconnect the power supply from your laptop, certain filters might stop working. What? That sounds absurd. That's because if you go at least on a Mac into your system preferences and you go to energy Saver, I think there's a choice in here. Where is it? Well here, Automatic graphics switching. Do you see that? If that's turned on, it means that when you unplug your laptop, your video card that runs your screen ends up going into a low power mode switches over to something that's more efficient. But that thing isn't always compatible with some of the higher end filters and Photoshopped. So right there. If that's turned off, then that's not gonna mess with you. So there's lots of little things like that. But that's why we had a troubleshooting class to add a whole hour and 1/2 whereas going through all the different ways where Photoshopped can get in your way class are cool things. Question is from Quel beau 60. Could you create an action if he wanted to save the recipe for a complex texture? Yes, you can. Just if you know how to use actions, you can create an action and have it apply things. But I find that often times in action, all I'm gonna have us the name sitting there in the actions pound and I find I prefer to have instead of file that's going crop down to a small size where I can visually see it, because then if I have a folder full of them, then I can see well, here's all the visual looks instead of having to rely simply on a name. But yes, most of these you can use with actions
Class Description
Make the most of Photoshop's diverse color filter menu! In this session, you'll learn to combine filters with blending modes, smart objects, and blending sliders to produce unique results. Create a workflow for your complex effects, and apply them to your images without having to repeat the many steps needed to duplicate them.  

Software Used: Adobe Photoshop CC 2015

Reviews
Wow! Very impressed with Ben's course. I've played with filters for a long time, but I still learned a lot. I'm very glad I stopped in for this refresher, and I plan to buy it so I can be inspired by his creative uses of filters.
Amazing presentation; organized; clear explanation of issues; easily understood; helpful!!