How Social Media Changed the Photo Industry
Colby Brown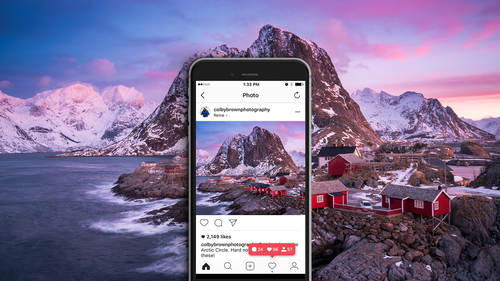 How Social Media Changed the Photo Industry
Colby Brown
Lesson Info
5. How Social Media Changed the Photo Industry
Lesson Info
How Social Media Changed the Photo Industry
So how has social media changed the photography industry? A lot of ways, to put it bluntly. The reality is that the photography industry has changed a lot in the last 10 years. And let me go through a couple of the slides before I elaborate a little bit. So first is increase the interest in photography. I think that's pretty self-explanatory. The reality is that there's a cyclical cycle of creating and producing content and sharing it that produces more engagement and more sharing and more producing and more consuming. So as more people are out there sharing images, more people out there want to create images. It's just the nature of the beast. And what happens is that photography, again, as a visual medium, is very inspiring. So you can sit there and share a beautiful image of this beautiful church in Iceland. Looking at that image, it's… I'm biased. It's my shot, but it makes a lot of people want to go see this church in Vík. So photography as a whole has grown a lot in people that a...
re getting interested in photography simply by how social media networks work because they're promoting the idea of visual content and because more people are creating and sharing. Now, sure, the drop in prices of technology have certainly helped make that more possible for people, and the advancements in technology, where our mobile phones are able to take pretty great images if you know what you're doing, also play a role. So all those kind of come together to help mean that there are more people interested in photography, and that means two different things. That means that, yes, you have more competition if you're trying to make a living, but it also means that there are more potential clients out there, depending on how you look at it. For me, from a business standpoint, I never try to look at a scene as negative, because, one, it puts me in a bad mental state. I just don't get very productive if I'm just sitting there just bitter and jealous and, "Why is this happening?" Instead, I try to look at the positive. I like to use the analogy of a surfer. So when you're out there and you're surfing the waves, there are two types of people out there. There are people that are constantly trying to go against the waves, the people that are constantly fighting the tide, and you can see them out there. They're struggling and they're just bitter and they're angry and they're just getting frustrated. And then there's the people out there that learn to ride the waves. You know when the wave is coming, you hit it at the right point, and you find ways to make it work. This is how I feel about social media. A lot of people have decried the end of photography so many times now. I can tell you right now and I will tell you throughout this class, there's more money to be made in photography now than ever before. I make more money every single year than I have every year previous to that. You just got to know where to look, and they're not in the typical revenue streams, which we, again, will talk about. A sense of community. So for most of us…well, raise your hands, how many people have been shooting for longer than, say, 10 years? Anyone? A couple people. So with photography, for the longest time, this was endemic of...or this was what you got. Most photographers, myself included especially when I first started and arguably probably today if it wasn't for social media, it was a solo adventure. Now, yes, this is me standing in the middle of a glacier in Iceland, and that's my happy place. So I'm happy there. But for a lot of photographers, it's that idea of that sense of solitude where most of your friends, if it wasn't for social media, had no interest in what you were doing. They had no interest in photography, so you didn't have anyone else to go shoot at or to go learn from. And that's changed a lot with social media. Now you have photo walks, and you have people that are... You have online forums, which I'll talk about next. You have a sense of community where you're not the only person that is going through this journey as a visual artist. To me, that's huge. And what's happened is that you have these things pop up. So this is a Facebook group that I own called Aspiring and Emerging Photographers with Colby Brown. There's about 3,000 photographers in there. It's a really great place, and it's a place that I never had when I started in 2006. Now, yes, I'm self-taught, and that's kind of how I learned best, but there were a lot of times where I had questions and I just didn't have a place to go. And places like this are phenomenal resources. A lot of the time… Now, this is a little bit old because I've been busy for the last little bit, but this post that I did here is I'll share my RAW files, and then we'll sit there and say, "Let's see hundreds or sometimes thousands of different interpretations of this image and what everyone does," and everyone got to kind of learn from everyone's perspective and what happened. That's something that I didn't have. When I first started out, it was probably like a lot of you guys where my feedback loop was my parents, and it's like, "What do you guys think of this?" "It's great, honey. You should be a photographer. Everyone's going to buy this print." No one bought the print. So it's really great to have online avenues, whether it's something like Facebook groups, which are really popular, or some of the communities on Google+ or places like CreativeLive where we're building these sense of photography communities has really changed a lot of the photo industry and has changed how people learn and interact and engage from a photographer colleague perspective. So again, we talked about becoming your own publisher. The fact that I can take this image in Patagonia, put it on Instagram, get over 3,000 interactions. Probably if I looked at the insights in that it's probably around 20,000 people got views on it. That's huge, and a lot of people take that for granted. It's really interesting in this time and space where people look at social media and they sit there and say, "Well, you know, why do I have to pay to reach more of a following? Why do I have to do X, Y, and Z? Why do I have to do that?" Back in the day, this is a photo from Darren White, a Colorado photographer. What would happen if Darren wanted to get his work published? What would happen? What would have to happen before social media came on? Anyone? Anyone would guess? No one's grabbed the mic, so you guys are good. It's cool. What would happen is he'd have to put his images on CD, and then he'd sit there and write out a letter. And then he'd figure out who the publishers were that he wanted to talk to, and he'd put that into an envelope, and then he'd send it away. And then he probably would never hear back, and that was an expense that he had to put out there. You guys are now your own publishing arm, and that's huge regardless of what following you have. And the reality is that most of these social platforms are free. They're free in the sense of you generally, yes, don't have to pay for them, and we'll certainly talk a little bit about things a little bit more, about how that free isn't necessarily free. But these are free publishing platforms that give you the ability to reach millions of people, which is really huge. So advertising and marketing. Advertising and marketing has shifted quite a bit as well. Now, this is a photo education bundle that I've done with a handful of photographers over the last few years that I put together, and we push this out on social media, and we advertise for it. We push that on our newsletters and our websites and all sorts of other stuff. But before social media, I'd have to create flyers. And even then, if I created flyers, where am I going to put it? I'm putting it around my local neighborhood, and maybe there's another photographer. For me to sell…generally, when we sell these, we sell like 5,000 to 10,000, making a couple hundred thousand dollars when we try to put these pieces together. To get those type of numbers would just be impossible. Advertising has shifted and changed so much. And now what's happened, with it becoming the social platforms where I can become my own marketing arm, I can be my own advertising agency, is that I have the ability to push out. I can write… I did the year-end post. And if I'd pushed that out before, I had to sit there and just hope that I had certain people following my blog getting RSS feeds, and if you guys actually know what RSS feeds are. But now, I can sit there and publish something on my blog, and then I can sit there and link to it and push it out across every different social platform. And not only could I send that link out there, I can do like what I do here where I create a post and I put a link into the comments and then it goes out there. And that allows me to get exponential, more traffic to my website, which is huge. And, again, the same thing about workshops. I kind of make a lot of money doing photo education, which is an important thing that I learned a few years ago, why there were so many more photographers entering the industry, and that was something I wanted to capitalize on, to be fair. I love education, I love teaching, but I also love business. And there was a large market demographic for education. And so being able to post this stuff out there and to push this out for people to go… to come with me to Patagonia, I charge $4,500 for that trip. How would I market it before? I'd have to spend hundreds of dollars, if not thousands, into publications that people may or may not flip through and ignore for the $5,000 buy-in that I just did. What happened? This is the reason that things have changed so much, why there's so much more opportunities. It's because there's more avenues, and that's what we're going to talk about next really quickly. So it's forced creativity in business, and what I mean by that is that the revenue streams for photographers has changed, for the most part. A lot of the big things where people used to make a lot of money are no longer as prevalent. I know a lot of photographers that used to make six figures doing stock photography. Do you know how many I know today that makes six figures doing stock photography? Zero. Same thing with publications. You used to get the cover of Time magazine, and it used to pay a couple grand. Now, it's an Instagram photo. Maybe you get 250 bucks. I did a spread for a magazine not too long ago, end of last year. I had the cover, two-page spread. Paid 750 bucks. Well, it's 750 bucks. I'm not going to say no. That's not too bad for what it is, but it's not what it was a while ago, and that's not something I can live off. That's not something I can pay my mortgage on. It can't put my kid through school. Those things have shifted. And what's happened is those changes has forced entrepreneurs to think more creatively and to leverage things like social media, although not purely just social media, in order to create new revenue streams that did not exist just a couple years ago. So that's actually the slide where I was kind of explaining most of that. So Chris Burkard. Let's talk about Chris really quick. So I'm going to go more in-depth on him a little bit later, but again, Chris is an exceptional photographer from California. He's a surf photographer. He does outdoor adventure travel stuff. He's actually taught a few CreativeLive classes here, if you guys get a chance to check out his stuff. Excellent guy, awesome human being, good friend of mine. Chris is one…he's like a social media superhero. So his platforms get more engagement than most others all combined. I'll talk about his Instagram and how he does it, but one of his Instagram posts will get 70,000 interactions, and I said that correctly, thousand. And what Chris has been able to do is use his unique style for the type of work that he does, the inspirational aspects of the type of visual nature of his photography work, his personality, and he's been able to carve out a place as a social influencer that does pretty awesome marketing campaigns all over the world because of social media, something that didn't exist just a few years ago, even when there was social media present, before it really started getting as popular as it is today. And so his career, much like mine, is built around the foundation of social media being a tool that we've leveraged to make a very, very good living at doing what we're doing, because we found ways to leverage the fact that he has this type of interaction. So Michael Shainblum. Michael Shainblum, anyone heard of Michael before? Couple hands. So Michael is younger. He's in his mid-20s, super awesome guy, super, super creative. And what Michael's done is Michael was part of a growing category of younger photographers that really took exceptional interest in the idea of time lapses and hyper lapses and things like that. Now, his interaction rates are really great across his platforms. He's known for these visual, just beautifully star stuff, where you see foreground elements with seascapes in California, highly engaged, darker, moodier, but the majority of the money that he makes is actually based on these idea of creating time lapses and hyper lapses and stuff like that, getting hired by some of the biggest names in the industry and getting paid tens of thousands of dollars for big projects to do. And what he did is that he saw that there was an opportunity, there was interest in this type of stuff, but not a lot of people were doing it. And he got into the field, and then he learned new ways in order to create the time lapses and the work that he was doing, which allowed him to stand out. So he created a revenue stream out of something that didn't exist before, and a lot of people followed. Now, he probably wasn't the first. He certainly wasn't the first, but he's still been able to find a niche in doing what he does. Jeremy Cowart. Anyone know Jeremy? A lot of people know Jeremy. Jeremy's good people. Jeremy's an awesome guy and another good friend of mine. Now, Jeremy has built up a large following over the years because of just how personal he is, and he's very ingrained. He likes to share a lot of himself as an artist, as a father, as a husband, and that's played very well to him between the type of work that he does, which typically where he makes most of his money is actually on celebrity portraits and things like that, working with some of the biggest names in the industry. But what he does with that, once he's built up this following based on all that interest in celebrities and all that stuff, is he's been exceptionally well doing humanitarian- or philanthropic-focused projects. So most people have probably heard of Help-Portrait. It's a really great thing where local photographers can get together and help donate their time to create portraits for people generally during holidays, and it's a really massive network all over the world. He founded that, and this specific post, the reason I use this is the Gatlinburg fires that happened in Tennessee were horrible, and he lives in Nashville. So what he did with his followers and everything is he went down there and he started creating these…what he called the Gatlinburg stories. So he's taken the idea of building up this following that has allowed him to make a good living and provide for his family, and being able to take that and turn it into this positive outreach, this positive project. In that momentum, he was able to throw his weight behind and do some really awesome things. And myself. Again, I've been doing this since 2006, and I'm going to talk in detail about kind of how I really make the money that I do and what I do and how I found that value. But social media has really shaped the choices that I made, the choices that I consciously made years ago in order to get into where I am today. To find those avenues, to sit there and say, "This is the business industry right now. Where are the holes? What is everyone else doing?" First off, that's what I like to do. I like to sit there and say, "What is everyone else doing? Now, what opportunities are over here?" Most people don't have the foresight to think that exponential, to think outside the box, to sit there and say, "How can I create a niche in what I'm doing?" Whether it's a smaller niche, whether you're doing something local or you're trying to do something on a larger scale, I don't know, if you're trying to make $50,000 a year or $300,000 a year, both of them have different revenue streams and different options, but depending on what your goals are, there are a lot of different possibilities out there. And, yes, it's very easy to sit there and pontificate and talk about the idea that the world is your oyster and you can do anything, but the truth is that there's some validity to it. You can sit there and find ways to find value in social media, which we will talk about throughout this class, in order to create new revenue streams for you that you might not have thought was possible or in the very least, you didn't know how to get to.
Ratings and Reviews
This course is designed to help you develop a Social Media strategy if you are Photographer. I am a professional photographer with over 37 years of experience and although I know how to use Facebook and Instagram I didn't really understand how to use them to achieve business and personal goals. I started watching this course about 2 months ago and have just finished it due to work commitments. However I have put into practice his advice as I learnt new understanding and my following has grown rapidly. Also my work load and quality of assignment has increased dramatically too. It takes some brain rewiring to understand how social media has taken the place of many traditional media streams but Colby does an excellent job of painting a picture that helps hugely. The best thing about Colby's strategy is that it is real life, honest and something I feel I can personally and ethically live with happily. I happily endorse this course and recommend it.
I was very lucky to be in the audience for this class. Colby is an incredible instructor - he has the rare combination of being successful, knowledgeable and talented, but at the same time down to earth, approachable and genuinely willing to help others succeed. The content presented is actionable - I have so many ideas of things that I can do right now that can help my online presence! I can't wait to get started!
I learned a few things I never knew...especially the whole inside scoop on LinkedIn....who knew??? Easy to listen to....a lot of deflection to later answers to questions...which would have made a director allow for less...why ask if you cant answer just then....and he says every question is a "great question" but it clearly isn't in a few cases....so credibility goes down...I understand positive enforcement for the millennials...but every question is not great. otherwise easy to follow and straightforward....
Student Work