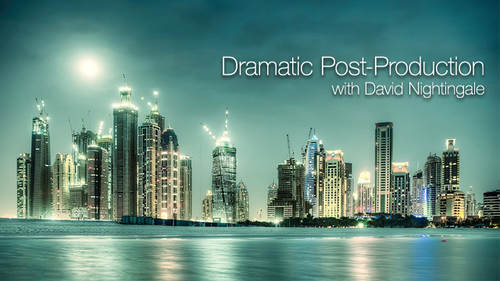 Class Description
This special 3-day workshop combines two of David's most popular courses:
Creating Dramatic Images: During this intensive workshop, David will provide you with the skills you need to dramatically improve both your photography and post-production. You'll learn how to work through the processes that are needed to create a dramatic image, both before and after pressing the shutter.
+ Practical HDR: Based in part on his popular book Practical HDR, David shows how to use HDR techniques to help capture a realistic natural look to your photos, or push beyond for a surreal/grungy style.
Reviews
Ive been following davids work and tutorials for around a year now...well ever since i took up photography as a hobby. Im a lifetime member to chromasia.com and have been working through his tutorials when time allows. There is no fast track approach to this subject but i wanted the best advice i could get. Ive always found david very approachable over the internet and is always willing to offer advice on questions ive had regarding all manner of photography questions, being a noob. Whilst the tutorials are very comprehensive and well written sometimes its hard to digest this by yourself. So when i heard that he was presenting a three day course over the net. I jumped (well not quite more like sat down) at the chance to make sure i was able to watch the course (didnt manage that either). Sometimes its better to have a monkey see monkey do approach to walk you through different aspects of photoshop. And after the first day of the tutorial, so much information sunk in more so than it did sat reading through the tutorials. Although i didnt get to actively sit and watch the remainder of the last two days i did purchase the course so i can refer back to it time and time again. I can highly recommend this course, its concise, well planned and enjoyable course to watch. When you subcribe to the course you even get the files david walked through so you can practice yourself. I cant really praise the whole package enough...but its an invaluable reference course and couple this with chromasia membership you have a package that will dramatically improve your processed photos, the way you think about composition and importantly your camera settings! Great stuff
David's Dramatic Post Production Workshop is an excellent source of both education and inspiration. The Photoshop instruction is excellent and was my primary reason for watching the workshop. I was very surprised by how thought provoking the shooting sessions in the alley were and the lasting influence it will have on my own photography. Firstly the preparation for the session in the alley was interesting – having a goal and a purpose in mind. The fact that they are producing interesting work to illustrate the points and techniques in a rather dull alley helps emphasize the learning. On my next shoot after watching the workshop I definitely made adjustments in my approach. The discussion, examples and instruction on the goal of making an image more dramatic is very inspiring. It really makes me step back and review my own work to see how I can approach it from a different perspective
The workshop was a great opportunity to learn to be more purposeful and intentional about the creative process at the post-production stage. I found the second day of the workshop – where David goes into his own approach in Photoshop – to be the most valuable for me. I look forward to putting this new found wisdom into practice into my own work. Thanks David!