Vision Disorders
Eric Cobb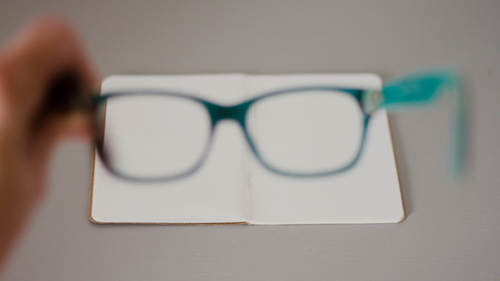 Vision Disorders
Eric Cobb
Lesson Info
17. Vision Disorders
Lesson Info
Vision Disorders
You are classically near side. Totally alright that's, my eye. And this is yeah, this is an image of what happens now. I talked yesterday about how the eye works, right? And the whole idea is that we have light coming in. And I said when the light is properly focused, it should be focused back here right on this line. There's a little spot back there called the phobia that helps us really do sharp focal vision. So what happens in my o pia generally is that the light? Because of the shape of the eye, but probably because of, well number one that could be some shape issues from linde's issues, but also practice the light doesn't quite reach back here. It actually hits a little bit early and so now of a sudden we're really good at seeing stuff up close, but his things start creeping out further and further into the distance they get blurrier and blurrier. Now this little paragraph is taken directly from the american up. Ah, ophthalmological association. So this is just basic doctor talk a...
bout nearsightedness. What we're talking about with my o pia, probably thirty percent of the u s population he is currently we if they went to an eye doctor, could be diagnosed as being nearsighted now. Uh this is one of those ones it's also really interesting because we don't know for sure how much ethnicity plays a role in this but I was reading a study just last night in preparation for today that was looking at my opi around the world and it's certain uh, asian populations the my o p a rate maybe its highest seventy percent okay, but once again we have to look at kind of the early like early training how much time is spent reading so there's a lot of stuff that goes on in this in a cultural context now as I said earlier, some of the research around being myopic or myopic is you know, the idea is it is it hereditary is a genetic component, but the growing belief is a lot of it is coming that comes down to use okay and particularly close work. So the reason I put this picture up here is I want to remind you like, a set of all the drills that we've been doing and practice okay, if you're already noticing nearsightedness right? Yura protect professional photographer you're a close work specialist and you're already noticing at age twenty twenty five, twenty eight thirty two that man is getting harder and harder to see in the distance things were getting blurrier I need you to realize that a large part of that development is probably your habitual practices so it's more than anything else kind of a warning call any time you guys were doing anything with your vision and this is why we want to have all these different assessments. I want test close vision test for a vision. I wanna test my movement, test all the stuff that I can, because when I find deficits, what they're those deficits are pointing to are the things that I don't do regularly, that make sense to you. Okay, so that is, uh, you know, just kind of base level information on near side in this, and I'm gonna show you the other two that get brought up a lot. Andi, this is where it gets kind of interesting, because we also have those who are far sighted, which I shouldn't that's you in this particular case. So for my o p a, we see that it's focused too far in in hye propia or farsightedness. The light is actually passing beyond where it should be. Um, and if you take a look at this one and this is the reason I bring this up during the kind of photographer section or artist section is, I want you to take a look at something different. I different complaints that come around from people that are farsighted, especially that are forced by their job to do close work because if I am farsighted bye bye I shaper practice and then I have to spend eight to ten hours a day working in a computer typing looking something up close well we're very often see are kind of a wide variety of things so number one difficulty concentrating um how many of you guys have run into that before like you're doing something up close mind starts to wander yeah difficulty concentrating when you're having a folk it's a close objects really important understand a lot of fatigue one of the things that I run into most is headaches okay people and again I'm just I'm saying all this because you should be judging your own history as I'm talking through this because you haven't had an eye exam and you don't know what's going on with your eyes if you need this sounds like you know this may be what we're dealing with um burning eyes um how do you get if you ever get that I start to burn after doing a lot of close work? You don't get that ugo done it some um and then most importantly and this is when I was asked irritability if you spent a lot of time and doing close work and you're just frustrated by the end of the day uh good good possibility that you're over diverging and under converging now I'm bringing all this up because I'm sure a lot of people listening have children okay and that's where some of this information could become really useful so let's go through this again if my hands are here and I bring my eyes together that's called convergence if my eyes go apart that's divergence right? Okay, now you guys tell me if I have a kid my kid is seven, eight, nine, ten years old goods typical smart kid really active kid and they don't like to read and whenever they get, whenever they forced to read, they get really bouncy and a little bit hyperactive. What might that tell me about their ability to converge? Could be hard for them to focus to be really hard for them to focus. All right and that's one of the things that I bring I want to bring up a lot of people over the years that I've run into they're like, oh man, I hate to read whenever I'm trying to read I get super sleepy I get really tired if I asked them well, when you were a kid, did anyone ever tell you that you were kind of hyperactive and hard too to control? And there I was like, oh yeah, because what we typically find is kids that have a hard time converging the eyes, seeing up clothes, doing close work, their natural tendency is to get more active because this is really fatiguing right if my muscles are constantly pulling my eyes out and I have a hard time pulling them in when I read I get tired and when children get tired they don't typically go hey just wanna take a nap they wantto not be tired so they start doing other things so couple different like I said just things to remember and people that are watching I want to make sure that you had an idea if you do have kids some stuff to think about and noticing their behaviour because it may tell you hey maybe we need to get get him looked at okay um any questions on nearsightedness farsightedness pretty simple ideas right? Okay, now all the drills that we're doing can help these we can address these I want to show you the last thing though that comes up um how many guys have heard of a stigmatism before? Okay most people have heard of astigmatism now a stigmatism is there's a wide variety of things that can cause it basically astigmatism means that when the light's coming in based on either the lynn shape or a strange curvature in the eye the light gets bent and as a result it can create kind of curvature sze in what we're seeing how you guys have ever you have something diagnosed with this that's supposedly that's what my nearsightedness is from is from I have football shape just kind of the curvature of the eye um do you know uh, not as much? Just amblyopia no, so this is actually very common, and in most cases, what we find is that people that are nearsighted or farsighted have some level, uh, astigmatism as well. And so if you've ever heard of people having, like, prisms put in their lenses or things or if you have heard that mentioned that's very often, what has to happen because you have unbendable light? Now the reason I bring this up is that the vision exercises and I'm teaching in this course when I first was learning them, I was told, well, you know, I really don't think that vision exercises can impact on someone that it has a strong astigmatism, and so for years I kind of went through going, well, I think I can help you with the near side in this the far side of this I can help you with all the eye movements trackballs better do all that stuff is an athlete, but this I'm not sure, but what I found over time is that a lot of people just from doing the work that we're doing remember because we're not trying to change what we're not trying to change a mechanical property I were trying to change the brain, the brain can even begin to reformat the blur that comes in from the astigmatism uh and so this is really important to me because like I said, what we're finding and this is why I'm doing this in this section isn't all the visual problems that we run into if we can separate them out in our heads and not always think about them as a mechanical problem the eye but instead think of them as a brain issue we have the opportunity to change change kind of perspectives on it and also realized we can create some improvements cool it you guys because you will be out there and if you get on the internet you start reading about all this stuff you're going to hear about things that supposedly can't change when you're dealing with the visual system and aiken, as I said yesterday okay, I can understand that because something's biomechanically don't but what the new research is showing is that the brain can the brain can change on so that was just more than anything else a little bit of for knowledge going forward because I want to make sure you feel confident in doing the exercises so does that again prompt any any question from you good feeling good feeling good. All right. Do we have any questions coming in from yeah, so mango seven wanted to know can you train your less dominant eye to become dominant? Okay, um I guess you all know your dominant eye can't we you know definately what yours is you know what? You're all right you just do a quick tom dominance test well it's the one that in that one exercise this morning and someone that move right generally speaking now that's not always the case though so let me show you guys how to determine your dominant eye real fast all right, so go and sit up for me easy thing to do is pick an object in the distance that you can kind of see and here's what you're gonna do we're gonna take it and make a triangle shape with your hands now make that triangle shape you're gonna like if I were to focus on the camera I would then bring my triangle shape and I would put the camera directly in the center of the triangle and I'm looking at it using both eyes all right now what I'm gonna do next is I'm going to close one eye and I'm going to see does what I'm looking at shift and then I'm gonna close the other eye okay, I got you I got you that make sense to you guys that my love is so the one where it doesn't shift that's your dominant eye yeah all right so it's a really interesting question about can you change it because the answer is yes you can um the major question is why would you want to because the dominant eye, when we look at it from a research perspective, processes information about one hundred milliseconds faster, then the other eye, so it actually serves a kind of useful purpose. But the one thing that we found in a lot of work with athletes, because now that you guys have done this at distance, I would have you repeat it up close on a smaller object. Because what we have found with a lot of people is that the eye dominance tends to change based off the distance at which you're looking at something so that's something that you contest at home. Is there a practical application of that? Sometimes there is, we move further into in that kind of athletic room. So to answer that question, can you change your eye dominance? The answer is yes, as I said, the major question, though, is what would what would you want? What you want? Yeah, okay, now the one time and if you don't mind me doing a little digression here, I get asked about that quite often by people that shoot for a living, because sometimes you have a guy who's right handed and he's using a rifle or whatever, maybe is a competition shooter, but he's actually left eye domine. It's all sometimes be asked, hey, can I actually shift my? Can I learn how to use my right eye's, my dominant eye? And I said, the answer is yes, but I wouldn't normally recommend that for anyone that wasn't doing something of super specific.
Class Materials
Easy Exercises To Improve Your Vision Course Resources
Vision Gym Multi Size Font Chart
ZHealth VisionGym Convergence Divergence Charts
ZHealth Visual Charts Far
ZHealth Visual Charts Near
Ratings and Reviews
fantastic course. very fascinating connection between vision, body, mind and brain that really applies to everything in our lives. with accurate and comprehensive explanations and practical advice. thank you for such a broad perspective on what our body and mind is capable of doing. i 100% recommend this course to anyone who is seeking not only performance and improvement, but also general (and specific) awareness of what we as human beings actually able to do and achieve . THANK YOU. :-)
This course is remarkable. I bought it with the hopes of improving my vision to get rid of my readers and eye fatigue and it has done more than that! I started this in September 2019 with 20/40 vision, and now, about six months later I am at 20/20! My goal is now 20/10. I do the Brock string daily, as well as keep the convergence/divergence charts at my office and start/end my day with them. The routines are simple enough for me to do 5 mins at a time, and the results are outstanding. I'll ALWAYS exercise my eyes from this point forward in life. So grateful for this course!
I'm on week 5 of the program and the results are nothing short of amazing and life changing. Few courses deliver above the 80/20 Paretto paradigm but this in fact exceeds it. Out of the fog into clarity once again. Great alone for those exploring the fascinating world of neural plasticity. Thanks again to Dr. Cobb.
Student Work