The Writers Toolbox
Joyce Maynard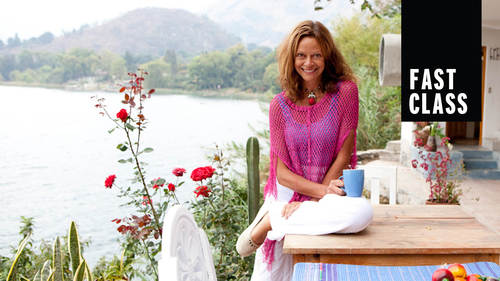 The Writers Toolbox
Joyce Maynard
Lesson Info
15. The Writers Toolbox
Lesson Info
The Writers Toolbox
So my toolbox first thing that I'll have in every room that I write is a white board. And if I'm traveling, I'll get one of those big pads of those post it notes that sort of duplicate the form of a white board. And I put them all over the walls on Guy and it's I don't make an outline, an outline, anything that's any piece of writing that's written from an outline is gonna feel stiff and rigid and like an outline, like a term paper. But I just scribble down, Ah, whole lot of stuff that I know I wanna have there. So, for instance, for the piece that I just read you the one about Jim surgery and being at the hospital that day, I would have scribbled oysters Fenway Park and I would have scribbled, um, first date never ordered food, and I would have scribbled a lot of just a little images in no particular order that just allowed me to feel I had something to go on because you know, a musician has his or her sheet music toe to work from a painter has a palette full of paints. A writer has n...
othing. The alphabet is about as close as we can get to it. You can't just have, like, a whole bunch of words scattered at. I think I'll choose that one. Now. I think I'll choose that one. So the white board begins to give you something, so you're a little less alone and you don't have that that horrible, completely blank page facing you with no alternative. Um, the Internet. Let's talk about the Internet. This didn't exist when I started writing. Um, I wrote first. I wrote in longhand, and then I wrote on the typewriter, Actually have a typewriter again. I It's very exciting toe. Hear that sound of a typewriter again? But and the Internet is, of course, a great tool. I used to print up my books, and then I would I would cut them up, and I'd lay out the different paragraphs and move them around and use tape. Um, uh, Thio rearrange them. And of course, all of this is no longer necessary. But it also connects us to so much random material and distraction. Um, and if you don't have the discipline to say, I'm going to stay off the Internet during my precious hard one writing hours. There is a little program for you called Freedom, And it it's kind of like, you know, that drug Antabuse that people take if they've got a little drinking problem that will make them sick if they they take the ad abuse and then they drink Freedom is a little bit like that. You cannot. It doesn't make you sick, but you cannot get back on the Internet for the number of minutes that you choose. Um, and short of that, just the act of checking your email brings your brain toe a completely different place, and it's very hard to come back from that. Um, so how many times in your whole life has it made a difference to get an email at eight in the morning rather than four in the afternoon? Is there anything going to be lost by not checking your email until the end of your writing day? Make a commitment to doing that. You've done so many harder things than that. First of all, you You're here today in this room for hours. You're sitting there in your chair at home watching you've lived through all the experiences that you lived through. Just disconnect from the Internet
Ratings and Reviews
A wonderful introduction to writing memoir. Practical, moving, and wise. Joyce is an inspiration. I will definitely take the full course. Highly recommend.
Student Work