Shoot 1: Citrus Still Life
Penny De Los Santos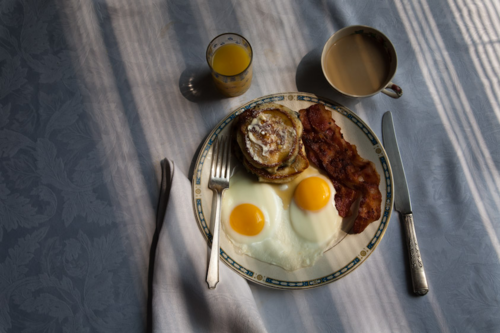 Shoot 1: Citrus Still Life
Penny De Los Santos
Lesson Info
8. Shoot 1: Citrus Still Life
Lesson Info
Shoot 1: Citrus Still Life
Okay. So day two, we are doing a food shoot. And I am trying to simulate the idea of an actual cookbook shoot, or a shoot for a client. So we're doing five sets. And I'm just gonna work. And I have never done this where a lot of people watch me. In fact, it's not exactly something I'm comfortable with. The last time I did this, I was talking about this a minute ago, but when I was Honduras I was shooting in this restaurant. I had the chef, the writer, the fixer, the driver, and five or six people from the kitchen all watching me do food. I don't wanna be a jerk, you know, I'm just trying to be nice. But they all at some point were sticking their hands in my set, and moving the spoon, and I was like, oh Jesus, this is so bad. All that to say that it's awkward, so I'm gonna just figure it out. I'm just gonna do my thing. I'm gonna make pictures. So I want everybody to feel comfortable enough to ask any questions. I'll answer it as best as I can. This is my process. I think everybody has ...
their own process. There is no right way. I think that there is a wrong way, and that may actually work, too. So I'm showing you how I do it. I think all rules should be broken. What else? What other thoughts can I tell you about today? Oh, I know. So before I start, I wanna introduce the creative team that's working with me today. Thank god CreativeLive was cool enough to give me a budget to hire a food stylist, a prop stylist, and two food stylists. So can you guys come up here? I just wanna introduce the creative team. This is the way I would do a shoot normally. So Kaleo. Hi guys. Kaleo, tell your last name again. Quenzer. Quenzer. Hey guys. This is Kaleo. This is Karen Shinto from San Francisco. Hi. Karen and I actually worked on a couple of projects and I brought her in. And Ann-- Trainermiscaff. Thank you, Ann. Both of these guys are from Seattle. So we are gonna start the collaboration process. We're just gonna start working. Okay, yeah. Okay, so let's just not even worry about this. So if you guys have questions, shout 'em out. And if the internet has questions, feel free to ask us, okay? All right, so we're just gonna start our day. Cool. Let's look at our first shoot which is the ingredient shot, right? Ingredients shot, but also want in the process, there's the ingredient shot and it's pulled from the second shot we're doing which is the grilled lamb. So I also want to go over that because I have to get Ann started with the grilling the lamb. Well let's talk about the ingredient shot first, right? Okay, yeah. And so the idea on the ingredients shot. It's a citrus shot. We wanna do a really sexy ingredient shot. So what I want to translate to you all is that I can't tell you how many times I see people make photographs of ingredients and they're just lame and they just throw 'em on a table and they make a quick snapshot. So we are trying to help you step that up and reinterpret that idea and make it really kind of attractive, appealing, sexy. Right. So let's, the citrus shot, and then we're going into the lamb shot. Do we have a shot list, Celeste? Here's one. We have one on our table, too. Can we tape that where I can see it? I think there's a board up somewhere too. Yeah, that works. I don't know where we could put that, but okay, we'll just put it right here. All right, let's do this. Let's go to the props. All right, and also I'm gonna have herbs and I have spices that go with the lamb. Okay. So can I add that to it also? Lemme look at surfaces first because I can't really see it until we talk surfaces. Let me ask you what's the scale? What kind of scale are you looking for? I think we saw this as an overhead shot. So kind of loose. We want the subject to breathe. And we want it messy. But loose pieces, and I wanna talk about what you're feeling about how you want to present the citrus. Okay, well-- Did we talk about that surface? Do we wanna use that black surface, or... Because the colors are pretty bright, right? The kabobs are gonna be grilled, charred meat. But then there's a citrus salad component that is very bright and brings the color into it. And there's fresh herbs so that's pretty color. That can be quite nice. So with the citrus, the biggest thing is an orange, but of course I'm gonna slice and make different parts. Yeah. And I'm actually really good at just having a surface to work with and I can compose within the space as we were going on the book. Right, right, right. With those ingredient shots. So if we pick like a nice wooden surface and a couple, we can start selecting a few things. So do we want like a wooden wooden? So what we're thinking is for the citrus shot, a different tone and then for the final, for the kabob shot, that dark surface. That's kind of what I was thinking for the kabob. Okay and it could go on the same surface. Yeah. Yep. You could just have things that layer. Well can we reinterpret it a couple times just to play with it a little bit? Do we have anything else that's a little more crustier, dirtier, funkier. Not yet, but we can crust that up too. Just how about we just look at our options. Yeah. This is kind of. Yep, that's from Ann. Oh, so let's talk about this our entire prop table from here to here and then there's some stuff back here. So all this was pulled to inspire us in the next five sets of food images we're gonna make. So that's what we're looking at. These are cool. Yeah, these are some of my faves. We can sort of like layer. Do stacks. Something like this and then maybe get... So layer, you're thinking layer on top of it? Yeah. Well I mean we could do something like this. Exactly, that's what I was thinking. You oil this up and get it, you know. Can you potentia that? Totally. Okay. Do you have any balsamic? I do not, I have Kitchen Bouquet but it'll streak it. Do you guys have balsamic in the studio? But we may not, we may not need this. Once you put some oil on it, it will get pretty. Yeah. Yeah, we can just put a little. Okay, let's start with these guys. But maybe we should set up the surface first and then decide if we need to do that. So that we can... Those bowls are cool. Yeah. Yeah. These are really cool. Did you find this Kaleo? Okay, so the square bowl is my Dad's salad bowl from years ago. Yeah. Did you see this little fork in here, is there like a crusty... No, I think there was something else in there that was really, really cool. Oh that's my, that's the knife. I was looking for that this morning. Did you see this knife Karen? That. Oh cool. Yeah. It's great. He's pointing at me. Ya! This is great. That's really good. These are great. So if we're gonna shoot, do we need to bring that surface down to the floor? It's easier to work on. The whole thing? Yeah, if it's brought lower. Okay. Hey John, can we take this, does this table top come off? Just 'cause I can see. Or fold it, collapse it? Well, it's on a thing so that's fine. But you want it to go all the way to the floor? No, it's hard for me to like see. Can we go down, 'cause Karen's a little. Yeah. She forgot to wear her stilts. I know. But you're adorable. I'm a wee person. Karen and I worked on a, the first time we met we worked on a cookbook shoot. This writer Andrea Nguyen did this amazing book called, "Asian Dumplings", it's an incredible book. And Karen blew me away, one of the best stylists. So I'm excited to work with her again and she's genius. So hopefully you'll realize that. What's important is that when you have a lot of people on a set with you, it's several eyes and we're kind of creating this idea together and I think that that's, it just makes the image even stronger. Do you guys get that? Yeah. Okay. I think this and this go well together. Is this low enough for you Karen? No, that's perfect. Okay, we should be fine. So do you wanna go this way or you gonna go-- I'm gonna be shooting from up here. Do you wanna do vertical or do you wanna do horizontal? You know what? Since everybody so concerned about me shooting vertical a lot, let's try horizontal. I'm just gonna be open to it. But we can switch it to vertical. If I don't like it. If you frame this then I can start putting stuff together. Yeah, so this where I'm shooting from. I'm gonna get up here. This is great, nice. This is awesome. Yeah, thanks for that board. You're welcome. And that's our monitor that we're tethering off of. Is there a preview? Yeah. Okay great, so that's even easier. This guy, okay. All right, this, I have to get this way closer. So move that table. Do you wanna mush this towards you? Yeah. That's good. You guys let me know if you see some plumbers crack. (laughing) You're good. I think I might of, someone can win that tweet contest on that one. Yeah, that's a tweet for sure. Plumbers crack on a food shoot, yes. (camera clicking) Okay, I see it here, so this tether's not working. There it is. Oh, there it is. So that's a vertical. I mean I shot it vertical, but it's showing up horizontal. So that's not your... It's like four or five. Could you put that back on Karen? I'm shooting RAW. Can we maybe... Kaleo can you move that main board down just a touch? Coming down? Yeah, that's great. Just to give you guys parameters. (camera clicking) I wonder if we could pull that bar closer to that? And just sort of angle it away from the window so we're not fighting glare as much. You guys can move around the set too. Just be careful. Oh yeah, thank you. [Penny] Okay, cool. So we build around this space kind of having this be the heart. This might be too heavy so I may not use this. Yeah, that's too-- I think it's too heavy. So let's just start with that. So it's a little distracting, yeah. Yeah. Is there anything smaller Kaleo that we have that might be an option just to look at? You know what would be cool? How much citrus, do we have any of the small pieces? Yeah, she pulled a couple of those already. She did? Yeah. You know maybe even having this crusty bin, I don't know. I'm just pulling these in there. Be cool if we could see that live, huh? So what I do in a food shoot often times is I'll watch these guys prep and a lot of times there's great pictures there and you can reinterpret them on the set live. So she's about to break into this pomegranate, that can be an easy quick, in this light that'd be a really easy shot with one of those surfaces. We might do that. So are we using this on a citrus shot? Yes. This is, yeah, cool. Do you think we're gonna use both those, those pomegranates? Oh, for practical on set. Yeah, I think I've got one. Maybe, I mean, use what we need for the shot, but if we don't cut into this one, maybe we can do just like a really quick kind of sexy detail on this one. That could be really nice. Just so that they can see... Beautiful and I love this concept. Yeah. What else? I can take some internet questions if you guys have questions. Sure, we've always got questions. Is this interesting to you guys? What's that? Question from Pam R, "When on location "do you always have a ladder as part of your gear?" Always, you bring it with you? You know, no, I can't. If I'm shooting in the states, yeah. I don't travel with it, I'll buy one or often times I can just borrow one. Yeah, I always try to get a little higher than the subject. It's just good to have that secondary perspective. So you stand on chairs and you're like oh. Stand on chairs, yeah. You know I've got a funny story. I talked about that Texas assignment and Larry, my editor who was with us yesterday, he talked about that with me. And the funny thing is when I went back out and he gave me some more, he's like, "Well I have another couple assignments for you." And I went back out and ironically that weekend my mentor was in Austin. And so I was like Lynn, I'm like I totally messed up on this assignment and I wanna be better. I don't know what's going on. She's like, "Let's go out and shoot together." And I talked about how this is Austin, I see Austin everyday, I need to see it with new eyes. And she was like, "Well, let's go." And so we walked down this one street, Congress Avenue. And there was this, there was some kind of car parade. I don't remember the exact context, but. And so Lynn and I took a ladder, Lynn's like huffing this six foot ladder and it totally helped me get out of the way I normally see it so I changed my perspective physically, which helped me kind of kick start seeing it differently. And so we literally walked for like two or three miles, just started at one point on this street and walked down and started photographing people and I got up and I got down and then I started getting in crowds. And then there was like a bus of high schoolers on the way to prom driving down Congress Avenue, I got on the bus, 'cause they were all screaming out the windows, yeah! Got on the bus. So it just like, it started to help me just get out of my own element or the way I would normally walk down the street that I live in. So it kind of helped me, so yeah. A ladder is a great way to just kind of help you get a little more comfortable if that makes sense. Great, thank you. A couple more questions Penny. One, what percentage of the time do you shoot tethered whether you're in the field or in the studio? And the second question, just so we can get it done with for the day, they all wanna know what lens you're using. Okay. I shoot tethered only by request. I never shoot in the field like in another country, it's just not possible. If I'm working with a stylist and they really want me to shoot tethered, I'm fine with that. Personally, it doesn't really make a difference to me. So it's really I base it on if someone really wants that. So I've shot tethered before, it's not a big deal and I've shot tethered on location and it wasn't a big deal. I use the 24 to 105 F4 Canon dedicated lens. I don't know, that lens is like 1,400 or something? I don't remember. 2,000, I don't remember. That's what I use. Thank you. Okay. Let me look at this glam. So I'm gonna do a quick test shot of this Karen and then we can talk about it. Yes. Is this, this is in the way. This is just for an orientation so. (camera clicking) Who shot that? I think that's good, yeah. It's looking good. Well okay, I shot that horizontally and it's showing up vertically. That's all right. Can we adjust that? I like the vertical. I actually like the vertical. Let's stay in the vertical, yeah. So wait, but then we need to orient it vertically because... Can you just do a counter clockwise on that? Oh, just go down. Yeah, counterclockwise turn, yeah. See, it's vertical. I'm trying guys, but it's a vertical shot. I don't know why it works like that with food but it fills the frame up nicer. When I shoot people it's a horizontal, but when I shoot food it feels like a vertical. It just fills up the frame. And typically a lot of this stuff runs in a book or a magazine. And it goes full page. Yeah and it goes full page and that's the way they're gonna run it. So it just makes sense. But there are times when food lends itself, if it's the right subject, to shooting horizontally for sure. That is hot. It's getting there. It might be a little crowded. (camera clicking) I'm just gonna look at that. I think we should have a little bit more energy in it. Everybody can see this picture, right? Someone? Yeah. Yeah? So the internet can see this too? We can see it, yeah. Okay. So I feel like... We gotta move that out of frame or put something there. I added some juice to it. But this, we're not done yet, right? Yeah. And I splashed some juice which is great. Yeah, we need juice for sure. It's on there now. And that would be nice color in those peels to turn some of those over maybe. Yeah and I'll probably throw one out there. Yeah. Break the line. And, yeah, we're still making, sexy is the-- And also it's like maybe if it's not quite centered. Yeah, yeah. It needs some tension basically. It feels a little too organized. Do you think we should come in tighter, a little tighter? Yeah, I'm gonna shoot tighter for sure. I just mostly wanted to kind of just see it. I feel like I need to give them our progression a little bit. Yeah, I don't stay up on you the whole time so. What's that? Wouldn't it be cool if we actually had a camera here and we could just kind of see the image developing? Nice. Yeah, that's great. We can even take that squeezed one Karen and throw it in there. Or take one of those perfect ones out. Like this guy. Yeah, yeah. Maybe? And put that one up on the edge somewhere kind of. Which one, this guy? The one you just took out. Oh, this guy. Should I just sit it here? And maybe cut it off. Yeah, yeah, exactly. We can just play with that a little bit. It's getting there though. All right, you know that pomegranate. Which one? This one, this kind of bothers me a little bit. With the messiness of it? No this white pith. Oh, we can just peel that away. But I wanted the stem in there though. Okay. I'm just looking for pictures. So I'm checking out this tablecloth. I'm just thinking, I'm trying to make this a little more, I want more friction in the frame and I'm trying to figure out how to do that. I think it's really pretty but I think we can step it up even more. And I'm trying to just access... We had an idea for this shot and I'm just trying to get it there. I wonder Karen if we took some of the herbs and wrapped it in twine. Are we gonna use the twine again in the shot somewhere else? We can do another irritation of this after this. No, I think it's really pretty and organic as it is. Yeah? I mean we can try another, like you said, another irritation but I think, I don't know. We can try the twine, but I think it's nice, it looks like it was just cut, and looked put together. But I just feel like there's almost too much. I mean it's beautiful. Like I said maybe if it's not just so centered or do we, maybe there's two things on each corner. Maybe, let's try to take this out first. How bout that? Oh, I think we need that for sure. We need that? Yeah. Okay. So maybe we move this up. 'Cause it's almost like these two corners are blocked. Yeah. Let me get a shot there and just look at it. Lemme pull this out too. So do we want this herb? This herb in there, that top one. No, you want this in there? I'm asking you what you think. No, I was gonna leave it out. Yeah, cool, okay. So I'm shooting tighter, just telling you that. Okay, all right. And your orange tray is slightly in my shot so. Oh. (camera clicking) That's not the one we had. Okay it's, I don't know why it's doing that. I mean it's a vertical here but it's... It's a... This is weird right here. Do we have any questions? Yeah Penny, can I ask you a quick question Penny? Yeah. Because it's kind of really interesting watching this and Greenfusephoto wanted to know how much direction you give the stylist especially when you've never worked with them before? I mean you're kind of working with her and asking questions. I mean, is it kind of just a collaborative back and forth? Yeah, it's totally a collaborative back and forth. You know what it is, I'm looking for something real quick. Karen and I talked on the phone at least one time for about three hours, two hours. We did a side phone call and we pulled images that we thought could be interesting to photograph, dishes. Well first we pulled images that kind of inspired us and then we started thinking about dishes that would be great examples for how to shoot food. Some complicated, some not so complicated and mostly ones that would allow us a chance to kind of see 'em better and... So ones that we could grow into. Ones that would start out great, but maybe get better by changing things out, changing props, changing surfaces. So it's a total collaboration. That's the way that I do it. When I work with a stylist that I haven't worked with, I definitely, I really want it to be a collaboration for sure. So yeah, that's how I'm gonna answer that question. How's that? That sounds good. Cool. We have a question for Karen. Question you got for Karen, question Karen. Karen, can you let us know in shots like this what you use to add energy to the photographs or I mean what you think that you know? Well just sort of seeing all the things together and just sort of composing on set, seeing how it's framed. So I just sort of just taking inspiration from maybe the props or adding a little bit of tension, or just making something a little unexpected. So that's sort of what I do. I don't know if that answered the question or... No, it does. Okay. When you're setting this up, are you a photographer as well? I am not a photographer. I mean I take shots just for my own reference or if I see something and I think I want to use it later to present as maybe an idea for somebody, but I'm not a photographer by any means at all. Just like to make things pretty for camera so. She makes me look good basically. She makes me look good. No, it's you. No, it's You. No, Karen please. Come on. Give me a hug, no I'm just kidding. Not on camera. (laughing) Okay, you know what? And you're gonna be mad at me for saying this but it actually was nicer with the pith. Sorry, can we pull another one out? I can pull another one. Yeah. I think there is the other half here. Yo, talk to me. That's why we never throw anything away. What do you guys mean by tension? You said I wanna add tension to the photo. Let's look at the photo. So Larry talked about it yesterday too. It's nice, it's pretty, it's got great color, it's got great lights. It has those elements that we talked about. Remember I said that a photograph should have, in thinking about those creative devices that we talked about, but also a photograph should have like nice light, composition, color. You're thinking about all those words and you wanna try to find a couple of them in your photographs. So this one has great color, done. Composition, not there yet, but we've got nice lights. So we've got two of them. So the composition for me in food, I wanna create some tension and sometimes that can be like a bundle. I asked her if we could bundle in the herbs with some twine. I'm saying it like the English do, herbs. And Karen shut me down and said, "No, I kind of like it like this", but we might go back to that. (laughing) But I actually think that that could create some tension. So it's really-- Create tension between you and her. Well yeah, we always have tension. It's love. Creative tension. We need one of those love, what are those things? A Love Sac. A Love Sac. A what? Oh yeah, no. We probably shouldn't say that on set. It's a bean bag just so everybody else out there knows. Okay. Penny. Penny, from the internet a question and speaking to that, does the client hire the stylist or do you? And if the client does when a decision does need to be made, do you flip a coin or who makes those decisions? Those final-- I always hire the stylist, well it depends. Karen and I were hired by the publisher, so I didn't hire her. But I've been on shoots where I hire the stylist. So it varies. The client always has the final say, but if I got a great relationship with him and I've worked with him before or they trust me, I think I can usually talk them into where I'm going. I'm trying to remember. I just did this vegan cookbook and I just wasn't happy where we were going and the stylist and I were like we gotta step this up because it felt really comfortable and didn't feel like, the frames didn't have enough tension. I mean it was vegan desserts and so desserts can be cute and so I wanted them to feel better than that. Not that cute's not great, but I wanted them to have more energy and so the stylist and I really worked hard to figure out how can we infuse energy. And so it was a matter of changing our composition and making the desserts kind of being cut into, crumbs, and that's more kind of my style but I feel like that creates some energy and tension. I don't know if I'm explaining tension in a frame very well. You can talk just more about it as the day goes on. And I think you'll start to see it too. I do think that there's too much citrus in here Karen, I really do. I feel like some of the oranges on the top here take out maybe a little and in the center of the frame. I don't know. 'Cause you there's great shapes in there and I think it's getting there, but I do think there's a little too much tension. I mean a little too much information. A little too barren though? I don't know, let's just look at it. Nah, I was thinking the small one. Which one, this guy? Yeah. Maybe. Yeah, there you go. And I added this here. I figured we'll move stuff around in a little bit so. Yeah. And I wonder about this top right corner and all the oranges there. Just I think we should take one out. Do you like this on the surface or? Totally love that. Loves it. It's gotta be an odd number. Yeah, it has to be so take two then. Or three. Four. So what are we missing here? You wanna try another? Yeah. You know what also might help it too is we have all these cool bowls so let's just think about that for a second. We don't have to implement it yet but just kind of like separating some of it form the existing surface, you know? You with me Shinto? I'm trying. (camera clicking) Yeah, we need the citrus out. Looks much better. Can you do a side by side for the internet? Or can we even do a side by side? Yeah, it looks pretty. Yeah, so this is our newest one. See if I got this white back in there. Yeah that does look better, you're right. It feels a little more, yeah it gives-- You're right. It let's it breathe a little bit more. And I still feel like we could even lighten this up a little up on the bottom right. Should I take this white, that white thing out. And maybe one of these. Yeah that, yeah, yeah. Maybe that. Well then again it's even numbered. Well okay, so we want odd numbers. That one's distracting to me. I love that punch of color right there. I do too. Maybe this guy? So you wanna keep odd numbers. This one or that one? I don't know but leave that one. We'll leave that guy. See, it's minutiae. Okay and then you know the peel on this lemon, it's almost too much for me. I think we're good. Hey Karen, the peel on that lemon is, this one, this one's too much and I love the curve on this one, that's great. I got those two. And I'll just throw it there. it's getting there. Okay, maybe just these. Which one? There's too much of this peel. Too many, too clustery? Did you, that's the new? That's the new, yeah. See it's got the white back in there on the left, the left one, I think that's good. Cool. What else, what else, what else, what else? There's that orange on the left hand side of the frame. It's almost too much out of frame. Okay, should we just take it out? I love it though, I really like it. We could just break over here too if you want. You want that there? I feel like we need an entire circle there. We need a shape there, a finished shape but I want to see that other one in there to give it some friction. So I'll just push it in a little bit. Yeah. Penny, can you use a mouse to point out to the internet? Yeah, I'm sorry, okay. Here we go. So right here, I want this pulled in a little bit. I wanna keep this circle with that shape. I still I think in that top left corner Karen eventually we should consider some herbs wrapped in twine or something, I don't know. And the twine can start right here or the herbs can start here and then the twin can just like... Like it enters the party and it's all this energy. So the twine just kind of comes in and maybe, I don't know. Okay. Do you wanna do that as a second? Yeah, let's try that secondary. 'Cause I kind of like this root thing here. It's kind of neat but I can't tell if-- Yo. If you weren't tethered how would you be doing this? Would you just be shooting continually and then? If I wasn't tethered and none of you were here, I would probably shoot this and Karen and I would look at it on the back of the camera or, yeah we'd look at it on the back of the camera and go okay, okay. And we'd have that same conversation and we'd have a back and forth and then I'd just let her work and I'd go have coffee. I mean do you use like-- I'm joking. Do use a product too? You were saying yesterday sometimes you have to open the backdoor of a garage and put a trash can. If you're sitting there in those circumstances with natural light coming in, isn't it hard to see the details that you need to see on the back? Are you using something to help be able to-- Yeah, it's super hard. I'll just zoom in on the back of the camera. You do the best you can do. I've done this enough that I get an essence of what I've got and I know what looks good and you know. Yeah. Okay. All right. So the other thought I had, the other thought I had was to take some of those secondary surfaces, the smaller containers, and pull up the actual ingredients a little bit so that we're introducing just some more textures because there's a lot going on in this frame and it still feels a little too much for me. It's starting to get less but it's still, like this is great, I'd be happy with this but I wanna be better. And we have time to be better. Do you want something coming in, cropping out or? Maybe, lemme shoot this and we'll move to the next level. Are you cool with that Karen? Yeah, I like this. I think it's really pretty. I don't think this is the final. But it's close. So you know what it is? I don't feel like in the center, I don't feel like in the center we have, that's it, I don't know that we have a center point entrance into this frame. That's exactly it. We don't have a center. There's not like a focus. Where the eye enters and stays, it just feels like it goes around the frame. But I also like too that your eye does go around the frame because if it just sticks in one place then that seems to be the... But I don't feel like, there's not one element that sticks out for me. I think it should flow versus maybe just sticking on one point. I don't know. I mean everyone looks at things a different way. Well lets just try it. Can we just try? Yeah, yeah, sure, I'm all up for it. Let's just try, I don't know. We can wrap some herbs in twine. We talked about that. I got 'em, right here. Okay. So did you, this is like one of the versions, right? Right, this is a version, it's not the final. So let's just move on to the next one. Yeah. Let me just look at our time for a second. 243. This is so weird because I can't really, it's hard to get into this shot. I'm trying to. What, I think it's pretty. You're doing great. Thanks Karen. Yeah, it looks awesome. Okay, so you want me to switch this out. You said something about putting... Yeah and I would, yeah, yeah, yeah. There we go. I'll do something like that. Yeah and... Is there any way, do we have, can we just try to sex up that pomegranate a little bit? I don't know why-- You want me to squeeze some juice on it like the pomegranate, break some up? Yeah, let's just try it. Like it's more broken? Or even just break it. Maybe just... Lemme just take a broken one first. Yeah. Yes. So I'll take this one out. Yeah. Okay. Kaleo what do you think? Should we, should we... Oh, okay. And maybe just take these. Okay. This is what's up right here? They all look the same, all right. We got a question for me? Maybe, I can take a question. Absolutely. First, the chatroom is really loving all the questions from the students so I just wanna give a shot out to the students. Just giving a shout out to the students because everyone's loving their questions as well. Question from Messem who says a lot of the shots in food photography seem to have a lot of items cut off near the edges of the frame and that's generally a rule you wanna avoid in other types of photography. Can you kind of talk about in food photography, you know it's not like where a body part where a finger's chopped off, how that works towards the photo? Do you know what I'm asking? No, I don't understand your question. Okay. Sorry. That's all right, no worries. So in photography you don't want a persons leg cut off or fingers out of the frame but in food photography that's so different, like plates will be cut off the edge-- Right, right, right. And fruit will be cut off. Can you kind of talk about how it's different in food photography to add to the photo? Yeah. I think it's different because you can break edges in food photography because they create tension. And in food that just makes the frame more interesting. And you could do that, actually you could totally create tension in a photo or portrait of someone. It has to be done correctly, but you could create tension and cut a part of the person's face off. I feel like that frame I showed you, the first frame I showed you yesterday of the mother and child and it's like half of their faces are gone and you see the edge, you're really working the edges of a frame. So in food photography I like to work the edges of a frame and so I think it's good to break lines. It just infuses energy and tension into the frame so. Does that make sense? Yeah, that's the answer that we were looking for. So it feels like there's more to the story. Yeah. So I keep wanting to put something else in here. I was looking at this. And I don't know what it is. This feels very linear to me. Just, I don't know. Yeah. I don't know. I still feel like... Where's Karen? She's cooking lamb. I'm getting ready on the second shot. Oh okay. Karen, let's just really get into this. So let's take maybe one of those blood oranges out. Are those tangerines, what are those? Blood oranges. Or maybe break it in half, I don't know. Okay. And you got this too if you want. Oh great, thank you. Can you give that to Celeste? I don't know, yeah. If that's what you had in mind as far as.. Yeah, that can be really nice Karen, do you see that? Like you're making the citrus salad, you know? Oh. That could be cool. Okay so the next shot we have, it's a kabob, and we're doing a citrus salad next to it. So we just figured out that maybe we break the lines of the frame and we put this bowl, this citrus salad, like it's about to be made. So then it starts to tell a little bit of a story because the next frame is this kabob with the side of this citrus salad so. Are you guys getting, is this cool? Yeah, we are. Yeah. So I think what I'm understanding is what you're trying to do now is you're trying to instead of your eye going all over the place in the photo to kind of have a focal point for your eye to go to. Is that what you're thinking right now? Yes and no. I'm just not happy with it yet. But I think it's fine, I want it to be better. Yeah. So the composition is just not there yet, right? Not completely, I don't think it's bad. I'd be fine with this-- I think it's great. Is it for my portfolio, not yet. Just bringing out toys. That is looking much better. I'd probably take that peel out. Which one? This one? Yeah. When you're looking at something like this do you consider it more like abstract art where you're looking for a sense of design and shape and color? Yeah. I think it's about design for sure. I don't know abstract but maybe. Well you know when you take pictures of people like you've got to have the focus on the person and in this situation you're just trying to get more of a, abstract meaning maybe not so much of a center subject. Yeah. So that line where the pomegranate touches can you just break it a little bit? Let's see, which? The two pieces. These, oh okay. Yeah. Nice. I thought you said lime, I'm like... Okay, here we go. Karen, there's a funky piece right there, that leaf right there on the edge. This? Yeah. Oh I put it there, but take it out? Well break it a little bit then 'cause it was like almost lined up too much. Yeah, oh this is looking much better. See that top one, the very top of the cutting board there's a peel that's to the side, it's a vertical-- This guy? Yeah, I want that a little bit more in the frame. There? Yeah, even more so. Can you keep that edge on it though? See, I know it's gotta balance so it's gotta do that. Yeah. Okay. And then the herbs are little, I need more separation and there's one... Separation in the actual stems? No, no, no, like... From, talk to me. Yeah wait, lemme just look at it, hold on. I'm gonna make a frame and we can talk about it on frame. Okay. (camera clicking) It's getting there. It's getting there, it's actually much better. That bowl really broke it up. Don't you think? What do you think Karen? For me it looks busier. Really? But it's a nice shot, it looks cool. It's just a different version of what we had. Yeah. See this... (man speaking off mic) Oh it doesn't? Okay. So this bothers me. Okay, in what way? I kind of want it to stand by itself, so I don't want it to bleed into these two pieces. You want it to be separated from everything else? Can you use the mouse? Yeah. So this herb here, it feels... I don't want it to be... Blended in here. I'm thinking it can be it's own. Resting on it or? No, I'm thinking it can be by itself, stand alone, and having the twine kind of coming around here. So you don't want anything around it? No, maybe just pull this up slightly. Kaleo? It's looking not, there's no direction now. David Art from the internet, would like to know if you score all your knives? Do you score all your old, cool looking knives? Do I store them? Score them. Score it like rough 'em up a bit? Or any of your props? A lot of this stuff is from home. Like that knife that's in the shot is something that my family had for years and year. So there's no Hollywood magic there. It's just the real deal. I mean, yeah sometimes in my work we do add patinas and we make things using... steel or steel wool or whatever to rough it up, but a lot of this stuff is just authentic. Cool, thank you. I always find too that the best things that photograph are the ones that tend to be your own and that you have personal attachment to. And actually have really been used. Yeah and they somehow actually translate that life generally when it's the real thing. Right, thank you. Yep. Okay, let's just go, let's do this as the main guy. Hey Penny. Yeah? I just want you to know, internet's digging this. Huh? I just want to let you know the internet is digging this, they're thinking it's sexy. Okay, good, good. It's looking great. Do you have the parchment paper. Are we using parchment paper in the next one? Or in any of the ones we're doing down the line? Have we talked about it? We can. You know we can probably do it with the, maybe with the, let's see. Hey Penny, can you tell us about the shot list that you guys are working on 'cause you were saying yesterday, you had mentioned the shot list but obviously today you're working with other people. So can you tell us a little bit how you came up with the shot list for today and how important it is 'cause you were just saying awhile ago oh, we're gonna use this in the shot and then you just mentioned the parchment paper. Yeah, so the shot list, Karen and I thought about it based on what we thought would be the most beautiful pictures we could make and then we also felt like where we could kind of help people grow. So an ingredients shot, this is just one idea. And we also thought about dishes that could evolve in the shooting. So you take one idea and then you keep growing with it, and changing and then maybe you get to a better idea or a better photograph. Yeah, does that make sense? Did I answer your question? Yeah. This is really hard because I'm trying to be in this game but I know that all this other stuff is going on so that's a first for me. (woman speaking off mic) Okay. Well I feel like if Karen and I can make portfolio pictures then we've done a great job and so that's my goal today. My goal is to do a great job here, but for these photographs I mean, we should try to shoot for that, right? We should be trying to shoot for our portfolio basically. Anytime we pick up our camera, right? Right, well they're just enjoying watching you in action so cool. And Penny, I have a question. They're enjoying Karen and I fight basically. Yeah, everyone in action. You noticed the tension, right? Hey Penny I have a question for ya. Huh? Is a great food photograph inherently a great editorial food photograph? That's a great question. I don't know. I think a great food photograph is just that, it's just great. Whether it gets published in a magazine or published in a book or an advertisement. I think editorial food though has so much more movement and emotion. I don't know that you get that in commercial work as much and I think that's why I'm more drawn to it. So commercial you're very strongly art directed. They have an idea and you're doing it and you're making, you're executing it. And often times there's not left to, the photographers interpretation. Sometimes there is, it depends on the client. So with this stuff I feel like we can really play with it and maybe change the clients mind and convince them that this actually looks better and here's why and shoot more versions and give them options where we start to really make, we're shooting beyond the assignment, you know what I mean? Thank you. Welcome Shauna. We have a new student-- An uber excited person. Who was finally able to join us. Shauna, I'll let you introduce yourself. And tell us where you're from and all your good stuff. I'm Shauna Ahern and I write a website called Gluten-Free Girl and the Chef and of course I adore Penny's work so I'm thrilled to be here. And I live on Vashon island. Yesterday I went down to San Francisco and back in one day to speak at Google, which is the only reason I would have missed the first day here so I'm really excited to be here. Cool, I'm excited you're here. Thanks for coming. That looks beautiful by the way. Thanks. You want it more like this? I don't know Karen. I'm freaking out man. I'm freaking out. It's all good, it's all good. Okay, let's take, what if we take the herb and we put it horizontal right in the dead center? I don't know, I don't know man. Well you know what we could do is you could just capture it and then we'll move it around from there. We'll see if like too prominent. You know what it is? What? Kaleo do we have a smaller, I know what it is. I know exactly what it is. Do we have that board, just smaller. And that way we're getting more of the black. Yes. What if we just did that shot with this smaller board, that way I'm getting more of the black in there? And then it just really starts to, it just feels like it needs one more element to just separate it. So basically this board would be pulled out completely and we would rebuild this set. So basically we would rebuild this set. (laughing) Hello up there. Did you see my, no. Okay, so basically what we're doing, see I love that I tell them to do something and they do it... It's kind of amazing. I'm not like that. Okay, so what I realized is that this board is too big for the set, so we found this smaller board. And we're gonna reinterpret the whole thing on this small board and I want ingredients to fall off of it. We're just trying something different. So that's cool that you're up there, so they can kind of see the picture starting to evolve. So basically kind of exactly what we started with. You can reference it on that screen there Karen if you need to. But do you want this huge thing now? Yeah. You still want this, okay. Yeah. So because the black for me starts to break up the scene because that larger board didn't give me enough opportunity to put black into it and so you can tell already, I can tell already it's starting to look much better. Do you guys get that? Yeah that's, that's yes. Do you see it Karen? I will. But do you see how different it looks already? You know what else is gonna be so freaking cool is if we, see that cool spill right there. You see that? That needs to happen on that somewhere. That's great. Yeah. And yeah, that's good. I wouldn't do too much on that board. And now just give me some spills like really beautiful spills. Cool, I'm glad you're up here with me. That knife is so cool. So you know, where did you source this? This was your grandfather's knife? Yeah, I mean it was, yeah. Cool. Third generation. So the lesson here is raid your grandmother or grandfather's drawers, raid it, 'cause that's where you find cool stuff. I have a neighbor in Texas, he's gonna be 90 this year and he is an amazing forager, like he finds cool stuff like that and he's 90 so he's got really cool stuff. But he gave me a crusty ass knife and I would've flown here with it but I can't get it through security. Yeah, that might be too much. Mostly on the black. See, I love the way that. Okay. So like that corner black. We're not doing any butt shots. I'm covering you, I'm covering you. Yeah, that's great. (woman speaking off mic) Okay, so we'll go to the next shot. Oh, we're right on time, okay. Yeah use that on the edge right here. You're rocking, you're doing a great job. Ah, I like the seed, yeah that's cool. It might be too wet. God, this is starting to sound pornographic. Oh, I love that. So remember that edge peel we had? Can we do an edge on a peel there? Yep, done. And that seed it's almost a little too much on the edge there. So can you break it? Okay, this is pretty messy. So the knife I'm losing. Okay, let's just take it out. So I'm getting, okay so the center for me is that large orange basically. Do we want that? No. Maybe, should we take it out? I love that. Let's try it there and then we can always move stuff around. Lemme just play with it. Can I play with your set a little bit? Yeah, go for it. Let's just try it. It's almost too much. Yeah, let's try it without it first and then I can always add it back in, 'cause now it's big for this. Can we turn this and just see what this, maybe reinterpret that orange just slightly. Yeah, you're right. But I can cut it. Or do you want something like that? Is that too yellow? Yeah, it's too yellow. And I think there might be too much juice here. Maybe we can see how it looks. The internet wants to hear you Penny. We wanna hear this conversation. (laughing) Well, it sounds like we're having sex and like there's too much, nevermind, sorry. (laughing) Oh man, I just said that live. Wow, I'm sorry guys. Okay, here we go Shinto, I'm making this picture for you. And then I think we're just gonna have to cut bait as they say. Before the entire world sees this that lemon peel, can we break that. Can we put it right there? This guy? Yeah. Up here? Yeah. And let's see, what else? I don't know man. Let's just see. I'm scared. What are you scared of? You of all people? Okay wait, Karen. Yeah? So that we're getting like the pith coming out on that water. Okay, well you know what? Let me just make a shot. Can you break that... Can you break two things? The twine is funky right there at the very end. It's not pretty. Maybe we just clip it, yeah. Yeah, that's great. So basically. I mean I think the goal here, where we at? Okay. You with me? The internets. Basically I hope you're getting the idea. You know what I mean? We're exploring it. Is it where I want it to be, not quite, but I'm a little nervous so. You can do it Penny. Thank you. All right Karen, this one's for you. All right, I've heard that before. (camera clicking) Hey Penny, will you tell the internet what that sound is? So they know what the sound is. Oh cool, okay so we're prepping for our next shot. That's pretty. That's getting there. All right, I'll just do a final of that. I think that's nice. How about there's something that's-- This is kind of funky here. While y'all fix that because we have to shoot as soon, because it's just gonna soak into the wood. So I'll juice it right before you shoot it. Okay, so you're gonna juice this. Yeah. This is a little weird here. Let's just get rid of that. Yeah. Let's get rid of it. So we're gonna have juice here so there's something interesting here. The eye comes in the frame. It just kind of feels like sex basically. It's not, there's no center. But I think it's nice, I think it's pretty. To me it's like I like when, sometimes it's okay if there's not a center to it but... Okay, let's make it a final then. This little piece right here, what is that? I don't know that I like that. Oh, it's a little, lemme just take it out. And then that little herb leaf right there. Yeah, I pushed em in a bit. Okay. And then I'm gonna fix this string right here. Okay. All right, I think that's hot. Okay, so what we're doing over here guys for the next shot, where am I at? For the next shot, so Karen our next shot is a kabob. A kabob with a citrus salad. And so these are cooking right now. Ann, do you wanna tell the internet what you're doing basically to prep this? I'm not mic'd. You're not mic'd, it's right behind you is a mic. We just marinated these. It smells great. And we're just grilling them up here on this stove top griller. And they are going to be served with the citrus salad. And Karen would be able to tell you more about it. Yeah, for sure but thanks. Okay, okay. So I'm gonna make a final shot. This would be our hero shot and then we're gonna go on to the next set. I mean it's not our hero necessarily but it's where were gonna have to stop because time has to... I think it looks good. This is a little weird though. That right there. I just wanna see it, I wanna see that shape. I can't really tell what it is. Yeah, that's good, yeah. How about there? Yeah. Do you want me to go ahead and put the juice or did you wanna see that first? Let's see that, let's see it. Okay. You think it's okay that there's not really a center or do you feel like there's a center? I think it's fine. You okay there? Karen, the internet would like to know a few of your tools of the trade. Tweezers, let's see... I have these scissors, they're called Joyce Chen scissors. Pipettes, you can get them at a medical supply or science store or something. And... Me. Yeah, I drag Penny everywhere I go. And little spatulas like these guys. Yeah, basically like tweezers are important and I don't know. The little pipettes are great to have. These are not just ordinary things you go to the store for. I don't know. There's just an assortment of stuff. Q-tips. Little sprayer bottle kind of things. But everyone's kit is different. Every stylist works differently so they have different tools that they use. Yep. Do you have your own signature tool? Yeah, my tape. My orange tape. But no, I don't make any tools. Not really, just sort of... I think all the stylists kind of have basically the same thing and then they just add on what they're comfortable using. So yeah I don't think so. I think that that's about it, yeah. Thanks. Uh-huh. So what I was thinking is that we, I think it looks great. I'm actually happy with it. This feels a little messy to me. So can we just rewrap that with new twine just to give it a little bit more life and then I think we shoot a final. Okay, all right. So you just want the twine to be, not with juice on it. Not with juice and not even... I mean if you think we can get, I don't know that we need it. There's so much happening in the frame, we just wrap it around and done. Okay. But it's just wet and it's kind of lifeless at this point. I mean it still looks good. I'm not unhappy with this. I don't like that, it just feels a little messy. I'll just rewrap it. Yeah rewrap with some fresh. And then that peel right here Karen. It's just a little hot for me. And I just wonder if we could maybe do a smaller peel on the side. Are you honing with me baby girl? So this peel right here kind of similar here. Okay, but do you think that's too many yellow. Ah, you're right, you're right. That doesn't bother me. I think that that kind of shows-- You don't feel like it's too big? Nope, I think it's good. I mean I could switch it out but it doesn't really bother me too much. It's a little overexposed. Not overexposed, I think the image is perfectly exposed it's just that's a little hot so overexposed. Yeah. Yeah, that particular peel's a little distracting. I guess what I mean is maybe we break it or cut it, make it smaller Yeah, that's better. Well it's got a shadow. It's curved over here. Yeah we got a shadow on it so we can get some definition. That's better. Looks great. We appreciate what's happening here. Yeah, that's a photograph. Isn't it? That's what I just told the PA to go take a picture of. Someone take of picture before he stops. You wanna take some of the edge down on this one? What do you mean? That's facing into the light. Yeah, yeah, can you break that? Okay so we're gonna do a little photo, thank you John that's a great idea. So we're gonna break, this feels a little hot to me on the right so we're just gonna tone that down. Where am I at? So we're gonna tone this done right here so we're putting in this black card to kind of block the light a little bit. You with me? So we're putting this black card to block this light just to bring this down a little bit so you're eye doesn't go right there. We want it to go there but not stay there. We want it to kind of go through this whole frame. So you're blocking the light, okay? Does that make sense? Smells amazing in here. Doesn't it? Yes. Holy cow. All right, so here we go with this. That's funky. I think it's pretty. Oh, this hanging over the edge? No, it just feels a little, it's too much of the stem. All right lemme make a shot. Jesus, these stylists. Yeah, that's right. It's not all about you. Oh. Yeah, if it's funky I can change it but I kind of like that it's breaking out of the whole cluster so it's not just like a bouquet. I think it looks great Karen. It's pretty. Yeah, I think it looks really nice. It's an ingredient shot, you know? Yep. The right hand side Karen, camera right hand where see those two little funky pieces on the black? Up, up to the right slightly. There, yeah. Hang on one second, let me just pour these guys, they're a little dry. And then that peel that's kind of hitting the herb on the black, left, yeah. Can you bring it up slightly? This way? Yeah, there you go. Okay. Okay, here we go. (camera clicking) Yeah. Looks nice. What's that? I like how this breaks out here. Yeah. Yeah, I think that's nice. It's super messy and... Can we go back to the very first image John just to see where we started? I like the first image. Yeah, John can we go to the first image. On the small board or on the big board? On the big board. Yeah, that's nice. Maybe not the first but one of the last ones before we moved. We got some variation for sure. I'm gonna put it in my portfolio. Huh? I'm gonna put it in my portfolio. You are? Whoa, Karen's gonna put this in her portfolio. Put it on my website. Damn, then I know we did good. Okay, so here's what's really cool-- See I like that. Is I'm looking at the first shot and I actually like that. See? Can you go to maybe the third-- (laughing) Get out of here man. No respect. But I like this one too. Side by side of this and the last. I like that too, the last one. Okay can you go to like the very last one before we started messing with it, John? Ah no, keep going all the way to the front. See, it's all crazy. Well just stay there, just stay there. That is nice. Yeah, that's pretty, it's clean. It's really nice. It's an ingredients, where am I at here? It's an ingredient shot, you know? No, I think that's nice. (audience applauding) Okay, so do you guys see the difference there? So we went and we messed with it. We got crazy. Did it work? I don't know, but we looked at our first image now and we actually love it. So who knows what that means, but I guess the whole idea is that explore the situation. That took us an hour, maybe a little longer, but we played with it. I think that's the whole idea with food. And it's the same like if I'm shooting a person or a scene, I'm doing the same thing. We moved around to some degree, but we're really playing with the subject a lot. So hopefully the lesson that you got in that scenario is that you're trying everything, you're pulling out all the stops and you're just messing with it to some degree and hopefully you're having fun.
Ratings and Reviews
Penny is the best with Food photography and at telling a story with pictures. This was the very first class I ever saw on Creative Live and Penny was amazing! Her class is so informative to all the aspects of food photography, from styling, to plating to shooting and lighting. and how to tell a story. What she taught me will never go out of style and will inspire you too. Thank you Penny for this outstanding class!
Totally love this course!! What a find especially for the price - such a wealth of information and what a great positive spirit!! Thanks Penny for sharing - keep up the excellent work!
Love, Love, Love Penny. What great energy. I will never look at food the same way. Her story and her vision really touched me. She was so generous in sharing her knowledge in such simple terms. One of my favorite classes!
Student Work