Shoot 4: Mussels and Frites
Penny De Los Santos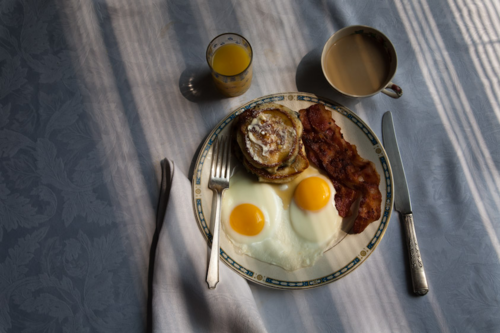 Shoot 4: Mussels and Frites
Penny De Los Santos
Lesson Info
11. Shoot 4: Mussels and Frites
Lesson Info
Shoot 4: Mussels and Frites
Okay, we're doing mussels and frites next, and we might have to scratch the frites because we couldn't get the heating element on the burner to get hot enough, but we're just gonna wait on that. While we're waiting, why don't we pick how we're gonna shoot this. If you can, if you can come, Karen that would be great, and if you can't... (faintly speaks) They might work, we'll see. So... I definitely want to shoot this three-quarter, since it's just the mussels, so that's great. We talked about doing that, yeah, that will be nice. So, now, it's just, yeah. I think we kinda saw this maybe lighter, brighter, right? Bright? Wasn't it bright? The surface being bright? Yeah, it was kinda really bright, so let's do, kinda background blown out. Here's a lighter colored board, if you want to go-- You know, I don't like those squares. (laughs) Nice. Sorry. No, it's totally fine. We have linens, we also have this guy. That's kinda nice. I don't know, what do you think, ...
Karen? Right behind you. What about those... Would you want to do something simple that's maybe on an off-white linen? Yeah, I want to keep it light and bright. Yeah. For sure. Don't you think? We never actually saw this, we have this color, we have... this color. That might be nice. Yeah, I'm drawn to this. Do you have an iron, or no? We do have an iron. Okay. Yup. Our little fold might be okay. Well, yeah, we might luck out. How are you seeing this, like, Three-quarter? Three-quarter. I also can make some, like, well it depends if we have the fryers or not, I can have a little bit of mayo, like spicy mayo, but I'm checking on the fryers. If you did the mayo, would the mayo have color or would it be white? I could do like a spicy, you know with slightly red tinted, or could have chopped herbs in it. Oh, that'd be nice, can you do it tinted with chopped herbs? Yeah. Cool, I just don't want it white. Yeah, I won't do pure white. Just a little bit of color. Yeah, okay. And... Wanna a glass of wine in there? Cause it's gonna be a little, have a little... We can look at it, yeah. Okay. Because it's only one element now because we're gonna lose the fries. We might, we'll see, we're working on it, so... Now is that gonna be too big? Do you feel like that's.... No, I don't think so. Cause it's a lot of mussels, okay. I don't think so, I think if we pile them in there, the sauce-- Just as long as we get a descent amount of height, so that I can shoot into it. Sure Let me just throw some in there, and see. Okay. So we're gonna iron that? Kaleo, you're gonna iron that, right? Yeah, you're on it. I'm just gonna do it right in place. And that actually, John, we need to move that entirely, because I want to shoot, I'm gonna try to... Let me think about this for a minute. So, I'm gonna shoot into it, so I can't really, so we're gonna lose the ladder. Yeah, do you want it back lit, sideways, front? Let me look at it side but I might want to be completely back lit. Okay. Which means we'd have to orientate the table that way but I don't, I wanna lose, I don't wanna get that wall Apple it up? We can apple it up, again. Yeah, if we have to. But I don't even think I'll get it, we can put this as a kinda like a seamless and we'll just take it all the way back and-- Sweet. We'll just kinda blow out the back, and-- You want to go long with it, yeah? Yeah, let's try it there and see how it looks, and then I might go completely back to where we're at. Yeah, yeah, yeah, yeah. I just want to play with it. Cool. And I will need a stinger, a power to that. I need to pick my heroes for the last shot so we can... Celeste, I need to pick my heroes for the last shot, so we can do our hero board. Okay, do you want to do that now? Can we start a hero board on one of these panels? Or on one of those panels? We had some, way ahead of you, we've got these two. Okay, cool, gotta pick the last two. Yes, yes, yes. So is that something you want to do on camera right now? Sure, why not? I think it's important to do that, I like to look at the way the pictures are progressing as we're going. That's super important. Where's John? John or Neko, we'll take either. She wants to pick some shots on here, and I want to make sure-- I just want to pick my heroes so we can start a storyboard. Wanna help her go scroll through the things we just did? This is the one eventually... Okay. Take a look at that. Let's take the one you just did, that's great, yeah. Yeah, we'll go with that one and then didn't we do a version, I just want to look at the first versions we did, just to make sure that that is the one that I want. What's the number on that one, John? 3-4-8. So, this is, we got the egg whole, keep going. Yeah. Can you make this a little larger for me? Just a little larger on the contact sheet. There it is, there you go. Cool, okay. Yeah, we still have to pick the kabob shots. Can you turn those around? Yeah, it's definitely with the fried egg, I just wanted to see the one with the sauce on it to make sure that that wasn't something to consider. Yeah, no, keep going to there's a version of that, that started to look too much like a design. Yeah, no. There you go, just go to the very last one of that series. Okay, go back, yeah. No, I think the egg's it, so we'll go with that one and then we gotta just pick a lamb one. Okay cool, just go to my last shot, cause I shot kinda a ton of that. Just go back a few more for me. Okay, go forward. Just, yeah, that's good, that's great. Just want to make sure that it's nice and square, yeah. This one is a little more square. Okay, that's out hero. Okay, 3-0-1. And then just put 'em on a wall so that we can all see them and then, so what I do when I'm doing that is, if this is a full-on shoot, I will tape my heroes on a wall so that I can reference them so that I'm changing my angles, and I'm changing my styles so, I'm not always having a solid plate, prepared, done. So, I'm taking all those visual exercises that we talked about yesterday, and my list is somewhere. It's right behind you, can you hand it to me? There's one here. Oh, okay, never mind. So basically I just need to read it, so I'm changing up my camera angles, my light potentially, hopefully, I'm editing the food, doing it in process, and in preparation so that, that hero board really helps me look at how, what I'm doing and just kind of like, go into my next shot and try not to repeat the same thing. And that's something to think about, what it does it just helps you not make the same pictures over and over and over. Okay, yeah? By editing your food, you mean when you were going through the exercise with the sauce and the egg, and then breaking the egg. That's what what you mean by editing the food? Right, right, editing... I mean that, yes, and I also mean like if you're in a setting where you're at a restaurant and the plate comes out and it's packed with stuff, do you remember I talked about that yesterday? So you edit the dish, you take stuff off, you asked for an extra plate, and you reinterrpret a version of what they just gave you, but you give the food a little more room to breathe. Okay. Because we have big servings here in this country, so that's all, we don't want to crowd the plate that much. Okay. Necessarily. Okay, thank you. But when I say edit, I mean that too. In this case, it would be, this would really be meal in process or meal in preparation. Editing the plate would mostly happen when you're on location and you're photographing someone else's food. Okay. And it's a delicate thing because you don't want to offend a chef or a restaurateur, because it's how they're seeing the food, so you have that conversation with them and you try to honor their culinary voice in the plate, so it's conversation you have. Okay, thanks. We had a question. So, one of the things I brought up in my videos I tend to take a lot of the same shots, like a year later, I'll look at a bowl of soup but I'm like, "Oh my God, it's exactly the way I shot my soup." Do you go back and look at, I mean, you're making a hero board for this one shoot but do you go back and look at, or mindful of how you're shooting things in a much more general way, like in terms of a larger context over the course of your portfolio? So you mean, am I shooting for my, am I thinking about how I can use this in my own work? I mean, I think more in terms of, I think, for instance, for me, because I don't have as much experience, I use a lot of the same shots because it's sort of a crutch, cause I think, "Oh, that's kinda what I can think of," and that's how I always seem, tend to end up shooting soup or whatever. And so I was wondering, I mean, I think it goes to your point of challenging yourself all the time, and I just wondered, in terms of the larger landscape of the work that you're shooting, if you keep that in mind, or just doing the hero boards from project to project, makes you stay out of stale shots, and thinking all the time and by editing and working with other people. I think it does both but mostly for me in that setting, it's helping me to see my visual process and so I'm not repeating myself, because I think about how might it go in a cookbook, or a book or a magazine, so I don't want it to feel like the same photograph. So you turn the page, and maybe it's the same, maybe a completely different dish. But I have to be careful that it's not always in, on a plate or it's not always in a bowl. And also, I can't use the same bowl, so you do a storyboard, a hero board so you're not repeating yourself with props. And also, you're just kinda seeing how, you're keeping record of how you're seeing, so, it just... Right. Just makes you, is it big picture, I don't know. I don't know, I don't know it's big picture for that project you know? Yeah, and I think probably for somebody who, say has a blog, is for people to be mindful and go back. In my case the reason I noticed it, is because I happened to notice two posts that came up in the same search, and I went, "Oh my god, that food looks exactly the same.' And I think that maybe for bloggers to go back through and kinda be very mindful of the stuff they are posting, over a time period. That brings up a really good point. I know in a lot of portfolios I look at, that's one thing I see a lot, I feel like photographers will make the same pictures over and over and over. It is crutch, and so you have to break those habits. And how do you do it? You don't know you have that habit until you look at your work seamlessly. So put it up and go, "Wow, I'm making that same picture "every time I shoot." And it starts to look like the same picture, it doesn't matter that you're changing the subject, it's the same picture, so, yeah, you gotta break that habit. That' a crutch so, how can you change that? So you change your angle, you change your props, but even still you know, you have three elements and you're kinda always working those three elements and just changing the subject, it's the same picture. So how do you recommend breaking that? Well, you have to honor someone's style and that's just were they're at, and I think that can be really beautiful too but I just think as a photographer always trying to challenge yourself and that's one way, "How can I make this better, "how can I push this differently?" It's just, forcing yourself to go beyond what is obvious for you, you know? Being uncomfortable is when you grow the most, you know? This is a horribly uncomfortable situation for me, and I hope I'm growing, I think I'm growing but I mean-- You're doing a great job. Thanks, no. (laughs uncomfortably) I think you grow the most when you put yourself in very uncomfortable place and you've solved the problem. You know, it doesn't always work out but when it does, you step up a little bit, you know? And you've moved beyond and you can look at the pregression of your own work like from a year ago or six months from now, and you can see where you've grown, you know? And you have to challenge yourself. I think it's not good enough to just say, "Oh, well, that one's good." I wasn't happy with the first shot and I wanted to keep going. And then in reality, I really think we had it in the first shot. And then we moved to the lamb, and it came together nicely, and I felt like it really worked and could've it gotten better? I think we nailed it, you know. But I'm always pushing it, and you know at some point you just have to say, the food is dead, and I don't have enough time. And I don't have anymore food, I mean the budget's gone. So, let's go to the next one. We made a great shot, we pushed it as far as we could. You just keep going. Great. I don't know if that answers it but yeah. I think, I just always want to try to make the best picture that I can make, basically. You know? And that can be to a fault, I think you can burn yourself out. Right now, I want to do a really good job. I want you guys to be inspired, I want everybody to think about it differently, so I'm pushing it. It's hard to do that every time, you have to be very careful and just be content with what you have and feel good about it, and move on. So, yeah. Okay, cool. Karen was actually kinda digging this crease. I'm gonna shoot from back here. Sure but before I flatten it out, we can drive this further down, if you're in to... You know what-- Sure, I'm cool with creases. Yeah? So, you know. I don't know if that's gonna work. We'll probably have to shoot from here, actually. Or put it right on it? Yeah. Yeah, I can't really... John can I have a white card just to see how much light I can get back in this and let's put-- do you mind moving this with me, closer to... Watch that leg over there. Is it clean over there? Huh? Are we on something? Eh, nope. Is this our hero side? I don't think we've, stand in food-- Come I get a bigger one? Do you have something firm? Where hadn't chosen a hero side to the dish yet. So I'm gonna go three-quarter. And Johnny, it can also be reflective too. So I'm looking at this and I was gonna try and back lite it. Aw are these gonna work? We got some fries yeah, I think we got some. Yeah, but more than that, right? Yeah, no. (laughs) No, I ate them all, now we have no more Ladies and gentlemen, Karen ate all the fries. What can I say? She did not get enough lunch she ate all the fries. This is one of the casualties of what we do for a living. Something this large? Yes. I'll wait until you frame. (Penny) I just wanna see if I can... Can you take it away? And I'll just put it back in. And then we'll do another one here, so let's set that up. So, do two whites. Two plates, okay. I just want to see if we can do it. This is gonna bother me. Does anyone have a belt I can borrow? (laughs) Okay, so internet, do you see this, so I'm gonna back lite it completely. I'm gonna back lite this completely, so we're gonna bounce light from here and then we're gonna do another white card here. And I'm gonna shoot through here, and hopefully I can light up this front part enough, to give it enough, so you can see enough detail and it features it nicely. It might not work, it might not look good and then I'll change the angle. Here you go. Yeah, cause I'm gonna shoot three-quarter. I'll just see how this works, these are huge, I mean, they don't necessarily need to be this big but that's fine. We got boards like this. Well, I don't want them to fall into the food, that's the only thing. As long as you can clamp these down... Oh, yeah. Got it? Yup. I just wanna make sure, cause... Do we have any foam core? Yeah. Yeah, let's do foam core, I don't, that's just too precarious. About that size? Yeah. We could cut that foam core down. We, you know, yeah, that size is good. I got two or three that are about the same size as those boards. So, Karen, if those fries do workout, then I will have to change my angle. Do you feel like they're really gonna work out? They'll work. Yeah? We had Lauren, he's over there, he's the chef guy, gave us a good tip, so... We have to thank him for that too. Okay. Who knew? So we might have fries. Are they getting nice and golden? Yeah, look at them, now look at those. She's all doubting everything but it's all working out. Awesome. Okay. But it depends on how, if you want them in the same bowl as the mussels or if you want them in the background. I think we talked about putting them on the same bowl, didn't we? We talked about kinda like-- But we can see, maybe we should see how we frame it first. If they look too crowded in there. So, if we are gonna do that, I can't really shoot it like this. Okay, and then I have this-- Well, let me just try, let me just see. Okay. So, I'm gonna go three-quarter, John. I hate to do this and I apologize. That's... Whatever it takes. You know, let me just shoot one from here. I just wanna see, lemme get all this set up. Okay, can you tie that right there for me? And it can go back a little bit cause I can't really get in there. Yeah, yeah, it's just not gonna work three-quarter. It's not the right food for that. Yeah, no. Do you have another, can you put this other one, can you swap that out for me? Bring that down now? Yeah. And bring it out from here just a little bit, yeah. Yeah, okay, so I'm looking at this shot and I'm realizing that I'm gonna photograph it, and I'm gonna let you guys tell me what you think. So I'm gonna do it three-quarter. Okay, I'm gonna make one frame here, shooting at almost a 70. Okay, so there's one. And then here's the secondary shot and these are two different angles. And I want you guys to tell me which one works. All right, you guys are picking this one. And I'm blowing out my whites on purpose. Maybe not that much, but... (laughs) But I do want them hot a little bit. Cause I think that's okay, that is a creative decision that I've made, I'm letting them go. Because I think it allows the mussels to really pop. And it's totally cool, so you guys tell me, can you side-by-side on that John at all? Let's see. Okay, cool. Should come up, the next one. No the other one's from overhead. There it is, okay. All right, just take a minute and look at that shot. You can go up to the monitor, and tell me which one you think it is. And the Internet, I'd love your opinion too. So, I'm gonna give you like one minute to tell me yeah... Vertical or, I mean overhead or three-quarter. I've already made up my mind, can I tell you? Sure. Overhead. Yeah, why? I think it's all about geometry. Okay, anybody else wanna... I think three-quarters. Really, okay, tell me why? Okay, I need a mic. God, it's really hard because they're really different, you know? Yeah, I agree I think they're really different, I guess the reason why I like three-quarters I feel like I'm more involved in the shot. Really? Like I feel like its how I would look at them, if I was sitting down to a bowl of mussels. Okay. I like them both but I guess, I mean, from just looking at them with my very first impression, I felt like it was more immediate. I have to say, I think I like the overhead better, because you can see the sauce, the food invites you in a little bit more. Even though I agree with you, Kathlyn, I really like both of them but they're very different. But I like the overhead better. I like the overhead. I like the mussel on top, the opening of the mussel, and just kinda, my eyes go around the whole bowl. Anybody else want to chime in? You don't have to, I just want to make sure everybody's heard. What's the Internet saying? The internet is about... Half overhead... No, no, sorry, 80, 90% overhead. You think that much? So here's what I think. While I do appreciate your opinions, all of you. I think they're really important. This is really a creative decision. There is no right way, there's just how you would do it. Truthfully, some people would disagree with that. But I think you're trying to sell, you're trying, for lack of a better word, you're really trying to feature or celebrate this dish, so which does it best? In my opinion, I do feel like does, it really shows it. I actually have to say, the longer I look at them, the more I like the overhead. I don't think this is bad, and if you were shooting... I don't think this is bad at all, we are adding now the components of the fries, so if I stick fries in this angle, they're gonna be blown out, and depending on where we put them, but I'm gonna, it's gonna change it and I actually think, now that I know we're doing fries, and I know how I want the fries, Karen and I haven't agreed on it yet. But this would, to me, be the better way to show it, for two reasons: color, the color pops immediately. It feels more graphic, and I think I like the graphicness of food, and this features the mussels I think really, really well. And like, you were saying, I think it does, you can start to see the mussels open and you can get more color, it just feels a lot more appetizing to me, you know? The mussels on the left look stunted, there's kind of a weird angle on them, so they don't look like mussels. You're brain kinda keeps looking at it until you figure out what it is. So, this is a great exercise to do just to figure out how to see it best, and it took less than a minute. Okay, cool, so I'm gonna go with overhead, obviously. (laughs) If you were wondering about that. But I think the important thing to note is that I'm super conscientious of it, you know, I'm always aware, you know, I just want to be aware of it. (claps) Don't you need a ladder for this one? Yeah, I am. Yellow work, or do you want... We can go with the yellow one, that's fine. Penny? Yeah? Kothia says from the Internet that maybe you should Skype Larry and see what he says, and also, the Internet really appreciates, they're really loving this and they love the fact that you went to them to ask about the shot, and they also really like the fact that you're doing the different angles, and talking about why you would choose one or the other. Cool, thank you internet. (laughs) You guys are my toughest critics, okay. All right, Karen how are we on the fries? We're good, ready? I'm close. That's standing still so I need to redo that bowl. So yeah, can I get the ladder, John? So, I don't know if I'll be able to use that but I'm gonna try. You got it. Just so you know, I do not mind, I might need you to stabilize me. And just don't let me show any plumber's crack. Mike? Yo? Some will be super crisp, cause some of them-- Hold on, John? Okay. John, keep this leg anchored for me cause I will fall over. Do you want backwards or to the side? Yeah? I'm just curious, just a creative... Yeah, that's just an artistic decision. And I'm actually too high. I almost lost it on that one. All right. Do you want me to hold you for the photo? Yeah. (camera shutter clicks twice) Okay, yeah. Yup, cool. All right Karen, I've got a shot for you to look at, and then we can talk about where we're gonna put the fries. And are we cool on time, Celeste? Yeah, we're good. Cool. I mean, we have til five, 430 for all shots, so, Cool, so we have two after this, right? One. Okay. It's the soup after this... But it's just a Q&A. Wow, okay, cool. So what are we looking at? Okay, so here's out hero, or our set hero. I saw that gigantic mussel and went, "What?" Oh, that's pretty. Is that the last one we did? Yes. Thank you. Previous, that should be the last one there. I would love the fries just sticking-- From the back? Maybe, I kinda, what do you think? It probably needs more space so you can see some more sauce, so probably, so you could see the harissa. Wait, what do you mean, say that again. The sauce is harissa. But when you say space-- So that's not jammed with mussels. are you putting the sauce just on it or on the side? It will be underneath a little bit so you'll see, I'm gonna pull some of this away so you can see the sauce underneath, so it's not just all mussels. I got ya. So, you're going to sauce the mussels? Yeah, and put sauce on the bottom so you see it on the bottom. Gotcha, so you're gonna build that and we just want to put the fries on the mussels. I don't know, it's kinda nice clean like that, don't you think? I think so too, so let's do a hero like this-- Okay. Because I think the fries look acceptable but the they're not great. They're not stunning. It's almost like they're like in the background. So, and then maybe we can try to incorporate the fries but I don't know that I'd put them on the plate. Oh, in here, in the bowl? No, we could put them-- Originally, I thought they would be cool in the bowl, just kind of like... Yup, that's cause the angle we're shooting and all that stuff. Yeah. What do you think? Would you want anything around here, Like utensils? Like a glass of wine, or.. A plate with discarded shells or something? Yeah, maybe. It looks a little barren. It needs something, yeah. Less steril. Should we do another material under this? I don't know, It needs something. Like another element. Contrast. Something, I just don't know what. I mean, it looks great but it needs something else. Well, let's put it with the harissa, is that gonna be alive for a while or is it gonna die quickly? It will be okay, but you know, before you shoot, I'd have to like... Freshen it up, okay. Fresh, freshen the plate. All right, you eat mussels with a fork, spoon, crusty bread, do we have any crusty bread? We have a little bit of naan, I didn't get bread because-- Didn't we get bread at lunch? We have rolls. We had little rolls. Rolls, can we take one of those rolls and just break it, give some, maybe? What do you think about that? I don't know. No? You didn't like the bread? I have some, I can grill some, I have this naan bread I can grill. That would be better, can we do that? Yeah, let's do that. Forget the rolls. No, no rolls. Okay, that was problem solving. And then it can maybe be broken around the side or something. Did you want a, just something really graphic, like a color band ripping through the middle, or...? I could see adding another surface under this, but it would have to be soft and not too graphic, cause I don't want it to distract from that. So, if you had, and it would just peak out, you know a napkin peaking out over the edge, maybe like a crinkled napkin, like for example, not this one. But it's something May not be... This is a little texture. I mean, this isn't the right one because it comes from a huge, yeah, everybody in the country has this napkin, so we're not using that one. Yes, they do. We'll get you in there. I'll let you pick something. Something that's muted, not too crazy. We used this one, right? We used this one, to be specific. Oh, that one. So, here's something, a little texture. But this looks like the other one. So, kind of like we're in a little French bistro. Yeah, totally. That's nice, that's really nice. Yeah, let's try that. Yeah, we're, yeah, thank you. Okay, so did you guys see what just happened? We, it was fine, it was acceptable but we wanted to step it up so we incorporated another element, which was bread, so we lost the fries cause they didn't work out, they don't look as good as you wanted. So then, Karen's gonna grill some naan, I think, because that's the carbohydrate that we have. And we felt like it might need another texture, so we're gonna take a napkin, a cloth napkin, and maybe put that in too. So, okay, that's where we're at. I'm kinda in a holding pattern at this point, I know my angle, I know my exposure, I think it looks good. I'm looking at my heroes and just thinking about it. Okay, does anybody have any questions, I can take a few. Absolutely, can you give us some advice, on the internet, they've asked about advice you'd give after this class, as to how someone would best practice, learn food photography. Practice, learn food photography? I think that the best thing you can do is go to a bookstore and look at cookbooks. Study food magazines, look at food portfolios online, and spend as much time as you can just seeing. Looking for various ways, looking at how other people are photographing food and let that influence you, and learn. Actually, this is a really good story. When I was kind of starting my career and I was, there was an editor at National Geographic, who was looking at my pictures, we were talking and she was saying to me at one time, "So, there's this really great editor I know, "she's a big book editor, photography book editor, "and she lived in New York City." And she was like, "Would you like to meet her?" And I was like, "Absolutely!" Cause I think editors are major influences in growth for a photographer. So she set up a meeting with me and this editor in New York, so I went to New York, and I went to this woman's high-rise apartment, kind of horribly intimidated but I gotta sit down with her. Every great photo book she has, not every, but a lot of the great ones she has edited. She's looked at some beautiful photographs, from some amazing photographers, who, you know, I really look up to. These are like, two generations photographers ahead of me. And so, she looked at my work, and we talked for a little bit, and then she said to me, "Do you want to be really good, Penny?" Of course, I was like, "Yeah." And she was like, "Then you need to keep looking, "every single day, never stop looking." And she was like, "Look at magazines, look at other "photographer's work, look at books, "look as much, go to galleries, "look as much as you can because that's the only way you're gonna grow." Cause your mind remembers that and when you pick up the camera again, you'll think about those images that you want to be making. And another thing that I used to do to kinda help me grow, is I would look at these books, magazines, whatever. And if I was reacting to it, really strongly, so let's say I'm thumbing through a really great photo book. And I see a picture and I'm reacting, I'm like, "Ah, it's movement, it's emotion, it's color. "Oh my god, look at the light!" And I would take that word and I would write it down, "light" on a piece of paper. Then I'd go to the next page and I'd see a picture, couple pages down and I'd find one that I'd really react to and again, what's the first word that popped in my mind as I'm looking at that picture, and it was emotion. Or color, or movement, and I'd write that down. So I'd have a list of words, and be things like, like all these creative devices that we talked about. Light, color, movement, emotion, sometimes it would be sadness, sometimes it would be joy. And I would go out the next day or that week, and just think about those words and make pictures around those words. So I would look for light, I'd spend like 20 minutes just walking around the block, or walking wherever, and just look for interesting light, whether it's a reflection or a shadow or a filtered light. In any context but just explore light. Then I'd go to the next word, and I would do, say it was color. Say I wrote down blue, the color blue, and so I would just look for blue. Or I would look, let's say the word was sadness. I worked around a lot of emotions I was feeling, so if I found picture that made me feel an emotion, I would write that emotion down, so if it was sadness, I would look for sadness and it would be nuanced photograph and it might just be light and someone walking through and it had a mood, and it was just kinda was somber. And it was just a great exercise and I call that, and I do that a lot. I call that like visual yoga, basically, so you're stretching your eyes. And you're really thinking about just one idea, and exercising in that idea and really allowing yourself to just explore it. And then the next time you go and you have a shoot, and you put on your camera, it will change the way you look at something. That's for like, yeah, I think that's a wonderful exercise for any photographer to think about, whether your shooting food or lifestyle. So, I think the best way to grow in food photography is to keep looking and exercising your eye, always, always, always. Thank you. So, Penny, I have another question for you, from "Whiteonrice." (laughs) Who's that? They'd like to know, I know it's different when we're here, putting your hands in food, but what is it like when you're with local people, how do they feel about you moving or touching their food? Do they feel offended, do they feel flattered, do they want to beat the crap out of you? (laughs) Ah, local people, it depends on the country. Usually people are so, well first of all I try to be super sensitive about that, because it's their food, specifically with restaurants or chefs. So, I really try to honor whoever made the food, and just be like, "Do you mind if do this?" But at the same time I don't think they see their food like the way that I would see, and so, I would get my hands in it and mess with it, and they might be like, "What, what, what?" And then I show them the picture and then they get it, you know. A lot of these people have never had their food photographed and they never thought about having their food photographed. And they see their moms, their great-great-grandmother's casserole as always being in this particular dish, and that's it. But casseroles are, you need to sex those up, you know. So you got to reinterpret that. Sexy casserole. So you gotta help them get there, and so you show them how to do that. Right, okay, great, thank you. Penny, did you develop your own lingo? They're asking, a lot of people have been asking about the "hero shot." No, that's definitely a total term that I learned just from being in photography, that's a very regular, like industry term for sure. Cool, thank you. Okay, Karen, how are we doing? We're good. Oh, this is cool you guys, she's kinda of... Cause I wanted more so you could see that. She's building this plate, you might want to check this out. Cause I think the red is really important to show. Yeah, that looks nice. This little guy's here. Yeah, that's gonna look great. I think that's enough cause I know that you changed your angle to not so much three-quarters, so I don't have to... That's gonna look nice. So let's do, I think that's good. Is this high enough for you? I think so. Looking at it this way. Those mussels look great. Gorgeous. And I think I'm gonna pour a little bit of sauce on top. I'll do it on set. Sure, sure. I actually think that that is so strong and visual with the sauce, I guess I didn't realize it would be so-- Yeah, that's the red. I think that's really nice. That's why I chose that color. Yeah, that's great. All right. It looks great, smells great. Yeah, it is good, it's from my brother. Oh, it's your brother's recipe? Yeah, he gave it to me. Aw, that's sweet. So this is marking the center. Ow, whoops, I was like, okay, I didn't know if that was in the, keep going? No, no. Oh, I can feel... Oh, it's a long fork. (laughs) (loud bang) Thunder boom. So we need this. I think that's gonna look really nice. So, we got the grilled bread. On the surface, with crumbs. Yeah, that could be nice. And Karen, we're gonna kind of put a little sauce on the mussels too, right? Yeah, cool. (faintly speaks) to place the sauce... Yeah, cool. I have some more if you want that, you may not need it but... Cool. Have it just in case. How's the grilled bread? It's here, it's good. Cool. Thanks. (people speak faintly in the background) Yeah, okay. If you want to make sure you have time. Yeah, I just don't know, will these mussels stay alive if we shot our stuff, and then the students jumped in after? I can keep them covered, yeah. I mean I can keep-- Just so we have them two sets so they can play with. Sure, okay. Let me get out of your way. Do you want me to move this ladder? Ah, no I'm good, so... What the hell (faintly mumbles). I'm just gonna get above you, Karen. Yeah, that's looking cool. Thank you, let me know when you want me to sauce it. What do you think about this napkin there? Is it in there? It's not in the shot. We can just take it out, I don't know. You want to see how it looks? It's kinda nice, yeah. Wanna see how it looks and then? Can you give me a little bit more of an edge on the, tuck that in so it comes out at a point a little bit more. But I like it kinda narrow, yeah. Yeah, okay, that's cool. John, can you hand me my camera when you're ready. Yup. I'm gonna do it behind, okay? Okay, thanks. Okay, just watch your-- Is this the test shot? This is the test shot, can I get, can you just stabilize me, Kaleo, on the back side. Absolutely, you wanna lean into me? (laughs) Wow. It's a ballet dance. I mean, it's up to you. You're a good man, I might need, I may have to lean over a little bit, all right. I'm good, I'm good. Cool. I feel like I'm being hugged. You are. The whole Internet's hugging you. It's a little blown and I kinda, I'll need to come down a little bit, just look at that for a minute. It's little hot. It's a little hot, and I'll come down but I just mostly want to look at the composition there. I do feel like the napkin adds something, I don't think it's placed right. Okay. And I do think the bread, we may even need a bigger piece but I like the broken idea. Okay. That large piece, maybe just a little larger. You know what, I'm gonna go tighter too, yeah, for sure. There's a lot of space in there. Okay, let me shoot it tighter. You wanna... (camera clicks twice) That's better. It's happening. How does it look? I could move this towards the camera. How did that look? Yeah, I like it tighter, yeah that's nice. So we're still gonna add some sauce, some sauce on these mussels and maybe some-- Maybe some parsley. Yeah, I think that would be beautiful. Do you want me to go for it? Let's just go for it, I'm ready to go. [Karen] Okay. Are you? You good? I think it looks great. Those exposures all set? Yeah, no I think that's good, yeah. I love the bread, actually looks soft back there. Yeah, can we crumble the bread a little bit, maybe just a few... Little crumbs? Just a few, just a few. Just keep it simple but it's really pretty. Like how the sauce kind of frames the black. Yeah, that look really good, there's three mussels that are really white, these three, and so we'll sauce those. So we get a little punch of color. Looks great. You know I was having a nightmare, I have nightmares that one day I'm gonna be hovered over a plate and I'm gonna fall into it, completely. (laughs) Like, I'm gonna be like, (falling sound). I'm going to fall into my set. Like that is a nightmare for me. So I was worried that was going to happen on this. I just know it's going to happen at some point. It will be a funny moment and I'm okay with that but I just don't want it to happen in front of a lot of people. (laughs) In front of the entire World Wide Web. It will be a great picture, yeah. Don't sneeze. This is fun, this is fun. This is fun. Cool. Ready? I am ready. Let me put just a little, little green. It's all about the garnish. Okay. What's the life on these? Am I gonna need to go pretty quick? No, you've got like five minutes or so. Okay. Ready? [Karen] I can refresh them. Yup. I'm going down. Get ready for this guys, this is freakin' gorgeous. Get ready. (camera clicks five times) That's pretty. Yeah, that's way pretty. That's beautiful. Simple and just nice. So different than the first one, too. Exactly. All those little touches. And it's funny now, I would never think... I opened them up. Obviously overhead is the right shot because you wouldn't see all the sauce, and you wouldn't get the full landscape of the dish. That looks great. How's my detail on that napkin? I wouldn't mess with it. I don't mind that it's hot at all. Yeah, it doesn't bother me either. I think it looks really nice. Yeah, I do too. I think it's fine. You know what I'm noticing, just because I don't work on a lot of food sets, you know, I do a lot of motion stuff, but appreciating food and it's perspective, it's also the way we see food most of the time, is straight down. Totally, let me just get a couple more of this, and then we'll go, we'll move on. Okay, here we go. (camera clicks five times) What do you think, the bread's okay, Karen? I like the bread, yeah, those crumbs are perfect. Yeah, nice trail off. Thank you for suggesting that. Okay, I think we're good. All right, we're good. Awesome. There's a hero on their somewhere. Yup, I think so. Yeah, that's gorgeous. Yeah, beautiful. Great job, everybody. Gorge. Okay. You guys make that look way too easy. Well the food, the food is beautiful, you built that beautifully. The sauce, yeah. That sauce sells it. Karen, that looks amazing. Thanks, thank you. You rocked it. It's sexy. That's so intense. Store bought stuff but... Hey, you make it work, right? (laughs) Whatever works. Cool, okay, so we'll go to the next set, right? Okay. So the next one is-- The noodle thing? Is that the one the students are shooting? Or are you shooting it also? Or what's going on with that. I don't remember what we decided. You were gonna shoot it first, so what we can do is either have the students shoot a little bit right now, but if we want to make sure you have time to shoot your last scene-- Can we reinterpret this for them? Yeah, do you want me to just keep this covered? Or what do you want me to do? We're done with this. Oh, so you want me to remake it in a different bowl? Yeah, can you, yeah, I want, cause this to me, they need a chance to discover this. Okay, so why don't I plate it in a different bowl. Yeah, and we'll give you like ten minutes. Who wants to be out first volunteer, five, ten minutes? Oh, wait, are you doing this now? No, we can go to the next one but that's the idea. We're going to do the last two, this dish and the next one I'm gonna do them. But then, we want you, someone, we want two volunteers, to discover the dish on your own. So, I'm not gonna give you this shot cause that would be, you need to find this for yourself. I mean that in the sense that you've got to figure out where feels good for you, and Karen's gonna reinterpret it for you, style it for you. I mean, you could even go into picking a plate and background and stuff, because a lot of people have never worked with a stylist, so this is a wonderful opportunity for you to kind of do this. And I think you guys are excited too. Yes. (man mumbles faintly) So we'll just keep... I'm not throwing anything out. Do you guys have any questions for me? Sure, I have a question for you. So, you hand held your shots, and a lot of the people on the internet are wondering, you don't use a tripod, what are your tips and tricks for really keeping a sharp, tack sharp photograph, while... I'm constantly focusing, like, I'm repeatedly focusing every time I'm just like just righting the focus and making sure it's sharp every time, right before I hit the shutter I'm just refocusing and refocusing, refocusing. Thank you. So I have a comment from "Getherdid," in the chat room, who wanted to let you know, or ask, "Has anyone told you how awesome you are, and you need to know what you're doing is so freakin' good." Oh, cool. And they say you're the hero. Aw, (laughs) You guys are heroes.
Ratings and Reviews
Penny is the best with Food photography and at telling a story with pictures. This was the very first class I ever saw on Creative Live and Penny was amazing! Her class is so informative to all the aspects of food photography, from styling, to plating to shooting and lighting. and how to tell a story. What she taught me will never go out of style and will inspire you too. Thank you Penny for this outstanding class!
Love, Love, Love Penny. What great energy. I will never look at food the same way. Her story and her vision really touched me. She was so generous in sharing her knowledge in such simple terms. One of my favorite classes!
Totally love this course!! What a find especially for the price - such a wealth of information and what a great positive spirit!! Thanks Penny for sharing - keep up the excellent work!
Student Work