Getting Started with Charcoal & Chalks
Demo: Tonality on Spray Fixed Surface
Mary Jane Begin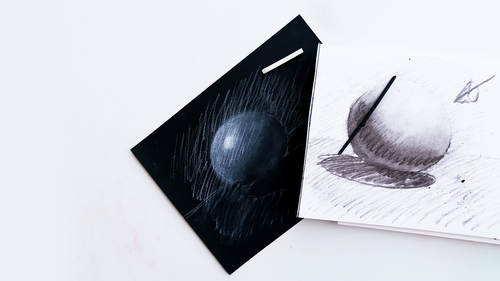 Getting Started with Charcoal & Chalks
Mary Jane Begin
Get access to this class +2000 more taught by the world's top experts
24/7 access via desktop, mobile, or TV

New classes added every month

Download lessons for offline viewing

Exclusive content for subscribers
Lesson Info
7. Demo: Tonality on Spray Fixed Surface
Lesson Info
Demo: Tonality on Spray Fixed Surface
I wanna show you the variation of how this material can work. And so, I think it might be fun to do, to start with the pre-spray paper. This is sprayed with fixative, you can see it. Does it look shiny to you? Can you see that it's shiny on the surface? Yeah, so this has a lot of spray on it, and so all that pigment is resting on the surface, so I can't erase out but I can do additive color. This opposite is not sprayed, I can erase into the surface. I can show you, kinda model the ball, and then the cube is on orange tone paper, this is a Canson paper, and I wanna use charcoal and chalk to show how you can get dimension on a colored paper. So let's start with, I'm gonna wash my hands first. We'll start with the spray and we have to use chalk to do this. So when you're working on charcoals and chalks, in addition to the masks, what's really helpful is to have a wet rag or water nearby or sink to clean your fingers, because you're gonna have a temptation to keep using your fingers and t...
hey're gonna get loaded with charcoal. When you load with charcoal and you're trying to maybe make a light tone, you've got a lot of black on your finger, it's not gonna work so well. So I'm just gonna wipe this down. So I can use this surface, my pencil, and look at how, it's like a chalkboard. Look at how beautiful that is. Or I can use my chalk, which is gonna give me a bigger mark, more textural mark. So I wanna make this ball, think of it like a moon. And I'm actually going to, one of the things I like to do is work on a smoother surface, not the table, because the table has a texture uneven with the thickness of this paper, this is a bristle paper. I can still feel the tooth of the table, this texture underneath, so I'm gonna shift to creating this gradient. Now I'm just using... The chalk pencil to make this ball. I'm trying to see my pencil drawing which is underneath, but it's very, very light against this. I can see it, but I have to turn to an angle to see the shine. Let's just see what this looks like. So this is a lot more dusty. You can see, literally see the little bits of dust falling off so for a small thing like this-- (blows dust) It's not ideal. Now you know I use fingers, I love to use fingers. I'm gonna use my pinkie. Because it's smaller so it can fit into the circle. And I'm just gonna gradate this. And all that I'm trying to make here is a modeled ball. All I'm trying to make, very, very simple, and I'm trying to use pressure. The more I press in, the darker that tonality becomes. The less, the more the chalk is sitting on the surface, the lighter it's gonna be. And this is a really lovely surface to work on, because I spray fixed it, it's super slick, super smooth, it's handling this color in a really kind of yummy way. Now I'm just gonna move more of this 'cause I'm making a white ball against a black background, so I'm going to move this around. Let's try the stump. Get a fresh stump here. These are loaded with black, that's why I'm doing it. Now see the stump is actually kind of lifting some of the color off more than my finger is, I don't know if that's visible but it's literally pushing the color around because it's so stiff. So I'm gonna go back to pinkie which is much more subtle, and is allowing that pigment to sit on the surface and not be pushed around or pushed away. It's still sitting there, okay, so I'm gonna add a little more and I prefer using for this small surface, my chalk pencil. And I'm just gonna do, again, a gradation. There are two ways I could do this, I could just use it as a linear kind of mark making, or I can blend it with my finger, or I can do a combination of both. So because I'm using the pencil, I can do this kind of reaction and it's line-based. And you don't have to work in straight lines. That's just because I'm doing that right here. You could also work in, let's call like little circles and build up a tonality with a circular motion. The pencil allows you to do either because you have great control over the tool, what's in your hand, you know how to hold pencils. So you can create all kinds of textures depending on whether you want it to be sitting on the surface like this or rubbed in as I did down here. I'm just gonna rub this in and then I might add some more to the pencil shapes. What I'm trying to do is just create a sense of light and shadow with a very simple tool, which is the chalk. There. Does it look like a moon kinda? Now the beauty of this material too is you can erase it (chuckles). If I go outside the lines, I'm like oh, that doesn't look so good. I'll just take one of my erasers and I'll pull up the color and it comes right off. Oh that's such a nice feeling. Some media, you can't do that. It's on there, it is not going anywhere, but with charcoals and chalks, they are so malleable, so moveable. I just love that about them. And again, I'm gonna add a little more white to this, but this is about as far as the white will allow me to go. I'm gonna use some circular motions for my mark, I'm gonna leave a little bit of the texture. If we're on the moon, it's gonna be a little bit more textural. I'm not gonna make it perfectly smooth. The only issue is now is, I can only get so white before it becomes, it's not as white or pure as what's right here. So I'll try to make it a little bit whiter with the chalk. And if it can't get much whiter, what I would tend to do is spray fix it again and go on top of it because we know the spray fixing will settle that tone onto that surface, keep it from moving. Now if I use my chalk I can get a little more of that light and it's a little more textural. But that's okay, it's the moon. I'm gonna blend it as it moves further away from the light. Okay so this is what it looks like when you're creating a tonality, a tone piece on a spray fixed surface. Let me use my eraser here, just use a pencil eraser.
Class Description
Are you interested in drawing with charcoal or chalks but not sure how to get started? In this course artist and illustrator, Mary Jane Begin will introduce you to charcoal and chalks. This class is perfect for beginners looking to learn the basics of the medium in order to begin a drawing practice. By the end of this course, you will be equipped with the know-how to start experimenting and drawing with charcoal and chalks!
In this class you'll learn:
All about the different types of charcoals and chalks and how they work
Which supplies and papers to use when working with charcoals and chalks
How to begin making simple marks and shapes to familiarize yourself with the medium
Thank you to our sponsor