Demo: Prepare Canvas For Oil Paints
Mary Jane Begin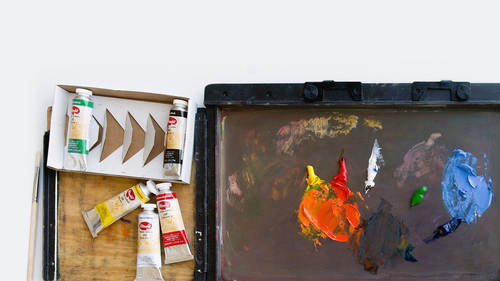 Demo: Prepare Canvas For Oil Paints
Mary Jane Begin
Lesson Info
10. Demo: Prepare Canvas For Oil Paints
Lesson Info
Demo: Prepare Canvas For Oil Paints
So the other surfaces I want to talk about, we talked about the gessoed surface. You know, your canvases, when we talk about canvases, they come in a variety of sizes. These are really small so we can fit them on this table. But you can get a pre-gessoed stretched canvas that's huge, you can special order really large canvases. Sometimes, though, when people get to this ginormous size of painting, they might get into the art of building their own canvases. They learn how to, the carpentry of building the frame and using the canvas and gessoing it. Again, for beginnings, I say start with the smaller surface or start with something pre-made. It's just gonna be a little bit easier. So the other thing I wanna do here is I want to show you what happens with the things we've talked about in terms of glazing and impasto painting. I wanna start working on two sides. One that's been pre-glazed with this burnt sienna color, and one that has not. But one of the things I do wanna mention in additi...
on to some of the stuff I've talked about, when you're oil painting, you can see I'm wearing a smock, I would highly recommend that you wear either your old clothes or a smock when you're painting because even though these are water water-soluble, and they come out of your clothes more easily, it's still oil. And so, an oil-based color, is going to, over time, it will ruin clothes. So I generally don't dress like this in studio even when I'm working with watercolor and acrylics. I dress in my oldest, raggiest flannel shirts and sweatpants so that I don't ruin my clothes. The other thing I do wanna mention, is you can use metal, certainly, a metal bowl to mix your water-based or soluble oils in. You can use metal. Typically for solvents, though, you might not use plastic. You might use like a metal container that's more standard for a solvent-like, the terpenoid. So I have a really big, just like a generic bowl here. But the plastic bucket is fine for water, water-soluble. I would probably use metal if I were doing the solvents, and that's, I think it's a deterioration factor over time. They don't react well, the solvent with the plastic. But with metal it's not a problem. So you can see here, I have taped this off. It's my usual method, and I'll talk a little bit about the tapes now, let me just move this gesso here. And there we go. What I've used here on this surface is a painter's tape. And you've probably seen it if you've painted a room in your house. It's used because you can really see it well, and you can see a clean edge when you are trying to paint. You can see where the tape is. It's also fine and wonderful for painting, any kind of painting: watercolor, acrylics, oils. The question really is, you want to make sure that it's pressed down hard enough so the oil color doesn't leak underneath. The purpose of it is to create a really clean edge. When I pull that tape up, that edge is going to be super clean. You'll still see where your composition is. But I don't really feel good about painting with color against a blue tape edge. And that's just, I teach color, I don't think that's a good idea because it's influencing how you see the color inside of those two surfaces. So what I do, whether it's masking tape, and that's also a fine tape to use to create a clean edge, I would test it first because some masking tapes can leak a little bit, others don't. So test it before you actually use it on your piece. You do want to put what's called artists' tape on top of your blue tape so you have a neutral surrounding area for your painting. Let me show you that. The other thing I want to mention, is you can probably see... Maybe you can't, from that direction. The physical thickness of this canvas. This is a little more than an inch, probably an inch and a quarter, thick. And I'll show you another canvas that is just about a half inch thick. This way. It's about half inch thick. The reason why you have different widths is because the thicker canvas frame is actually sturdier. For a small picture like this, not a big deal. But if you're making a really large picture and you have a very thin frame, a wooden frame, it can buckle and bend the more you apply color to it, the more you apply paint to it. So I would recommend, if you paint large, and you investigate that at some point, go with a thicker width of your canvas on your frame. So I'm just testing this because I had it, and I thought it would feel good. Now, I'm going to cover up all this blue.. And Kenna, do we have any questions at all? Let's jump on over and check. Catherine McLaud had asked, "Can you gesso over a used canvas?" A used canvas? Right. Uh, you can. What you might - and what's your name. Um, Catherine. So Catherine, you can gesso over a used canvas, but you would wanna be mindful of what's on that surface. If the surface, I'm assuming the paint is fully dry, and I'm assuming also, we're talking about something that has oil paint on it as opposed to acrylics. I don't know. But it's the texture of the paint you would want to be careful about. Because if there are bumps to the surface of that oil painting, and then you gesso on top of it, those bumps don't go away. That's gonna stay there. So you might want to sand down that oil paint and get rid of those bumps if you don't like that texture. You can also gesso over acrylic paints. So if you have an acrylic painting that you don't like, and you're like, I just want to reuse this canvas surface, you can gesso over that. The odds of the paint being thick are a little less likely. But still. If something did an impasto or thickly-painted acrylic painting, you'd wanna make sure, you don't want that peeking through the gesso. You'd have to layer several layers of gesso to lose even the smallest texture of a surface. So the answer is yes, but be mindful of what that texture is going to do to what's on top of it. But it's not an issue. The other thing I do wanna mention, the oil painting, if it's an oil painting that you're covering over, should be completely dry. Because you don't want even slightly damp oils underneath gesso. That will not fly. That reminds me of the thing I want to mention, which is, you can oil paint over acrylics. Which is actually a really beautiful way to build color. Once you put an acrylic down, it dries. It's plastic, it's like gesso. You can paint the oils right on top of that, and you can speed up your painting time because the acrylics dry so fast. So one of the things that I've done, and I'm going to demonstrate this, is you can paint with your acrylics and get all your basic stuff down: your ground, your shapes of color. Then do the noodly, detail stuff with your oil paints, and let that be your last layer. And that's kind of, it's a technique people use to paint a little faster. That was a long-winded answer to your question, Catherine. All right. So you can see now I've taped over the edges, so now we're back to a sort of neutral surrounding ground, and by neutral I mean that it's white. There's no color. And we have two surfaces. This one I'm going to wet with a ground that is malleable. In other words, it's going to be damp. This is fully dry, so it's not going to move. What I paint on this side will move. But what I first want to do, is we'll decide what this color will be. And I'm just going to have to be careful. I'm left-handed, so this is going to work out well. I planned ahead, knowing that whatever I paint over here, I just have to mindful once I add once color, but right now it's fully dry.
Ratings and Reviews
I've been a silk painter for decades and am just starting out with oils. This course was extremely helpful, especially the demos. One thing--at the very end she says that with traditional oils you'll need to clean your hands with a solvent before washing with soap. Not a great idea if you want to be healthy. I remove pigment on my hands by rubbing a clean oil on them, then washing it all away with soap.
Student Work