Identify Your Existing Resources
Tara McMullin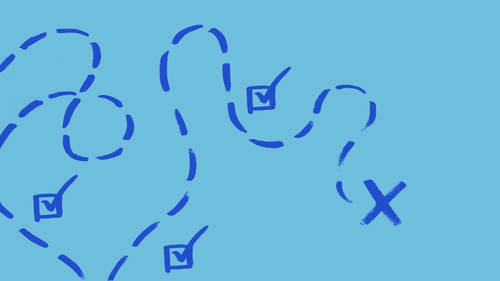 Identify Your Existing Resources
Tara McMullin
Lesson Info
10. Identify Your Existing Resources
Lesson Info
Identify Your Existing Resources
We all have a vast number of resources. And it's so easy to get distracted by what we don't know or what we don't have that we forget what we do know and what we do have. And so as we complete this first part of our goal setting and planning process, or like the meat of it anyway, we need to take an inventory of the resources that we have, because we're gonna bring those resources into play in our project plans, and we can't create those project plans if we don't know what resources we have to play with or what resources we need to invest in. So, we're gonna look at both sides of the coin. So, I'm gonna talk you through this and the activity here is identifying your resources, taking an inventory of your resources. So, I'm gonna walk you through all the different things that you might have at your disposal and I want you to go nuts. So, if you're at home and you don't have the workbook that you get when you purchase the class, no problem. Just get out your notebook and start making a l...
ist of the resources you have at your disposal. You guys, I want you to just start taking inventory, write in the workbook. Go nuts. Write small cause you're gonna have a lot, okay? Be as specific as possible. First of all, ya'll have a lot of skills and a lot of knowledge already. There are a lot of things that you have learned how to do in running your business. What are some of the top business skills that you have? What are some of the top professional skills that you have? What are some of the soft skills that you bring to the table? Maybe you're a great communicator, maybe you're really good at helping people feel understood or heard. So, what are some of those business skills that you bring to the table? What are you really good at as a business owner? For me, that's marketing. My skills as an entrepreneur are predominantly in marketing. So, that's a resource that I bring to the table every time I create a project plan. It's not in project management, so I hire for that. (laughs) That's a resource I know I don't have personally. Organizationally, I do, but personally I don't. So, skills and knowledge. Business skills, professional skills, personal skills, soft skills. And then knowledge. What do you just know how to do? What have you learned how to do over the course of honing your craft, building your business, living your life? Once you've taken inventory of your skills and knowledge, I want you to take inventory of your personal strengths. Where do you shine? Where do you thrive? And there's gonna be some overlap here, right? Skills and strengths are often related. That's okay. Give yourself some serious credit here. Where are your personal strengths? Where are your professional strengths? Again, go nuts. List anything that comes to mind. You will feel so rich at the end of this exercise. Alright, what are the financial resources you already have? What are the financial resources you already have? If you have great cashflow in your business right now, some of that cashflow is a potential resource. You could allocate cashflow to investing in things that need to get done. We talked about credit just a couple of minutes ago. Maybe you have a line of credit already for your business or you have a business credit card that you've been afraid to use. I'm not saying go use it, but I'm saying you better write it down as a resource that you have, because it is a financial resource. Your time is also sort of a financial resource. If you get paid for your time, that's something to consider. Would it be worth selling a couple of hours of your time during the week to a client when maybe you normally wouldn't? To generate the finances that you need to invest in something else? Think about all those financial resources you might have. Organizational resources. How many of you guys have team members? About half of you, okay great. What are their resources? You get to count all of their resources as your resources too. It's really fun. So, basically you can say what are their skills, what's their knowledge, what are their strengths? Maybe you can't tap into their personal lines of credit. (laughs) But you do have all of their skills and strengths at your disposal. Maybe there's a creative way that you can use them that you haven't been able to use in the past, but you don't know that you can do that until you take an inventory of it. So, really think about who in your organization brings what kind of resources to the table? How can you depend on people in new ways? Did you forget that the person who does your bookkeeping is also a really good proofreader? 'Cause maybe you don't have to hire a proofreader then. Or maybe your lawyer who's been doing all your contracts for you is also a specialist in creative IP. (laughs) Right? And you don't need to find a new lawyer, you've got the lawyer you already have. What are your social resources? Who do you know? We're gonna talk a lot about the people here. I've got different categories for people. But social is like your friends. Who are your friends? And how can you tap them as resources in your business? What do they know how to do? What strengths do they have? What unique perspective can they bring to the table? I know this group and I know that you guys don't ask your friends for help nearly often enough. Right? Yes. It's true. (laughs) So, what social resources do you have? What can your friends bring to help you with this goal? And then finally, your community. And you can think about community here on all sorts of different levels. Think about it as your customer or client community, think about it as your local community, think about it as your industry. What resources of all those people that your business is connected to can you bring to the table? I'm gonna forgo this hot seat, we're gonna do a hot seat at the very end as sort of like a recap. But I do wanna hear from you guys. Did anyone come up with a resource that they forgot they had? Or that they realized they weren't really utilizing in their business? Anybody have any surprises in the resources department? No surprises? Yes. Microphone. I forgot that I'm pretty good at talking over the phone and talking with my clients, and I don't do that often now. If I just go to emails, really quick, super easy, but I communicate way better in person and so, honing in on that skill, I think, would be pretty beneficial. Yes! That's great! That's excellent. Because not only is that a great resource for you, but it also helps you differentiate. Just about everybody is quick to hop on email and almost no one picks up the phone. And if you're gonna say, no, I'm gonna get this done real fast, we're gonna do this really efficiently and effectively, and I'm just gonna talk to you on the phone, that's absolutely a resource you should use. That's great, thank you. Anybody else? Yeah, BJ. For me, it's leadership, is a skill that a lot of people tell me that I have but I kind of discounted and I don't play it up enough. And this goes back to going through the growth styles and I thought that I was bespoke, for the process, cause I'm good at processes. But really, that's kind of selling myself short, that my true being is actually leadership and it keeps coming back, like it's the third time it's come up. It keeps coming back up but I'm basically right now a leader that's not leading, because I'm scared to put myself out there. I love it. That's awesome, thank you for sharing that 'cause I think that's, I mean, I've heard that from a lot of, not a lot of people, but I've heard that from enough people that I think it's so helpful to hear that called out. That if you're a leader, you should be leading. Absolutely. And that means that you should build your organization in a way that allows you to lead and allows you to use that sense of influence and authority, and allows you to inspire people. So, that's a huge resource to realize and remember that you have.
Class Materials
6 Books That Changed the Way I Plan for My Business
Goal-Setting & Planning Workbook
Ratings and Reviews
Packed with truly helpful info and lots of actionable steps, Tara delivers an amazing amount of value in this class! I'm in the early stages of business development and what I have learned here has shifted my focus, brought me greater clarity and a list of things to consider as I plan what, when and how I will deliver an exceptional experience to my clients. I have followed Tara's work from the beginning and she continues to outdo herself time and time again...she is a powerhouse of wisdom and experience, as well as a fun and easy to follow speaker! I highly recommend this class.
Excellent class and maybe the best online class I've ever taken. It's a great combination of practical and dream big and Tara's credible and funny. I can't wait to go back, listen again and dive deeper into the assignments. I'd recommend this class to anyone who wants to grow their business!
To Tara and CreativeLIVE: Thanks for your commitment to small business owners. You offer empowering mentorship with smarts, heart, and power - I'm grateful. Tara, I've sought the matching resources for my business as I've evolved, this AMAZING course truly rang my bell. Thanks for the traction, your willingness to keep growing forward, and not settling for less!
Student Work