$200M Storytelling Formula to Build Belief and Convert More Customers
Christian McLeod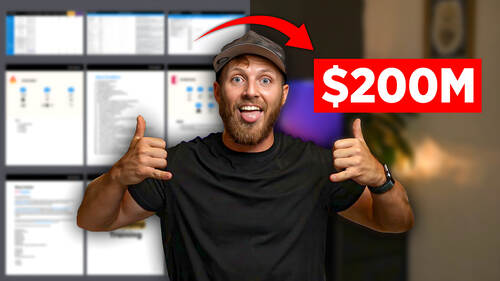 $200M Storytelling Formula to Build Belief and Convert More Customers
Christian McLeod
Class Description
AFTER THIS CLASS YOU'LL BE ABLE TO:
Dive deep into your market to understand what's in their mind. 

Craft offers that are built to be powerful.

Build belief to dial up the impact of your offers. 

Have a scientific approach to storytelling.

How to stack a bank of value to deliver to your market.
ABOUT CHRISTIAN'S CLASS:
Welcome to the cutting edge of brand growth through storytelling: a class where storytelling prowess meets strategic execution. In this transformative course, you'll discover that the heart of every memorable brand isn't just its products or services, but the stories they tell and the beliefs they inspire. These lessons are designed to destroy the myth of 'creative writing' and instead give you a strategic scientific framework to build stories that sell through overwhelming value.

We'll tackle the pain points that every brand faces: getting lost in the competitive shuffle, connecting deeply with customers, and converting interest into loyalty. You'll learn how to listen to the whispers of the market and respond with offers that don't just 'crush' but obliterate the barriers to customer engagement. With our guidance, you'll learn to build irresistible stories that align with your audience's deepest desires and needs.
This course isn't just a series of lessons; it's a blueprint to overhaul how you approach the digital marketplace. From observing and offering to sequential storytelling, we're providing actionable solutions that address the most common challenges. Whether you're struggling with customer acquisition or looking to refine your marketing message, our class is designed to foster growth, incite innovation, and pave the way for your brand's long-term success. Join us, and let's embark on this journey of transformation together.
WHO THIS CLASS IS FOR:
Most business owners struggling with converting customers

Most brand owners struggling to consistently write stories that drive emotion and make sales.

eCommerce Brand Owners and Lead Marketers looking to scale their marketing efforts.
SOFTWARE USED:  
ChatGPT

Class Materials
2_Mind_Navigator_Map.xlsx
3_Competitor_Awareness_Map.xlsx
6_Voya_Believability_Checklist_(CreativeLive).xlsx
7_Triple_Hit_Sequence.pdf
8_Email_Bootcamp_Training.pdf
8_Memory_Mapper_-_Story_Prompter.pdf
1_Bonus_materials_-_Links.txt
Ratings and Reviews
Student Work