DIY - Brick Wall Panels
Mike Hagen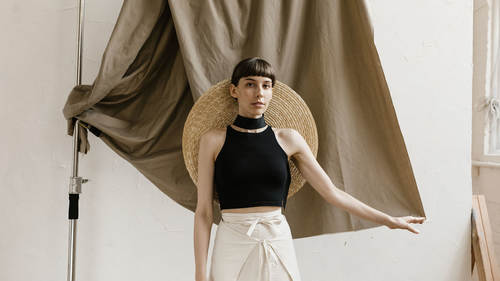 DIY - Brick Wall Panels
Mike Hagen
Lesson Info
4. DIY - Brick Wall Panels
Lesson Info
DIY - Brick Wall Panels
Let's go ahead and move to the next one. Now this one is very cool. This is a DIY project. Brick walls are awesome. I love brick walls for backdrops. The problem with brick walls is they're not very portable, right? It's hard to move a brick wall into position unless you go to the hardware store and you buy your own brick wall. (laughs) And so we're gonna pull in this brick wall here in a second and once it's in place I'll show you all what we're doing. This is called a hardboard wall panel and you can find this at the two big home product stores in the United States of America and in the shopping guide. They are there. I've got links. I've got dimensions and all of this good stuff. So most of these hardware stores actually sell two or three types of these brick walls. The traditional brick wall that we all know and love is this kind of red brick, which is great. But I also found- I was shopping for this stuff last week- they have white brick wall just like we have in this studio here.
That wall over there. We've got a white brick wall. So they have the same type of faux brick as this real white brick. And then they've got this kind of gray brick as well. So I just want to say that there's multiple options now. Like I said, we live in the golden age of backdrops. There's just so many options available for us as photographers. So I bought this stuff. This is a four foot by eight foot sheet. I think it cost me 20- I wanna say it was about 25 or 30 dollars. Not too much. You know, 25 or 30 bucks for a backdrop that's legit. It's very useful. So what are some of the upsides? It's pretty inexpensive, right? 25, 30 bucks. Great. This may or may not be an upside: you need to think studio-based. You're not gonna throw this thing in the back of your Honda and get it onto location at the city park, right? So you're gonna need a pickup truck to move this around if you wanna move it around. That said, I actually own a pickup truck and I actually have shot some of this stuff outside, and so if you've got a crew with you, you can actually get it into position and do basically brick backdrop photos anywhere in the world. Make up your own. You get this basically an urban, gritty feel. And easy urban look and then, as I said before, there's lots of similar options. You've got the white brick. You've got the kind of gray wash, white wash stuff. Lots of different options here. So let's go over here and look at what we've got and I'll explain how I set it up. And then we will take a few pictures. And Mike, we have our new model who goes by Jo. Jo! Welcome, Jo. Come on in. Everyone welcome Jo to the stage! (audience claps) Hi! All right. Multiple models today. This is great. Jo, I'm Mike. Nice to meet you. Good to meet 'cha. So I'm just gonna have you stand here and look beautiful. Okay. Cool. All right, so let me talk through this. I just wanna point out that this is a raised relief. In other words, there's an actual physical texture on this. It's not painted on or anything like that. So this is an actual three-dimensional brick. The depth here is a few millimeters deep. So, the reason I'm making that point is, is because you can actually side-light it with a background light. And we're gonna try that here. And you can get some nice texture relief on that brick to show the raised- And that adds depth to your photograph. That's one of the reasons I really like this. It is pretty flimsy. The overall thickness of this is something like a quarter inch thick, so it doesn't really stand on its own very well. So what we've done is we've put- we've clamped it down with a C-stand here in the background but also we added some foam core to the back, just to give it some rigidity. All right? It is pretty light. I can move it around on my own, but it still weighs probably 30-40 pounds. Maybe 30 pounds, something like that. It takes a little bit of effort to move around. What else? You can, if you want to, you can screw it to the wall so like if you've got a studio and you wanna just screw this stuff onto the wall, onto your regular drywall- works great. In fact, last week I did my own video production and I used a whole wall of these, five of these on a panel, and just temporarily screwed them to some two-by-fours to make my own studio set-up for a video project I was working on. All right. Are you ready? I'm ready. All right, cool. So I think what we'll do first is we'll take our first picture with just the two front lights. Okay. And then we'll pull in the backlights and we'll try to do some side-lighting to get some texture and relief. Okay. And that may require us to pull the umbrella off, we'll see. So starting out, the backlights off. Okay, go ahead and move this way a little bit. Nice. I'm gonna have you turn your shoulders like this. Cool. I'm gonna have you bring this hand up. Let's go like that. Nice. This hand about there. Cool. So, as relaxed and comfy as you feel, you know. We'll move the hands around a little bit. (clears throat) All right, yeah. And let's pull this here. (light clanks) And this here. (pole squeaks) Yeah, and these backdrops- These are four feet by eight feet so you get lots of height, which is fantastic. Actually, come forward about- Yeah, perfect. You read my mind. (laughs) Almost like we've practiced this. Okay. And these are on? Yup. Thank you. Here we go, first shot. You know what, that doesn't look very comfortable. Yes, that looks more comfortable. You knew what you were doing before we even shot. (chuckles) Move that way about- Move your feet that way about six inches, like literally walk that way towards Kenna. There we go. That was like a foot. Right there, perfect. And go ahead and turn your back shoulder towards me. Yep, nice torso twist. And then your back hand, you can leave it there. Okay, we're good. Here we go. One, two three. (camera shutter clicks) And again. One, two, three. (camera shutter clicks) Let's see what that looks like. All right. No background lights. They're off, so all of that brightness on the background is coming from light-spillage basically from that stand there. So I'm gonna move it a little bit so we don't get as much light on the background. Let's do a little more side-light there. (takes a deep breath) And you might wanna flag it to, we'll see. Okay, here we go. One, two, three. (camera shutter clicks) Nice. Hopefully our background goes a little bit darker. It did go a little bit darker. If you want the background to go even darker than that, then we move her farther away from it. So, because this is an intro class, I wanna show you how that works. So let's move the whole set this- the lights and her this way by about three feet. So go ahead and step this way. Great. I'm gonna have you turn your body the other way, 180. Well, towards me. Here, I'll show you. Go like this. Cool. Same general pose, I like it. Opposite? Let's do that, yeah. This? Hand up here. This hand, let's just go about like that. Nice long fingers. Looks good. And do a little twist like that. And then you'll look right at the camera. Okay, that's a nice looking shot. One, two, three. (camera shutter clicks) I'm gonna come in close. Here we go. (camera shutter clicks) And let's have you turn your nose a little more towards me. A little more. Right there. Down a tiny bit. And back up. Right there. Super! Here we go. (camera shutter clicks) I'm gonna shoot a horizontal picture so you get a feel for what this looks like. How much working space we've got. (camera shutter clicks) And then I'm gonna do a full-length shot, just so you can see what that's gonna look like. Again, some of those limitations. (clears throat) 85 millimeter, full length. (camera shutter clicks) Okay. (sighs) So if you want- You know, normally the brick- in most buildings the brick doesn't extend to the floor. Right? So this is okay; this is normal. So what I recommend is if you do full-length shots, make sure your floor looks good. A lot of times a concrete floor works great for this. Carpet, mmm. Not as gritty looking overall. Just make sure that the overall ambiance of the set looks like you would expect a brick wall to look like in your photograph. Let's try a little bit of backlight and let's take off an umbrella and just kinda wash the light almost parallel to that background. And while he's setting that up, we can answer a question if we have any. So I have a question about how bright the background should be. You said it should be about one-half stops over the brightness of the subject. Is that true for the white backgrounds or all backgrounds in general? Just for the white. So when you want that white to be white, like the perfect amount of white, you do about one and a half stops over the exposure for the subject, for the face of the subject. And the easiest way to check that is generally with a handheld light meter. So like if the subject was metered at F you would put that meter on the background and it would say F11 or maybe F13, somewhere in that range. And what about other backgrounds other than white? How bright do you want them to be? It's a great question. And that's all just creativity. How do you feel? Do you want it more moody, more bright? So basically the brighter the background, the more joyful your image is going to be. The darker the background, the more heavy and intense the photo's gonna be. So generally the more sinister and dramatic, I want that background darker, you know? For youth, for kids- imagine a little girl in a tutu or her ballet outfit or something like that- you want that background to be bright and happy. Good? Yup. Thanks. Cool. Whoa. (audience laughs) (Mike laughs) Don't trip on your tether. All right, are we good on that? Yep! Okay, let's do an experiment. My experiment here is to see if we get some nice texture on that background. All right, here we go. (audience murmurs something) Oh, the tether came out. I tripped on it. Thank you. The audience, the live audience, called that one. Would you check and make sure we're active on the tethering? (clicks tongue) Fire away. Okay. Here we go. (camera shutter clicks) Super. And one more. (camera shutter clicks) Now that I'm in focus. Did we come through? Yup. All right, we came through. All right, we get- Let's move that background flash in front of the wall by about six more inches. Yeah, cool. Let's try that. I was gonna say let's take off the fusion dome but for now I think that'll be good. Okay, here we go. One, two, three. (camera shutter clicks) Cool. Ah. All right. It's a little bit over- It's a little bit too bright. But you can see with a little bit of finesse and changing the brightness of that background light you can get this kind of wash across the back to show that texture. But because we've got a few more backdrops to show today I'm just move on so you get it. (chuckles) So that is your DIY brick wall backdrop.
Class Materials
Guide To Simple Backdrops - Shopping Guide
Ratings and Reviews
This class is pretty basic for the most part, but I definitely got some good ideas from it.
The thumbnail on this video is very disbelieving. The video is very basic, where the thumbnail shows sort of an advanced type of backdrop. Dissapointed.
Student Work