Hands On: Shooting a Cinematic Script Part 1
Vincent Laforet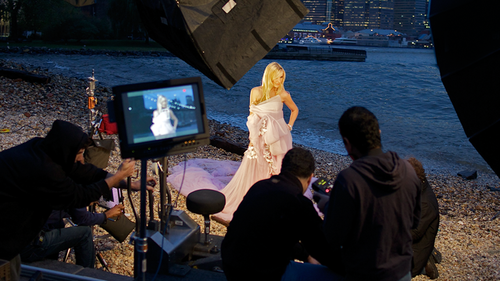 Hands On: Shooting a Cinematic Script Part 1
Vincent Laforet
Lesson Info
18. Hands On: Shooting a Cinematic Script Part 1
Lesson Info
Hands On: Shooting a Cinematic Script Part 1
and we're back. All right, so here we go off the shoot, trial by fire. Um, the first thing we're gonna do is we're gonna actually gonna talk to you about the entire scene after lunch. But here comes the reality of filmmaking, given schedules and demands on people. Um, Julianne's part never interacts record two actors. She's actually on a phone the whole time. She's exterior in a phone booth lobby of the building. Three of her lines are actually of her face and the other three or four are just coming out of the speaker. It would not make much sense to have her wait the entire day off camera to do this in a good way. For us to make sure more to the point as well is if we run into any problems on that set and we don't have enough time to get her, we have no film. So we need to make sure that we have her lines in the bag to use for the first few shots and definitely voiceover. So what we did is we're making sure shoot her first, even though she's not gonna appear till after the entire firs...
t page and 1/2 of the script point being, though, you need to as you organize your script and talk a little bit more about this in the next section. After lunch, make sure you have outs so that if we run into some strange technical issues over there, run out of time. If we don't have her part, we have no peace. So we're gonna knock her out because her piece is relatively simple. There's not much movement. She is on the phone on the script. She's in a phone booth. We weren't able to get a phone booth in here just a little bit too complicated. You'll notice that we're maximizing the fact I don't know what you can see on the creative life set that all this is back here is black do beteen. There is no set in existence, and that's OK. We're gonna We're going to embrace that and actually push out to its limit. We have a very dramatic hat on her as well as a collar jacket. Reason being, as I mentioned earlier, we want her to be incognito. If you're in the lobby of your husband's office basically telling him that you're about to blow him up. You're not very wearing a spring dress that's bright red. That's gonna track everyone's attention. You're gonna be wearing something that is hard. I mean, I have a hard time seeing her eyes right now. Unless I knew who she waas, I'd be hard, hard to have a hard time recognizing her. We have a key light here, which I will not touch. It's a kobold 400 watt. Uh um H m I, um which is obviously daylight. We have gone ahead and put some diffusion on it as well as some tungsten. There's a reason we're shooting black and white. There to one, is to add a bit more to the style I LaMarcus, if you have a quick second switch, the camera Are you guys able to see the camera live as well? Great markets. If you can switch that at some point to color just to show how radically this piece changes, you know how to go into the menu and picture style. You'll see how the black and white really helps emphasize this look. All right, so we're back here toe one key light on her very dramatic shadows just got a beautiful face. She's got very sharp features. So it flatters her Some other women this would not work well with you would avoid. In her case, she looks wonderful. We had a fill light down here, which is actually pretty gorgeous color, too. All right. Um, I'll tell you what, We're not gonna back ourselves in the corner. We're gonna shoot this part and color and be very easily able to turn into monochromatic, because I made a point of asking to make sure that she had those red lips, okay? And it's just kind of sings right now on the scene. So we're gonna start off in color, and we'll make a decision later for the other set if we want to go. So keep your options open. So just those lips just kind of sing so you can see his key light over here. I'm not gonna touch it if I hide it. That's what that's doing. And this life is filling behind her. You'll notice another light panel. Um, yes, definitely. Put the phone down. Thank you. Uh, yes. Okay. Yeah, that's fine. Um, John, do you mind turning that up or down and just go ahead and always to stay right towards here. As John dials that, uh, light panel upper down in intensity, you'll see how you start to pick up a little bit of detail of the back of her head there, very slight, and then he turns it all the way down. It goes completely black. In our case, I really don't want to pick up too much. And I really watched a little bit of a kiss. It's almost non existent. What it's really gonna end up doing, probably is being is gonna pick up the rear of the phone. So go ahead and turn it off. John, you see how that phone goes dead. If he turns it back on it in intensity. You see how it just helps create an outline of the phone? Little things like that's all about little little kisses of finesse. So that's what that light is. Therefore, um, and, um, next thing we're gonna do is we're gonna go right into having Marcus show us how to do a quick mark for the actor, and I'm gonna have you step off the set for one second. And Marcus, uh, are you miked? No. Right Let's go ahead and get a handheld mic for Marcus. Thank you very much. And I'll can You do both. Are I mean all that for you, sir. Okay, Right. Go ahead and bring it close. Well, so in any case, when you work with actors on set, generally, not always working with the actor usually have stand ins because you don't want to have the actor has been touched on yesterday. I'm staying under hot lights all day, is just a waste their time and takes him out of character sometimes. So, in an effort to help the first assistant who's pulling focus as well as the actor know, their actual action and blocking because sometimes seems could get very complicated. They have to do many different moves around a set. Um, we use marks, and there's many different ways you could make marks, but, uh, the traditional way is called a team Mark and I just destroyed mine because juggling my hands on and just a a t in tape way use paper tape. Um, if you're low on budget, you don't have fun Paper tape stores around where you're living. You can use like painter's tape from Home Depot. So basically, this is just the traditional team mark. And there's actually a convention with colors. If you want to get really technical, you usually assigned a different color to different actor. So whenever that actor walks into a set, they know exactly where they're supposed to g o based upon what color marks are on the ground. So, essentially, you're going to probably paying down with me here. I'm just going to set this. You said pan down. Yes. It's a long story. I do, I know. Yeah, as I As you tilt down to me, I'm gonna set this at my feet, which will give our actress Mark. And unfortunately, should we have her come back in because that would make more sense to give her and her actual mark. Then we finally put one down. It's right where the pc l'etape this. Right? But yes. So it's just, uh you can go ahead and do that. No, come back in. Thank you. Sure. And right over here. Is this where you like? Yes. Take 1/4 step back. I was a full stop. Let's put this difference right about there. All right? You could set out. Thank you. So check that out. Now. She could walk away. Go crafty, get whatever food she wants. Should come back. You know exactly where she needs to stand. And if she were walking into the scene, she know exactly what she needs to stop. So that the first assistant who's pulling focus has a reliable mark to know. Um, she's actually gonna hit that place so you can hear she can actually pull the focus to that correct distance and be relatively sure that she'll be involved. Yes. I'm gonna call you by your here by Nadia right now. And not if you would come right back in your character name. She's gonna know right in there to come and put the tip of her toes right on her mark immediately. She knows that it's her market. It's red. She knows the direction because of the tea. There's no confusion. There she is. The next step is going to be what we could probably do with a stand in. For the sake of efficiency. Marcus is going quickly. Walk us through. Um, how to set a focus, mark. There's a number. Ways of doing it will show you the classical way for us with tape if you're ready for that. And, um, we'll go from there. We've got 15 minutes left till we have to yell action. So I'm just spin this around to see it easier on a larger, more advanced rigs with Paula focus units to get these market disks. And basically, this just helps me do my job a lot easier. Traditionally, you're gonna measure distances. So I would measure the focus plane in this case where the sensor is in the camera to our actress, and that way I know thes lens. If they're correctly calibrated, that distance is true. So if I pull up five feet six inches on the lens and she is indeed five feet six inches from my film plane or censor plane, I know she's gonna be in focus on what I'll do. Using this market disk, I use and use grease pencils or erase herbal markers. I like to use traceable markers. Um, if she were five feet six inches from the camera are from the film plane, I would pull that toe five feet six inches and they give you a little hash up here on I just make a little mark for that. And if this were, for instance for landing Mark like this was her second mark, you could do anything that makes sense to you. But I just use numbers. So I would say this was hurt her to Mark. And then we would have a go back to her her first marker entrance mark and say, that was you know, like it's a seven feet away. I wouldn't make another hashtag and put one. And so basically, I can reliably know when we're doing the move. If the actor actress hits her mark correctly, I could just basically pull between these two marks and know that I'm gonna be hitting that person and focus every time. Okay? And this is a great technique for five the users because, as you know, when you go ahead and shoot live with five D, the signal drops down to standard definition. It is very difficult to pull focus off the monitor to really start to rely on these sort of techniques, whereas when you work on the 70 or one day mark for that up, put 7 20 you don't have to go to these extremes you most often judge off the monitor if you're a narrow that the field, as we discussed yesterday for deaf ate it gets really hard to tell if you're tack sharp or close. Um, let's go ahead and actually do this in reality really quickly. I'm gonna go ahead and point the camera back towards Nadia. I'm gonna go ahead and have Marcus actually making measurement with this tape. This is the old school way. You'll see that it's very common to see on film sets. The first A C always has a piece of tape. Take this. All right. So he's gonna go ahead and hold the tip of the tape close to the eye as possible without obviously hurting her. Uh and so I see that this is six feet one inches distant and so you can let go this I'm just gonna pull the lens to approximately six feet one inch and I'm gonna make a mark in black so that I can differentiate between these earlier test marks. And as you can clearly see on the monitor, she's tack sharp without having to using the other tools. That's because lens is correctly calibrated and you can see how you could therefore work directly off of Onley, take measurements and actually shoot a dramatic scene or commercial or whatever. And that's why we talk about using the's Zeiss lenses, their cinema lenses that are marked for film. Gail Tattersall earlier said that he loves using all cannon and purest, and I actually believe in what he's saying about democratizing film, about making about making it accessible. That being said, when I'm under pressure or have a big job, I won't have lenses remark correctly and a good thrown focus. So I use the CPI twos S O. That was version number one if you did not have a CP two and you had any leads in the world, we do have a second option, which is to go ahead and use the old live you magnification where you punch in 10 times. Find the dial and you can clearly see if I go down into the left. It's kind of like playing video games. Sometimes punching out once helps they're or tilting. The camera never hurts. And there you go. You can see that as he focuses, he will probably find the markets were relatively close to where iwas is it dead on? So there you go. So it all works. Okay, So if you don't have a follow focusing in hell or you have a cannon e f glass or Zeiss or whatever old lens you found to adapt, you can still do that with that technique. Um, in what way? Said our focus. Mark. Ready to go. First question of the students. We have about 25 minutes, 20 minutes left till we're done with this segment. Celeste, how much I can pack into here. Great. Who need 15 minutes of shoot it? So you got 10 more minutes. Try and teach you a few things. One is depth of field on this shot. Do I want to shoot us at F two or F 16? Two? Why? There you go. There's no background. There's really very little advantage to shooting shot at the field here. The only thing you're gonna do is your country's unnecessary risk, so that if she shifts a little bit, she really gets into it. If you would have to. The chance of you going out of focus is pretty strong. The only leader get enough to is if you for some reason, wanted anything to go out of focus or caller. And quite frankly, I want to hold those elements because it's part of the whole thing. So I think it would be a mistake to go ahead and try to show that field here. I think we're £56.568 split 56 I split, which is between 5 6.5 8 for the non film oriented people who has been around for the three days, and that's plenty of that. The field were on 85. Is that correct? 85 which is close to 130 millimeter on 70 or so. And that would mean if I pulled out my, uh, my P cam and look at hyper focal. My guess is that FAA were probably focus up to about the line up to get second see here and not let here. That's so that's about a foot. Got about a foot of that field, which is more enough for her to play around with because it doesn't have to do a lot of sideways motion. It's very hard to tell an actor don't move, OK, but what you can say is, if you want to move rock forward or back, whatever you do, don't come closer or further from the camera. They totally get that. You know, once they've been in the biz, they understand it. That's a focusing thing. So we've got that set up. Let's talk lens choice. Daniel and Marcus, can you go ahead? We're going to stick with this lens. We're not gonna mess around with guns right now. We're gonna talk about framing, pick up that camera and walk back four feet. Okay, Let's go ahead and focus that real quick. All right? So that could be a potential framing that we could have chosen. Um, we'll talk a little bit like lens selection and camera positioning. Of course, we can position the camera there, ensure the longer lens that really just only compress her face a little bit more maker focusing a little more different. I really don't want to talk about that part of it. I want talk about framing. What does this make you feel versus the frame we had before? She's further further along froth short? Sure. I mean, when I see this frame personally, I see emptiness and I wonder why. Where is everything around her? Okay, also, she's less powerful. The more she fills the frame, the more powerful she is. When you guys all agree to that, Okay, let's bring the camera back. And this time, let's bring a little too close. Exactly the whole point being that if you get close enough, sometimes you go for all the trouble of actually getting a phone booth and then you realized that I really need it. So this is entire different, different shot We should probably jumped to next. This is what I would call more of a macro shot. The problem with this shows you have very little frame of reference on. If that were the only shot you were going with, you're going with a much more kind of artistic style. What's also about this is that her lips just really pop, so we'll decide if we shoot the second version of her performance on your shoot. A few takes of her with the initial angle we were working with, and then we'll shoot a few takes a for of just her lips just kind of had that extra dramatic element to cut. We're gonna give her editor some coverage, a few pieces to pick from. So if he wants to go from one line delivery and the 2nd 1 he wants to just cut into her lips for dramatic effect or to give variety. We're going to give that editor something that work with. If you only give him one angle, could get boring. And in this case, it probably won't. Uh, But I also want to show you Waas, Let's go ahead and bring the tripod down. But sorry back to our original position. The mistake we made is we never really marked our original camera position, which we'll talk about in blocking next. It's fairly easy for markets to find if you giving your piece of tape measure and I could just goes, what, five point 61? But the six feet one inches from her, we'll find the original composition way. Just need to come in two inches. Okay, Okay, good. There we go. Easy way to kind of reverse engineer Our focus. Mark. Let's go ahead and lower this camera about one full foot. Go and reframe that shot. Do you notice any difference? It's subtle. Grand till trad a little bit more. Here we go. Let's go ahead and bring it down. One more foot. Okay. In terms of psychology, what does? Lowering the camera relative to her do makes her look like she's taller. Okay, so if you're level with your subject, uh, psychologically, you're level with them. If you're below your subject there, towering over you, it's a little harder to appreciate here because we're on a black background. I can definitely feel it. I don't know about you guys, but when were lower and shooting up at her bit, it's going to be something that's going to convey a little more power. So said having her hand Ah, lower. When she has her the phone up to her here it's actually be more prominent, and you're gonna feel that your lower So that's kind of our first taste of psychology. In terms of not only lend selection, but also position of the camera, the camera is not going to move in this. I'm gonna want to be locked off. I'm gonna give Daniel the rain to make some adjustments if she started toe, move around a little bit and makes a small little adjustments keeper in frame, but the angle of the camera relative of subject is very important. All right? Yes. What are we going for this not knowing the script. What what is the script is She's calling in to tell her husband the moan right here that she has put a bomb in his office and they have three minutes. Teoh figure something out. It's actually more complex than that, but she's basically calling him. Tell him that he's gonna die because he's been unfaithful. Powerful person, pretty threatening, domineering personality, all right, not forgiving. You're going to see that, obviously, is someone who is going to think of not only putting. It's one thing to put a bomb in your husband's office and blow him up with his fiancee. It's nothing that call them up and tell them it's going to happen. There's nothingto lock them in their office. They can get out that kind of. That's what we call premeditated murder to like the ends degree. It's another thing yet to put two boxes in there and haven't tried to pick which ones, right? Okay, this is someone is incredibly calculating, incredibly cold, not emotional. She's not in the slightest last minute she's been waiting to do this. And this is it. And I think the fact you have a camera lower on her is really gonna help you communicate that. So technically, we're set. What I'm gonna do right now is finessed the lighting. We're gonna get ready and quiet the crew under. Let Daniel take control that camera little bit. He's going to go ahead with the O'Connor head and Marcus and set the right amount of friction he feels is good so he can follow her easily. But it can won't fall on him. You want a relatively smooth and effortless Ideally wanted to controlling that camera of two fingers on the stick. That's how smooth it should be. All right, we're going to set a definite mark for her markets, just for our sake. And I go ahead and get some tape look exactly at, because if I just said, Look around here, this is the worst thing you could, Even an actress. I look over there like where and what does that mean? Whereas you just hold your fist out and say this is exactly where I want you to look. But the moment you leave that fist is not there anymore. So we're gonna go ahead and put a mark on the wall for reference on. Let me go ahead and play with that. It's a little bit. Just go ahead and not with your eyes, but with your whole face. Just kind of model light around. You see what happens. That's grand. Grabbed the phone as well. If you would put it up to year, could see what's very interesting for me. I don't do exercises like this where I'm staring at a monitor. Um, see, that's too low, right? We've lost her eyes and right there catch, Glimpse, go too high. It's too much. I want to write at that little finesse angle right here. Some are markets. Would you kindly put a next right there for her? Thank you. So she's got her mark to stick on. The last thing we're gonna do with John is we're gonna finesse that lighting. John, would you mind going back to that light panel back there and let's see if we can catch a little bit of an edge just over here and on the back of the phone? Here's full par. I'm I think we want to move it to the right a little bit. So it what you call it? Kind of exactly. So that's that's too much. Let's bring it. Let's split the difference. So a great way to quickly say it somewhere in the middle. It's split the difference. Very clear screens for the difference in terms of distance. Okay, we're catching. Just a glint. Let's bring it down a little bit to see if you can catch the light on the bottom edge of the phone. Can that we're shooting Holiday one of black. Um, we can't. We don't. We're Good way. Don't have time to change phones right now, but last thing I'm gonna do is I'm gonna play with this fill light. Now, normally, this would be something a gaffer and DP would be doing, obviously. And if you don't mind not standing right there so I can see for one second, you know, find is that I'm starting the kind of person, sir. So you see how that what this fill light is doing? The question is how much filled we want to give her. All right. You see how it's filling in her face? Just a little bit. I'd say that's about a good little spot right there. You barely would know it's there. All right. We're pretty much ready to rock n roll. Uh, what I'm gonna ask is there you are you all set to last minute? Yeah, sure. Uh, if we could bring the makeup right in here to me, and you look pretty perfect, so I don't think we need it. I think we're perfect. Uh, we'll give you a chance. Maybe on the second roll. See if you touch ups, you'll notice that she is facing a wall. There's no actor right here. Dimon is not here. The reason I haven't put Dimon right here or a script supervisor. I don't want her to make any eye contact with anyone. She's in a phone booth. Okay, I would like her to be able to interact with them in terms of script for the parts that they do have dialogue. Otherwise, the pacing is going be very difficult or more difficult for her, because she you know, she has to guess how long it could take him to deliver their lines. They're gonna develop a rhythm here. It's very important, understand? One key factor. Once we've shot this scene, that rhythms locked forever. We go into the next scene, so let's make sure this looks good. We've got 10 minutes. Dimon, are you? Do you mind if he's behind you? Do you want him right back here? What? Was your preference back? Here's Yeah. Okay. Never get ready. Sorry ass, boys. It's OK. You go ahead and take a quick time. Yeah, We could hear you in here. Okay. All right, let's get ready to roll. Is everyone all framed up? Ready to go? So why are you ready with no ocean? Yeah. Uh, what I would what I would reference is I'm sure you've broken up with someone and that at some point it gets There's the emotional break up. And there's a point. Where would you try to hold it? Hold it together so long? But now it's It's cold. It's a matter of fact. It's almost personal. Procedural. You've seen us coming. You had your chance. Okay. All right. So we're gonna saw sticks. Go ahead. Have the framing on a just a little bit. Catch that. Okay. Double check. Sharpness. No. Okay. Um um All right, everyone, quiet. on set. Um, do you wanna go in ahead? And, uh, yes. No worries. Okay. Do you want to run lines? You guys go ahead and run lines. Yes. Also, it's a bad time. I know. Good. It's going to get going to get a BR photo. Why isn't way added in post? This is not a good. Why's it at in both eyes? Tramp run eyes. Why isn't it? Are you shooting this? If I were doing this professionally, I would 100% do this in post my worry, given the time constraints that we have in this live work shop was mixing different color temperatures. Okay, so we decided to shoot in black or white. Um, this scene I can't treat black white because that phone color is so awesome as well as her lips. I'm gonna kill myself. I don't have the option. This next one will making a decision right then and there. Okay. Because of how rushed thats process has been turns all the moving pieces in the amount of stuff we're doing. I've yet to see the actors in their wardrobe on set. So normally, that's what you would do. We talked about in the first day. Camera tests and more drug test way before you go, we got to go. Awesome. All right. So are you gonna first ideas You're gonna call everything? Sure. OK, so you're gonna go, you know, quite old, Quite onset will sound. And they say, you know, speak sound speed, and then you can say roll camera, camera speed, and you're gonna go ahead and do the sticks, and I will call and action. Okay? It's extremely important that everyone stay absolutely still no noises. If you think you can make that move, and you're gonna get away with it. Don't just stay still. Allow Nadia to do her job. Um, and here we go. Quiet on set, please. Roll sound. Full camera throwing. So stick on market one on one. And action. Yes. This is about time. I know, and it's going to get a little worse. In fact, it's going to get a whole lot worse. It's her. This is not a good time. You and that tramp have run out of time. She's with you. I know. I'm here by myself. You're not. She's there with you. I am in the lobby and your office door is locked. I fixed it. Go ahead and check it out if you like Taylor on Why at what do you put me on speaker? Keep going. I said so. Okay. I thought Sorry. So I thought that we were wear on camera lines. Way didn't get a chest talk. Okay, um, we're still rolling. Cut. Go ahead. Perfect was fantastic. I just figured I get the added benefit of being able to come back to you if we just little things that Okay. Okay. Yeah. I want to make sure we just want to these first and just keep doing a few of these. Yeah, Voice over. Nothing problem. A little separate. Yeah. So, normally, what we ran into here is she expected what would normally happen on a real set, which is that she only has three on camera lines, and she probably do voiceover for the three speakerphone or four speakers phone lines. We don't have that luxury today because we're not gonna have her to do voiceover trying to recreate this environment. So I'm just gonna ask her, like, right on set. If you'd rather just do these these three lines a few times and that's it. And then we'll run over your voice over line separately, continue on the person of the other ones. But I would. I mean, I wouldn't mind at all if I took just a couple minutes to get into where I'm flowing. Teoh. Okay, that's totally fine with going and then you'll have the voice and of course, yeah, or we can run for these three lines a few times. So we're happy with them. If that's yeah, because you were great. I liked every little detail just to kind of give feedback. I would I recommend, as a director that you don't watch the actor because that's not what the audience is seeing. They're seeing what you're seeing on screen. So I was glued to the screen. Ideally, I would have headphones so I can hear what the sound engineers are hearing. The actual levels are right, and I am allowing myself to get entranced. And I got entranced in their surfing little goose bombs. I like a little detail she makes, uh, she she made, um I have so many things going on my right now. It's hard to do this. Normally, I would make notes to go ahead and bring back to her to say I love this little touch that you did and then try to the next 13 camera kind of start toe fear a little bit off where she started to be off. Ah, little too far on the wrong side of things. So I had to kind of make an adjustment. Let's go ahead and do a second take if you're ready for that same three lines and then we'll worry about the voiceover lines after. No. And the only feedback I would have for you is I actually liked how you naturally, we're looking around a little bit, uh, and you always come back to your spot. So catch your eyes. I would just perhaps air mawr towards staying there because I want to have your face and your eyes on camera as often as possible. Okay, here we go. Will sound. Well, Cameron, Marker 101 take to self sticks. Everyone settle and quick. Quick discussion. I'm sorry to interrupt. You know, your professional gonna kind of help them If you can look back in your starting position, Uh, you need to make sure as a camera operator that there is what's called headspace. You have all this dead space behind her head. Uh, this is better than that. Somewhere in between is probably closer to perfect. Okay. And, um, that's all One extra drifting that way. Alright, So back to quiet on set. We are rolling. Are you ready? How's that? And when you're ready? Action? Yes. This is a bad time. I know, and I'm afraid it's going to get a little worse. I thought it's going to get a whole lot worse. It's her. This is not a good time. But you in that little tramp of run out of time. She's there. I know. I'm here by myself. You're not. She's with you. I'm in the lobby and your office doors locked. I fixed it. Go ahead and check it. If you don't believe me, Taylor. And while you're at it, why don't you put me on speaker? Excellent. That was fantastic. You saw how she's now developing and getting into it. She had a little more intonation. A little bit of a different, you know, more emotional, little more attitude in it. That was great. You need to keep to make sure that as she moves, you always keep her relatively position in terms of panting after, Right I At this point, we just say, OK, let's run through it again because in terms of notes, I thought that was a a better performance because the first was great. It was better or in the right direction. Um, you've got the right amount of coal delivery and you've also got a little of the attitude behind it. A little bit of the anger. Um, and it's a perfect balance. So I think you're knocking it out of the ballpark. The only thing I did notice if makeup is around, there's a little something on her face if you look back towards your mark. Uh, but I was not yet, but she got one loose hair of that fuel. Permit me to brake, Kit. There we go. We're ready to go. So that little here on a 50 foot screen, he would notice lease. That's what I was staring at. All right, everyone, back. Quiet on set roll sound. Roll camera, marker 101 Take three soft sticks and action. Yes, this is a bad time. I know, and it's going to get a little worse intact. It's going to get a whole lot worse. It's her. This is not a good time. But you and that little tramp have run out of time. She's with you. I know. I'm here by myself. You're not. She's there with you. I'm in the lobby and your office door is locked. I fixed it. You can go ahead and check if you want Tyler and water at it. What do you put me on Speaker? Go and check. If you don't believe me, is the line actually, the only two notes. I would give you that. That was great, Taylor. Not Tyler. Well, there you go. That's what description rather will be doing is making sure, like, actually reading through the script so that I don't reading for the script. I could just be entranced on the for mistress. I waas uh, what the only change I would I would suggest or different try would be. When you say you're not, you're more like you're not as in you're lying to me again and more like you're not. You know you're not. And, uh, except the next line is she's with you. And when you're telling the doors locked. That's when you're kind of like. And by the way, no doors locked that part. I like this month. Like your Sears. Your your fate is sealed or not. You have a little bit of now. It is an authority. Your authoritatively telling him that you're taking a little pleasure in that clinic. Coldhearted. Okay, we're sick. Pleasure. Okay, here we go. Why don't time but roll sound Roll camera rolling. Marker 101 Take four soft sticks and action. Yes. This is a bad time. I know. And it's going to get worse. Is going to get a whole lot worse. It's her. This is not a good time. You know, Little tramp have run out of time. She's there. I know. I'm here by myself. You're not. She's with you. I'm in the lobby and your office door is locked. I fixed it. Go ahead and check it out if you don't believe me. Taylor. Oh, and while you're at it, why do you put me on speakerphone? I think I was perfect to me. That, like the perfect perfect balance. So in interest of time, we're not gonna switch lenses. Women's work for the exact same Siris of lines with the camera closer and do that kind of macro lip shot. Okay, let's go ahead and quickly reset camera. I found that was the absolute perfect balance. And don't forget that through all this, we're gonna be cutting back and forth to the other scene so we can go ahead and pick. You know, if we like the delivery of one line earlier and the later lines better, we can kind of mix and match just the beautiful, because we haven't changed our camera composition. We haven't changed anything on. We have three takes, one of which you messed up his name and even notice it so that one won't use that part of it. But we can use the whole front ender tail end of it. So you've got lots of options when you when you do it like this. All right, let's go ahead and reset. If you quit on your mark, Checked Continuity. Who checks? Continuity. This is that This is your operating. You've done too much already. Thes script supervisor is taking all these notes that I said I like take three the best and I make might make a comment that I like the earlier part of take one slightly better. But I loved the 2nd 2/3 of the third take. All right. Pushing more? Yeah, go ahead. I'm not even looking at. We didn't go even more. Yeah, So we're gonna go over a rule that we call the 30% rule. If you change the size or angle of a shot and cut less than 30% I think you're gonna be a focus minimum. Has to pull back a little bit. If you're less than 30% it's gonna be jarring in the edit. So make sure that whatever move you make in camera in terms of lensing or distance is 30% or greater otherwise just doesn't feel right. We're getting that second part right here. I think that's a great angle right there. Uh, and just check focus. Don't be afraid, Teoh. Tilt down at certain periods and going back out, and just there is tough fighting me. Here we go. Just stay on her lips and the phone and then come back up to rise yet. So this is where as a camera operator, you're gonna put yourself into it and go with the flow. OK, I think this is a place where we would actually, uh, either use a small slate or do other things were running over time. So we're not going toe over exact, perfect decorum. We're gonna make it fit. So I'm gonna let markets do this one for that reason. If that's cool, just kind of figure that one out just to operate. You spend it. I'm gonna operate in the interest of time. I'm gonna jump in here and operate. You've got your focus, Mark. Right? Okay. Go. Roll camera, please. It'll sound as well. Yeah, but events is your body. Yes. OK, I can't really see this. Okay, cool. What? No one else will take one marker. Okay. Quiet on set and action. Yes. This is a bad time. I know, and I'm afraid it's going to get a little worse. In fact, it's going to get a whole lot worse. It's her. This is not a good time. You and that little tramp have run out of time. She's there. I know. I'm here by myself. You're not. She's with you. I'm in the lobby and your office door is locked I fixed it. You can go ahead and check if you don't believe me, Taylor. And later at it. Why don't you put me on speaker and no cuts Keep rolling its role for it again. Real quick. Second take ready. Were you buzzing a little bit? Okay, okay. And action. Yes. This is a bad time. I know, and I'm afraid it's going to get a little worse. In fact, it's It's good to get a whole lot worse. It's her. This is not a good time. You in that little tramp have run out of time. She's there. I know. I'm here by myself. You're not. She's with you. I'm in the lobby and your office door is locked. I fixed it. Go ahead and check if you want. Tyler, why read it? What did you put me on? Speaker and caught Tyler Taylor, Whoever you are. So the beauty of that when she says Tyler on the close up, uh, we can use the audio from the wide shot you will not be able tell based on lips. Whether she's saying Taylor Tyler so as a director freak out and go do it again. You know, we definitely have it. So what we'd like to do is give you were a little bit over schedule. The only thing we need to do is to record the other lines that you have coming up. I would like to give you a little bit of time to get ready for that. Um, I'm gonna go ahead and record them on camera. If it's flying with U s. It has more pressure. We have it. And I want you to be quiet. Give us some time. We're gonna reset original position. Let's go for that. Yes. Um no way. It is the third of the don't give you learn on the go pro GoPro HD helmet heroes and skeleton housing, which is awesome. Those about 300 bucks the winner and the winner is a Nick May Har. And the quote today was Live your dream Grab it with both hands and make beautiful movies. So thanks, Nick Mahar. Congratulations. We just want to make an announcement as well. The documentary watched this morning with the artist is available for everyone on the course page free of charge and the shooting schedule And the storyboards are available to those who purchased the course. So check out that film is already posted on, and we'll throw the Lincoln again for you guys. You know where, where to find that. Very cool. Tell your friends. Yeah, Thank you very much. This is awesome. Back. Go back on camera if you want me to. Yeah, I could do. I could be a few things, but let me just explain that the next steps that when she comes back, we just go right ahead and roll. The thing I would do is I would have someone stand in her position right now. I'd frame the shot us double check focus a little when she walks in. Boom, Off we go. No interruption, no waiting. Let her do her thing. Um, this next part is pure gravy in terms of the visual. All right, so we're really I could spend too much time doing nothing fancy. The's next line that she's about to the deliver are meant to be coming off of a speakerphone on a professional set. You wouldn't waste the cruise time, her time, all these first time shooting those here because it's just too expensive. You'd have to you never go in a separate session where she would go and record this in the recording booth. The issue with that, of course, is for our purposes. Trying to master echo this room perfectly the way she's wearing her clothes, white noise that they may make, let alone her tone and her mood. It's gonna take hours to run through a few lines. You'd be surprised how hard it is to match. So if you're working on a smaller production, which I think the majority of people will be, just go ahead and run for the lines here. If you don't want to run the camera, you don't have to. I would say the lights air here. She's in full wardrobe, Everything set. If you shoot it with video, we just have an extra piece. And you might say, You know what? Those cuts to that speaker phone or a week let's cut back to her and keep her in there just because the script says that they're starting speakerphone doesn't mean and I have to be locked into that. It costs me nothing to do this. So I'm gonna wait for her to be ready on until she's ready. When she is ready. What I'd like to do is we're all 100% set is gonna walk in. We're gonna quiet on set and had her role for her lines a few times and just no interruption. Quick, fast and efficient. Susan? Yes? Can we just talk about how the audio was set up for the scene? Does she have a lab, mike? And then a boom overhead? That's from tea party top pot. Ahlberg. I know we definitely have a boom. Did we set up a lab? We did not so normally would have a live on her hidden in her clothing. But in this case, it's a relatively well controlled environment. So we do have a boom. Uh, I'm a big believer in I was having at least two audio sources is back up a swell, But we do have engineers monitoring levels, and hopefully everything goes well. But I'm a big guy in terms redundancy. So I would have to Mike's or lab and mike to be safe because you never know if there's a bad cable or something. All right, we're gonna go quiet. Gonna go right ahead and let her get, uh, back in position. Yes, Yes. Okay. Does she know that? Okay, well, I don't that you were going Just going from the top. It's your choice. 100% trust. We have the first part down. If you feel like it helps you to go all the way through, I'll take it if you want just to, uh, speaker phone lines from here on out. I will take that to Okay, Well, if you feel like you got which I do think we do. OK, OK. And Celeste is You guys know is here to read lines off to her. All right. Quiet on set roll sound. Roll camera. Take 101 Bravo. Excuse me. Marker 101 Bravo. Take one. Self sticks, everyone settle and action. Look in the box. Frankie, what do you see? I know you're there, and I know you can see two packages. One of them is a bomb set to go off in three minutes. The other one is a bomb set to go off. If anyone tries to open the package, just forget about the door. Taylor. It's the bombs. It's the clock. I gave you plenty of chances to get our marriage right. And you've got one chance to do this line. Look, I gave you plenty of time. I gave you plenty of chances to get on marriage. Right. And you've got one shot at this. The clock is ticking. Taylor, whatever. Clocks to Noah days. Okay. Cut. Perfect. I'm just do one slight modification. Um, when he on your line multicast when he goes to the door on your busy telling. No. Forget the forest with Forget the door, Taylor. Um, yes. Forget I know what he's Yeah. Taylor, I don't need a web cam to see what get poor. Pathetic. Pathetic. Okay, that's really the only know what I have. Okay. Okay. I gave you plenty of chances to save our marriage. Give you lots of chances to keep my marriage going to have one chance to get this. Give him lots of chances to keep our marriage going. You don't want you. You've got one chest. Get this right. Quiet on set. And if you need, If you're off on this one given that we're not going to be re shootings from other angles, you should feel free to go a little bit off script. Okay? Okay. Quiet on set roll sound. Roll camera, Marker 101 Bravo. Take to solve sticks. Everyone settle and action! Look in the box. Frankie, What do you see? I know you're there, and I know you can see two packages. One of them is a bone set to go off in three minutes. The other is a bomb set to go off if anyone tries to open the package. Let's forget the door, Taylor clock. It's the clocks. It's the bombs. Look, I gave you plenty of chances to save our marriage. You've got one chance to get this right, huh? Clock is ticking. Whatever. Clocks to Noah days. It's fine. Now, that's one record. Right again. Forget the door and get a pause. Taylor, you get the door. Taylor, forget to do it. I love the way you're saying bombed a little extra thing. You're doing great. All right, rolling when we're just doing sound. Anyways, whenever you're ready there, one settled down and action Look in the box. Frankie, what do you see? I know you were there, and I know you can see two packages. One of them safe bomb set to go off in three minutes. The other one is a bomb set to go off. If anyone tries to open the package, it's Forget the door, Taylor. It's about the bombs. It's about the clocks. I gave you plenty of chances to save our marriage. You've got one chance to get this right. The clock is ticking. Whatever clocks do nowadays cut congratulations. Normally, I would release her. We would all clap, but an interest of time. We're gonna roll some room tone for 30 seconds. Everyone, please stay still. Clear. Old room tone. Rolling a 7 47 would not be landing in 1915 they're talking about is impeccable. Timing normally would just let it go because we might be able to use that. You know something, but not a 7 40 Yeah. Here we go again. Another 15 seconds. Maybe more than that. Let's go ahead and wrap Nadia for the day. Thank you very much. I think what you're able to witness to is why your car? Fresh factors. She came in. We did not have discussion that lasted longer than 45 seconds. If you even reached that and I did that for a variety of availability. Be honest. You know she's busy on two. She's quite experienced. And I knew that she would be good Example that even if you don't have that luxury with a professional actor, come in quick, quickly. Check a few little things. And she just nailed it on her first try. We ran a 2nd 1 and 1/3. When we were done, we did a detail, and off she goes. And that's when productions run. Well, congratulations. And your directors actor. Thank you. Thank you for that trait. Appreciate it. All right. Thank you so much.
Ratings and Reviews
Great Workshop.. Totally worth it, for the sheer amount of Information and seeing everyone work together, seeing the master himself at work and breaking down each and every aspect of film-making while shooting, so people like me can learn the Magic of film-making. Loved every part of all 3 sessions.. Awesome CreativeLive ... Awesome Vincent Laforet.. Awesome stuff, to everyone involved, including the ladies asking "interweb" questions and the creative live camera crew.. Also, when and where can we see the final product shot on Session / Day 3... "Choice"..?? Thank you..
This is, without a question, the best education model I've experienced. The small snippets of details, the interaction, the experience, was indescribable. I don't know how to thank you enough....especially after winning a prize! [Hugs]
Hi guys, great series, nice educational tool, especially when you in remote places. Just wondering where is session 2, since i paid for all, cant find it. anything on that? Cheers bvkfilms@gmail.com
Student Work