Shooting the B-roll
Vincent Laforet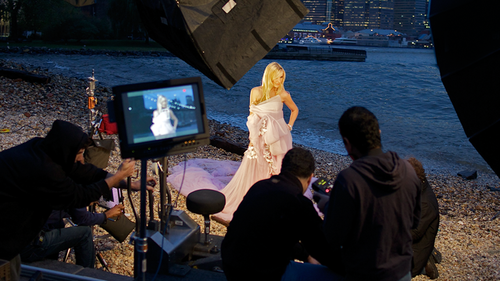 Shooting the B-roll
Vincent Laforet
Lesson Info
10. Shooting the B-roll
Lesson Info
Shooting the B-roll
are they treating already? I must go ahead and check out what they're doing, and then we'll come back. Yes. Good. So no one seeing what they're shooting? Okay. Is anyone seeing a live feed of what? They're shooting everything. They shoot me to see a life eat otherwise. All right. So I'm gonna put a kibosh on this right now and hold everything until we can make sure that everything that a camera shooting at all times is being seen by the audience. Otherwise, we're all living in our little black holes. You let me know when you're ready to start shooting. All right? So go back on the song. Now move a little closer in. So when he walked out of the frame, he gave you a natural outpoint. So as soon as he walked out, you go right back down to the action, get a little closer, changed you shot up a little bit. You give the editor of cutting point go back on his hands. You feel free to move in right now. Remember, you can cut in this movie. You don't have to be a smooth move, even just repositio...
n Bill, Quick, Just stand up close on end and get back up. You OK? What I'm talking about, John, is you could be shooting get up and reset, and the editor will just cut it. Cut that reset. OK, one more shot come down. John. What I would worry about for you is I'd worry less about doing a sequence from his tan and down in there and grab pieces and wait for national moments. A certain point, this piece is gonna fall down. Right? So why don't you just frame that perfectly, wait for it to fall down, go any second, get ready. Too late. All right. So here's the big key. Whenever you're shoot is a photographer as a videographer, you kind of figure out what the action is gonna be. And, um, you know, you were doing trying, like, tell the whole story, you know, go from his face, his hands back up, his hands, their slow down, let things happen. So in this case, let that you know, you now know it's gonna take about what a good stay. 45 seconds. Six seconds for one piece of metal cut. So maybe it's the 1st 15 seconds you focus on its on its face or on his hands, gets ready, and you let them come out of frame, and then you reset for the wider shot. And then towards the end, you're gonna be ready for that piece of metal. Come falling right off. You're gonna kind of pre do that pre planning on your head, because all we're gonna be using a little snippets of each. All right. And the whole idea of a continuous take is not necessary. Okay, Let's go to another piece of metal. Let's redo that hand. It makes little Justin's move in. Do it again. Cool. Now it's a good time to come down with him looking at his face, getting closer right now. Set up for the last stop over. Got it. Was it good at the end lately? Both sadly, Bubs. Okay. I think we can live with that. All right, But you sell the different approach is just that you just segmented in your mind, understand that you don't have to do one continuous flow piece. That's the beauty of it. Of editing. Make sure that every shot, though that you had was beautiful. Next question is how many more species you're gonna do for you. Well, I've been a few pre cut. You need to know. Okay. Cool. Are you guys all good with this? Right. Awesome. So why don't you get them set up on that? So I'm gonna come back and talk to the camera. Do you mind getting right between the two of them so I could talk at them and at you? What's that? What? Yes. Yeah. Okay. All right. Yeah, I just I can't make eye contact. And I feel like I'm staring at them and out the camera, so I'd rather have you in the background and be able to make eye contact. You can stare at us. I can get in there. Okay. All right. Put a chair down here. Ready for questions? Yeah. Okay. They are writing next. Okay. When? When you guys were ready. Noise. Okay. What? Sorry today on that Two minutes. OK, I got two minutes of questions, okay? Apple idiot wanted to know. How do you deal with pan gender when shooting at 24 p can dinner? Well, uh, it means the speed of the pan. Every camera has a certain speed at, which is gonna, you know, you're panting too fast, given the projects on a 50 foot screen on there's actually tables for that, uh, that actually mathematically tell you with what lens and what screen size you have, how fast you can pan the easiest. Some rule of thumb is as you're looking at the monitor, if you can't follow the image and it looks jittery, you're moving too fast. Pretty easy. Real thumb, right? Um, and also, if you're following a subject's moving with the pan, it's going to lot easier. Yeah, the W T. V asked and reset in the shots. Do you not want to pause the recording? You can. You can stop, start, start, stop with these cameras because they don't have a very easily accessible start. Stop button. You end up just letting role. And that's one of the problems with, um, you know, they're not a camcorder. You with somebody. What I was trying to get these guys to do is they were. They were very intense, being a lot of time on trying to stay with the subject for the entire motion, and that's not what we're doing here. We're trying to pick a little pieces that we're gonna edit together because we know we've got quite a variety of devices we've got, you know, interview to cut back from. So I was trying to get them to think more like a still photographer would, uh, and just make sure you have this shot that shot that shot and wait for natural transitions that happened. So when he stood up was when he walked out of the frame that was your out. You should be immediately set for the next shot. And you also to be You know, this entire job is about anticipation. You know that that piece of mail is gonna break off at some point and fall down. If you're not thinking about that, you're not in the game. So realize you know what the whole process is. Asked the artist what's gonna happen? Haven't explained to you. At the end of it, the piece of metal falls down and you're ready for it. If I had thought it out myself, I would have put the camera underneath so that piece metal have fallen right on through my lens. It's just, you know, we're not I know that I want a piece of metal falling on my lens right now without a piece of plexiglass between. Yeah, okay, as the director is from my K as the director, do you view all of the B roll or trust that the editor picked the best shots? Do I? Do you trust that the editor picked the best shots or do you view all the B roll? I want to see every single shot, but truth is most the time. You don't have that luxury because you may go on another job in the editing in a different city. So that's why you have a script supervisor and you make notes on set. That's pretty much live as you go through. I like this one, this one, this one don't use that one. Don't use that the very least. Hopefully, they'll follow your instruction on. And if not, you can correct them later. I just want to say it's cool that when people who are watching and get their question answered and they're like Thanks, Vince problem a little smoother of Let's see, uh, in had asked, Would a fully sound engineer be important on these shots, for example, to get the sound of the metal work would it full? A fully sound engineer. Well, we have a live sound engineer effectively who's monitoring levels? If you don't have that, you're going to fully sound in here. Some one gently does it after the fact. So, yeah, if you have that luxury, it's awesome. But keep in mind that, you know, we're in a certain type of room where echoes a certain way and re creating this type of echo and fully in a fully room is gonna be difficult without some sort of special No software. So ultimately, the kind of, like, you know, don't fix it in post. Try and grab as much natural sound in place, not depend on grabbing it later. And if you know you missed it or you just really need that peace time when the stay quiet. Okay, 30 seconds. It's reroll that just for sound and you've done your fully right there from mono. It would lead already. Uh, one more question real quick. Okay, Quick question. Under normal, under normal circumstances, would you be shooting this with different bodies if you didn't need the slow mo from the 70? No, I just because of the headaches you've seen like someone gets told me was a 15. I put a on and it was very different. I try to shoot all the same. It just makes things a lot less complicated. Moment. Start mixing mediums and sensor sizes. It gets it gets complicated. All right, Thanks. Okay. Can I be back here with you for a second? Yeah. Is this a sparky guy? And Sparky's going that way on this way. Perfect. Okay, so, um, you guys walk me through what you guys have decided to do, basically, before we get the Sparks done. I just got a medium shot of his head, and we marked a focus point on the follow focus. And I'm just doing a little tilt down to the tool, and he's gonna roll wreck. But he's just gonna move the focus down Focus. And then they were gonna get closer. Shot of the sparks going off after the fact. After this right after the cool. All right. Hair plugs, everybody. Here's eyes. Yes. Uh, we should run over something really quick. Which is that means stepping right here. Most people Is there a camera right here? Let's give it clearance. Don't really know what marking focuses, I would assume that are watching eso maybe let's just set on. Show them how you did it. So the focus mark one is when he's standing up. Is that correct? She went ahead and you zoomed in 10 times on his face. There's a little cursor on the back of the camera that allows you You just tilt the camera and he's gonna go ahead and mark that as point number one on the focusing. Well, that's why you use a fall of focusing wheel. Then you're gonna go ahead and tilt down to position number two right there where his hands are, and he's gonna go ahead and mark a focus point right over there. You can see it's a very small adjustment. This is on a very 25 millimeter lens. OK, so basically, he knows that there's no none of that uncertainty. Last minute saying in my shop or not, just your your pre focusing and alphago. So go ahead. Everyone have your plugs parts? Yeah, sure. Would you potentially, uh, I'm gonna see what you're tied. Shot is. I would treat this very differently. You guys are but go ahead before really you're going. You guys rolling on that? Okay, OK, do it again. My first comment on this shot. When I look at your framing, it looks nearly identical to the framing of the interview. All right? And you're not adding variety. So I would immediately have just moved the camera off to the side either direction, because right now, when I look at your initial frame, it looks like what the sit down interview looked like to me. And it's not gonna given a variety and might, in fact, cut awkwardly. Okay, Uh, I did like it. The end of that shot is just where you cut him right here, right above his sleeves, and you can see kind of a foreground. We treat that as your master shot. Um, and maybe she shoot one where you're locked off like that, or you might tilt down a little bit with him, But your main shot is that part of him towards the end. And make sure, though, that that last frame down here is perfectly composed. Okay, Uh, but go ahead and do it one more time. Where's their B camera guys? He's still working. He's right over there. Okay, it's actually you, which you now keep in mind that you really don't want to doing too much set design during the shoot because things will be jumping all around during your cut. So in a documentary, kind of trying not mess with stuff too much. All right. All right. Um, also, I didn't see you communicate to him when you guys were ready. He just kind of went when he was ready. And you guys rushed, so, you know, communicate. Okay, we're ready. Okay. So maybe people you know at home watching this can see why shooting a documentary with nature tell our eyes slow because you have to, you know, have critical focus. It's gonna look a lot more beautiful, but, you know, it may take a little longer so you could do what they're doing, which is to mark, you know, set specific marks. Or maybe you do what Stephen McGee did, Which is you don't really care if you're in Foca. If you just try and nail as close as you can and whip on and off and move five times as fast as they're moving, you know, they could have pulled off three or four shots by now if they were moving in Stephen McGee's way and just kind of go boom, boom, boom, boom. They're getting so involved in shooting this, like you would like a motion picture or commercial has to be sharp that they're losing all spontaneity, So trying to speed him up, this is kind of part of learning process to Okay. You guys ready? Okay. Action, really, don't you? So when he was cutting, I saw his hand in front of his drill. I never saw this drill. Okay, so let's go ahead and really quickly put your camera right here with 100 macro, We get the 100 Aker out, and he's going to the exact same action and ask yourself for every shot. What is a sexy part of the shot? What makes a shot? Unique answer. Being very simple. It's the sparks. All right, let's make sure we accentuate the sparks here. It seems like you really not shot from here throwing a shot from the outside angle and also like down here every night since parts going on camera. Let's just put 100 macro heroes pull the shot that I saw. You get that in the can slapper lands on it. I don't know. We'll be able to see it because trust me. Okay? Now, if it doesn't work, I can Look, I really don't know what I'm doing. Okay. Okay. And, uh, go ahead and start. Stop? Yeah. Forget the fall of focusing in a discussion on work. Quickly now. You ready? I got blue start stuff. Okay, Go into your final position. Where you were, uh, towards Ian a little bit. Okay, hold on one second A little bit. You there. Okay. Roll camera. Much your left forearm a little bit. Okay. I'll leave this for a little bit, just for our sake. Come. What does your body look? Try and shoot for your arm. Exactly. Not so much happen. What difference? Go put the rod down so we can focus on it. Okay, Perfect. And action. Cool. All right. All right. Complete. Different. We went right to the sparks. Let's go to the other side now. Sparser Going. Which way? Down this way or that way. All right, let's bring a saving hammer down here. We with sandbag. Get me real quick. We get the sticks, take the camera off sticks. Long school all the camera. Okay. You got a sandbag there. Here we go. Same thing to go. And what we're gonna aim to do here is to get the spark for you right in the lens. Right? So go ahead and position your hand. Now you find that piece you want Adeline, ride the lens roll camera. We re rolling. No. Right. When I call roll camera. Your role. Okay. You're the first. A c. Okay, let's pick up the camera. Their little lower side. Lower this straight up at him. It takes a monitor towards you. You can both see what we're doing. Okay? Position your piece of metal again for me, okay? Yeah. All right. Cool. Okay, I got glasses. Uh, let's do it the right way or the people at home. Okay? Last video feed. Okay. Wireless, that's going. It's not a fast fix, Okay? Just gonna wait a second while we try and get the live feed back up so you guys can see what we're shooting. Did you guys see, like, the different kind of pace of shooting like, All right, enough of this setting a tripod it for 10 minutes. Let's just try to get a few shots in the bag and let's get make them pretty and get a variety for a documentary. It's a little bit different cinema on, Really kind of. You're going to get his medium shots of him doing six other things or three other things. This is the one time you get sparks and sparks, like one of the most visual things you can do. Okay, here we go. All right, let me line up. Find a piece of metal up there, and you're gonna cheat, because now we're gonna get in the cheating stage and try to aim those at my lens. Okay? Roll camera rolling. And actually, I think we got good stuff there. Right there was watching. Um um, the idea. WAAS. I'll let you guys take over from here. He needs his plug back. There you go. Simply to hopefully, as you were watching Justin get set up the next shot. Cool. We got that. Come back over here is to get set up. All right, So someone got their wish would be just stepping in there and shooting, right? Uh, the idea is, at a certain point, you got to realize that, um, when you get too involved in the process in the gear, you lose your responsibility and you start making shots. Trust were doing just fine, but I think that last shot is a great edit point. It's about Sparks. You saw the Sparks came up. What I hope you were paying attention to is that I wasn't trying to stay tax wrapped the whole time. I was really messing in my focus on also waiting. You can get very frustrated as a photographer as a filmmaker because things just aren't lining up. You just make small adjustments and you end up like chasing your own tail. Sometimes you just gotta wait and right at the end there no, everything was spinning in the right direction. Sparks coming right at the camera. The rack focusing is the right time. We got it and you move on. But you have to anticipate and be patient and also say, you know what? We don't need sticks for this. It's got a sandbag down there. Or put on your knee or on chair, shoot it and move. So any questions while we go, people are loving this. Okay, really, really enjoying it. Good. A quick question from the W T. V was. Do they have anything covering the lens? Is he missed it? We should. You should have, Ah, filter. I use like being W. Hayes filters or UV filters. When we do film, we have fiddles, the four by 5.65 filters on our matchboxes. This was one of the situation, real like. OK, guys stripped the camera off, put on the ground, make a nice frame and shoot it and move. So this was not done by the book, but the end result was all that mattered. But you should always protect your here. So I said I hated lens caps. I throw away my lens caps, but I put a UV or hes filter on every single lens that I have immediately. That's what protects it. J. Cromwell would like to know if you would fudge any of sparks imposed. If we could fudge any of the sparks and post, would you do that? You could do anything these days. Would you do it? But why? Yeah. I mean, I've got sparks right there. I got I got doing it for May make it look. So why am I going to require someone else to generate them in the computer. Right? Getting for real. You know, uh, sure you could, but, you know, if the only reason I I would to need to fudge them is if I want to do something special with them, like having dance, or if it wasn't working here for whatever reason, because the light was to intense. You say, You know what? We'll make that happen in post on a big movie. This question earlier from our left collector. I have an important question for Vincent. When I shoot a scene, for example, with an f A and want to set the focus, it seems that the depth of field extremely shallow, like up to pointing, and I can't see what shirt at f eight. Why is it that way? And do you know what I mean? Yeah, I do know what you mean. She's saying is I believe when you're f to a you can appreciate very easily what's in or out of focus because you have no depth field when you goto FAA, everything kind of looks and focus or a kind out of focus. And that's why you do marks. If you're gonna need to shoot of that fate so that because it's very ironically, very difficult to focus with lots of that the field, whereas when you have none, you know, your honor, your off. So, yes, I totally go, you're saying. And if you have to shoot at F eight, that's when you set marks so that you're not the kind of guess. There's a lot of people like, Why aren't you doing this? Why wouldn't you do that? Um, so I'm gonna say one arts Art Minds. Says Why? Why no over the shoulder shot showing point of view from the artist Size nine Come close because I can't really? Well, I know over the shoulder shots showing point of view from the artist's eyes or behind the artist as he's grinding, should definitely get that, you know? I mean, that's that's what they should be working out right now. Is this kind of sequencing? Um, and the the thing they should keep keep in mind is this piece right now is not about that one grinding session and everything. I mean, you can do it. Nice. Nice cutting piece to have. We're gonna have to try and kind of limit the amount of stuff they would do. They're getting pretty much I would get 5 to 6 shots the time it takes to get one. So when you saw I got spark from appear set back down main adjustments, this Brooks went down and move on and move on, move on a documentary. You gotta move fast. Uh, lucky part about documentaries most of time. You're only time limit is air deadline And then be how much time your subjects willing to give you Whereas, you know, on a bigger production, it's actually how much time you can afford to. But I think an over the shoulder shall be awesome. Just kind of a reverse shot from that. So I'll go ahead and suggested to see if they can pull that off. It's definitely suggested, but interactive. It's not like we're not doing a start to finish. Um, cut of his whole process of making one piece of art. This is more of a piece of his process. In a more general term is evolution. So we have a little more leeway. Why? I wasn't insisting on following him from his head down to his hands down to that place. Be a little more disjointed. If you saw Steven McGee's piece earlier on. It's totally disjointed little pieces put together yet it has a flow. How are they doing back there? Look like they're getting ready to shoot. It's looking pretty. Get it? Yeah. Yeah. No, The shooting they are shooting. I'm gonna go back there and see what's going on. Okay, so we're talking about how we're gonna cover this welding show the welding directly, bad for the camera. So we're gonna try and get a reflection of in his. Okay, medium close up all the mass down. So every time I have been training, welding, I've been running the camera. Right now, I have him getting details of setting the welding up on the handheld. Okay. You know, it's bad for the lead for the sensor. Um, you're going? What? I'm assuming no one knows. No one told you is one of those markets I never had a problem with. Bad for your eyes. Definite vaporize. I don't think so. But if it is, I've done it many times. I've never gotten burned. How's Miguel doing? Good. Good. All right, All right. Everybody ready for a suntan. Yeah, Get free. So no one's looking directly at the light. Is that the real here? So I'll tell you what. I'm sparking, but don't look right at the light. Yeah, that'd be a nice piece together. Yeah. All right. So if Hold on, see if you know that you need that. This piece is a key piece for you that needs to be communicated. He can't. He can't wait for that. Were set way would be ready for you to go ahead. Do that action. You let me know what you want. Exactly what's going on. You want that mass going down? She got it. Get it, Get it. You want it again? I asked him down. Ready? Come on is rolling. Remember, if you buzz out of focus, it's OK. Embrace it. Just find your focus again. All right? Okay. Get my part set, then I will. All right. Get ready from bright light. Ask him down. Okay, Let's start again. Back to I've shot in my whole life. I'm sure someone on the Internet will tell me that's bad for the sensor. I've been shooting it the whole time. There had a problem. Marcus is a bad for the sensor. Yes. You can see the truth. It's definitely your eyes way. I don't know either. They'll make more cameras. Uh, yeah, just shoot it. Okay, so where everyone set roll cameras from and you guys call action when you're ready. You guys okay? Cut. Go back and actions. Everyone gets ready. Like And also, when he flips that down, I would tilt down with it. Ready? It's gonna be okay to the world. They go and stay with you. Gotta get the motion down. I stay with him. Everyone has technical difficulties. It's OK. All right, keep going. Don't be afraid to move around a little bit, okay? Well, panning and tilting as he goes, Here we go. Whether I'll go and reform. All right? Yeah. Keep showing up, guys. What a bright I'll take care of it. Just keep shooting. Focus on the issue. Why are you on this mass right now? Focus both this. Okay? About stop living the camera a little bit, but shorter moves captured. Boom. Tell us. Okay, we got pieces there. Okay? It's still one of more than three more. Go back to his face. Is I shirt keeping them. Let me show you how to move the camera. Okay. You see how much more energetic it could be? Can't be. That will be afraid. Go ahead, fellas. I give it a little style. OK, go this hand. Go back up to that. His eyes. Okay, See? Just like let it go. It's got a nice fluid head on here. You're gonna make You're gonna screw up. We know you're gonna lose the frame. It's OK. Just make sure you once in a while you hit something nice. And then now here we go. Perfect. You know, just let it let it flow. Cool. I think we got this angle. Good. How are you doing? Well, cool. Look, the one next set up. Good job. All right. What about questions? Okay. How's it going over there? It's going Well, I mean, it's it's, um you know, basically, I'm reliving with, um what I've learned over the last three years. So when I first moved the camera, I was very reticent, and I would make long moves that just lasted forever and ever and ever. And then I hesitate and I would start moving the other way, and I work with pressure camera operators. They were just like that. The action, you know, motivates the camera. So a person's movement motivates the camera to move itself. Sometimes physically. Its position. Florida backwards left to right, sometimes just the pants hills. And also, um, I think the worst thing you can do is try to be. I mean, if your master you want try, have anything perfect at all times. But even even a master will understand. It's not the point. You're going to have spots where it's completely out of focus or the competition clearly off. But you're going to know when that sweet spot ISS and you let him go out of frame and wait for him to come back. You're studying repetitive motion and most these things a repetitive. He's working on this one little area down here, and he's leaning back, pulling his helmet leaning forward, and you have to see as a photographer cinematographer where that beautiful, sweet composition is and be patient enough to know that you might be shooting 30 seconds of dead video. But when he comes back up and flipped slit up, you've got that killer frame. And also, if you're just staying locked off on the welding. You know, it's like watching paint try. So you want to keep, you know, trying to tell Give a little more information as you go. We've been left to right and same with the focus on everything. And, you know, they were doing a good team effort in terms of first A. C was doing a good job of staying and focus. But, you know, when I panned back up to the guy's head has got to focus on the I. So what I was doing, as a trick is I was opening the iris all the way up. So the focus puller, I could see exactly where the focus point just to that, that person's question about FAA we would have 56 F eight. The focus puller was having a hard time finding that sweet spot. So I opened all the way up to allow that focus board to find that point. I got barked at by Marcus saying I was over exposed like yeah, really. And then I closed back down. I saw once I saw they had their bearings and you get the idea was like little tricks, knowing that you know, ideally on a professional camera or stopping, starting, stopping, starting all the time. In our case, we're gonna have a lot of extra stuff. But it's OK, you know, as long as you have those nuggets. What she you kind of just answered. I'm at cannons. Question about. He says I find photographers have better sense of composition. Did that help you a lot Moving into filmmaking for those certain shots? Yeah, of course. Uh, what? What we need to learn, though, is what Hopefully I taught a little bit. There was how to move the camera. You know, you saw how how trepidatious the camera movement was initially. Are you guys able to see a live feed as we go or no, your in the dark, but that Cameron was very hesitant and very slow. It's like, you know, just go with it, you know? So you have to marry the going with the motion with the perfect framing. So at some point, it has to end on a perfect frame, ideally start on a perfect frame and on a perfect frame and in the middle somewhere, you can have a little bit of movement and uncertainty But you know, that's your shot is like from start to finish is perfect. A perfect, um, so that that's a challenge. And what you find is, you know, people get into this and they get so just like daze and confused because it's so much gear or there's a tripod. They're getting frustrated with moving it and lowering it and raising it and cameras not can reach the button. And they could. They completely forget about composition and light, you know, the lights looking really good. And I think that's because we have Mr Crone cello there lighting for us, kind of silently in the background. That helps, but it definitely helps big time. But, you know, I haven't heard that much discussion about lighting, you know? And that should be the first thing to be looking as a photographer, right? Yeah, it's usually the hardest part. And I think I think that was kind of one of the questions from M and M in the chat room. Uh, while Well, while welding, was there a change in temperature? Was that what you were? Just I did it on purpose. Okay, try and give little drama. And of it something I didn't No, um, Alex Sod asked. Have you done any narrative shot shorts or only commercial jobs? Both. Okay, discover, vimeo, uh, slash La Ferree and you'll see a bunch of narrative shorts. And I should've doctor means that I've done, um, are usually for commercial clark and corporate clients, and I can't show them the most part. So it's kind of interesting. A whole other discussion. None of my none of my documentaries Air available publicly. Uh, black pixels had asked. Are you guys running magic Land Lantern From where any human? No, this X f had asked how usable was peaking. Focus. Assists, but usable. Not extremely usable. Definitely usable in the 70 and one day mark four. That's putting 7 on the five. D marginally usable because it's a standard definition signal coming out when you're recording. And it's not really enough to go off. Are there shooting again already? You can't see from here? It looks like Well, way can't tell. I'm gonna go back and see what's going on. They lose dancing. OK, how's it going? How much time? I'm sick. I'm hot mic. Okay. Okay. Uh, we just Well finding yet What make this? I think the reason we lowered it was just so that we can start over. You can right behind you. That in your way. Do you want to be right back where it is? Yeah. I don't want that going. Yeah, yeah. Trying to get No, that's right. Yeah. All right. Okay. That's this. A few years. Like how? Our game on. Right. Parking? Yeah. You can pretty much end on him, right? So Yeah. Good. So we can rotate. All right. Like that Reading. Okay. Good markets. Great. So I should be back. Live fire? Yes, Yes. Can we ask you a question? Sure. Um, people in chat room would like to know how you're feeling right now. And how's your stress level? How are you? How are you feeling about my stress level is fine. I just I've got multiple roles here, so I basically delegated the directing to Justin. So my stress levels down because my main focus is trying to keep people out there interested and getting that question is answered. So the only stress level I have is that it was just about to go check with Justin and ask him how is Your shot was coming together. Now you are. You have a colorful piece. Do you have You know what you need and do. We need to start going into panic mode has got 20 minutes left and start Teoh, splinter the group up and have your second unit do some of the building building blocks. All right, so I'm fine because I've delegated. You know, you gotta learn to delegate certain points. Too much going on in your start, doing a lot of stuff poorly. Just so you know what, Justin, You make sure that they knock off this shot list, you know, I'm going in there. Obviously, try and make some visual suggestions in terms of composition in the stuff and movement. But, um, I'm also my main goals. Try and keep the whole thing going a lot going on. Yeah. It's not my first time. Well, they they seem happy. Okay, good. Rolling with the punches. Yeah, Don't worry. They're gonna be moving up also looking him awesome. How we doing on our shot list? Way good with that. Were actually I think the only thing Fantastic way get Seattle. I'm done writing doing that right now. So we're gonna grab this, and then we're gonna turn this up on its end and get some vertical sliders of the awesome Awesome. I'm gonna go. This was so I guess I can talk to you, right? So Jenna and Susan just asked me how my feeling. I just went back with Justin. And I said, How are we doing? Is like, you know, they got their shot list. Someone's outside right now getting that b roll of Seattle that Dan asked for. So what you do at certain points is there's no need to bring the entire team out to shoot Bureau of Seattle. So send one person with camera with specific plans, instructions. They've got most of their shots done. They're working on slider shot now, And that really is. You know, if you can hear me, OK, I hope the principle of delegation in filmmaking is you know, a certain point I said, I need to make sure that I'm paying attention people out there and I need someone here who was effectively making sure that shot list gets shot. I'm gonna come in every once in a while and help redirected a little bit, but um, I'm not I can't do all of it at once. And that's where I need to learn as a director, as any part of the structure in a filmmaking for a DP. Whatever it ISS to use your crew and your assets to the maximum potential and have them help you, Justin and Marcus aboard both more than qualified to direct the shoot, they could do it in their sleep. Let them, you know, kind of keep track of it. And, uh, let's go and see what these guys are doing. I'm looking. What? What I'm seeing, right? Yeah. So I think naturally, who decided to do the over the shoulder shot? Let's have the room also. Well, you know, someone was asking why we're doing the over the shoulder shot there it iss so that's great. Now you are in here, this guy shot and that battery is about to die as well. So why don't you guys roll is a roll your shot first and let's get a new battery for this camera way here because you so if I have the creator live video crew we have here is I think you know a great you can't see what they're shooting because we want to simplify this rig, but they've got the loop through martial. So they've got the operator here more than ableto to view what he's shooting. And the first A c is pulling focus on the five inch Marshall up here. Um, and they're able to operate his unit. Right? What part? Better. Hey, Justin, can you pull that slider out real quick? That's in there. Shot the legs. That other slider. Second sliders put back towards the better people. Could you do any welding? Wait parts parts for that forever. Really? You want to put a red with a cinema lens own there? This is a joke to pump you up. Go. We're ready for I don't know said here, but grab it. It's fun seeing so many cameras, but I don't get What about my camp? Yeah, Don't worry about that. They're waiting for you here. So do you Do I just got one. Has got one going Come back. Set a lot. Sharp. Approval of its go kind of move with him. We got anybody with this piece. Okay, Follows. And keep track of the JAMA through the whole times with curves of his arms. Tilt up. There you go. Uh, come down. Go towards his face until top. There you go. A compass card. There, there. Go back, Back. Wide Master fullback Position Right in time. And there you go. Cool. Kind of going with Cut his hand off. That great line on top there. Yeah, I would love a couple more pieces. Metal. Keep in mind that he's in your shot the whole time. Right? So go back to your wide master. Your radio? No, A few years on this. A little bit longer. Shorter for me. Creations. The angles were set up. Things happen. So you make you make. I would do. He moves in with light right here. Welding mask goes dark before I'm ready. Exactly. Way Go! Yeah! Yeah, Let's do this guy right down here. Really? We don't even There's no reason for you guys. Stop! Shoot from here. Now. Keep going. Stay out of this is still a view. Shoot detail. Shots should skeleton. I was like scholars from him down to this Hell, just keep going. Keep shooting crab material. Thank you. 25. Go, Go! Ok, go grab a 50 longer Yeah. Like commute. Yeah. Yeah, sure. Maybe about it. going, you know, roll camera. There you go. Not just in. Why is there? No, if my blood in there, no one saying anything, Okay. I love you. Seem practices. Oh, because he's not gonna be able to be reassuring. Yeah, you will. Hit the button to see the red button. Linking. Go. That's good. Our game. Okay, okay. All right. Let's forget about him. Now, grab me some details. Stuff. That's, uh, gravity. Has your photographer grabbing some stills? Okay, no squares. Forget about panic. Just give me still still still still perfectly composed. Is that a still you put up on your wall right now? So cut. Here. Um, Okay. Can I get the FC my cable real quick? Okay, quick, plug it into this guy. A change in a stupor. This is so one of things I'm trying to get the guys to do. It's just a treat video. Like it was a series of still life stills. Maybe add a little movement to it, but not necessarily his role. Grab something. Try different composition. Something breaker. Something. Found a piece of metal fell. Yeah. Yep. Slight move. That's slow, if you can. Time it from here. 20 goes up. You got a little less little piece. We don't need to have it. You can fly back hat, stop a little bit. Do you have a jacket? Little details Give the other of something to work with. Instead of trying to hold perfectly say like this, you can just move, move your hips. Give it just a very slight movement. Okay? Right back down here. Dark. They got that going. He has good. Just kind of treated like that. All right, so good. You're doing that last piece. Justin, How are you doing In terms of shot lists? Shot Lis. Last one also. No one. Okay, grab some of this stuff on the ground here. Glove crabmeat, this geometry right here. Yeah, geometry. Right here of these shapes between those course perfect curves that you see over here versus the messy chords over there. All right, get on your way. Don't move. So much treatment static. So you're trying to do a perfect pan with your body, which is hard, really hard. So just use your sorry. Composed the first shot just down here. Let's say, uh like a still so close. You're still friends. Lock it off. Well, a lot. They move your hips the right little bit. Very. You're wobbling. It's got a perfect. So go ahead. Knew a little more Dutch. So you get the top of these guys. Perfect. And just to this, a little bit. Very slow. Back down too fast. That's it. You feel it? Just that perfect slight motion. Okay, just a hair. Thank you. Okay, Not good. Yeah. And will, Let's come back here now and guys, let's smooth aside, everybody. Pontrello They could stay right there. Just give me a kind of wide master right here, as used towards the end of his composition. Stop rolling for a second. Closed down check. Focus. Okay, I go ahead and compose. Kneel down a little bit. Way halfway. Make it gym. Workout of the day between. Ready on. Just kind of lock it off. It's OK. That your breathing stay stationary. You can't. You can't write. So hold on. Let's bring you a box, brother. Right. Okay. Let's watch your geometry. Keep that head in there. Okay? Should on that a little bit. Just keep on that a little bit that's including more This spot work on the left. And, Miguel, I'm gonna have you get up. Ready and action way have, like, a What's that? I get this, Get this last piece on, and at the end of just naturally get up and walk off and you're not gonna follow him walking off. Let him walk out of friends. Okay? Yeah. Pretty physical in this. I understand why I don't like operating focus. Now, here's this last piece it's got. Let's reset. You stand up from here. It was her over here, composed like the nice final friend they would walk out of. Yeah, you missed moment. I cool. So, what was more important? Catching the moment or get making sure was tax shirt? Yeah, we got to that one more time of the end. Right? Okay. Same is both girls. It's somewhere. Uh uh, gloves on and walking off. Okay, let's go back here. Let's go a little lighter. Yeah, we're back here. I see. How is it? Focus. You ready? No. Okay, we're ready. We do not follow him off. Camera stay locked down. I understand that we're never going to use from this point on. We just use the part where he gets up. So all this is gravy. Here we go. Perfect. Okay. Your final piece. Cut. All right, it's wrapped.
Ratings and Reviews
Great Workshop.. Totally worth it, for the sheer amount of Information and seeing everyone work together, seeing the master himself at work and breaking down each and every aspect of film-making while shooting, so people like me can learn the Magic of film-making. Loved every part of all 3 sessions.. Awesome CreativeLive ... Awesome Vincent Laforet.. Awesome stuff, to everyone involved, including the ladies asking "interweb" questions and the creative live camera crew.. Also, when and where can we see the final product shot on Session / Day 3... "Choice"..?? Thank you..
This is, without a question, the best education model I've experienced. The small snippets of details, the interaction, the experience, was indescribable. I don't know how to thank you enough....especially after winning a prize! [Hugs]
Hi guys, great series, nice educational tool, especially when you in remote places. Just wondering where is session 2, since i paid for all, cant find it. anything on that? Cheers bvkfilms@gmail.com
Student Work