Overview & Setup for the Documentary
Vincent Laforet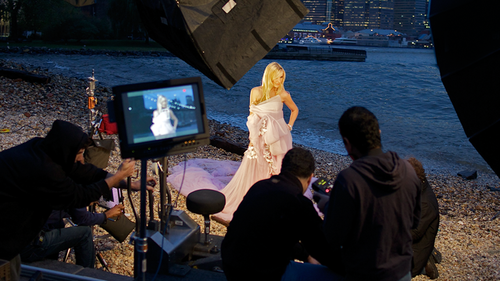 Overview & Setup for the Documentary
Vincent Laforet
Lesson Info
7. Overview & Setup for the Documentary
Lesson Info
Overview & Setup for the Documentary
remember Dan here from yesterday. Good morning. Um, for those of us who didn't join us yesterday, Dan is going to be our kind of He's been my side kick. Who knows how a lot more about this stuff than I do anyways, and he'll definitely be guiding us for the second part of the day. Um, in terms of the entire edit. So the idea being that as we shoot today, we're gonna be shooting a documentary or kind of a, you know, a documentary type style piece we're going to be talking about Not only what I think we need as a director, but what he thinks he needs is an editor, which I think is kind of cool balance. Um, let's just launched in the slide show if you guys back there up to it. This is day two. We had Day one yesterday. Went through a lot of stuff. Ah, a lot of like I think, pretty important material, uh, the entire workflow for, like, final cut studio and seeing by sweet Premier A swell as everything about pre pro you could probably want without going crazy. And we went over a lot of the g...
ear so to quickly recap Felicity of just coming in today For the first time that saw last year's workshop, we're gonna be spending a lot less time on gear, a lot more time on set and talking about how to get things done. Obviously, you could go back to last year's workshop. They already mentioned it. They're selling for a discount. There it is. Uh, if you have any questions about fast forward for that little guy, have any questions about gear? I'm not gonna go over here. We're not going to show slide about everything we're using. But it is up on a section on my site called My Gear, and you could find anything out from, you know, lenses, cameras, dollies, sliders, audio kits. It's all there on a prorated frequently and updated frequently. So Day two are launching right into the documentary workshop. I think the best thing to do to introduce documentary work is to not talk about it, but to show it. And I think I'm gonna show a piece of work from Well, first of all, we're gonna be shooting a great artist locally. Miguel Edwards. Uh, today he will be our gracious where is We're in a student we've created. We've recreated his studio at the creative Life site, which is awesome, thanks to Lauren, New York director. You guys may have met last night. Uh, Celeste, are we all cool to show that video? Everything's happy and copasetic. Fantastic. We're going to show a, um I have a hard time calling the documentary because to me, this is a work of art. It's by an incredibly talented artist named Stephen McGee. Ah, he used to work at the Detroit Free Press. He helped start up their multimedia department. He's not broken off, and he's doing a variety of just fantastic work. And this is a piece that he shot that I'd like to have us become inspired by over the next few hours on a local artist himself in Detroit, and I just just watch it. I'll let it speak for itself because I get chills every time I watch it. Here we go. Ah, not bad. Right? Um, I think my favorite saying or one of my favorite sayings is to learn every rule and then to break every single one of them. And I think you know what? Stephen here has done is he clearly understands Thebe basics of a documentary. Clear understands transitions. He's a photojournalist, Andi. He clearly understands building blocks and how to tell a story and how to make you get emotionally connected. He clearly understands how to use multimedia, so he's using. Obviously, video is using some still images. He's using text, he's using local sounds and he's using music, and he's marrying them fantastically. And my love is, you know, he mixes high production value shots with just kind of craziness and, like what won't form would call, You know, low production quality. And it does it wonderfully so he breaks rules like he flips the camera around. She was verticals, like You can't shoot verticals and video, right? Don't do that. And just just like he lasted your face and does it and makes it work, you know? And we're all like, obsessed with, like, you know, stabilizing the camera and make stuff look cool. His cameras, like all over the place of time, says, bumping and shaky. We know when you see people who are moving out of photojournalism for a variety of reasons, and then all the sudden there picking up these cameras that could shoot. You can almost feel the excitement. Yes, especially for someone who may be working for years, maybe job prospects. We can't, you know, cloudy or whatever. And then all of a sudden, like, have these tools and they're breaking the rules all the time. You can feel the excitement. Yeah, in the images that they create And, well, you know, tomorrow will be a little bit obsessed with keeping our actors and focus when we do the cinematic piece. But, you know, he will be. He does the opposite. You know, he, uh he just embraces the shout of the field of the five D, and he just kind of last in your face, just, you know, maybe what one point will catch focus. So he embraces mistakes, and I'm gonna I'm not going to say that he's actually making the sixties, actually, purposely shooting in this style on embracing it 100% and I think it's fantastic. So what we're going to today is going to try to give you the basics of what you need to have to build a documentary peace and give the building blocks so that you know, whether you want to make a piece? It's more artistic like that versus when you see, you know, on your local television on Sunday night, we say 60 minutes. I said it, but you know, there's a 60 minutes piece style, another way of saying an hour clean cut, you know, a clean cut piece, right? Which is very like by the book versus this. It's like a world of difference. And you guys can pick what you want to do in between. Yeah. Okay. So as we go into a documentary, the first question you should ask yourself is Have a slide. There's hope for you. Okay. I was gonna I was gonna say, uh, you know what? Your story. What's the story? What you looking at? What we're going to talk about? What do you really? Actually, Not even you, necessarily. What do you want your viewers to see? You know, and that's a you know, point, actually pointing the camera at something and point like, Is there a larger story? Is there a smaller story? Is there a bigger overall concept? So drill that down, I think, and you need to be able to drill not down into one sentence. So whenever someone comes up to me with a documentary idea or film idea or whatever idea it is a photo essay, I say describe it to me in one sentence, maybe to like the elevator pitch, right. If they can't do that, they haven't thought it through enough. They have gotten to the heart of what this person or this subject is. If it takes him 15 minutes to explain to you, like, go back and think about it cause you really haven't gotten down to what at the core is a story. And also, you know what makes the story different than any other story? Because if they've heard the story 1000 times before, um, they probably won't want to see it again, you know? And maybe what we can do is, you know, if you watch documentaries you're preparing maybe to do your 1st 1 you watch them reverse engineer that idea. So maybe we can go to the church Twitter feed and say anybody? The document we just saw. What was the point of that document? Maybe we get some good feedback. Then you go as you prepare for it into the very basic set of questions of which they teach you in journalism school. Who, what, Where and why? Okay, the four W's. Who were you photographing? Where you photographing them, or where is the event happening? Ah, what's going on? And God, who? What, where? When is this going on? Where is it? What's going on and why do we care? Is the thing I make the why become So Why do we care? Why is this relevant? Why is this newsworthy wise? It's interesting, really important question. Really important questions. We have many mediums available to us, many different delivery systems. And if you if you answer the why, you'll find your audience, you know, cause they're gonna want to know why as well. So really, drill down on that idea. What we'll go over today is kind of a building blocks that you kind of need. There is a generic structure to any documentary of interview piece. We're gonna talk about that. You know, it's all about storytelling. It's about bringing pieces together for some of you. I don't know your experience level. You may never have shot a piece before, and we're gonna talk to you about making sure that when you shoot all these different little separate shots that they somehow come together cohesively because, uh, you're trying to tell a story and take people on a journey. Think it's one of my favorite things as well as you know, as a director, whether you know, it's a documentary or narrative. Your take people on a ride. Your take people on a journey, Captain. Your captain, the ship, and you've got to capture their attention, their emotion, their minds. Because the moment you lose them there off, you know, they step off. Okay, Uh, what we're gonna do today? Eyes were going Teoh do an interview with Miguel. Kind of a stand up interview. Half stand up. Have sit down and we're going to then shoot some b roll B roll just means everything. You shoot that kind of be really just kind of filler, you know? And, um, we're gonna have him actually working on some works of art on Gonna discuss with students what the best tools are with the best ways to shoot that are. And I want to talk a little bit about pre pro. I met Miguel two nights ago. Is that correct. Uh, and I did my little pre pro. So even a small TV station, let alone 60 Minutes, is going to call the subject way ahead of time and have a conversation and make sure that first they're available and to their willing and, of course, three. Make sure they can be a good interview subject. Kind of like, you know, a casting session because you can't start all the real resource is running and arrived here and realize it's a terrible story or this person can't talk or doesn't want to talk to the little pre pro. Um, you understand that we did here is all recreated this whole set. Uh, Lauren and Miguel and Encompass and others like help bring this here. The number one piece of advice I can give you as a documentary person never do this. Okay, the location you pick is key. It's got old gold there. If you go to his studio, it's just like it's magic. I could spend eight hours in there and I get enough footage. It's gorgeous, gets it's got personality. It's got details. It's got history. It's got grit. It's just got such incredible character. Go where the story where the story is. Don't don't take a blank tableau Rossa blank space and try to create environment. It's painful, but these guys did a great job at it. So go there. That's why you want to go there, particularly for B roll. If it's a noisy location, if it's a location, maybe that's challenging to get equipment into something like that, then maybe that's for the B roll. You know, stuff and maybe some quick interviews and stuff like that. There's nothing wrong also with finding a nice, quiet space where you can light control your lighting if you want to go that style. Yeah, that's not what we saw here necessarily. But you noticed that there were no interviews and there was no voiceover. Exactly. And, you know, then you're gonna have to try and put a little script together. And here's a question. So I had three students yesterday Sit that one. Miguel. After I done my initial interview, they did their interview, and they're actually bounce questions off of him while we do this. Uh, this Q and A. And, um, we're gonna have a multi camp set up today. Do you need a multi camp set up new. We're just going to show you why could be advantageous and how to do it. We're gonna talk about having a wide master. Uh, we're not gonna do any reverses, but we'll do some close ups and detail shots. Um, we'll talk about transitioning shots, detail shots. Um, we're not gonna Dolly today do a slider shot because we don't want to bring a dolly in here. It's more than enough. We may get to a gym shot, and we'll talk about how you use a rack focus to kind of live enough your piece. So that's our basic preparation. Can you talk a little about screen direction and also cutting so that you know a photographer who will shoot his or her first documentary? Um, I guess one of the main question is going to be, You know, let's say I have an object like this that's stationary. Do I pan left to right or right to left depends on the way you want to cut it. Ultimately you there's a couple different things. One of things we want. Just think about basically with setting up a screen direction is when we're thinking about our interviews or most basic, it's almost controlled situation for the most part. In that sense, the first thing you can start thinking about screen direction is where is the interviewees looking on screen? Okay, because then if the interview her, you have to position yourself. So that's night. So if we have a, let's say, a nice big screen, something like this, I want to make sure that let's say Vince is gonna be doing the interviewing where Vince is sitting and he's let's say he's interviewing me, that my eye lining as the interview actually goes into the frame. So we're not gonna put the person right in the middle of the frame, okay for familiar with the rule of thirds basic rule. Third stuff like that, we want to keep some a little bit of balance there. We don't wanna put, have the viewers sort of try to make sense of that. So the first thing you wouldn't think event screen direction is what direction the eye is looking at. Okay, Anything to is if you have we have one interview subject today. If you had to, maybe you want you want to do is you want to shift that position. So they're not all looking in the same direction. Just a little bit of visual clue. Now, when you cut, you know, there's various schools and I used to say, Never cut a movement. But now I've changed my mind because the aesthetic exchanging so much we just saw a great example on that I don't know if there wasn't a cut that wasn't on right now. Yeah, so and it's something that I'm acting sort of like get more comfortable with That was just working out a piece where I was like, I was I was doing the whole thing. I'm not gonna cut on movement. And then I was like this Things just feel slow. Andan So I just changed all these shots and they were still images that I was going through his playing over peace and and I moved him, and it felt better to me. So, in terms of screen direction, you want to just keep an idea of, like maybe you don't if you have. If you're panning in one direction left, you don't want to cut automatically to a pan direction, right? Okay. If you're covering a let's say something that's moving. You don't want to do what's called Cross the Line. Okay? Which is that if you can imagine this if you're watching a parade and you're shooting a parade, okay? And so I'm the parade. Here's the camera here. Okay, So you're shooting this like that. You don't want to run across the street and get the next angle, because then all the sudden cut to that, because then you're gonna have this. Okay, so that's called crossing the Line. You can do that if you have a transitional shot. We're going too deep into this right now. Well, it is No, there's no such thing, but, um I mean, crossing lines. Definitely something I was going to cover on this. But I figure we do it tomorrow. Great fun, because I want to try and get people to understand just mawr more basic at this point, which is just, you know, how do you build one of the building blocks and one of things we need to make sure we reinforces the need for a solid interview to carry the whole piece because we're not gonna rely on music on this one. We're gonna rely on for the most part his dialogue and the way you're gonna cut it. So the way we interview also is very important. You know, when we ask him a question, he's gonna have to answer in the form of repeating it very often, you know, So if I say what's your favorite color? And he says, Red, you can't use red. He's got to say Usually I really like work with the color red and you can cut that into a serious dialogue. It's simple stuff. We're going to do it sound, I think, for the interviews, the one thing I want, I want to get into a little bit. It's probably single most important thing. So one of the things you alluded to is the idea of finding a nice, quiet space to shoot the interview. The idea being there's a plan going on right now, you know, um, you can't You can't do it in a place with air conditioning. With the refrigerator goes on every few seconds you can. You can unplug it, right? You can't. You have to get like, nice, clean audio. And, um, you know, this is not going to be perfect environment for that. But understand that the reason we're starting a documentary is a documentary in general, if you saw from there is pretty loose, you can cover your mistakes pretty easily. So let's say, um, you know, he gets trip, you know, he trips on his language, or, uh, he gets his momentarily out of focus. Something goes wrong. You cut to the B roll. You always have outs that quite easy in this piece. And you will teach you that as we go that, you know, treated, You know, every mistake, like a happy mistake, you know, Don't go. I missed it. Just, like go with the flow in documentaries and just find your focus again. You'll find a lot of times those mistakes lead some great cutting points and some great transitions. And keep your eyes open. Yeah, because since you're not controlling the situation, something might be happening. And it's not a bad thing that, sir, but something might be happening that you didn't see it, But the great thing about these cameras is there so remote You just like capture, you know? Wow. Students. Cool thing over there. Okay. We had a cat, Mr Katz. Okay, so Let's, uh, we've got how many minutes left? Three minutes. Cool. I think we should start doing is the whole process what I did want to do? And I'm not sure if we should do it anymore. If you move on, has washed the peace again, having talked about that and see if people having heard all this stuff, I couldn't watch the peace and try to find some of stuff we're talking about might be helpful. I found it's been helpful in the past. First engineering film. You know, right now when you watch films at home or documentaries, if you want to learn, stop being an audience member. Stop being suckered in into the experience. Don't be a passive viewer when you watch films, especially your favorite films. Your favorite two buttons should be pause and rewind, and you start dissecting them. It's like one of the best film schools you can go to is to actually watch some of the top master filmmakers. And, you know, this is my favorite scene and let me break it down into pieces and see what decisions were made and why. Why they move the camera at this point, why they change. Focus? Why? They went with a wide angle, land versus a long lands. Why? They went lower versus higher. Why? The camera was it wasn't moving. Why the light was like is that makes sense Why the music came in here, but not there. Eso watch this this piece a second time and hopefully you'll see. You know, some of these building blocks we've been talking about in use, and then we're gonna transition right into the interview with Miguel. We're gonna go right in like we're, like a bullet train here. No pauses into the interview process. We're gonna walk you through the steps one step at a time. Okay? Miguel, why don't you come on over? We're gonna introduce you first. Uh, thanks very much for doing this. Appreciate. It s a Miguel is our man of the day, and we're gonna basically, slowly step by step, walk you through how to set up an interview. Okay, So first you got to kind of find environment. This is our environment. It's been art directed to a certain degree, and Miguel is not a CEO of a Fortune 500 company yet. So having him sit, you know, at a table, you know, in a board room would really just not fit. Okay, So whenever you make decisions, try to always make decisions that you know are true to your subject. All right, In terms of, you know, where you gonna shoot? What type of interview gonna make kind of peace. You're gonna make this seem like a pretty casual place to put him to save time. Um, we kind of pre lit the room a little bit because we've got a lot to go through in a limited amount of time. You remember By the end of today, by five PM, we're gonna have a finished piece for you guys to see God willing, um and you know, that's what That's our goal. So we've got to try and stay some time. So here's his spot. Uh, we've let him because we know that our main cameras going right where Camera A is right now for creative life. So right where you guys were watching me if they switched to that camera is where our main interview cameras going to be. The idea behind that is generally it's nice to have, you know, a medium close up shot of the person. That's kind of clean that you can kind of blur out the background little bit so you can focus on them and what they're saying, Uh, and not get distracted by the surroundings. What's where Hcs Lars are great. So pretty much the spot where you guys are to certain degree is where camera is going to be on. You can see there are if you why not a little bit. There's layers. Here's there's death. So there is a foreground subject. There's Miguel, of course, is more more, uh, pieces here and more pieces in the background. Okay. And if you're really wide, you'll see that there's a light that's right off to the edge of the Frank. Get lives close to him as possible without actually being, you know, obviously part of the frame there's a shotgun Mike up here they're gonna put is close to his mouth as possible. Just at the edge of that frame back here. If you can switch to that camera, we have our main light. So what we call our key light is a key right now with the windows. Debatable. But, um, the idea is continuity. There's sunshine in coming in from the back, creating really awesome light right now, this is Seattle. Okay? Which means that Sun will not be there in five minutes or it may. But there's a really big issue of continuity comes into play, which is, if you're doing an interview over a 20 minute period was going to be dead are our goal is that we have 20 minutes start to finish to speak with Miguel. If that light is it's happening over 20 minutes and fluctuating up and down as Dan Texas over and starts cutting it. He tries to make a little quick cuts to hide the fact that we're compressing time and the life behind him is going on and off on off, on off, on off. It's incredibly distracting. Okay, in this case, we're going to just kind of fly with it. Okay, so if you were kind of saying something up, you would definitely consider that is documentary crew. You want to control the lighting? A film crew is gonna go one step further and guarantee that light looks like that. You know, at night they're gonna put huge lights out there so that whether it's nighttime or daytime you can't tell. And 100% control the light. No surprises. Okay. Uh, so here is our main light. It's a cobalt 800 watt per second life. Is that correct? Yeah, uh, and we put some diffusion in front of it. Direct lights, never really flattering. So a little bit of diffusion. Which one do we pick on this? You know, So it's just opal is one of the different types of diffusion you can put. That's very common in cinema. Um, it's like tracing paper. But they have different types of diffusion on the cuts down light, more or less, and diffuses light more or less. So there is your key light with your Europol. We've got a little bit of, you know, a little rim light coming from behind. And then we have these windows. We have shades over here that we can choose to open or close for effect, and we have some little lights we're gonna get into when we do the actual B roll shooting. Any questions so far from you guys or anyone there keep moving along markets. What I would do is if is bring three camera a kind of in this position as we get started, if you're ready. Still working on it. I got I got the look for Marcus Thievy that look with no words that might be having some technical issues. Uh, right about here. That's okay. Right over here. Yes, Max. Gonna hit, start and stop. Just go again. Okay, so there is a 12 minute limitation on the five d or any of the canon cameras with fat 32. Issue that I could get too much of that did that last time. Uh, it's a big problem. Not just technically, but you want ultimately, in an interview session for the interview e to forget that they're being interviewed to let their guard down, forget about the camera. And every time you start and stop camera and you Slade and you make any adjustments, it distracts them. Brings them right back into the world of Oh, my God, I'm being interviewed. This is serious. I can't open up, so it's constantly consider what's your status? It's good. It's working. Cool. Um, we're going to use this camera you're seeing here with a tremendous amount of bells and whistles, Uh, and just know that this could be done with a bear five d in one lens. OK, the main reason we're doing it all these bells and whistles is actually because we have to go see what we're shooting here ourselves and share feed with you out there. That's you know, the main reason you're going to see these bigger cameras with more accessories on that has nothing to do with this shoot. Okay, in fact, for a documentary can use any one of the rigs went for yesterday a little handheld rig. We're gonna do that for B roll A little bit of this where you just have a bare body with maybe a little viewfinder on it. You know, it's one operator doing simple focus where just a constrained here because we're no. Marcus is trying to get wireless working as well as other fees, and it's it's ah, it's a bit of a bit of a deal, But if you're gonna go that low and you're gonna gonna have a really small crew, make sure they have audio taking care. Yes, Audios key. Let's keep reminding you that good clean audio is just, you know, for all motion picture storytelling uh, you know sound. It sounds really kicking in a little bit. So I spent three weeks four years ago doing an educational Siri's, uh, for photography. Three weeks with seven people and everything was funded and budget. We shot the whole thing. It's a great examples and audio sucked guess where that educational pieces on a hard drive somewhere never used it. So, you know, I know talking for back then I let the video crew deal with that stuff wasn't my concern. I gave it to the editor and they said, I'm sorry. There's nothing I could do with the audio. Well, you know, also is the director to I mean, you should just be hanging out with Miguel. You should be thinking about how it looks. You should not have to worry about that. So remember, you know the side of the crew. If if it's small, if it's big, decide who's gonna do what? Make sure that when you get there to keep the most Melo set possible that everyone knows what they're doing. And audio gap and sadly, production still say you know, are smaller production still say, let me find the cheapest sound guy I can. It comes up again and again. And you're like, that is the most acid nine decision you could possibly make. Well, and it's also maybe not the most intuitive one who's just going into the field. But right, that's why you're watching this. Yeah, So you don't find the person who's cheapest because I don't know, people do it. And just like guys, you spend all this time and resource is and you can hear the person and then another thing. Test your equipment, your audio test it before you go out because you don't want to go out and have it not working. Right? So we talked about camera prep yesterday. Uh, we're gonna go and check this camera out, slow down a little bit and just kind of step by step process. Now, are there any questions flooding in that we should answer We've got from now? Uh, we're gonna interview Miguel. We're going, Teoh, we've got 70 minutes total, which means we got we're done at noon. Right? So we got one hour from now to have 20 minutes of shooting time on him, right? Get one hour from now to have 20 minutes of shoot. We got 40 minutes to get ready. Should we use all 40 minutes? No. Right. Let's just say we got 30 minutes from this point on to be shooting this piece. Cool. I'm gonna start my, uh, timer. Let's go. So, Miguel, first thing is respect your subject. He doesn't need to be here for the next 30 minutes. Okay? Because he might start to get tired, bored or angry, and something tells me it. Miguel doesn't mind, because I kind of know him, but we could have someone standing for one of the crew members or whatever. Um, you wanna hang out for a little bit? We set up the cameras that cool, right? So let's let's go to camera one. Let's just do one camera time. So this is going to be our main camera right over here. And if some of you guys want to come around here, you're welcome to let's just try and keep in mind the creative live cameras. Obviously, we're going to try and I think go to good to an 85 millimeter lens. Marcus, that's cool. Uh, well, right now we're on 35 so if you look at this frame. Are you guys able to live Feed on the web? Yeah. Is anyone watching the broadcast? Yeah. Cool. All right. Uh, you can see that that shot for interview is just a little bit on the wide outside. You know, that's this is gonna be our master shot. It's a of course. Any idea? How do you want your subject address? What are some things you may want to think about before they show up before you show up with them? Yep. So we had a discussion about this. Logos? Yes. All right, way. Miguel and I had discussion about this two days ago and said, You know what? How should I dress? And I said, You have two choices. I said you can dress the exact same way that you're gonna be no working in the same. So it's like it feels like it's continuous eyes that we're gonna work in. Probably, yes. Or you can dress up, but whatever you dress like, don't dress out of character, you know, don't decision. Yeah, don't Don't dress in a way that you just don't would normally dress. You're not gonna feel right. It's not Look right. The answer a question. Yeah, that other things could you want to keep in mind your dollars and talk about all that fun stuff will get the camera. I think we should do a little bit of a great Okay, go ahead, talk about that. One of things you want to keep in mind particularly. There's still this thing that we call sort of broadcast safe colors and color space stuff like that. So even though we're evolving in the world of HD for broadcast stuff like that, a lot of those rules still apply. Okay, so you want to avoid very, very bright colors, particularly white, right blue and red, because there is the potential of what's called tearing on the video for those colors. And even though we shoot progressively, uh, you still want toe, you know, avoid any horizontal lines that air thin. Okay, either get more a sort of distortions that do happen even on the five D mark to 70 and stuff like that. And sometimes that happens around that, or if it ends up being interlaced at some point, you will get an interlaced jump there so neutral colors relatively relatively dark, maybe not too dark. But you know, stuff that'll show up, but nothing really bright. Nothing incredibly comfortable are incredibly colorful. Unless I think that's what I think. Comfortable. Unless that's, you know, your intent. Maybe to do something interesting that way. Okay, so let's just throw this over to will, uh, what do you think about this frame As your, uh, mainframe in terms of composition for the interview. He's dead center. It's gonna boring. Okay, so I want you go ahead and No, no, no. Let him stay where he is. So where's the interview? We're gonna be talking over here, but you tell May, uh, the other cameras will be there, so yeah, the interviewer needs to be here, so he gonna have your eye line. Tory's looking across the frame. Jeff, look at Jefferson's second. Yeah, that was recommend throwing the interviewer as close. The lens is possible, but not all the way up there, like you are right here. Okay. Right here. Which is you can, um and, um it just it just looks better. Because if Europe if Europe here, you're going to appreciate the eye line. I clearly looking for someone else. Um, agree with that? Yeah, OK, but these guys Yeah. And then, uh What about the background house? The background looking hot. Really hot. Can we control that right now? No, no. We could draw the shades. Can't way. Do you want to be boring? Boring? Sure. It's documentaries, not film. Were out trying to win, you know, a cinematography award. But what about this shape? Right here? This cross intersecting with his head? That's very destructive. Very distracted. So go ahead, guys. Daniel, won't you go ahead and fix that? Just just generally, try to avoid lines going through people's heads. Uh, you know, we could probably raise the camera a little bit. You could You could also make it up and move it. Not much. Don't have Probably go that far. So when you you live to lift the professional, to do it would be to take the camera off sticks. But this is light enough that you can hold the base of the second your hands. Always a good idea. If someone else comes wants to come and help him. Just kind of since you're gonna be going over this part of Sadikin, actually, safety right, That's going to come. Party role. Exactly. So we will be talking about that. So you definitely want to tune in touch. Make sure you see that somebody bunks. Yeah. I mean, we definitely need to go up. Okay. All right. So this is definitely Marcus is busy. Yeah. Can you help him raise the sticks? Should do the proper procedure. Well, you want the proper without you want camera off? Let's do it. Ready. Cameras off. I know. Raised sticks. Okay, guys. Three lovers. Okay. You didn't need to be done. And I would suggest we, uh, switch the mode. So it's wider. Yeah. So there's a little not over here tryingto. Never much lower. We're gonna go to the bottom, spreaders around sticks and raise the whole thing over. Probably a little bit, right? The first thing I would suggest is whenever he decided, make a move. The beauty of these cameras is that you can carry a fair five d with you. Let's say a 24 and you can find the frame with your eye, okay. And basically, this is where we're gonna shoot from, all right. And Marcus can show you how to market so that you have the center over your camera is the height. This whole guessing game we just started going into is, like, the biggest waste of time ever already. But I want to kind of have happened, because now where is the cameras? Too high, Too low. So this can I borrow? Ah, bear five de from back there. Markets, we've got 24 70 around that's gonna make you 85 is perfect here, Daniel. Go ahead and close your ideal frame. It's all gonna fall on you because we're gonna pick that frame and move on. How about we take the sticks out of your way? Way? Okay, Marcus, I'm gonna take this from you and show them how to mark quickly that spot for Measure it. You don't have your kids, Mark. The time response. Yeah, an accident in the hype. That's the oneness you expect to go this way. Um, we have not too much 30. Probably at this light to Yeah, let's do that last year. Do you drink? We don't have any terrible lines going through. Is it cool in this point of view? All right. We will stay right there. We're gonna measure the height, the measuring tape by few. 5.5 inches taller than that. Just call it out by feet. Eight inches. Okay, so now you guys are gonna put the remember, wherever the camera's going to be. You gotta consider where the center of the sensor is going to be. A big camera And keep that in mind in this big rig. So go ahead with sticks. With the center straight over here at five feet eight inches. Argued that measuring tape again from you. Thanks. Her. So Marcus back here is measuring the height of the camera off of the base. Who gets it exactly right. Taking every little detail into account. And he's doing math calculations. If you want to walk him for what you're doing, people will value. I measured from basically with basic camera's gonna sit. Um, you, Mike, um, basically measure from the base where the camera's going to sit on the head to the center of the lens, where I measured basically, his original height don't have to do some additional. So basically, lens has to be here. Head has to be basically good. Perfect. We're lucky. Okay, You get the idea of how just be precise. Move. Um Let's go ahead and place the camera back on to that platform you got, Marcus. He's centering the beautiful. It doesn't. Okay, that's it. Frame it. Just so people who are watching know that we have an external monitor set up here so that you can save some time and saves in space that you can look at what's going on. Yeah, definitely seems a bit high. Did he, like, precisely measured? Definitely very high, isn't it? Yeah. Okay. It's probably because there was a wider lens. It was 95 minutes in a five year. Right? But this is 17. Nice. Nice catch way. So, uh, yeah, you know, I was seeing a little more of the frame. There was just no more room, OK? And I still like the framing. Like we don't have any terrible lines going through his head. I just take the fact that the, uh the locker is like directly buying his head right now, right? We can, either with longer. So let's just kind of fast forward for the mistakes now and get it working so we could shoot this thing and just move this over a little bit. People live helping lift it. Up you go. I fix this on the fly lockers looking gonna be there and, uh, keep Miguel in position. You with the camera? Higher. Lower. Lower. Okay, It's going to a team effort right here. Okay, way Didn't better. Okay, good. I want to go to 50 points down that frame. Uh, it's looking pretty good, friend. It's pretty good. Okay. It's very awkward to see it sideways for the first time. No looking, huh? All right, let's go ahead and just do some impromptu. Set your correct decoration and just move that locker over a little to the left. You saw how using a variety of cameras in the production can immediately create problems. Just try to have a five D when you've had 70. And Oh, that's why it's not letting out, have you? For just Is this one of seven? How's that? Yeah, that's with 70. Better, uh, back in or all the way out. A little bit more in. Keep going. Okay. And I think we'll live with that for now. All right, there goes Miguel. That's our frame. He's off to the side and we will live with that. Any last minute criticisms because, frankly, we gotta keep moving, not speak now or forever. Forever. Hold your peace. Well, Travis Mackenzie, John, remember a lot of your photographers and used, like, making beautiful frames. I mean, we got a line going through like it. Okay, so how can you quickly fix that with the camera close for the camera? Closer, Right. It's going to get a bit on the type of change lenses, but we really don't want go too much further. Kind of slow, I think, because we're so far away micro movements. We don't have to do a lot of moving at this point. It looks great. Real close. Maybe he just goes. Maybe he just goes like that. You just have to experiment a little bit like salt to taste. I mean, Miguel kay, this table like you're gonna be sitting Well, you know, I don't know what I'm gonna be like this too much because of a little bit slouchy. Just a little bit. But way could follow. You probably move around a lot. Right on. Perfect. Cool. Um all right. So camera is done for now, A few things we had to run through on the slide sheet, which is making sure the cameras set. This isn't What's that we get to that? We get to that. Let's make sure we set all the technical settings first. Okay. The number one thing people forget is there so rushed to shoot going. They don't check to make sure it's a card in there. That's format at the picture style. And I S O r. All good. Okay, so let's make sure that our S O is in a good range of multiple 1 60 It's right at 1 60 Let's make sure that our shutter speed is it 1/50 of a second. And let's make sure that we form at the card before every shoot format. Okay. All right. I think it should be like three quick steps that you do. We've also done our camera prep, and we've set up our picture style. We did this yesterday, Guys. We did it last year as well. We're going to use a neutral setting. I'm gonna show you quickly the details of those settings. Sharpness is all the way down. Contrast could be all the way down or down to your choice. I usually go down to saturation down to. All right, go back to menu. Now we need to make sure. And Marcus is already done this for us. That every other camera going enough using is on the same settings. All right, so that happened last night, as it should, as we talked on Monday, You know, during pre pro. It has already happened. So, uh, the camera is ready to go. The last thing we need to look at is the aperture. Have a question about the camera? Quick. I notice you shooting 5600 Calvin and that Let's have a little bit of an orange jail. But I'm sure, was that Let me go for the process? Because if you throw me off, we're never going to go shoot. Is that cool? Well, I don't know the processes, right? The processes camera still okay? Aperture We could shoot this. Um, you guys just got a funky images. Just me up here. Is it fucking on the life? No. Every time he's between. Hi, it's back up here. Marcus, we know this guy's really monkey. My bad side. Good. Now, okay. Uh, if the roaming can come over here and look at the aperture real quick. You'll notice that were Why were shooting itself 2. way. Got a long lens? Yeah, this is an interview. Is gonna be moving around a little bit. We don't want to losing shots. We're not looking for art here at F 56 on 85 on a flight on a 70. You have more than the fall off. Okay. You want to give yourself a little bit of play? Um, we don't have enough time to do it right now, but you can get this app called P cam for the IPhone, where you can dial in the 70 you can dial in the lens you're using. You can dial in the distance from your subject, and it will give you what it's called hyper focal. It will show you that from, uh, Markham Lens from 11 feet, 11 feet. He's probably sharp from here for their okay. You have this much wiggle room you can actually mathematically calculate the amount of range you want to get the best effect, Uh, with basically hyper focal. All right, I'm hopeful. Something we did last time. A lot of things. We're gonna be repeating last series of lessons or you can look it up. So this camera, I would say, is good to go in terms of like, getting moving, we're going to set up two separate cameras. Additionally, to this one, one is going to be a camera that is going to be handheld here, off to the side. Okay. And this is gonna be kind of our crazy camp. This is Cam. It's loose. We're going to be two lenses, one that gives you semi tight shot and one kind of for macro details. So you can, like, really go into his lips talking or his hands moving on. That's a camera that's going to kind of let you run with it. I'm gonna make sure that you can just get little details that Dan can cut in whenever it's it isn't focus or out of focus or he's a cutting point during the interview, right? The third camera set up is a camera just to the right of camera. A. So always name your cameras. This will be a B and C. There's no confusion. An entire crew. Okay, cameras a was the main one. B is gonna be on a slider market's gonna pull that in. Watch camera A and dance may go right where you are. What I'm doing is I'm just starting to kind of take a little bit of notes. Is the editor. I'm sort of transitioning a little bit getting all the the details down, making sure that I'm making some notes to myself for camera A, B and C setting up an area where I can I'll be listening to the interview, you know, pulling out quotes and stuff like that. You know, optimum. Lee Aziz, the director you're gonna wanna When you get this footage, you're not gonna want to turn it around. And in a few hours, you want to sit and listen to Justin. Can you pull out a 70 for me, please? The other thing we want to do, too, is we wanna make sure that all the cameras actually have active audio coming from the camera, because we will be using paralyzed
Ratings and Reviews
Great Workshop.. Totally worth it, for the sheer amount of Information and seeing everyone work together, seeing the master himself at work and breaking down each and every aspect of film-making while shooting, so people like me can learn the Magic of film-making. Loved every part of all 3 sessions.. Awesome CreativeLive ... Awesome Vincent Laforet.. Awesome stuff, to everyone involved, including the ladies asking "interweb" questions and the creative live camera crew.. Also, when and where can we see the final product shot on Session / Day 3... "Choice"..?? Thank you..
This is, without a question, the best education model I've experienced. The small snippets of details, the interaction, the experience, was indescribable. I don't know how to thank you enough....especially after winning a prize! [Hugs]
Hi guys, great series, nice educational tool, especially when you in remote places. Just wondering where is session 2, since i paid for all, cant find it. anything on that? Cheers bvkfilms@gmail.com
Student Work