Camera Bodies, Lenses & Packing for the Field
Jay Goodrich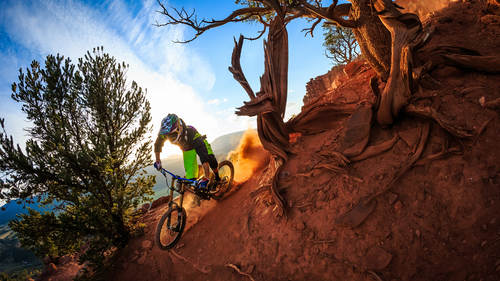 Camera Bodies, Lenses & Packing for the Field
Jay Goodrich
Lesson Info
18. Camera Bodies, Lenses & Packing for the Field
Lesson Info
Camera Bodies, Lenses & Packing for the Field
Let's talk about the table won't um I don't think I need that so the I don't carry all of this this would be insanity but I think we'll start with lenses and when people ask me you know what camera body do I buy? What lens combination should I start with etcetera? I always tell them by the best glass you can afford you can always upgrade the camera body plus the camera body seemed to change more often than the glass does so buying high end glass you'll be able to use that glass for many, many years as opposed to a camera body which in a year and a half or two years could be totally changed right? Um so this might kind of starting lens here is a cannon fifteen millimeter fish I it's an f two point eight lends look how tiny this little puppy is super super light take this mountain biking all the time just because of its size right it's also to point an aperture uh can't use filters on it so we just have to roll without and notice it's been through the wringer and stained indented this is...
probably the oldest lens I have in my kid at this point but it's so functions really well it doesn't have internal focus and um so it's motor sort of the focus pretty slow but the other thing is with such a wide field of view you can kind of get your focal point. Choose enough. Stop and everything's going to sharp from foreground to infinity makes sense. Did you guys get a good shot? What's the name and it's a cannon. Fifteen millimeter fish. I have to point eight. I think they still make it because they have replaced it with the next lens. Okay, so this puppy is city cannon eight to fifteen fish zoom. Uh uh, four aperture as opposed to have two point eight aperture. The cool thing about the zoom functionality of this is if you have multiple camera bodies, if you have, like, a full frame camera body and then you're kind of backup camera, maybe like an old rebel or something that has a crop sensor to it. Uh, that this lens works great. You get fish eye out of any magnification sensor factor that makes sense. It's fifteen. Fascism. What I like about this one is we can take the actual lens hood component off if we need to. And the cool thing is that clips in so it keeps the lens protected. Whereas this thing see if they can do it falls off all the time. Okay so cool because of new design features but having this fish I zoom also works well you could get about fourteen millimeters without getting than getting on a full frame camera too so you get a little bit more fish I effective that's what you're looking for uh this is one of one of the favorite lenses sixteen thirty five and its aversion to lens as well remember I said all of my bodies are running where are all my cameras are running polarizer so there's an l b pollers or notice thin ring mt that is really important for sixteen millimeters it stops the vignette ing right now used to because of thin ring mount you can't mount anything to protect it but sing great kind of came up with their own little caps and they were great for may just press it on and you're good um wide angle one of things people don't really think about with wide angle lenses is they put that thing on and they just wanted us all encompassing view and that's not the way I use a wide angle when I threw that wide angle on I'm getting really close to a foreground subject in him putting a secondary subject off kind of in the distance so it allows me to encompass of you that way so really hitch in your face remember we were talking yesterday about scale that's a good lens to start cheating scale ok this is the new twenty four seventy two point eight lens uh does not have image stabilization can is trying to make music slams and I I and so apprehensive of lango my twenty four one of five which is the next ones I talk about but this lens is really sharp really, really sharp and it's a nice lends to kind of having the kid um two point eight aperture on this so again really good in low light we don't have to ramp are isis up this high in that scenario? S so that's it this this or you're twenty four one o five probably the two best lenses you could ever get so if you could only afford one I would say think about this one or think about this one which is the twenty four one o five and the twenty four one of five here is, uh image stabilized so I think this lens pulls therese will allow u three stops of slower shutter speed so if you use my little equation if we're going to go one over a twenty fifth because it's a twenty four millimeter lens well now we could go uh or one over thirty he'd go to fifteen, you got aids, you know, before you know so hand holding a quarter of a second kind of cool on that also works on the one of five side you're going to be one twenty fifth now all of a sudden you're down to fiftieth at kind of a tell from you know medium telephoto zoom the cool thing about this twenty four one of five twenty four wide angle plus one o five so it kind of comes into the seventy two, two hundred range I was talking to emily earlier about this if you are going to walk in a market anywhere in the world take this lens and one camera body and you're set you khun photographed your heart's content I really really like this lives seventy two two hundred to skip these guys for second seventy two two hundred version two f two point eight lens it's kind of heavy but it's really sharp and the two point eight aperture gives me the ability to add these guys one point for tele converter and a two x tell a converter so I have a seventy two, two hundred that khun d'oh two, three hundred and then to four hundred and the images they're still really, really sharp these air the version three tele converters which are the newest tele converters they work really well with this lends auto focus wise now also I didn't bring it, but I have a seventy two, two hundred for that I use it's also image stabilized I will use that when wade is truly a concern okay, the problem with the f four as soon as you add one point four two it focuses really, really slow so I don't get that kind of digression with the focusing with this lens so that's why I choose this one most of the time questions this is the beast to two, four hundred this is cannons kind of new flagship lens uh has a built in one point four tell a converter just the flick of a switch that's all those it's like going to the doctor do you like number one? Do you like number two still really light for what it is but a very heavy lens. So this puppy does not come out with me on a daily basis. This is thinking about a shot. Oh, my god. It would be awesome if I could get somebody skiing on that ridge outside way over there. This lens then comes if this lends typically comes if I don't have somebody with me that can carry it as a accessory, then the pack essentially gets empty. This and a camera body that's it for that day so I gotta work with it that way but really, really cool to two, four hundred zoom dropping the one point for you have five hundred and change, right, okay, this is not a cheap piece of equipment and it takes training to carry this thing I mean it's still heavy because if you throw this puppy on a tripod with a professional one the ex body you're talking fifteen pounds still probably okay camera bodies to one d excess remember yesterday I talked about the strap no strapped for me I do have a strap I do carry shop with me that I will put on but the cool thing about this little hand strap is it allows me to control the camera and I don't have to have this extreme strapped dangling in the wind typically if I throw fish eye on I'm got strapped the wind blows the thing during the shot right in front of the fish islands and they're my shots kind of ruined so this allows me stability it's adjustable so I can just crank it down maybe I can't crank it down right now and there I could make a loser so I can crank it down for my hand or I can loosen it up for gloves so we'll work if my hands were really freezing and any gloves on I can work I can use that strap is well okay one other thing all of my gear has plates on it these air called swiss arca plates uh they allow me to connects my camera and even my lenses to my tripod it's kind of like a integrated connection system and the swiss arca system is kind of the standard as well, and the ball had a uses an ak protect and all of this is listed. So if you guys are freaking out about, we're headed with it all. Don't worry. You can get you figured out. Ok. So back up. Camera body five d mark three. This camera twelve frames per second. This camera six frames per second. The beauty of these two cameras for me mentally is that they're set up exactly the same. I know how to operate. The out of focus in this thing can operate the autofocus in that thing. Same custom functions the main difference. What changes the speed of shooting on these two cameras? The one d x has an extra processor in it for focusing as opposed to image processing. So this has two processors in it. They operate image processing and focusing. This has three image processor three processes to for image processing. One for focus specifically, so allows faster frame rates half the price half the speed after price. Can you shoot adventure sports with six frames per second? Absolutely. I was in alaska shooting bears and I roomed one of my one the exes. I got a second one on loan and it didn't work. My friend had a five d mark three and I took it and shot an entire mountain biking story with it so can you do it? Yes absolutely. So this kind of becomes my backup but it also becomes my camera when I'm hiking things like that when I don't want to carry a lot of weight I've got this great little thing it's perfect for that kind of stuff okay guys good questions I noticed that you don't have a swiss aqap late on the five d or the other one d x of that particular reason or is it these these are on loan because I didn't want to carry all this gear just trying to keep down wait um yes oh, these are on loan but yes, the ones at home have the plates everything has a place this is on loan to s o mine has a plate okay me since all right, so here's our pocket wizards ok there's the cable goes right into either this camera or this camera just like the remote cable released will do okay uh like I said pink for me mentally goes on the camera yellow goes in my hand we'll have to do is press that button it triggers the camera put the camera anywhere we want what else we have here here's the filters here is the very nd filter I was talking about it's really thick but here it has I don't know if you can see it being the camera but can you see it get darker yeah so that allows me to take a lot of light out you know how do I do a high noon long exposure shot through this puppy on internet if you're shooting video this thing's really awesome to allow you to shoot any apertura you want and match your shutter speed slash frame rate right? We're double it I think it is but that back on uh graduated neutral density filters here's a to stop here's the reverse grad I'll show you both of these here's the three stop so that's what these puppies looked like dark on the top minor transition and then clear on the bottom so crazy sunset light foreground subject mountain biker et cetera goes here sky goes it goes there this equals the exposure out balances exposure I don't know if you'll be able to see the difference between this's that darryl benson one where it's kind of darker down here and then it kind of fades lighter I don't know if you can see it and flashes don't really carry these ton I'm not crazy flash guy but I have done a bunch of cool nighttime flash exposure type things like the one we showed you yesterday and we used uh uh the new cannon six hundred e x r t and the party stands for radio transmitter so cannon has developed a completely wireless system that runs I believe on the two point nine gigahertz sting that muslims our two point four gigahertz that are cordless phones run on this thing works really nice because it's tl exposure through the device you can run up to fifty flashes on different channels with this thing kind of nice so I will carry up to three yuri becomes the mule for the flashes thie other cool thing that this new flash offers from cannon is the ability to integrate a gel right on the end of the camera so this puppy just um clips on just like that and now I've got diffuser ands flash gel pretty cool so I'll use the warming gel a lot because flashes obviously make the scene very cool you can still change obviously you're uh your white balance in your camera to warm things up but you know this controls just the color of the flash coming out ok battery packs for the flashes allow the small handheld flash to shoot faster and longer he's a rechargeable kind of cool and then here's my extraneous camera strap can't just standard can one that comes with the camera and this little puppy allows me to put the camera on the chest so it could strapped right there in by these from teenage just about anywhere I think is made by o p tech um so this goes in the pack with me all the time as do these guys and then I can set up pretty much any scenario that I want to d'oh skiing I said I carry two way radio we pick a channel this thing goes in the back of the pack this mike sits on my shoulder all the time so I don't have to dig I don't have to figure out I can control channels here volume here etcetera okay, that goes with my ski pack or I'm not bipac depending on what I'm thinking about that day and then I just having another one that I give to the athlete that were without I'm working with typically if you even have two or three athletes with you on ly one needs a radio because they could just hand the radio off makes sense questions okay headlamp there it is avalanche transceiver there it is my favorite hat skins pretty big ski really wide ski just works for me and hear all goggles, glasses, extra lenses everything like that on its own little super pac okay extra food tire levers patch kit didn't bring it to you guys would get figure that one out um this tool multi tool here's the pump okay, so on any given day the way I kind of work is there three core lenses that come with me no matter what okay, here it is sixteen thirty five o eight forgot spare battery remember we had to do the iphone shot because numbnuts didn't have the spare battery with them right uh sixteen thirty five twenty four one o five seventeen, two hundred those three will go with me no matter what, no matter where, no matter how ok like I said, I'm going to just take one lens it's a twenty four one o five ok, so let's look at the pac feature wass here's my extra layer notices on the outside pocket easily accessible right don't have to dig for it I have to think about what? See if you guys can kind of see in there so this is a lens hood they go with me, you can kind of see my shovel kind of tucked back in there all right? I'm not just whipping to shovel out at any given moment so I'm not really worried about it kind of residing back here. This is the cool thing about f stop banks they have uh these internal they call my cell use internal camera units and you will see that. So I have a bunch of different ones of these so I can carry more here than this or less gear than this with the different I see use and they're all set up for the kind of the setup I would carry and this is my standard set up right here this is what a ski with every day so one d x goes in right here hoping I can put this in a way that you guys can see it seventy two, two hundred twenty four one five sixteen to thirty five pocket wizards but we also have lens cleaning call class baby wipes never knew what nature is going to strike you um radio would be up here and then if I'm going to take fish eye that goes in there so this is kind of my course set up right there can you guys will see that. Okay, then goggles it does fit believing so goggles, I'm gonna zip this up so I can kind of pick it up the way I would skins on top easily accessible top pocket filters these babies in there top pocket food and then my water bottle I'll either stuff in this side depending on what I'm doing at that point where I will stuff it inside kind of where the shovel isthe so there's my ski pack somebody want to feel like it's? Not like ok, uh, obviously that would go in these air on me that goes in there too. This would go up here. So you saw within five seconds I'm ready to go skin so you know, it's all in kind of ingrained in my head how I'm gonna set this thing up, okay, so there's ski pack um, dude, this guy thiss guys really tight compartment wise, we're packing a lot of year into a very small container but notice the size of a pack I really like that small size when amount liking I don't want to be kind of over baird with this guy still can't close to the wait though, so here this is another thing I do I don't know if it really mentally it just makes me feel better I packed my camera kind of like that upside down and so when I'm carrying it the sensor is not sitting up and the thinking is gravity takes dust down so it's going to keep my sensor cleaner don't know if that really works or not, but mentally I'm just do it okay, so that puppy goes in there seventeen to two hundred goes in here len's close nature no, I didn't talk about these guys we're going into so that's that and then this puppy that's closed up and I've got two sides kind of carrying mechanisms this's where tripod would go or mono pod okay, over here is where my water goes and my tools so here's another pump party in here tools all going there water bladder goes on top water bladder comes through their hits my strap on the um yeah and then if I need the radio the radio goes inside you saw a little bit extra area extra missile in these things based on what I want see that they questions jake question travel photography I'm on the road I've got a computer with me I've got an extra downloadable hard drive is where do those things go? Where do you do? I keep losing the hotel room and I have a just a, uh, like a shoulder messenger bag that houses my external hard drive and my laptop mouse et cetera things like that uh, some miscellaneous cables that are connected to the computer hard drive and those just stay in the hotel room I don't take them, I don't take them out with me like shooting here's one pack that encompasses everything, all of this, including the computer for link, the airplane, you know, and I don't and here's why I don't do that because if I am on a going on a plane right, this can go in the overhead and then my laptops shoulder messenger bag go under the seat in front of me, so I have access to it, like once reached ten thousand feet, you know, keep my mind occupied let's do some work so that's, why you keep them separate? I used to have a pack that I was allowed or could fit everything, and it didn't work for me mentally so kind of the word thing with me have to separate bags, you're allowed to take two on, I think you are traveling wise, but continue with that it's a good question if I bring something like this, it goes in my checked bag so it goes under the plane, it gets wrapped in the clothes or sometimes if I don't have a ton of clothes and I'm worried about thinking or beat up all bubble wrap it just really quick and throw it in there into underneath all the clothes and everything and I travel with, uh wields just wields patagonia. I can't remember the name of them, but, uh, they're kind of hard shelled on the bottom and my tripod would go on the bottom thing it's a separate compartment, the lens would then go on top of that and then all of my clothes and all that kind of stuff going on that as well. Now if I am bringing, so I'm bringing this guy because I'm on a mountain bike trip, but I want to bring flashes. I take one of these icy use from f stop and I put the gear in there and then I put that in my checked bag as well, so it has its own little protection mechanism. Now I know you use the two to four hundred every now and then, you know, use it all the time if you're packing it somewhere because you not know they made a little small smaller tripods and stuff like that with those smaller type of hold the weight of your one d x two hundred the beauty of this lenses the image stabilization that's built into it that's the newest technology cannon makes and I have hand held this thing with the I s and a one d x and got really sharp shots so yes so that platform doesn't need to be this crazy brick and mortar trap on yeah exactly anymore you know you could you could easily get away with like it gets so traveler siri's or you know something that's fairly light and really compact if that's the way you wanted to travel and you could probably put this thing on there with the I s going because it's going to vibrate and move and stuff but it probably would produce sharp shots if you're focusing on good technique you have to tell a converters do you always take both or can you just take one called good I will always take the one point for sometimes I'll take both get your gear what great question all of my lenses are l syria's lenses by cannon that delineates this red ring and all of the lenses have these little rubber gaskets on and all of the lenses air sealed as well as one d x and five d mark three have great gas getting to him I truly don't worry now I know this works for a fact because when I got a one d mark four and that's seven seventy two, two hundred I dropped it in the lake three feet down in the camera was shooting an hour later so testament to the seals don't go try it don't try that at home you don't change your lenses in the field day and if you're out there out in the ski area when that so you don't change anything in the field at seven is pretty much like a lens into a body no no I changed him I'll change in one hundred fifty times, okay? I don't I don't worry about dustin and worries about snow you know the thing is if it's like dumping or raining out all I do is hover over my pack like this I picked the lens up I click it in and I'm going to go so I kind of protected that way and have there been days where I look inside and I see my mirror covered in moisture drops of snow melting all that kind stuff yes, jay great question here from shigeru folks are asking about stuff freezing and batteries and we talked about rain we talked about he can you talk about yeah the cole s o what I have noticed the the five d the batteries in that do not last a cz long is the one d x batteries that's why I'm typically carrying that thing the extra battery here now I have I have a ton of extra batteries that have kind of worked with me from the one d I don't know mark three I think version on up they still work in the brand new one the ex even though cannon has changed the battery so thes work on the charger so they're older I keep using them until they're done you know so they just don't hold a charge but typically with the one the extra get about three or four thousand frames before need tio change the battery now I'm shooting something longer exposure wise that's less faster frame rates actually give you more battery life uh so in cold I don't really notice a change and it could be that lithium technology now it doesn't it doesn't doesn't see that much of a change a gopro the battery dies really clinical that's one thing I have noticed so I bring extra batteries for that you know and in that scenario I you know go pros good because I could just put it in my pocket so it keeps next you know he keeps inside the body he kind of cavity thing and keeps keeps warm so it lasts longer and I only take it out like if I'm gonna put it on the camera and what not um what was that what else we're really talking about I think that was that answered all s o a general by question. Will there be a big role for the newer fat by five fat tire bikes in both summer and winter sports? That's correct, right fat tire? We're calling them fat flakes and jackson, and I'm like, yeah, that's what they said that bike, yeah, complex, so five inch tired by things they look, you know, that certainly makes one called the moon lander and that's what I always think about when I think about the fact like but they're crazy, they're people just swarming this marketplace, or a lot of custom manufacturers of carbon fiber versions of those bikes. I personally don't have one yet, but here's the crazy thing the day before I left, national geographic said, we need photos of pheap like, and I was like, I don't have any of those, but maybe I can use this to my advantage to try and go out and shoot some fat blinking the way we use them in jackson is we have kind of a muddy sea transition into snow and the skinny, tired bikes like my, my bike's do not perform well in the in the type of mud we have there and that's when people start bringing out this fat flakes and they just ride over everything so it's pretty impressive and then the other way we're using the jackson is if we have a dry spell too weak dr spilling where you can't find any powder out there begin on your fat black and you're like in heaven again you know, because it's just like this fun kind of different thing to do and it's so I see those things yeah, I think that's going to be like this crazy market place within two years I would almost guarantee it rock shocks just started making a full suspension fork for fat like and salsa bicycles started making a full suspension that blake so pretty crazy stuff yeah so it's on my list I really I think for me activity wass you know, I don't I don't like to ski bad snow anymore I'm kind of too old and beat up to do that so I think a fat like would be great when you know a two week dry spell just get out there and right on the trails and there's a core group of people in my town that they're riding these trails all times so it's like manicured again that bike riding you know it's just it's just really cool which camera do you carry for every day? Just local bike writes every day I take the one d x. If I'm going to shoot anything that I want to get published, I just bring the one d x, the five d becomes my backup. If I'm going hiking with the family or whatever five d becomes the camera I would just take because I could just stuff it, really. I don't have to even take these packs and stuff it in any pack with twenty four, one of five zoom, and other than that, if I'm going riding on my own, I don't carry. I carry my iphone, so if I'm not writing with anybody that day or, you know, we just got on front rides to, I'm not. I don't have to shoot every single day that I'm out there, just the iphone I just bring out from that allows me to keep those the kind of the memories in the scenarios that I see regardless.
Class Materials
Jay Goodrich - Lightroom Notes and Workflow.pdf
Jay Goodrich - Intro to Adventure Photography Discount Codes.pdf
Jay Goodrich - Intro to Adventure Sports Photography Syllabus.pdf
Jay Goodrich - Intro to Adventure Photography Gear Guide.pdf
Ratings and Reviews
While I'm new to the world of Creative Live and their excellent series of lecture presentations, I'm not so new to the world of photography. I'm an avid semi-pro nature photographer with aspirations toward expanding my portfolio to include more adventure sports-related imagery. I found Jay's presentation insightful, humorous and down to earth. His classes mixed the art and design of an image with the technical experience and athletic ability one would need to create the kind of image I'd like to be able to make, and he did it in a way that made my personal goal achievable. Jay's images are stunning, and he presents a lot of valuable information in a way that relates to photographers of all skill levels. I look forward to seeing more of what CL can provide to help me become a better photographer, and also to seeing what Jay will present next. I highly recommend this class!
Thank you so much for sharing this and for free. I learnt a LOT... and still gotta keep on learning!! I like and agree with most of your points of view, Jay! Love the no-rules approach, photographer's vision, controlling the shot and camera, and doing most of the job with the camera instead of lots of editing, like many do. I honestly didn't know you before this workshop but am now a new follower you've got. Keep it up! You're gonna kinda hate me for kind of pointing something out to you... you kind of say kind of and kinda kind of 'way too much' ;) Not saying it as negative criticism because it is not at all, but as a funny observation (followed HIMYM? You'll understand ;)). Best of luck. Respect. ps. Recommended watch.
Student Work