Lightroom Processing: Presets
Jay Goodrich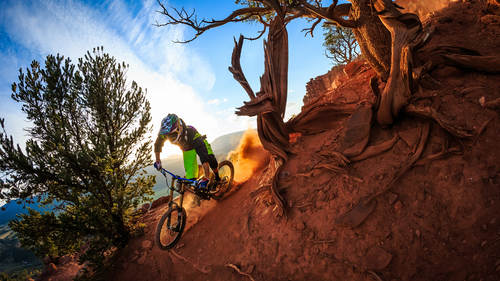 Lightroom Processing: Presets
Jay Goodrich
Lesson Info
27. Lightroom Processing: Presets
Lesson Info
Lightroom Processing: Presets
Presets right? We need presets. S o I discovered this company a couple years ago on online it's called visco v s ceo and the website is v s ceo doc ceo and they make presets based on film for like room so it's kind of cool, uh, there's one package that they have created that I used almost exclusively in a lot of my photographs. It's the disco film number of package number zero four and what was included in that package was let's scroll down here. What have we been talking about the last two days? Oh, elvia. So the first film I started shooting there'll be a fifty, the one where you saw the black dark shots of skiing entire brick. But look what I've got. I've got that preset adjustment right here created by this company. Now, the cool thing that this company did was they took specific cameras, digital cameras, they set up a shop, they took the on day may I may be completely wrong, but I think they took a film camera with the film and it shot it. Process that and then match the processin...
g across these different can't digital cameras in flight room and created presets, so in one click, my photograph can go from this to essentially a preset that mimics food you from bellevue, fifty now do I end my photo processing days here? Absolutely not, because what can we do in today's world? Well, we've got so many controls over here in light room. All right, camera wrong also, if you're using photoshopped adobe camera raw, this is running the same adobe camera raw engine. Ok, so it works. Photo shop and light room are identify identifiably correct. Exact. Correct. What am I trying to say? It's late in the day? Um so similar refusing photo shop or not now, like I said, I don't I don't use photo shop because these adjustments here can as I export them is dmg two clients they khun click a check box and see what the original image looks like now. What if I wanted to see what the original image raw capture looks like in this I hit reset and that's where came in? So notice how there's kind of like this medium overall kind of decent exposure. Look att my history, graham right here. All right, a little bit of a plus. Okay, gives me detail. Where? Right there. Okay, this is important stuff, right? Seeing it now in question. Ok, so let's, hit the velvet fifty pre sentence you what happens, okay, well, bellevue fifty film is notoriously contrast the film okay but I'm not shooting film anymore so if I shot this in fuji come velva yeah those shadows would probably be fairly dark like that ok, we showed that the film shots early you saw the one with the skier and powder and blower powder with the sun setting blue sky I don't know if you guys remember it but if you looked at the skier it looked like this very dark now what do they got here that I can help with this scenario we'll get this great little brush tool and again how many presets does j have to utilize a brush a lot so what do I want to do here? Well, I want to dodge shadows right? We want to see if we can like no shadows can I like no shadows let's take a brush and was just brush over those shadows kids that look correct on not really why? Because this looks a little too bright here where the where the snow is can I further light on that and make it look okay, well, now I'm getting over here now what happens if I just I think I painted too much with my brush? Well, I can come back here with the erase brush and just kind of take all of it this over spray out okay finer tooth comb so to speak and now I've lightens the shadows to point where you know they're starting to make sense okay let's see let's turn the brush off and see how that looks from the beginning there it is there it is now can I make it a little lighter? Well what if I just take a smaller brush go in again with this can we lighten up? Oops sorry have todo new brush uh I go a new brush can I just make that a little lighter right around ten yeah, I could do that now what if I don't want the over spray? Well, I can pick the other brush that I have pre set up two brushes a b a b right here I click that when I get an auto mask so it's it commands e and undo what I just painted and let's come in here with this autumn ask thing and see what happens if I paint that notice how there's not a lot of over spray going beyond the head of this gear but I've lightened it up so these are some of the tools I get to use don't have layer masks because I can't use photo shop but let's just take a look at this photo turned the brush off here let's let's take it let's reset now if I come down see come down to my history right? We have history here in the developmental what's cool about the history and light room versus photo shop you closed light room. It doesn't delete your history associated with file because the history is attached to the minute data of the actual image, so it never disappears unless you delete it. Okay, so you hit the reset button. I want to say wait, I want to see what it looked like before I could just go right back with one click cool stuff, right? Main main tools that I use here exposure contrast highlights, shadows, whites, blacks. I don't always use presets the shot that I'm really enamored with that urine I pulled off in leavenworth with the flashes and the light trail going through, I didn't use a preset there. I just made some highlight shadow adjustments to that image. I gave it some more color saturation and left it as as I didn't need a film preset, and I didn't think a film preset worked with it. I tried it because why? Because it takes one click to do it right. So here in this image, you know, beginning click and all of these adjustments have been applied by the precept that was created originally. Okay, so did you just see me while talking to you process in an image with, like under a minute's time, right, so I'm not going crazy here. You know I'm looking at that scenario looking for light in the field I'm looking for color in the field how do I accept accentuate that how do I work in a fast way et cetera et cetera so not having no layer fifteen different photos together, et cetera all that kind of stuff in photo shop has really just allowed me to shoot photos and it becomes the subject matter that really becomes the dynamic thing here dealing with north share yeah dealing with noise. Okay, so here we shot it I so thirty two hundred so if we scroll down we've got uh oh my god right here noise reduction for my one d x at thirty two hundred I will typically go up to twenty five twenty five points of luminous noise reduction I typically don't see anything color noises typically stay did default in light room is twenty five here I typically just leave it at twenty five okay. Um so let's zoom in here real quick so noise reduction twenty five let's see if that does anything for this photo take it off there's twenty five ropes coolant to heart now watch if I just crank this thing you know everything it's really soft you could use that as a creative tool but so twenty five found gives me good detail but also takes out some of that green that we would see here, okay people have questions, you have to jump on something you just touch down a minute ago about photo shop yeah can you talk a little bit about your theories behind why or when you use it and and how little he used that you mentioned on day one you used it the other day and you're like what is yeah I don't use it a lot anymore in the I used to use it almost exclusively so the way my work flow used to be was import something into here kind of figure out if it was going to stay or not and then immediately take it in the photo shop and start doing layer masks and adjustments via that way but what happened was my client list was kind of like, you know, we don't like photo shop stuff and I'm like, why not there like kind of truth in advertising? That whole slogan of that's been photoshopped has kind of changed the way the the industry and the photo journalistic sense is working right there like, well, all right, how do we fix this? We flat out say no photo show so we're going to use light room we're going to let you use light room because it's camera raw it applies settings but does not apply them to degrade the image in any way they can check and reset that image immediately when they get it if they I don't like what you've done to it, but they like the overall concept of the image and then when somebody says that's unrealistic it's been photoshopped they say no, we don't use images that have been photoshopped, so we know that that's kind of so it's the truth in advertising now unfortunately because of all the things going on out there that have been, you know, manipulated and people haven't disclosed saying, well, I don't need to to disclose that that's what's kind of created this upper, you know, to the journalistic side of the industry it's like, well, how do we how do we justify it in a specific way? Well, we say no to all of it, you were saying that they client to go in and reset an image, I guess all the way back to beginning, right? Do you allow climb to do that? You let them go in and out of their own? Well, they don't they typically wouldn't do something like that without a phone call they would be like, you know, you gave it to us in black and white, but we really like it color can we use it in color? Okay, you know, and I did a bunch of different kind of tone al it ease to a submission once and they're like, we really like him but I'm not we're not sure that it's going to work with the colt total color scheme of the of this spreads in the in the article. So can we do something different? Yes, you know so it's not they just don't blanket change it. I sent him a black and white and it shows up as a color shot in a magazine. That's never happened to me without a phone caller and at least an email or something like that. Um, I'm just throwing both at you and you can answer. Answer both. What advice? You know, if you know if you do nothing else, right? What advice would you give to those aspiring adventure sport photographers? You know, if you do nothing else, do a b and c and the second part of the question is, where is the future? Where is the future of adventure sport? What's what's next with coming next? I don't know what's coming next it seems like it changes every hour, man. But what did you ok? So if you're the entry level guy, what do you do? You got to go out and take tons of photographs. I mean that's number one master your craft be really good at what you do and then figure out how to sell what you d'oh you know how how is your brand going to be different how are you going to be different for me? How am I trying to be different from you? You know I know the competition I'm not that guy who blindly goes through I'm just going to create this way no no no I see the shots I see who's getting the ten page article that I wanted you know, soon I see how they're working their images and I see how they're creating shots and I'm like that bums me out I didn't I didn't think of that one but at the same time talking to some of them in the background there like yes saw that thing he did how'd you do that? You know? So I figured I quickly figured out that there's kind of this thing it works both ways, you know? I can make them jealous and they could make me jealous and et cetera, but I know what they're doing, so I know my competition I'm mastering my craft do I think I'm the greatest photographer in the world? Absolutely not the most amateur person my five year old daughter can train me to do something differently anybody can train you to do something differently so don't ever think you're at it and you've got it you know, this is like a lifelong experience for me what's next I don't really know but I love my iphone in my pocket. A two hundred forty frames per second. Right now. That's. Pretty cool. How many different ways can I utilize that when I'm in the field? You know, those were the things that kind of go through my mind. Anything that gets me excited. Photography in general, I just love it. So every day I get up, I look forward to working. I look forward to challenging myself mentally, physically, et cetera. So that's, the way I would say, just to progress, you know, get out there, experience it, live it, learn it. Love it, etcetera. What else is there? You know, great, extremely lucky. And I and I truly feel you know, this just it's. Awesome. That I could do what I do. Rich here, creative, live lots of moving parts. So I just want to take a minute to thank a few people that have been part of the workshop today. I want to thank all the sponsors that have done discount codes for us. For purchase. Want to thank the creative life audience. That's, you guys out there? Thank you so much. The creative life crew. Amazing. This audience. You guys have really been a great part of this wonderful to have you in the video. But, of course, thank you to j good, rich day, thank you very much. Thank you very much. So folks confined you at j good rich dot com, correct, correct after the fact. So we encourage you folks to go out, check out his website, and you just got a text message. Yeah, I got I got a text message from the owner of the stock agency that represents me saying in this awesome new book, the art of the adventure, and they're featuring a lot of my work. Apparently so hey told me, teo, just let people know the website is live. Live the adventure dot today to check the book out. So I'm pretty stoked.
Class Materials
Jay Goodrich - Lightroom Notes and Workflow.pdf
Jay Goodrich - Intro to Adventure Photography Discount Codes.pdf
Jay Goodrich - Intro to Adventure Sports Photography Syllabus.pdf
Jay Goodrich - Intro to Adventure Photography Gear Guide.pdf
Ratings and Reviews
While I'm new to the world of Creative Live and their excellent series of lecture presentations, I'm not so new to the world of photography. I'm an avid semi-pro nature photographer with aspirations toward expanding my portfolio to include more adventure sports-related imagery. I found Jay's presentation insightful, humorous and down to earth. His classes mixed the art and design of an image with the technical experience and athletic ability one would need to create the kind of image I'd like to be able to make, and he did it in a way that made my personal goal achievable. Jay's images are stunning, and he presents a lot of valuable information in a way that relates to photographers of all skill levels. I look forward to seeing more of what CL can provide to help me become a better photographer, and also to seeing what Jay will present next. I highly recommend this class!
Thank you so much for sharing this and for free. I learnt a LOT... and still gotta keep on learning!! I like and agree with most of your points of view, Jay! Love the no-rules approach, photographer's vision, controlling the shot and camera, and doing most of the job with the camera instead of lots of editing, like many do. I honestly didn't know you before this workshop but am now a new follower you've got. Keep it up! You're gonna kinda hate me for kind of pointing something out to you... you kind of say kind of and kinda kind of 'way too much' ;) Not saying it as negative criticism because it is not at all, but as a funny observation (followed HIMYM? You'll understand ;)). Best of luck. Respect. ps. Recommended watch.
Student Work