.918: The Magic Number
Cheryl Itamura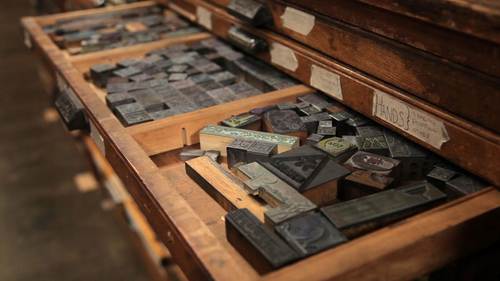 .918: The Magic Number
Cheryl Itamura
Lesson Info
8. .918: The Magic Number
Lesson Info
.918: The Magic Number
0.9. Lemonade is a very important number to remember for letter press printing as 0.918 inches is the height that objects need to be in order to be able to be put on the printing presses to print letter press some of the types of materials that are often found, um, in letter press include ah, would type. This is antique wood type um, that is still actually being manufactured today. There's a place in the United States that's still manufacturing would type the old fashioned way. There's also metal type, and metal type is actually also still being manufactured today. There's a place in San Francisco, as a matter of fact, that's actually still casting metal type. Using antique metal typecasting equipment. You can also use wood, But this particular piece of wood that you see here is cut using laser cutters, another type of material that you can use our carved linoleum blocks that you can carve yourself. We've got metal type attached to wood blocks, and this particular piece here is very in...
teresting in that this was a computer generated image that was turned into a negative and then developed onto photo polymer material to create a thin photo polymer plate that's attached to a metal block and then put on a letter press printing press. The combined height between this block and the thin photo polymer plate is and you guessed it. It's 1.98 inches.
Ratings and Reviews
This is a super inspiring course that really made me want to try letterpress printing! Itamura is a great instructor who speaks clearly and shows and explains every piece of equipment and that's really good if you, like me, don't know very much about letterpress printing before hitting play on this course. Well worth the money!
Great Intro class, a little pricey for how short it was, but still worth it. I don't see anywhere to download the resource list mentioned in the movie "A World of Resources".
It's a great intro, but like Henry, I don't see the resource list for download that she mentions.
Student Work