A World of Possibilities
Cheryl Itamura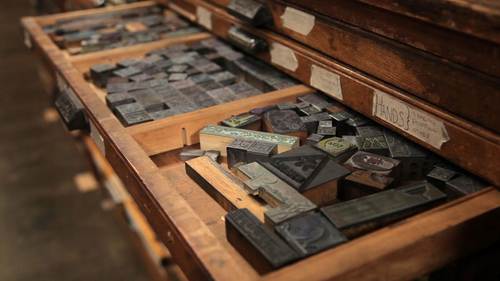 A World of Possibilities
Cheryl Itamura
Lesson Info
9. A World of Possibilities
Lesson Info
A World of Possibilities
so the world of letter press offers many possibilities. Originally, letter Press was for printing. Books and woodcuts were the illustrative element in books from their letter. Press was used for producing periodic ALS on broadsides, public notices, that sort of thing. But now that it is an art form, it's freed up to create other things like stationery, greeting cards, packaging, CD covers and any number of things that you can think of. Don't let that limit you what's available in letter press. Now you can apply letter press to just about anything that you can think of. I got letter press artists now that air creating sculptures with letter press elements, all sorts of different packaging, from chocolate bars to posters to protest signs. You name it anything you can think of. You can print it with letter press, especially if you take your computer graphics, create a photo polymer played as we discussed in an earlier chapter, and go ahead and take that onto Uprooting, press and print it ...
using letter press. The sky's the limit
Ratings and Reviews
This is a super inspiring course that really made me want to try letterpress printing! Itamura is a great instructor who speaks clearly and shows and explains every piece of equipment and that's really good if you, like me, don't know very much about letterpress printing before hitting play on this course. Well worth the money!
Great Intro class, a little pricey for how short it was, but still worth it. I don't see anywhere to download the resource list mentioned in the movie "A World of Resources".
It's a great intro, but like Henry, I don't see the resource list for download that she mentions.
Student Work