Introduction to Mixed Media
Stephenie Hamen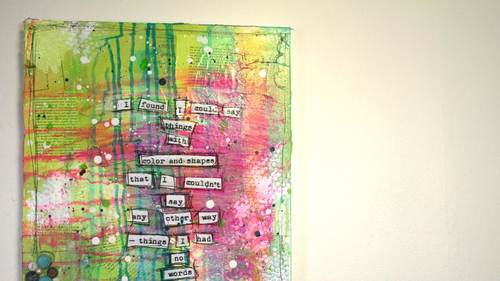 Introduction to Mixed Media
Stephenie Hamen
Class Description
Mixed media is such a broad, all-encompassing topic that it is easy to become overwhelmed before you even start experimenting. During Introduction to Mixed Media, Stephenie Hamen will take the mystery out of mixed media and help you get started making art.
In this class, Stephenie will cover all the basics and teach you how to lay out a mixed media art piece, step-by-step and item-by-item. You'll learn about common materials and how each media within the piece works and interacts with the others. 
You'll learn how to:
Create a collage base on canvas
Affix crayon wax and beeswax to a piece
Use stencils to add texture and/or imagery
Add texture with gesso
Stephenie will discuss the different types of acrylic paints, how they work, and how they react when water is added. You will learn which materials work well together and get lots of tips you can use when creating pieces in the future.
Even the most inexperienced beginner will develop a new appreciation for the art form and learn skills they can use to start making their own mixed media art.
Class Materials
Intro To Mixed Media Quotes
Intro To Mixed Media Supply List
Ratings and Reviews
This was very informative, and quite fun to watch. I liked that the instructor endorsed the idea of using items that you have onhand; repurposing old books and other items to use until you really know where your style lies. I also like that she shared the names of products she truly believed were worth purchasing, without being pushy. This art form encourages "play" and is quite forgiving if you have a "happy little accident", because it's not difficult to cover the area in question, to try something different. I'm quite happy that I viewed this class!
Wonderful class, so much fun and I love how Stephanie makes you feel so relaxed and that things will be great even if you've never tried something like this before. I wanted to watch the course to get the idea of it, now I can't wait to get the supplies and watch again while trying it out myself. Thanks!
I really enjoyed this class. Stephanie was fun and relaxed which made the learning fun and relaxed. I can't wait to get my hands dirty and give it a try!
Student Work