Lighting The Scene
Course Introduction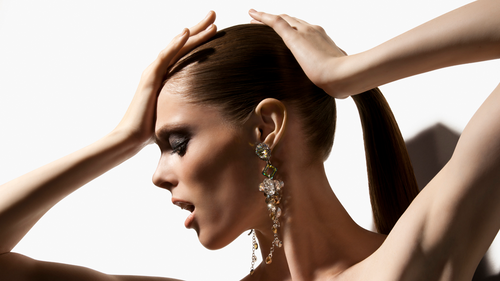 Lighting The Scene
Course Introduction
Lesson Info
Course Introduction
Hi, I'm Nigel Barker. I'm a fashion portrait photographer, and when I take pictures it's all about the story of the picture. Now that doesn't just come from the model, of course that's extremely important, and I have a class all about that called Capturing the Narrative. But of course, the light is incredibly important. The light tells so much of a story, and here we are at the Georgetown Steam Plant in Seattle. It's amazing building, all kinds of light, all kinds of reflective surfaces. And we're gonna go through this wonderful space looking for perfect moments to tell a story of this vintage palette that comes from almost a hundred years ago and really bring it to life; using the ambient light, but also introducing strobe. All kinds of different strobe scenarios, we're gonna build from the ground up, and you're gonna witness how we do it, and how we tell the story. And how the story can change depending on the light. Let's have a look around.
Class Description
AFTER THIS CLASS YOU'LL BE ABLE TO:
Light a complex, cluttered scene with different textures and surfaces
Dramatically alter the mood simply by altering the light
Use natural and strobe lighting to tell a story
Comfortably move between natural light and strobe within the same space
Develop a story using tips on light, pose and more
ABOUT NIGEL'S CLASS:
Harness the story-telling power of light. In this class, watch fashion photographer Nigel Barker use light to tell two entirely different stories within the same space. Learn to evaluate a scene for potential lighting advantages and pitfalls. Train your eyes to spot existing natural reflectors already within a scene. Build your artificial lighting prowess with a behind-the-scenes look at lighting set-ups from a simple single light to a dramatic eight-light ensemble.
Learn how to use light to build a story and a mood into your photographs using both natural light and strobes. In this approximately 90-minute class, watch a start-to-finish shoot in an industrial steam plant. Keeping the setting, styling, clothing, and models the same, Nigel demonstrates how to use light to go from a World War II-era industrial story to a futuristic tale with a touch of sci-fi. The only thing that changes? The light.
While this class follows a photographer primarily known in the fashion industry, the lighting tips and tricks aren't limited to a single genre of photography. Whether you are tackling environmental portrait photography or a fine-art portrait, learn how to light the scene in this CreativeLive class.
WHO THIS CLASS IS FOR:
Intermediate photographers ready to take lighting on-location
Professional photographers looking for on-location lighting inspiration
SOFTWARE USED:
Capture One
ABOUT YOUR INSTRUCTOR:
As the photographer (and a judge) on America's Next Top Model for 18 seasons, Nigel Barker knows fashion photography. Besides his TV appearances (which also include hosting The Face and Top Photographer), the New York-based photographer also led films and documentaries for Hollywood clients. Respected in the world of fashion photography, Nigel has owned his own studio since 1996 and is the author of two fashion books. Students praise his engaging, to-the-point teaching style (and his British accent doesn't hurt either).
Reviews
Nigel is a good communicator and excellent photographer. However, you won't learn too much from this class. It is a Behind The Scene footage showing Nigel at work. That's all. Nigel doesn't measure ambient and artificial light, and won't tell you the light values you need to achieve the desired effect. Recommend to those who look for motivational support; certainly do not recommend to those who look for technical knowledge. For that reason, I feel like the tutorial is a bit overpriced. Thank you
I prefer natural light, but want to learn more about studio light. Nigel is an excellent instructor, and photographer. He can explain lighting concepts in easy to understand steps. He also gives plenty of excellent and useful tips.
Simple class about storytelling a shoot. Nigel goes through the process and explains everything he does. Nigel is excellent at breaking everything down step by step. Another course by Nigel called "The Business of Photography" covers the same material but goes way more in depth. Personally didn't learn much from this course but was enjoyable to watch a professional work regardless.