Creating and Saving Adjustment Brush
Kristina Sherk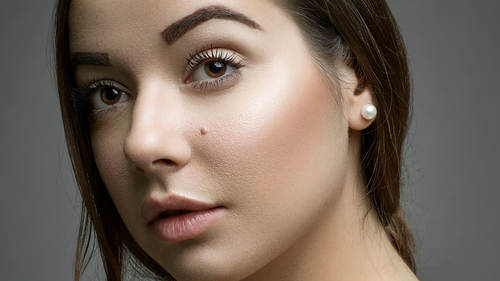 Creating and Saving Adjustment Brush
Kristina Sherk
Lesson Info
5. Creating and Saving Adjustment Brush
Lesson Info
Creating and Saving Adjustment Brush
So has anybody here used the Adjustment Brush in some of your editing? And have you created your own Adjustment Brush and saved it? All right, perfect. Let's move on and do some under eye work here. So I wanna just talk quickly about, let's hit D to get over into our develop module. So if you do anything more than five times in Lightroom, you should probably have a brush for it because it's gonna speed up your time. If you're doing the same thing, what's the definition of insanity, doing the same thing over and over again and expecting a different result, okay? Think about that every time you're wasting those 15 seconds for changing all of these different sliders for your Adjustment Brush. Every single time you have, say teeth to whiten or under eye bags to get rid of, okay? That's all wasted time, so what you should really do is you should create a brush for it. In Lightroom, you need to create a brush for it. So if I double click the word Effect right here, that's gonna even out, tha...
t's gonna x out all of the different settings on my Adjustment Brush. So let's create like an iris, let's create a brush that would work for a client's eyes and like making the eyes pop, so I'll call it like an Iris Enhance brush. So for an Iris Enhance brush I would probably increase the Exposure slightly. Zoom in here a little bit, let's increase the Contrast, zoom out. Increase the Contrast, let's darken the shadows a little bit and just add a little bit of Contrast so I'm brightening the whites, I'm darkening the blacks. Let's add little bit of Dehaze. Maybe add some Saturation and Sharpness to those irises and I've got my brush here and I'm just gonna go ahead and paint in on the iris. (laughs) What's on, what's on right now? My mask overlay, okay? I definitely did not want to make a green iris. That is, there we go, that's better without that mask overlay on. So if I go back to my before and after, you can see the difference in that iris. So let's talk quickly about what we were able to achieve with one brush because here's where I want you guys to see, start seeing the value of this Adjustment Brush. We were able to increase the Exposure, increase the Contrast, we didn't do anything with the highlights. We decreased the shadows, brightened the whites, darkened the blacks, we added some Dehaze, we added some Saturation, we added Sharpness. That is one, two, three, four, five, six, seven, eight changes. That would take you eight different adjustment layers in Photoshop to do the same thing, okay, but here we took one brush, we made eight different adjustments to it and we were able to paint once and add eight different changes to that eye area, okay? So that's what I really want to kind of bat home for you guys in this class is that, what would that take you in Photoshop to do, to create eight different adjustments, eight, nine? What did I say, eight or nine? Nine different adjustment layers in Photoshop and paint each one of those masks in, okay? That's a lot of time so this is automatically saving you a lot of time by adjusting eight or nine different features and applying them once instead. And now, to compound on that time saving stuff, I wanna talk briefly about saving a brush. Like I said, if you're going to enhance the irises of any of your clients on any images more than five times, you should probably save a brush for it. So the way that we'll save a brush is we'll come up to our Effects, Effect area and you've got this Custom because we've made custom changes to this adjustment. So if we come to this little up and down arrow, you could see that a lot of different brushes are in there. These are the ones that you're probably gonna have in your Photoshop and I'm just gonna, just ask for your forgiveness for a minute because I have a lot of them. Okay so down here at the bottom of this menu, which will be much shorter on your, on your Lightroom, you have the option to Save Current Settings As a New Preset, okay? So this is how you're going to even maximize more on your time. You are going to save this so that you can use it on your next image and your next image and your next image and every time you use this brush on any image moving forward, you're saving time, okay? You're saving time, you're getting faster. All right so let's name this new preset as Iris Enhance and then we'll go ahead and create that brush. So now, if you look over here, it has come and it switched to your Iris Enhance brush, all right? Now let's say you have used this brush on three different images and you're like, you know what, I like this but it's just not strong enough or you know, there's something different or oh my gosh I forgot to add clarity to the brush. Maybe I should edit this brush and change this brush so that it works better for me as you start to use it more and more. Don't go and create a new iris brush. Just come in here, make the change that you wanna add to this iris brush and you could see, as soon as you make a change to a brush, you get the word edited that pops up next to your brush that you've created and so it says yes we started with the iris brush but you changed something. So let's go in here, let's come back into our menu and scroll back down to the bottom and immediately you're going to have a new option that says update this brush with these new settings, okay? So you can choose that and now all of a sudden, your brush has been updated and it works better for you, okay? So, so just keep that in mind as you are working with brushes. If a brush isn't perfect, you can always edit that brush to make it become perfect for you, all right? I'm just curious looking at all of your Custom Brush Presets, now do you limit them to a specific catalog or do you have it, you know, under your preference, you know, where you can kind of have it globally, where you can, you know, it can be in any catalog and have access to it? I do, I have them in all my catalogs. Okay. That's a good question, they are, and an easy way for you to access, this is great, just a quick added tip right here is an easy way for you to access that Adjustment Brushes folder, is gonna be to come to one of these, hold on. Nope, the other one. Lightroom Preferences, where is it? Presets, so this is kind of a backwards shortcut but you have this option here in Preferences in the Presets panel, you have this option to Show Lightroom Presets Folder and so that's, so we'll go to that folder quickly, yikes, and then you have your Local Adjustment Brush Presets folder right there, okay, Local Adjustment Presets. So you easily are directed right to the area where all of your Presets are. So your Export Presets, your Develop Presets, like that's what most people are familiar with, is the Develop Presets. A lot of people that download my brushes are like, I'm looking in the Presets section and they're not there. I have to kinda show them and point them towards the Adjustment Brush and say here's where that list is gonna show up because it's, it's not a Preset for the entire image, it's a Preset for a specific brush where you're adding a specific effect to that specific area. It's not a Preset for the entire image so anyway, very good question. Okay so we've got our Iris Enhance brush and I, one thing that I did wanna kinda point out is that the top ten brushes that I talk about in this class, you're actually gonna go away with the screen grabs of what those settings are so that you can create those brushes at home. So that's one of the things I'm giving you guys today as well as an outline? I'm giving away the outline, I think? Yeah. Yeah so you'll get the whole outline for this class and then you'll also get, so don't like pay too much attention to writing your notes 'cause sometimes, whenever I am sitting in an audience learning, I like write copious notes and then I look up and I'm like, now you're on a different image, what happened, like I got totally lost because I was trying to write down so many notes. So you're gonna have A Brush Preset guide Yeah a Brush Preset guide and the outline for the class. Yep. So don't worry, you don't have to write too may notes down.
Ratings and Reviews
This is an excellent class. I have covered over half of BenWilmore's complete guide to Lightroom, which I needed as I have mostly played around with the obvious sliders in Lightroom until now. So fortunately I had a little familiarity with brushes. This is so helpful for me to now use what I learned with more detail and more skills specifically for portraits of my family. I am so excited to use all this! Thanks!!!! She is an excellent teacher.
I very much appreciated Kristina's energy and concise instruction. She was very easy to follow and remained focused on each lesson without being repetitive or random. I learned great time saving tips that will not be difficult to implement. Thank you, Kristina!
This was a fantastic, easy to follow course! So glad I took it!!!
Student Work